Amputations
Boynton Beach Attorneys Helping Victims Recover from Serious Injuries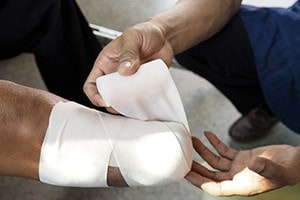 Countless types of accidents can devastate a person's extremities. Trauma to a limb may be so severe that the only way to save a victim's life is to amputate it. The injury lawyers at Frankl & Kominsky fight tenaciously for justice and compensation on behalf of injured individuals in Boynton Beach and other Florida cities. If you lost a limb as a result of negligence, we can help you hold the at-fault party accountable. Contact us today to discuss your case.
File a Negligence Claim When an Accident Causes an Amputation
Sadly, many amputations are the result of catastrophic but avoidable accidents. Sometimes they may occur as part of the traumatic event. In other cases, an injury may be so severe that the limb cannot be saved, and a medical decision is made to have it surgically removed. Serious complications can arise from an amputation, including excessive blood loss, shock, and infection. Amputees often need surgeries, rehabilitative care, prostheses, and other medical treatment to cope physically and psychologically with their altered condition.
If you underwent an amputation and believe it was caused by someone else's negligence, you can hold that party accountable for your injury. A person may have been negligent if he or she failed to act with the sufficient level of care to avoid creating needless risks for others.
This type of legal claim requires a victim to show:
Duty of care – In ordinary negligence cases, you would have to show that the defendant had this obligation. Florida motorists, for example, must use adequate precautions when operating their vehicles.
Breach – You must show that the defendant's actions fell short of the standard of care. Examples in the context of car accidents include driving drunk, texting behind the wheel, or failing to yield the right of way.
Causation – There must be a direct link between the breach and the accident in which you were hurt. Your injuries must be a reasonably foreseeable result of the defendant's careless conduct.
Damages – You must point to actual losses related to your amputation, which can be either economic or noneconomic. Possible recoverable damages include compensation for surgeries, prosthetic limbs, and other medical and rehabilitative care as well as lost wages, loss in earning capacity, pain and suffering, and more.
Florida claims based on ordinary negligence have a four-year statute of limitations. This means that you have four years from the date your injury occurred to file a lawsuit.
Medical Malpractice
Amputations are sometimes the result of negligence by a doctor or a health care provider. For instance, removing the limb may have been medically unnecessary, or it may have become necessary only because of poor post-surgery care that resulted in an infection such as gangrene. If this happens to you, a medical malpractice claim against the physician and health care provider may be an appropriate legal action to take.
You still would have to prove the elements of negligence, but in this situation you would aim to establish that the relevant professional standard of care was violated. This standard will depend on the skill, treatment, and level of care that a reasonably prudent medical provider would consider appropriate under the circumstances. The testimony of experts usually is needed for these claims. A medical malpractice lawsuit must be filed within two years of the date of the injury.
Discuss Your Catastrophic Accident with a Compassionate South Florida Lawyer
Frankl & Kominsky offers comprehensive and caring legal representation to South Florida residents who have suffered devastating harm. Our accident attorneys have significant experience representing victims in a wide range of lawsuits. If you lost a limb in an accident, we can help you assert your right to damages from the party responsible. We will never settle for less but instead will seek the appropriate level of compensation to help you move forward after an amputation. Our clients come from communities such as Palm Beach Gardens, Deerfield Beach, and Miami. Call us today at (855) 800-8000 for a free consultation. You can also complete our online form. We speak Spanish and Creole.