Broken Bones
Legal Guidance for South Florida Victims of Serious Injuries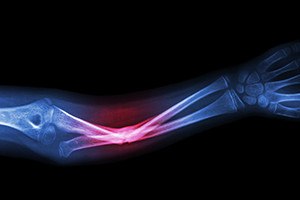 Accidents often result in broken bones. Some of these fractures may be minor, but a victim may suffer more significant types of harm in a catastrophic event. At Frankl & Kominsky, our injury attorneys are determined advocates who help victims throughout South Florida seek the compensation they deserve after serious accidents. We have substantial experience representing individuals in a wide range of claims.
Broken Bones
Broken bones, or fractures, are injuries commonly caused by high impacts. They occur when the physical force on the bone is stronger than the bone itself. Fractures are often the result of a victim colliding with a structure, such as the inside of a car or the pavement.
A bone can break in several pieces and become misaligned, which can affect the treatment or length of recovery. When it breaks into two or more parts, and the ends do not align, it is a displaced fracture. A fracture is non-displaced when the bone partly or completely breaks but remains aligned. Another important characteristic of a fracture is whether it is closed or open. In a closed fracture, the bone does not puncture the skin. If the fracture is open, the bone has pierced the skin, which increases the risk of infection.
Victims with broken bones often need surgery and intensive physical therapy to repair the fracture and restore mobility. They are usually forced to take time off work for treatment. In most cases, a broken bone is just one of several injuries caused by the negligence of another person or entity.
Take Legal Action to Seek Compensation
Fractures usually occur in accidents, which are typically the result of someone else's careless conduct. You can sue the party you believe is responsible for your broken bone. If you can prove negligence in a personal injury lawsuit, you can hold the party liable for any damages you suffered. A successful negligence claim requires showing:
A duty, or obligation, to act with reasonable care;
A breach, or violation, of the duty;
Causation of injuries; and
Actual damages.
For instance, you might have been hurt in a car crash , and the defendant in your case could be another driver who was involved. Florida residents are required to drive with care given all the circumstances involved in a specific situation. You would have to show that the motorist breached this duty, such as by failing to yield the right of way or texting while driving. You then would have to demonstrate a causal link between the defendant's breach and your injury. In other words, the driver's failure to act with care must be the proximate cause of your fracture. Lastly, you would have to show that you incurred quantifiable costs, such as a hospital bill or missed work days.
Broken bones often require one or more surgeries, as well as rehabilitation and special equipment in some cases. If you can prove the defendant's liability, you can potentially recover damages, such as compensation for ongoing and expected medical care, lost income, pain and suffering, and property damage. Negligence-based injury claims in Florida must be filed within four years from when the fracture occurred to avoid being barred.
Offering Dedicated Representation After Accidents Near Boynton Beach
The accident lawyers at Frankl & Kominsky are dedicated and seasoned professionals based in Boynton Beach who can pursue the compensation you need for broken bones or other types of harm. We know that a catastrophic injury can have long-term consequences for you and your family. Our team can help you assert your right to damages against a negligent party. We provide our services to individual victims in Florida communities such as Boca Raton, Lake Worth, West Palm Beach, Palm Beach Gardens, and Deerfield Beach. Call our office today at (855) 800-8000 for a confidential consultation at no cost. You can also contact us through our online form. We are fluent in Spanish and Creole.