Car Accident Lawyer Serving Dania Beach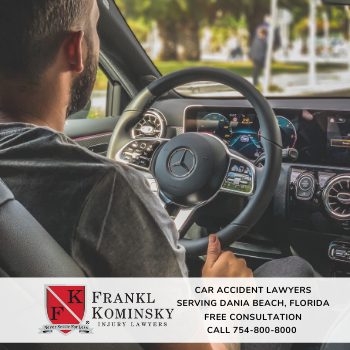 Dania Beach is a city located in the South of Florida and in Broward County specifically. It is home to beautiful beaches, parks and a marina. With a large population, car crashes occur every day and leave many injured or dead each year. According to preliminary statistics reported on the Florida Highway Safety and Motor Vehicles website, there were 41,082 car crashes reported in Broward County in 2018. This number has decreased slightly since 2018, from 41,337 crashes. Even though this number has decreased, the number of collisions is still very high. Those injured in these crashes were taken to a combination of Memorial Regional Hospital or Broward General Medical Center among other hospitals. In 2018, there were 237 fatalities from these car crashes, while in 2017, there were less fatalities with 225.
If you or a loved one are one of the many who become injured in a car accident in Dania Beach, contact Frankl Kominsky Injury Lawyers for a free case evaluation and guidance as to your legal options.
What Causes Car Accidents in Dania Beach
Danie Beach has seen a decline in the number of car crashes, however, the causes of these car crashes remain the same. Our legal team is available to assist you with your car accident case, including those caused by:
Distracted Drivers

Distracted drivers can make up a significant percentage of car crashes in Florida. In 2016, nearly 50,000 crashes in Florida alone were attributed to some form of distracted driving. These crashes included 3,500 severe injuries and 233 deaths. Distractions such as cell phone use, using the navigation system, reading, applying makeup, or interacting with a passenger or pet.

Inexperienced Drivers

Inexperienced drivers are involved in many accidents as their driving skills are not yet fully developed. Teenagers are your typical inexperienced drivers, however an inexperienced driver could be an older person. However, many teenage drivers show carelessness, or even recklessness, while driving.

Accidents Involving Drunk or DUI Drivers

Drivers who are under the influence of alcohol or drugs claim 28 lives each day when people die from crashes involving a drunk or DUI driver in the United States.

Rear-End Collisions

In Florida rear-end collisions, there is a rebuttable presumption of negligence concerning the rear driver. The rebuttable presumption is that if a vehicle strikes another from behind, the rear vehicle was presumptively negligent, though that can be rebutted with additional proof of evidence.

Crashes Involving Motorcycles, Bikes, Pedestrians, or Commercial Vehicles

o A large percentage of accidents in Dania Beach involve motorcycles, bikes, pedestrians, or commercial vehicles.
Dania Beach Auto Accidents: Common Injuries Sustained
The legal team at Frankl Kominsky Injury Lawyers will try to help you navigate the claim process for your injuries due to a car accident. Some of the most common injuries accident victims experience are:
Back Injuries

For many people back injuries can be serious. Some examples of back injuries are herniated discs, fractured vertebrae, and muscle sprains and strains.

Neck Injuries

Similar to back injuries, neck injuries include damage to vertebrae or discs in your neck. Whiplash or muscle spasms are other types of neck injuries..

Spine Injuries

Spinal cord injuries are defined as damage to the spinal cord that results in loss of function or mobility. Spinal cord injuries are severe injuries to get from car crashes. In many spinal cord injuries, function or mobility can be lost forever.

Cuts and Bruises

Some cuts may not seem like they are not as dangerous as the other injuries on this list; however, severe cuts or bruises may result in a lot of lost blood or internal bleeding. Some lacerations are deep and may require stitching which can result in permanent scarring. It is essential to get any injury, no matter how critical, checked out by a medical professional.

Whiplash

Depending on the circumstances of the accident, whiplash can be a common injury. For example whiplash is a common injury that occurs from rear-end collisions. Whiplash affects the neck, and the injury is caused by a forceful and/or back-and-forth movement in the neck.

Soft Tissue Injuries

Soft tissue injuries are injuries in which damage is done to muscles, ligaments, or tendons on the body. These soft tissue areas of your body can be strained, stretched, or even torn depending on the severity of the accident.

Broken or Fractured Bones

No matter what type of accident has occurred broken bones can happen and any part of the body can be impacted. Most broken bones in a car crash are broken arms and legs, although it is common for the victim of a car crash to have a broken or fractured collarbone as well.

Traumatic Brain Injuries

o While traumatic brain injuries (TBI) range in severity, all are serious as they can affect brain function. Treatment for TBIs varies greatly, from rest and medication to intensive hospital care.A traumatic brain injury, or TBI, is damage to the brain that is caused by a sudden jolt or blow to the head.
Injured in a Car Crash? Here's what you can claim for
If you have been injured in an automobile accident, it is important to understand your rights. Below is a list of damages you can try to recover after a car accident. The experienced attorneys at Frankl Kominsky Injury Lawyers will work with you every step of the way to assist you in receiving the compensation you deserve.
Past and Future Medical Bills

Some car accidents will end with you having an injury, and these injuries can vary. These injuries may take several months of treatment; while some of these injuries could linger for years. You may be entitled to compensation for both past and future medical bills about the injury you sustained in the accident.

Temporary or Permanent Disability

Temporary disability is an injury that prohibits you from working for a short time. However, permanent disabilities can have a more significant impact on your life. If the injuries you sustain from a car accident leave you permanently or temporarily disabled, you can file a claim after your accident.

Lost Wages and/or Benefits

Injuries from car crashes/ accidents can affect your job performance or your ability to attend your job for an extended time. If this is the case, you may be able to pursue a claim for lost wages and/or benefits for the money you missed due to your injury.

Reduced Earning Potential

You are entitled to compensation due to lost or reduced earning potential. For example, reduced earning potential could mean missing a critical job interview or sales meeting.

Loss of Consortium

The spouse or dependent of the injured person can file a consortium claim. Loss of consortium claims that the injured person is not able to provide the same amount of love, support, etc. as they were able to before their accident.

Disfigurement

Changes to your appearance would fall into disfigurement. If any action that permanently alters your appearance, you can file a claim for compensation.

Funeral and Burial Expenses

o In the unfortunate event of a death caused by a car accident, funeral and burial expenses can be claimed.

Pain and Suffering

Any type of injury, or just the crash itself, can cause pain and suffering. This includes the emotional pain and the loss of the enjoyment or diminished quality of life as a result of your injuries sustained in the accident.

Vehicle or Property Damage

Vehicle and/or property damage will most likely occur no matter if your accident is a simple fender bender or your car is totaled. The at-fault party will be liable for the repairs to your vehicle. If your car is considered a total loss, you may receive the fair market value of the car.
Protect Yourself After A Dania Car Crash
There are several steps you should take after the car crash. The personal injury lawyers at Frankl Kominsky are available to assist you in navigating these steps so that you may pursue the compensation you deserve. These steps include the following:
Obtain accident reports from police

After the accident has occurred and you both have gotten to a safe place, the first thing you must do is to contact the police. After the officer arrives at the scene, they will ask you a series of questions about the accident and create an accident report from the information you share. Be sure to get a copy of the Driver's Exchange and the Traffic Crash Report.

Eyewitness statements

If there were any eyewitnesses to the accident, it is essential to collect their contact information. Be sure to get their name, address, phone number and email.

Video & Pictures from the scene of the accident

Make sure to include both vehicles, any damages or injuries that were sustained, any landmarks or defects with the road, pertinent road signs, etc. We always recommend taking videos of the scene of the crash, property damage, and traffic signs and signals like a "no U-turn" sign. If you are ever unsure of what to take pictures of, take more than you think you will need. Make sure not to forget about this crucial step.

Seek immediate medical care and gather your medical records

You should seek immediate medical care if you believe that you have sustained an injury due to the crash. You may go to your own personal physician, a local hospital or any qualified medical professional. Make sure to save any bills and medical records directly about your care as they may be used for documentation in your claim.

Other documentation of your injuries

ther documentation includes statements from mental health physicians, physical therapists, etc.
How To Use Your Car Insurance After A Car Crash in Dania
Florida's No Fault Statute is a specific rule for the state of Florida. This statute requires drivers within Florida to carry Personal Injury Protection coverage as part of their insurance policy. If you become injured in a motor vehicle accident, PIP will cover a percentage of your medical expenses for qualified medical treatment and lost wages, regardless of who is at fault for the accident. This rule requires individuals injured in a car crash to seek medical attention within 14-days of the accident. Even if you believe your injuries to be minor, it is imperative that you be examined by a qualified medical professional. Some injuries are not readily noticeable and need a trained eye to be correctly identified.
Why Treating with a Doctor After an Auto Accident is Important
Hiring an Experienced Injury Lawyer for Your Dania Beach Car Crash
Frankl Kominsky Injury Lawyers are available to help you with every step of the process, from making a claim to obtaining the compensation you deserve. Once you contact Frankl Kominsky, the first step will be establishing a claim with your insurance company.
Investigating the car crash constitutes the second step in the process. After your claim is filed, your insurance company will assign someone to your case. This person will likely begin investigating the events leading to the accident and the accident itself. Your legal team will take the time to collect all documentation necessary for your claim. These documents include accident reports, photos of the vehicles, accident scene and injuries, witness statements, medical records and bills, documentation of lost time from work, calculations of pain and suffering, and any other information to establish your claim.
After your accident is investigated, your legal team at Frankl Kominsky will handle all communications and negotiations with the at-fault party's insurance company. During these negotiations, we will attempt to obtain a favorable settlement for your claim. Demands will be made for compensation, and if necessary, we will proceed with litigation.
Free Consultation with Our Injury Lawyers
At Frankl Kominsky Injury Lawyers our attorneys strive to provide diligent representation to injured parties from vehicle collisions throughout Florida. No matter the accident, we will fight for your rights so you may receive the compensation you deserve. If you or a loved one are injured in an accident in Dania Beach and need representation, call Frankl Kominsky Injury Lawyers at 786-800-8000 for a completely free consultation. Our experienced and dedicated legal team will work with you through the entire process to pursue the compensation you deserve.