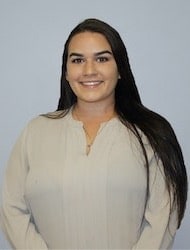 Maranda Cosme
Mailroom Specialist
Maranda Cosme is a Mailroom Clerk at Frankl & Kominsky Injury Lawyers.
With an amazing multitasking ability and a clear understanding of her job, Maranda is a valuable member of our team. She is tasked with helping our clients and attorneys prepare, organize, receive and send out important legal documents and packages. Maranda's diligence in her work allows our team to maintain a smooth and consistent system where all data is recorded and properly stored for attorneys and clients.
In her free time, Maranda loves to play hockey with her son, take photographs and bake. With her undeniable urge to learn and improve, we are excited to see Maranda grow with our team and help elevate our workflow to the next level.