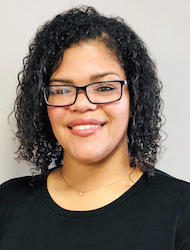 Nara Garcia
Legal Assistant
Nara began her career with Frankl & Kominsky Injury Lawyers as a Receptionist; however, her organizational skills and willingness to learn and contribute was recognized right away.
In eight short months, Nara was promoted to a Legal Assistant, where her primary duties include working on client demand packages, organizing medical records, sourcing documents from insurance companies, and directing potential new clients to the intake department.
Nara also earned an Associates Degree in Crime Scene Technology with Keiser University, which helps her with her day-to-day tasks.
We are proud of Nara's accomplishments and enjoy her happy and outgoing personality and much as her helpful, attentive, and goal-oriented approach to her work. We love that she is determined to continue learning as much as possible and growing with the firm.