Paralysis
Capable Boynton Beach Lawyers for Victims of Serious Injuries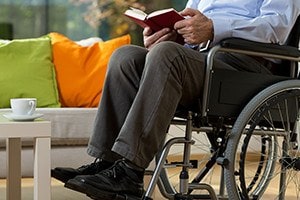 A person may suffer irreparable damage to his or her spinal cord in an accident, which can result in paralysis. Based in Boynton Beach, the dedicated injury attorneys at Frankl & Kominsky can assist you in pursuing a claim for compensation against a party that harmed you. We provide tenacious advocacy for victims of catastrophic accidents.
Paralysis Can Cause Devastating Harm
Paralysis occurs when damage to the spinal cord prevents sensory and motor signals from traveling between the muscles below the point of injury and the brain. The muscles and the brain are blocked from communicating with each other, which can result in partial or complete paralysis, depending on the level of harm. Paralysis can take the form of quadriplegia, which is the loss of function in all four extremities, or paraplegia, which is the loss of function in the lower limbs. Because of the severity of their condition, paralyzed individuals often need extensive medical treatment and care, specialized equipment, and adjustments to their home and workplace in order to deal with the limitations and changes caused by their injuries.
Seek Compensation by Pursuing a Negligence Lawsuit
A person may be paralyzed in a serious motor vehicle collision or as a result of a fall. These types of accidents are generally the result of negligence. You can sue the driver, property owner, or other party you believe is responsible for your paralysis. If you can prove the defendant's liability, you can possibly obtain damages for your injuries.
To prove your claim, you need to show that the defendant acted negligently. This would require that you demonstrate the following elements:
The defendant owed you a duty of care;
The defendant breached its duty of care;
The breach caused your injuries; and
You incurred actual damages.
If you were hurt in a car crash, for example, you would have to prove these elements to hold a defendant liable. All Florida motorists must use reasonable care when they drive, which includes following traffic rules and complying with any relevant state and federal laws. A driver can breach his or her duty of care in numerous ways, such as by speeding or texting while behind the wheel. If a defendant has violated this obligation, you must show that the breach bears a proximate connection to your harm and damages. A motorist who was intoxicated at the time of the crash may be held liable under negligence per se. You can prove liability by showing that the defendant's violation of Florida's law against drunk driving caused your injuries and damages.
A person or entity that controls property may also be responsible if you were lawfully on its premises when you were harmed by a dangerous condition there. Property owners have to maintain their premises in reasonably safe condition to avoid injuries to visitors. If a foreseeable hazard, such as a loose step on a staircase, caused you to fall and suffer an accident, the property owner may be liable.
If you succeed in your negligence claim, you can potentially obtain compensation to cover the costs and losses related to your paralysis. You may seek damages for any medical expenses related to your injuries, including necessary medical equipment and physical therapy, as well as lost income, loss in earning capacity, property damage, and pain and suffering. You have to file your lawsuit within four years from when the harm occurred.
South Florida Attorneys Protecting Your Rights After an Accident
The accident lawyers at Frankl & Kominsky compassionately represent South Florida residents who have endured catastrophic injuries. If you have been paralyzed because someone else acted carelessly, we can review your case and help you seek damages from the parties responsible. We serve victims in Delray Beach, West Palm Beach, and Coral Springs, among other communities throughout the state. Call our office at (855) 800-8000 to schedule a free consultation, or reach us via our online form. We are fluent in Spanish and Creole.