Motorcycle Accident Lawyer Serving Belle Glade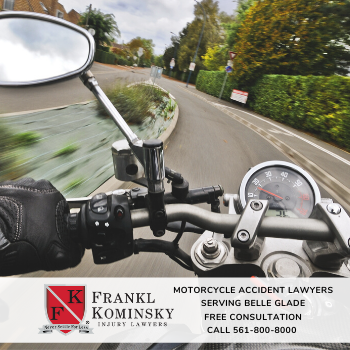 Most people in Belle Glade are unaware of just how frequently motorcycle accidents occur on their local roadways. However, motorcycle riding is an extremely popular pastime in Belle Glade due to the area's climate, which tends to provide excellent riding conditions all throughout the year. With a lack of a severe winter and plenty of sunshine, it can be tempting to take to the road on one's bike just about any day of the season. On the surface, this might seem to be one of Belle Glade's best qualities (which, in some respects, it is). However, a motorcycle accident lawyer who serves Belle Glade may also see things slightly differently.
Because of the prevalence of motorcycle riders on the road in Florida, the state "earned" the number one spot in the country when it came to motorcycle accident deaths in 2015. In actuality, when looking at motor vehicle fatalities in the state, 19% of them can be attributed to those who were riding a motorcycle. Therefore, when a motorcycle accident does occur, those involved will be seeking out the services of a motorcycle injury attorney who serves Belle Glade. Additionally, the state is currently making an effort to assist riders by offering information related to better motorcycle safety procedures.
Most Common Causes for Motorcycle Accident in Palm Beach County, Florida
Many law enforcement agencies across Palm Beach County have reported the number one cause for motorcycle crashes is due to distracted driving. This is very common as a third of the counties population are drivers between 16 and 30 years old.
Other leading Causes for Motorcycle Crashes include:
Swerving in front of a motorcyclist
At intersections, failing to yield or merge with a motorcyclist
Not following speed limits or failing to obey traffic signals
Failing to leave sufficient room between cars
Failure to see a motorcyclist changing or entering lanes
Neglecting to pay appropriate attention to other drivers
Driving under the influence
Misjudging the distance of a motorcyclist
Panic and stop in the motorcyclist's path
Rely on the judgment of another driver, who also fails to see the motorcyclist
What are Some of The Statutes That are Connected to Safe Motorcycle Driving?
Because of the number of accidents involving motorcycles in the state, there are quite a few statutes that are directly related to operating a motorcycle. It can even be seen that some of these statutes are unique to the state, due to the concern over the frequency of motorcycle accidents and fatalities. Some of these include:
Florida Statute 316.2085 (2), "showing off" while riding a motorcycle is considered to be a dangerous act and therefore prohibited. In this statute, performing a "wheelie" is specifically prohibited. This involves riding a motorcycle with one tire off the ground. Of course, this only applies to a situation in which this move is performed as a stunt and not as a result of a road condition or obstruction.
If a Belle Glade resident is already in possession of a regular motor vehicle license and wishes to add an endorsement for motorcycle operation, then they must comply with additional state qualifications. These include; being at least 16 years old, having no previous traffic violations for the previous year if they are under 18 and the initial license must be a minimum of a Class E. Plus everyone needs to take a motorcycle riding course.
If someone wishes to ride a motorcycle with an engine that is greater than a 50cc, then they must possess either a regular license with a motorcycle endorsement or a motorcycle-only license.
If a motorcyclist is under the age of 21, then they must wear a helmet that meets state-determined standards. If the rider is over 21 and opts to ride without a helmet, then they must carry at least $10,000 worth of (medical) insurance. This is designed to compensate for the potential of head injuries that can be suffered by not wearing a helmet. Even so, it's been noted that about one out of every seven riders who are required to have this coverage, fail to purchase it.
Motorcyclists are required to wear eye protection.
Determining Fault in Belle Glade Motorcycle Accidents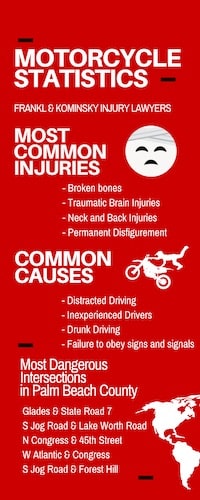 Residents of Belle Glade can sometimes be confused as to who is usually responsible for a Belle Glade motorcycle accident. But a motorcycle accident lawyer serving Belle Glade can tell you that the causes of motorcycle accidents are really not that much different than the causes of accidents involving other vehicles. It pretty much boils down to a single word - "negligence". When dealing with legal matters, the term "negligence" pertains to a "breach of a duty of care". In other words, we have a situation in which one party was obligated to perform a "duty of care" (responsibility) for another party and has neglected to do so ("breach"). And, as a result of this breach, an accident took place which has resulted in damages.
In this case, the "duty of care" refers to following the Belle Glade statutes that are there in order to make the roadways safe for all. These include statutes that involve; not driving over the speed limit, not driving while under the influence of mind-altering substances and adhering to statutes that respect other motorist's right-of-way.
Should there be a case in which the court determines that a defendant's breach of care has led to an accident that resulted in damages (loss of income, medical expenses, injuries, etc.), then it may be possible for the victim to be awarded economic restitution for their losses.
Damages and Compensations as a Result of a Motorcycle Crash
Motorcycle Accidents & Lost Wages: when you are injured by a negligent driver, you may have a claim for lost wages, which could include time off work for medical treatment, x-rays, and more.
Motorcycle Accidents & Medical Expenses: being injured in a motorcycle crash can leave one with severe injuries, which could include the cost of emergency transport by ambulance or air-flight and emergency surgery.
Ask Attorney Ethan Kominsky: How is it determined who is responsible for causing a Florida motorcycle accident?
What Types of Injuries can One Sustain in a Motorcycle Crash?
Motorcycle accidents are notorious for causing serious and catastrophic injuries, due to the lack of protection for the motorcycle operator and passengers. A partial list of these injuries include:
Neck Injuries
Back Injuries
Spine Injuries
Bone breaks
Traumatic Brain Injuries
Lacerations and Contusions
Soft Tissue Injuries
Whiplash
In the case of a fatality, a wrongful death claim may include damages for:
Medical expenses
Funeral, burial and related expenses
Loss of consortium (loss of support, companionship, parental guidance, etc.)
One of the most common reasons for these injuries has to do with situations that involve a larger vehicle (car, truck, etc.) not giving the proper right-of-way to a motorcycle. There are also times when a motorist just expects the smaller motorcycle to make way for their larger vehicle. But, no matter what the cause, the underlying circumstances tend to have just one thing in common – negligence.
Does Using a Cellphone Contribute to Motorcycle Accidents in Belle Glade?
It's common knowledge that cell phones can play an important part in just about any type of vehicle accident. Recently, a new law was enacted in order to curb the number of accidents and fatalities that result from cell phone distractions. This new law has the advantage of making cell phone operation while driving a primary offense. This means that the police can now pull over a driver who is using a cell phone while driving. Prior to this using a cell phone while driving was only a secondary offense. This meant that a police officer could only pull over a driver who was using a cell phone if the driver had committed another, primary offense, such as running a red light. Additional information can be found here in the Florida Statute 316.305.
Florida Motorcycle Safety Statutes
As mentioned earlier, Belle Glade possesses a number of (sometimes unique) motorcycle operating statutes. These include:
No individual shall operate a motorcycle with a helmet that is equipped with a headphone, headset or other form of listening device other than a hearing aid. section 316.304(1)
According to section 316.304(2), this does not apply to;
Any person operating a motorcycle who is using a headset that is installed in a helmet and worn so as to prevent the speakers from making direct contact with the user's ears so that the user can hear surrounding sounds.
Any person using a headset in conjunction with a cellular telephone that only provides sound through one ear and allows surrounding sounds to be heard with the other ear.
Any person using a headset in conjunction with communicating with the central base operation that only provides sound through one ear and allows surrounding sounds to be heard with the other ear.
Every vehicle shall be equipped with a mirror so located as to reflect to the driver a view of the highway for a distance of at least 200 feet to the rear of the motor vehicle. section 316.294
Every motorcycle shall be equipped with at least one stop lamp. section 316.420
Every motorcycle shall be equipped with multiple-beam road lighting equipment. section 316.430(1)
Such equipment shall:
Reveal persons and vehicles at a distance of at least 300 feet ahead when the uppermost distribution of light is selected; section 316.430(2)(a)
Reveal persons and vehicles at a distance of at least 150 feet ahead when the lowermost distribution of light is selected. section 316.430(2)(b)
All motorcycles are entitled to full use of a lane and no motor vehicle shall be driven in such manner as to deprive any motorcycle of the full use of a lane. This subsection shall not apply to motorcycles operated two abreast in a single lane. section 316.209(1)
A person may not operate or ride upon a motorcycle unless the person is properly wearing protective headgear securely fastened upon his or her head which complies with Federal Motorcycle Vehicle Safety Standard 218 promulgated by the United States Department of Transportation. The Department of Highway Safety and Motor Vehicles shall adopt this standard by agency rule. section 316.211(1)
What should I do if I'm involved in a Motorcycle Crash in Belle Glade
If you find yourself involved in a Belle Glade motorcycle accident, there are some suggested steps that you can take in order to address the situation. Of course, the first thing that you'll want to do is to assess your own physical condition and that of the others who were involved in the accident. Once you have done this and rendered any necessary immediate aid, then you'll want to get in touch with the Belle Glade Police Department and Emergency Medical Services to report the situation.
If you're not seriously hurt, you can exchange driver information with the other driver who was involved. This includes; driver name, their contact information, the vehicle make and model, driver's license number and driver's insurance information. Do this calmly and don't place any blame for the accident and certainly don't accept any responsibility. You will also want to get the names and contact information of any witnesses to the accident.
You will also want to take detailed photos of the accident scene, vehicles involved and any injuries. Make sure not to get in the way of an investigating officer. After this, you will want to go directly to the hospital or your own doctor to assess your own injuries. Do this, even if you feel okay. That's because a number of different injuries can be disguised until later in the day or on the following day. A good example of this would be whiplash. Make sure to keep any medical records, discharge papers and receipts and place them in the same file as anything else that pertains to your accident. Make a follow up appointment, as well.
Contact your insurance company but never discuss anything with the other party's insurance adjusters or legal representatives. Make sure not to sign anything or accept any offered money until you have consulted with an experienced motorcycle accident attorney. Your first appointment will be free and you can get some excellent information regarding your alternatives when it comes to obtaining compensation.
Benefits of Hiring Frankl Kominsky Injury Lawyers
When you are involved in a motorcycle crash that resulted in injuries, your priority should be on restoring your health and making a full recovery.
At Frankl Kominsky, we are devoted to helping injured victims receive a fair settlement for their injuries. We provide each client with diligent case management, aggressive representation, and personalized client experience. Come to an injury firm where you are our number one priority.
Contact an Experienced Personal Injury Lawyer, serving Belle Glade, to Protect Your Rights
Deaths and injuries from a Florida motorcycle accident can be the result of reckless behavior, which may occur in Belle Glade at any given time. In addition, it's important to understand that while high speeds are often a factor, there are also many times when this isn't the situation. There have been a number of cases in which a very low speed motorcycle crash has resulted in severe injuries. If you or a loved one are involved in a Florida motorcycle accident, it is advised that you seek medical care and the advice of a motorcycle accident personal injury attorney. Your initial appointment is free of charge.
Discuss your case with a Motorcycle Accident Personal Injury Attorney Serving Belle Glade Today! Turn to Frankl Kominsky for comprehensive legal guidance. Call 561-800-8000 or use our Contact Form to set up a free consultation.