Bike Accident Injuries Lawyer Serving Delray Beach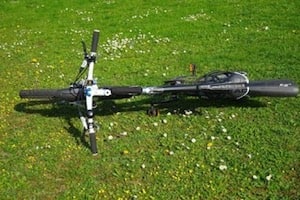 These days, there has been an increased focus on maintaining a healthy lifestyle. In addition, there is on-going concern regarding environmental pollution. Due to these various factors, there has been a rise in the popularity of riding bicycles as a means of alternate transportation and physical exercise. However, it has also resulted in a greater amount of Delray Beach bike accident injuries. In many cases, this type of accident falls under the heading of avoidable negligence. If you or a loved one was injured in a bicycle accident in Delray Beach, contact an experienced bike accident personal injury attorney.
Bicycle Accident Statistics
The amount of sunshine and the pleasant weather in Delray Beach (and the rest of the state) provides the incentive for many residents and tourists alike to choose bike riding as a means of travel and recreation. Unfortunately, as a result, Delray Beach has become an area in which bicycle accidents have become all too common. The same holds true for the rest of the state. As a matter of fact, statistics show that the highest number of bicycle accident deaths, throughout the entire country, occurred in Florida in 2015.
These statistics, while showing the number of bicycle-related deaths, does not show the number of non-fatal injuries. These types of injuries have numbered more than 20,000 from the years 2008 – 20012. These numbers stress the importance of understanding proper bike riding procedures. But even though these procedures are taught extensively, a high number of accidents still abound, many of which are attributed to negligent and reckless motorist driving and irresponsible riding behavior.
Do Need to Wear a Helmet When Riding a Bicycle in Delray Beach?
Needless to say, wearing a helmet when riding a bicycle is something that everyone on a bike should be doing. But the state bicycle law, when it comes to wearing a bike-riding helmet, mandates;
"A bicycle rider or passenger who is under 16 years of age must wear a bicycle helmet that is properly fitted and is fastened securely upon the passenger's head by a strap and that meets the federal safety standard for bicycle helmets." (Statute 316.2065 (d)). This statute also states that that those under 16 are required to wear a helmet when they are riding in a bicycle-drawn sidecar or in a trailer that is being towed by a bicycle.
Federal regulations also specify standards for bicycle helmets. This can be found in the Code of Federal Regulation for January 1, 2016. In this case, federal standards can possibly require a bike rider to purchase a new helmet in cases in which their current helmet falls short of federal regulations that were established in 2016. A citation may be issued in cases where the required bicycle helmet doesn't meet the proper standards. However, the citation may be waived if the individual purchases a new helmet that meets the proper standards and presents the evidence of proof-of-purchase to the court. So, as you can see, the emphasis is actually on safety as opposed to punishment. This is seen in the statute;
"The court shall dismiss the charge against a bicycle rider or passenger for a first violation of paragraph (d) upon proof of purchase of a bicycle helmet that complies with this subsection." (Statute 316.2065 (e))
Also, parental consent, when it comes to not wearing a helmet, is not considered an excuse, either. See: (Statute 316.2065 (8))
If I'm in Injured a Delray Beach Bicycle Accident, Will I Need to File a Claim Through My Auto Insurance?
If you are injured in a bike accident, you need to file your claim through your auto insurance company. Florida's No Fault Insurance Statute, also known as Personal Injury Protection (PIP) will provide insurance coverage, even if you were at fault for the accident.
Suppose I Don't Possess an Auto Insurance Policy?
There are many individuals who utilize alternate means of transportation to get where they're going. As such, they may not own cars or auto insurance. In those cases, it's important to understand the options that are available.
If you do not own an automobile and do not have auto insurance, you may be able to file a claim under the responsible driver's auto insurance policy.
If you or a loved one has been injured in a bicycle accident, contact an experienced personal injury attorney to learn your options.
Who Has the Right of Way in Delray Beach When It Comes to Bicycles?
According to the statute affecting Delray Beach, "Every person propelling a vehicle by human power has all of the rights and all of the duties applicable to the driver of any other vehicle…" (except when special regulations apply). (Statute 316 2065 (1))
When taking a closer look at this statute, it becomes clear that, in Delray Beach, a bicycle is considered to be a "vehicle". Therefore, bicycle riders must adhere to the same laws and considerations that a standard motorist must follow. This may go against the standard fallacy that bicyclists are given some type of special "rights". This is a misconception that can be prevalent with those who are adamant bicycle-riding activists. As such, the law gives no preference to a non-existent moral high ground when it comes to bike riding, as opposed to gasoline-powered vehicles.
Are Bicyclists Allowed to Ride on Delray Beach Sidewalks and Crosswalks?
Yes, they may. But the rider should be aware that when they are riding on public walkways, they are, at that point, considered "pedestrians". Therefore, the bike rider will need to let other pedestrians know when they are going to pass them. In addition, they are still required to follow the applicable helmet and lights laws. (Statute 316.2065 (7)) They can also be subject to DUI laws, as well.
What are Some of the More Common Causes of Bicycle Riding Accidents?
Five of the most common types of bicycle accidents include:
A motorist turns left and into the path of an oncoming bicycle – Since this is usually a head-on type of accident, it can be particularly dangerous. You'll generally see this type of accident can be avoided when the cyclist pays attention to the turn signals or motorists.
The cyclist rides out onto the street from the curb – This type of accident is especially notorious for the number of fatalities that it causes. Even if an approaching car or truck is proceeding at a slower speed, there is usually not enough time for it to stop suddenly and avoid a collision, when there is no warning.
The motorist turns right and runs into a cyclist – This can be avoided when the cyclist takes note of vehicles turn signals when they are cycling alongside them.
Motorist pulls out from the curb and crashes into a cyclist – This is considered to be the most common accident when it comes to bikes colliding with motor vehicles. Fortunately, these accidents are usually not as serious as the others, since a car that is just pulling out from the curb is not travelling at full speed, yet.
A motorist rear- ends a cyclist when the cyclist is changing lanes – This can happen if the cyclist isn't using the proper turning signals. Serious injuries, along with fatalities can be common with these types of accidents.
What are Some of the More Common Injuries Associated with Bicycle Riding Accidents?
Head and/or Neck Injuries – These bike accident injuries can be among the most serious. In some cases, they might not be easily detectable and can go untreated. This can lead to a far more serious medical issue and even a fatality. Unfortunately, these injuries account for over 50% of all bike accident deaths. This is one reason why a cyclist should always wear a helmet.
Dental/Jaw Injuries – A mouth guard can potentially help to avoid these injury types. However, those who don't ride on a constant basis may not adhere to this type of protection. This is why jawbone damage and lost teeth are so common in cyclist accidents.
Various Muscle and Bone Injuries – Torn muscles and broken bones are the second most types of injuries (outside neck and head injuries) that occur in bike accidents.
Lacerations and Other Types of Skin Damage – these can occur by hitting something sharp or sliding along the ground. Some of these injuries may require plastic surgery.
What are Some of the Most Important Things to Remember, if I'm in a Delray Beach Bicycle Accident?
Some very important things that you should remember, should you become involved in a cycling accident are:
Visit a hospital/doctor right away – Even if you currently feel fine, there are many types of hidden injuries that may surface later. These injury types are often seen with neck and head injuries. You also want to remember that PIP coverage usually doesn't extend to those who wait over 14 days to be medically evaluated.
Notify your insurance company – If you have sustained injuries, be sure to contact your insurance company and file a PIP claim. This may be very important when it comes to hit-and-run bike accidents.
Don't speak with the other party's insurance representatives – You don't want to speak to the other person's insurance company and never take any money from them until you have spoken with your own attorney.
Contact an Experienced Bicycle Accident Attorney – Obtaining the compensation that you rightfully deserve is not an easy task. There are a lot of legal complexities that can become involved. Your initial consultation with an experienced bicycle accident attorney, who serves Delray Beach is free, therefore you may want to take advantage of this situation.
An experienced Delray Beach bicycle accident personal injury attorney can try to help you in getting compensated for economic (and non-economic) expenses such as:
Past and future medical expenses
Lost earnings (past and future)
Loss of your ability to work
Loss or damage to personal property (bicycle, electronic device, etc.)
Pain and suffering
Enlist an Experienced and Dedicated Personal Injury Lawyer to Protect Your Rights
Deaths and injuries from careless riding decisions can be the result of catastrophic bike accidents, which may occur in Delray Beach at any given time. Therefore, even if you are involved in a bike crash that has occurred, it is advised that you seek medical care and the advice of a bike accident personal injury attorney.
Contact an experienced personal injury attorney, who can try to assist you in receiving the best care and compensation that you rightfully deserve. Therefore, when you or a loved one are involved in a Delray Beach bike accident, contact a Florida personal injury attorney.
Discuss your case with a Bike Accident Personal Injury Attorney Serving Delray Beach Today! Turn to Frankl Kominsky for comprehensive legal guidance. Call (561) 800-8000 or use our Contact Form to set up a free consultation.