Wrongful Death Lawyers Serving Boca Raton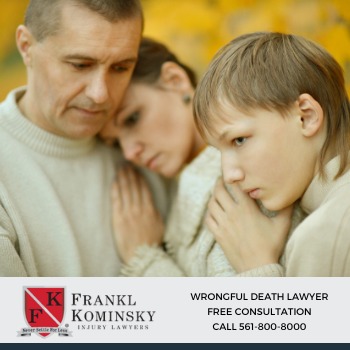 Losing a loved one is always a difficult process, but it is even more difficult when their death could have been prevented. If you have a loved one who has passed away as a result of someone's else's negligence, you may be able to file a wrongful death claim.
If you are eligible to file a wrongful death claim, you can try to make up for the financial responsibility of the wrongdoing. This also helps seek justice against the wrongdoer and ensure they know the seriousness to not let this happen again. While it might not sound like it at first, it has been found that filing a wrongful death claim can help bring closure to grieving families in these trying times.
Experiencing a wrongful death situation in Boca Raton, Florida, can leave family members with many questions about what to do next and what their legal options are. Luckily, there are advocates in your area that are ready to help.
Frankl Kominsky Injury Lawyers specializes in wrongful death claims. We act as Boca Raton Wrongful Death Lawyers to those in the area that are in need of legal assistance during this difficult time (by appointment only). Whether you're looking at filing a claim against a person or an organization, our practice is built to handle cases such as these to help our clients seek the compensation they may legally deserve.
We are here to answer any questions you may have regarding wrongful death claims and what you may be entitled to.
What Is Wrongful Death?
Wrongful Death is a legal situation where a person passes away at the hands of someone who knowingly or negligently caused preventable harm. Below are some examples (but not limited to) of what can constitute as a wrongful death in the state of Florida:
Any motor or vehicle, boating, bicycle, pedestrian, construction, or workplace accident
Medical malpractice
Defective products
Dangerous property conditions
Criminal acts
If you are filing wrongful death for a criminal act, you should note that the wrongful death is separate from any criminal prosecution that the wrongdoer is facing. For instance, if a loved one was killed by someone else's vengeance, wrongful death is piled on top of what the person is being charged for by the police.
What Does a Wrongful Death Lawyer Do?
Your trusted Boca Raton Wrongful Death Lawyer will be responsible for investigating your claim and guiding you through the process by informing you of your legal rights, on top of helping you seek extra compensation.
A wrongful death attorney has these primary duties:
Thoroughly investigate the wrongful death claim
Collect all necessary evidence and records
Advise the family on next steps
Explain legal rights regarding a wrongful death
Help the family seek compensation and justice
Make sure the family is kept in the loop and line of communication throughout
Every state has different laws and statutes of limitations regarding wrongful death claims. Depending on where you live, you may not be able to seek extra compensation or file a claim against certain people. That's why it is well-advised to seek the assistance of an attorney to review your case and advise you on your next best steps.
How to Find a Wrongful Death Lawyer
Finding a wrongful death lawyer to represent you is not a quick task. In fact, since wrongful death cases are so complicated to prove in certain situations, the wrongful death lawyer you hire should make you feel confident in your case's future.
There are tips to help you choose the best wrongful death lawyer in your situation. Here's how to do it.
Interview Several Attorneys
You can think of hiring a lawyer as looking for a new car. You shouldn't drive the first car you test drive off the lot. Finding the right car for long use requires research, testing it out, and listening to your gut.
Similarly, you should research lawyers in your area that have plenty of years of practice and a background that shows complete competency in winning many cases. You do not want to select a lawyer who is brand new to the practice for a wrongful death scenario since these cases require precise knowledge and investigation.
Once you've composed a list of three to four high-quality wrongful death lawyers in your area, take advantage of their free consultations (this serves as the test drive portion). Almost every firm offers a free consultation where you can sit down with an attorney and talk about your case. It also allows you to hear more about the firm and the attorney's experience fighting wrongful death, as well as what specifically they can do to help you in your case.
After you've consulted with all the firms on your list, review them carefully and select the one you feel best fits your needs and can help you win your case.
Budget
We understand that the last thing you want to think about in the middle of a wrongful death scenario is what you will pay for by hiring a lawyer, which is why it is important to consider your budget for this process.
It is worth it to hire a great wrongful death lawyer to ensure your case is heard and carried out successfully, but you should not strap yourself down or spend more than you can. Lawyers can be a hefty investment to make, but they are not all priced the same for their services.
When you consult with the attorneys on your list, ask them how they prefer to be paid and how much their fees are. Lawyers are typically paid one of two ways: by a contingency fee or by the hour.
A contingency fee is basically one large fee that you will pay your lawyer at the end of the case if you win. Some law offices promote that they don't get paid unless you do. If this is the case, their contingency fee will likely be between 33%-40% of your final earnings.
Here's an example of how a contingency fee is broken down:
Your lawyer agrees to be paid by a 37% contingency fee.
Your final earnings in the case equal $100,000.
After paying your lawyer, you are left with $63,000.
If your lawyer prefers to be paid by the hour, they will be responsible for keeping a tab on how long they work on your case throughout its duration. The average hourly rate for a lawyer in Florida is between $199-$420.
Regardless of if your lawyer prefers to be paid by the hour or with a contingency fee, make sure to sign a legal document stating you and your lawyer agreed to the terms of payment, so nothing changes throughout the case.
Once you have all the payment information from the attorneys you spoke with, consider cost along with experience to determine who you feel if the right lawyer to work with.
What to Look for in a Wrongful Death Lawyer
As you are looking for the right Boca Raton Wrongful Death Lawyer to work with, the process requires more than informing attorneys about your case and the predicament you're in. While they are inquiring more about you, you should inquire more about the attorneys you're speaking with too.
When you sit down with someone from each firm, here are the questions to ask to find the right wrongful death lawyer to work with. It is imperative you have a great understanding of the competency each firm and attorney has so you can be sure to hire a lawyer who can help you seek extra compensation successfully.
How Much Experience Do You Have?
Wrongful death cases can be very difficult to prove. There must be sufficient evidence to prove the wrongdoer knew the risks of what they were doing and acted in a negligent manner. Because of how tricky it is, and the thorough investigation of evidence it requires, these types of cases are not for every attorney.
As you meet with each attorney, ask them how much experience they have handling wrongful death claims. You are out to prove the negligence of someone who led to the death of a family member, and you are putting your trust in the lawyer you hire. That said, the right lawyer should have years if not decades of experience handling these claims.
What Is Your Success Rate?
Follow up the previous question with what their success rate is with wrongful death claims. Ask specifically how many cases they have won and if they have handled any cases that are similar to yours.
If the lawyer has handled similar cases, for instance, with medical malpractice, this will bring comfort to you since they will know what to investigate and how to look at evidence that shows the doctor did not use proper care.
Who Will Be the One Primarily Working on My Case?
Some lawyers have paralegals or assistants that will do some research and drafting of documents. If you prefer to have the attorney work on the case themselves, ask if they have any help and if they can be the sole person to do most of the work, especially if their paralegal or assistant is still new to the practice.
How Will We Communicate?
It is very important for you to choose a lawyer that can communicate effectively throughout the process. They need to be able to give you case updates, inform you of the next steps, and what to expect as your case proceeds.
If you can tell in your consultation that your attorney is being short with you or does not seem to be listening very well, this can be a red flag. The right lawyer will be compassionate, informative, and entirely honest. They might tell you they would like to meet once a week or communicate via phone. Either option is fine if it's clear there is an open line of dialogue that is welcome throughout the process.
What Is a Wrongful Death Claim & How Do You Qualify?
When a loved one dies as a result of someone else's negligence, the wrongful death claim you are filing indicates that you are bringing about justice for a wrongdoing and seeking out compensation for the loved one's loss. Florida's rule states that it must be a family member or personal representative of the deceased person to file the wrongful death claim.
Florida's Statute of Limitations for filing a wrongful death states that your claim must be filed within two years of the date of death. Making sure your claim is filed within the timeline shows that you are serious about the case and seeking out justice rather than just compensation. Any claim that is filed outside of the two years will have a much more difficult time being carried out successfully and appearing in court.
The Statute of Limitations rules may be complicated to fully understand without prior experience and a legal background, so the best advice is to seek a lawyer for professional help. They can answer your questions and review your case to let you know what you can do and what you may qualify for.
Wrongful Death Damages in the State of Florida
Depending on your case, you could be eligible to have the defendant pay for wrongful death damages that will be added to your case.
Florida wrongful death damages you can seek are:
Medical and funeral expenses
Mental pain and suffering
The loss of companionship, support, or guidance
More
To see if you qualify for seeking damages against the wrongdoer, consult with your lawyer about what you can expect.
How Long Are Wrongful Death Cases Settled in Florida?
There is no set time frame that it takes for a wrongful death case to be settled in Florida. These types of cases can be cut short if the defendant and plaintiff decide to settle outside of court. However, the case can also drag out depending on the person or organization you are going up against.
The typical time frame for a wrongful death case to settle can take up to a year or longer. There is a lot of work that has to be done in these cases such as seeking evidence, negotiating with the defendant before taking the case to court, and more. It can also take longer for cases to be settled if a criminal is responsible for the act and has fled.
How Much to Expect Out of Your Wrongful Death Settlement
Just as there is no set time frame as mentioned previously, there is also no exact amount you should expect to receive for your wrongful death settlement. However, your lawyer can advise you on what you could possibly win by the end as they work through all the evidence and understand your position.
Wrongful death cases could see earnings from the loss of life, especially if it was at the hands of a doctor or other powerful organization that's expected to act with care and nurture. The jury will look at all factors involved in the case, what led up to the death, and how it impacted the family after.
For instance, if a parent were to lose their life and leave behind young children, this could be a cause for earnings to increase since there will be a lot of pain and suffering and the preventable loss of parental guidance involved.
Speak with A Wrongful Death Lawyer Today
Frankl Kominsky understands that experiencing a preventable wrongful death in the family is completely devastating for every family member left behind. That's why we promise to establish honest communication and expert legal advice to help you seek justice against the wrongdoer of this situation.
We are proud to say that our firm has been practicing as wrongful death attorneys for various cities in Florida for over 40 years (by appointment only). Our firm is highly awarded and acclaimed based on our experience and skills to thoroughly investigate a wrongful death claim, as well as have it filed within the allotted statutory time limit.
It is our goal to help you seek compensation and rightful justice in your case and we want to start immediately. Visit us online to fill out our case evaluation form or call our firm at (561) 800-8000 to speak to a representative. Once we have your contact information, we will set up a day for you to come into the office.
Let us help you in the best way we know how: using our legal knowledge to help bring closure to your situation in this difficult time.
Don't let any more time pass you by. Call the office of Frankl Kominsky Injury Lawyers today.