Boynton Beach Car Accident Lawyer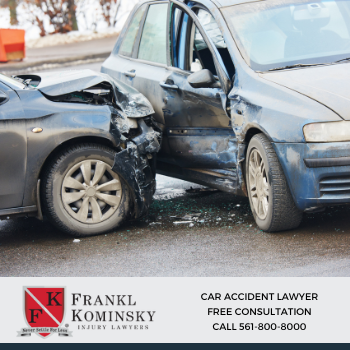 At Frankl Kominsky, our Car Accident Lawyers in Boynton Beach understand how difficult it can be to recover damages from medical bills and lost wages after an accident. Our experienced legal team has helped more than 6,000 clients recover compensation and move on with their lives.
According to the Florida Highway Safety & Motor Vehicles, in 2018, there were more than 26,000 auto accidents in Palm Beach County. The report also stated that of all the auto accidents, over 180 resulted in fatalities.
Palm Beach County Crash Statistics
Car Accidents involving Pedestrian: 595 with 42 fatalities
Bicycle Accidents involving a motorist: 422
Motorcycle Crashes: 450 with 28 fatalities
Hit & Run Accidents: 7,449 with 13 fatalities
Top 14 Types of Car Accidents in Boynton Beach, Florida
| Type | Definition |
| --- | --- |
| Auto Accidents Involving A Distracted Driver | When a driver is focused on anything other than driving, which could include texting, eating, adjusting the navigation or changing the radio station |
| Head-On Collisions | When two vehicles collide head-on. This is one of the most dangerous types of car crashes in Palm Beach County |
| Accidents Caused By A Negligent Driver | This occurs when a driver is not obeying the traffic signals or signs, road rage, or driving aggressively. |
| T-Bone or Side Impact Collisions | This occurs when the front of one vehicle collides with the side of another vehicle. Otherwise known as a "T-Bone" accident. |
| Sideswipe Collisions | This can occur when two cars are traveling in the same direction and one merges into another lane without seeing the other vehicle. |
| Rear-End Collisions | This can occur when one car is stopped at a traffic light and the car behind fails to stop in time or the driver was distracted and failed to notice. |
| Driving while Fatigued, Drowsy, or Tired | This occurs when the driver is in a state of exhaustion from lack of sleep. Driving while tired can hinder one's ability to stay focused and alert. |
| Drunk Driving or Driving Under the influence of Alcohol and/or Drugs | Driving while under the influence of alcohol or drugs is illegal in most states and increases the risk of injuring another in an auto accident. |
| Hit & Run Accidents | When a reckless driver collides with another vehicle and flees the scene of the crash. |
| Speeding or Failing to Obey Traffic Laws | This occurs when a vehicle traveling at a high speed collides collides with another vehicle |
| Rollover Accidents | This can occur when a driver loses control of their vehicle and rolls onto its roof. This is common with top heavy vehicles such as Trucks, Vans and SUVs |
| MVA or Multiple Vehicle Accidents or Collisions | This occurs when more than two vehicles collide |
| Single-Car Accidents | This could be caused by debris on the road, avoiding potholes, striking a stationary object when trying to avoid injuring another. |
| Texting and Driving or Trying to Record or Post to Social Media | This occurs when a reckless driver takes their eyes off the road to respond to a text message, email, or post to social media. |
Top 9 Most Dangerous Intersections for Car Accidents in Palm Beach County
Glades Road & 411 or State Road 7 in Boca Raton
Atlantic Ave & Military Trail in Delray Beach
Military Trail & Forest Hill in West Palm Beach
In 2018, which Law Enforcement Agency Responded to Auto Accidents in Palm Beach County?
Police Department: 43.15% or 11,634
Palm Beach County Sheriff Department: 39.92% or 10,763
Florida Highway Patrol: 16.91% or 4,560
What are the Most Common Injuries after a Car Crash in Palm Beach County?
Serious Injuries
Concussions, Fractured Skull, Traumatic Brain Injuries: Symptoms of a traumatic brain injury include change in mood including excessive anger or anxiety, poor speech such as difficulty forming sentences and slurred speech, changes in behavior such as abnormal laughing, crying, persistent repetition of words or actions
Spinal Cord Injuries: symptoms of a spinal injury include problems walking, inability to move your arms or legs, loss of control of the bladder and bowels, pain and stiffness in the neck or back area
Broken or Fractured Bones: symptoms of a broken or fractured bone include swelling or bruising over the affected area, severe pain especially when pressure is applied or when you try to move it, obvious deformity, loss of function in the injured area
Internal Bleeding: symptoms of internal bleeding includes shortness of breath, chest pain, dizziness, especially when standing, blood in the urine, abdominal pain.
Other Accident Related Injuries Include:
Soft Tissue Injuries and Whiplash
Lacerations, Cuts, Scrapes, Bruises, Road rash
Herniated Discs or Back Injuries
Dislocated Shoulders, Hips, Knees
Florida Car Accidents: What Damages Can You Claim
Medical Expenses
If you were injured in a car crash, it is essential to get the medical treatment you need to make a full recovery. Whether you require surgery, physical therapy, chiropractic treatments, MRIs, or need were prescribed medication, you could include these expenses in your compensation claim.
Extended or Long Term Medical Care
If you were involved in a devastating auto accident, your injuries may be so severe and could require extended or long term medical care such as home health care services, a homemaker, physical therapy or rehabilitation.
Modifications to Your Home or Vehicle to Accommodate a Disability
If your accident has left you with a permanent (or short term) disability, you might need to make adjustments to your life and your home, such as a chair or stair lift, customizing your home or vehicle to be wheelchair accessible. These are additional costs that come with a disability that should be covered by the responsible person.
Current and Future Lost Wages or Loss of Earning Capacity
When an individual sustains injuries in a car wreck, they should focus on their health and recovery. Which could mean they need to take time off from their regular work schedule for physical therapy, MRIs, or chiropractic treatments.
On occasion, the accident may experience serious injuries that limit their ability to perform their trade or routine work duties. This is very common for accident victims whose jobs require strenuous physical labor like a mechanic, repairman, or a construction worker.
How Our Boynton Beach Accident Attorneys Can Help You
With the increasing population in Boynton Beach and Palm Beach County, the chances of being injured in a car crash continues to rise. If you or someone you love is hurt as a result of another's recklessness, we encourage you to call our injury firm.
While many law firms offer a broad range of legal services, it's very important that you consider the guidance of an accident lawyer instead of an attorney who specializes in criminal, divorce, or family cases.
Our Boynton Beach Personal Injury Lawyers may be able to review the details of your claim such as the cause and scene of the accident, your injuries and medical records, and how the injury impacted your life to guide you throughout the insurance claim process.
Free Legal Advice After A Car Accident
What You Should and Should Not Do After A Car Accident in Florida
You Should Never leave the scene of the accident
You Should Call the Boynton Beach Police Department or the Palm Beach County Sheriff's Department to report the car accident

You Should Document the scene of the accident by taking videos and photos of the property damage, collect witness statements and contact information
You Should Call EMS, Go to an Emergency Room or Urgent Care for immediate medical treatment. Note: If you are looking for a hospital near you, these hospitals can treat car accident victims:

All hospitals and urgent cares in Boynton Beach

You Should Never Speak the Insurance Companies for Property Damage, Injuries or Give a recorded statement.
Call for or Schedule A Free Consultation with Our Injury Lawyers
How Long Do I Have To File A Car Accident Claim in Florida
Florida Statutes: Boynton Beach Car Accidents
In Florida, the statute of limitations to bring a personal injury claim involving negligence is two (2) years from the date of the accident. If the statute expires, you will lose your opportunity to file a lawsuit.
Verified Client Reviews
Hire Our Boynton Accident Attorneys Today
At Frankl Kominsky, we strive to provide every client with diligent legal representation and meticulous case management along with excellent client services. As our client, you have an entire team of seasoned injury professionals on your side.
We Standby You
If you or a loved one is injured in a Boynton Car Accident, our injury lawyers offer a Free in-home or hospital consultation. Call 561-701-9992 to speak with our auto accident lawyers today.