Boynton Beach Personal Injury Lawyer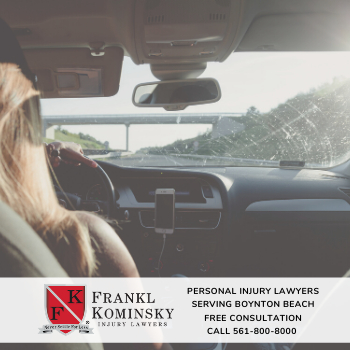 We are available to handle virtually all types of personal injury cases, including car accidents, wrongful death claims, medical malpractice, slip and falls, defective product lawsuits, and more.
Boynton Beach is a city located in Palm Beach County, Florida with a population of over 70,000 residents. Since the 1920s, it has been a popular place to visit because of its picturesque beaches and parks. The main beach, Oceanfront Park , was hailed as the best family beach in the county by the Palm Beach Post in 2001. Boynton Beach also offers a golf course, marinas, and elegant hotels.
But, despite the city's attractions, accidents happen to residents and visitors there every year. If you or a loved one has been hurt by somebody else's careless conduct in or near Boynton Beach, the experienced injury lawyers at Frankl Kominsky can try to help you seek the compensation you deserve.
Types of personal injuries that we handle in Palm Beach County
Car and Auto Accidents Claims : these accidents usually involved a reckless or negligent driver, or could occur while you are a passenger in a vehicle
Motorbike, Motorcyclist, or Scooter : motorcyclists who are injured by reckless drivers or drivers of large vehicles, drivers who speed, drive drunk, or are distracted
Bicycle and Pedestrian Accident Claims : bicyclists who have been seriously injured by careless or distracted drivers
Transportation or Bus Accident Claims: Passengers of a bus or transportation service who are injured because the driver is is distracted, tired, or driving while under the influence of drugs or alcohol
Boat, Cruise, or Jet Ski Injury Claims: when passengers are injured due to lack of medical supplies, excessive speed, boat or watercraft malfunctions, striking another boat or watercraft
Slip, Trip and Fall and Premises Liability Claims : if you were injured in a slip and fall at a grocery or department store, private property or home, a parking lot, you may have a claim for your injuries
Palm Beach County Crash Statistics
Car and Auto Accidents are a leading cause of injuries In Boynton Beach and throughout Palm Beach County. According to the 2018 Florida Crash Report by the Florida Highway Safety & Motor Vehicles, Palm Palm Beach County experienced one of the highest crash rates in Florida.
Total Crashes in Palm Beach County: 26,962
Total Fatalities as a result of Auto Accidents in Palm Beach County: 183
Total victims injured in an auto accident in Palm Beach County: 16,046
Total Accidents involving Bicyclists: 422
Total Motorcycle Crashes in Palm Beach County: 450
Total Accidents Involving Pedestrians: 595
Total Fatalities Involving Pedestrians: 42
Total Hit & Run Fatalities: 13
Palm Beach County Emergency Room Visit Statistics
In Palm Beach County, the number of visits to an emergency room can present an indication of the serious toll that personal injuries can take. Here, for example, we see in 2018:
Motor Vehicle Total: 4,013
Motorcycle Accident: 189
Motor Vehicle Occupant: 2,490
Cyclist: 171
Pedestrian: 82
Motor Vehicle (Unspecified): 1,081
What Are Some of the Most Common Injuries Following an Accident?
The types of injuries that are usually seen by our Boynton Beach injury lawyers include:
Head and Brain Injuries – Brain injuries can be somewhat common. However, the actual brain injury results are far from typical or predictable. Fortunately, some of the less serious injuries may heal themselves, in time.
But there are those that can dramatically alter the victim's life and the life of their families. Complete loss of employment is just one of these consequences. In addition, insurance payments are very often not enough when it comes to covering all of the expenses involved with these injuries.
Muscular Injuries – These types of injuries are noted for taking an exceptionally long amount of time in order to heal. Adding to the initial expenses are potentially costly physical therapy sessions.
There may also be a significant amount of pain that is involved in the healing process. Also, some injuries of this type will make going back to the victim's original job impossible.
Broken or Fractured Bones – A personal injury may lead to any type of bone fracture – some more serious than others. While a broken finger, for some, may be a relatively minor inconvenience, a fractured spine can be a life changing disaster.
Some fractures can be treated with just a simple cast, while others may require expensive surgery that takes many months to heal.
Injuries to the Spine – This is one of the most devastating types of injury that may require a lifetime of medical treatment. These injuries may also require home and/or vehicle modifications and hired help to assist the person when it comes to doing everyday activities.
Permanent facial and body scars – Expensive and painful skin grafts might be needed when it comes to addressing these types of injuries. Emotional trauma may also be a major factor when dealing with the resulting disfigurement. If psychological assistance is needed, then the cost of this care may be extremely high.
Other Injuries:
Cuts, Scrapes and Bruising
Internal Bleeding
Whiplash
Herniated Disks
Injuries to the Hip, Knee or Elbow
Personal Injury Claims: Types of Damages You May Recover
When filing a personal injury claim, there are a number of damages that you could possibly pursue. These may include:
Past and Future Medical Care and Treatment Including: EMS Transportation, Doctor Visits, Physical Therapy, Surgery, Home Health Care, Wheelchairs, Walkers, Lifts, and Long-term care facilities, Home Renovations for Accessibility
Lost Wages and Loss of Future Income
Pain and Suffering
Property Damage
What to Do After an Accident or Injury
Report the accident and injury to the authorities and property owner. Get a copy of the accident report or the incident report. Then immediately visit your doctor or the nearest hospital emergency room.

Example: Bethesda Hospital East | Call (561) 737-7733

If possible, document the scene of the accident with videos, photos, and be sure to collect any witness contact information and statements

Example: Boynton Beach Police Department | Call (561) 732-8116

Seek Immediate Medical Care from a qualified medical professional
Keep a journal or record of your injuries, medical treatment, and how the injury has impacted your life. Keep all medical records and expenses.
Find an experienced personal injury lawyer nearby for a Free Consultation
What You Should Never Do After An Accident or Injury
DO NOT give a recorded statement to the insurance company without consulting with your own personal injury attorney
DO NOT try to negotiate a settlement offer without speaking to an injury lawyer
DO NOT neglect your injuries or fail to seek medical treatment by a qualified doctor or medical professional
DO NOT post the information about the accident or your injury on Social Media
File an Injury Claim in Boynton Beach
When you've been injured by the carelessness of another person or entity, you can try to bring a negligence claim against whoever was responsible. Negligence means acting in a way that exposes someone else to an unreasonable risk of injury. There are many ways in which this type of case can arise, such as when a driver rear-ends another vehicle or when a property owner fails to fix a broken stair that causes someone to fall.
Failure to diagnose or properly treat a patient may expose a physician to liability in a negligence lawsuit as well.
In each of these examples, the driver, property owner, or doctor breached their duty of using reasonable care. This duty, which applies to everyone, requires people to act as a reasonably prudent person would act in the same or similar circumstances.
Establishing that a defendant breached this duty is a key element of a negligence claim, which requires an injured person to show four things:
The defendant owed the victim a duty to use reasonable care;
The defendant breached the duty with careless or reckless behavior;
This breach caused the accident in which the victim was hurt; and
The victim suffered damages as a result of his or her injuries.
Florida law follows the doctrine of comparative negligence, which reduces the injured person's recovery by the degree to which he or she was responsible for causing the accident. If you were partially at fault for the accident and your injuries, you can still pursue a claim; however, your total compensation award may be reduced by your percentage of fault.
For example, if the victim is deemed to be 10% at fault, the compensation award will account for 90% of the damages arising from his or her injuries.
These can include objective types of harm, such as lost wages or medical bills, and relatively subjective types of harm, such as pain and suffering.
If you have lost a loved one in an accident, you may be able to bring a wrongful death claim against those whose negligence was responsible. The rationale behind these lawsuits is that the victim would have been able to seek compensation if he or she had survived.
Losing someone to an unexpected tragedy is a heavy burden to bear, but a wrongful death claim at least can ease the financial blow as you cope with the grieving process.
One of the more common Boynton Beach accidents will involve negligence on the part of another. There are a number of statutes that cover personal injury cases. In premises liability claims, Boynton Beach personal injury lawyers may refer to:
Statute 768.0425 (1) Which will apply to damages against contractors for injuries suffered from insufficient property care.
Statute 768.0755 (1) Which will apply to premises responsibility for random articles that are not immediately removed on the premises of commercial buildings.—

(1)  If a person slips and falls on a transitory foreign substance in a business establishment, the injured person must prove that the business establishment had actual or constructive knowledge of the dangerous condition and should have taken action to remedy it.
Florida statute of Limitations for Personal Injury Claims
Florida Statute of Limitations section 95.11(3)(a) applies to plaintiffs suing in Florida on a civil action founded in negligence (which includes nearly all plaintiffs with a personal injury case based on a car accident), and holds that plaintiffs have two years from the date of the accident within which they are permitted to file their claim. Failing to meet this deadline will result in the court dismissing your lawsuit, unless you are able to successfully argue that your claim falls under an exception to this statute of limitations.
This means that in the case of a car accident, motorcycle accident or premises liability injury, the victim will have two years (from the time of the accident) to file their lawsuit. In cases where the victim died, their estate/loved ones will only have two years (from the time of death) to file their lawsuit.
How Will a Personal Injury Lawyer Help My Case?
If you or a loved one is injured, it's important to understand that your first priority should be to find proper medical care and then focus on your recovery. When it comes to the claims process, it can be very frustrating and may cause the added stress of dealing with: lost wages, property damage, gathering your medical records.
At Frankl Kominsky, our experienced legal team is committed to helping you to relieve your stress with assistance such as: starting a claim for injuries and property damage, setting up a car rental, obtaining your medical records, and requesting the police reports and witness statements in order to try and build a strong claim against the at-fault party.
You also need to be aware that when one is injured in an accident, the at-fault party's insurance company may reach out for a recorded statement or they may offer a fast and easy settlement - but without offering to cover your medical treatment, your lost wages, or your property damage.
The Benefits of Hiring an Injury Lawyer Near You
If you have been harmed because of someone else's carelessness, there is no substitute for having dedicated legal representation on your side. At Frankl Kominsky, our Florida accident lawyers are committed to helping injured victims in Boynton Beach and throughout Palm Beach County. Our firm has over 40 years of combined experience handling accident and injury cases, and we know what it takes to try and prove a negligence claim. You can expect the utmost respect and professionalism from our licensed attorneys and legal staff.
Our Injury Lawyers offer a Free Consultation by calling 561-701-9992. Let us help you through this stressful time, our office is available 24/7 and we speak Spanish and Creole.
Start Your Free Personal Injury Consultation Today
At Frankl Kominsky Injury Lawyers, we strive to provide diligent legal representation and superior client services. Each client has an entire team of legal professionals working on their behalf and offers 1-on-1 attention and care.