Car Accident Lawyer Serving Cooper City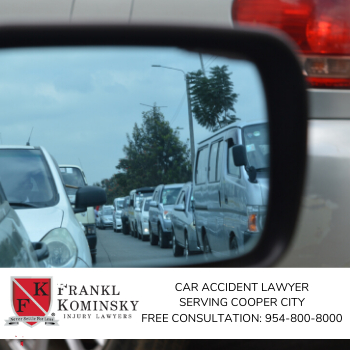 Cooper City is located in Broward County, Florida and is known for its range of shopping malls, parks, and plenty of other activities that attract both tourists and has a steady population growth of locals. As of 2020, the city has a population of more than 36,000 people, which is growing at a rough average of around 0.5% annually.
The growing population brings with it a steady increase in road and automobile traffic, which also leads to a rise in road accidents. Car accidents can be very dangerous, and not only can they lead to vehicle damage, but they also cause serious injuries and, in some cases, fatal loss of life.
If you or your family member have fallen victim to a serious car accident that was not your fault, then you may be able to file a claim for damages against the person/people responsible. Contact the attorneys at Frankl Kominsky Injury Lawyers. We are available for a free consultation and case evaluation. Let us help you recover the compensation you deserve.
Most Common Causes of Car Accidents in Cooper City
Car accidents can be very dangerous and may even lead to loss of life. Common causes of car accidents include but are not limited to:
1. Accidents involving Drunk or DUI Drivers
Drunk driving is one of the top causes of car accidents. Drivers under the influence have slowed cognitive function, which makes it difficult for them to notice obstructions and other vehicles until it is too late. Even being partially drunk is sufficient to keep a person from driving their car anywhere; otherwise, they put themselves and others on the road at risk.
2. Rear-End Collisions
Just as common as drunk driving are rear-end collisions. In fact, these occur even when drivers are completely in their senses and are the result of drivers going above the speed limit, not stopping at stop signs, tailgating other vehicles and overall not adhering to road regulations such as leaving the right amount of space between two cars, etc. Rear-end collisions range from minor fender benders to fatal accidents, which may even lead to loss of life.
3. Distracted Drivers
Distracted driving is constantly growing due to growing distractions. A distracted driver is one who is involved in any activity that diverts their attention from the road. This includes texting while driving, talking on the phone, speaking to other passengers, eating, being else mentally, and so on. Distracted drivers are most likely breaking the law and may be involved in auto accidents with other vehicles and pedestrians.
4. Teen, Young, and Inexperienced Drivers
Teenage drivers are the major group who fall in the distracted driving category and are more likely to be involved in accidents for a number of reasons ranging from driving without a license, not having proper road sense and being reckless such as speeding, driving without a seatbelt and more. Teen drivers are more likely to be involved in accidents at night and while they are under the influence.
5. Crashes Involving motorcycles, bikes, pedestrians or commercial vehicles
Cars are not the only vehicles that are involved in auto accidents. They may collide with motorcycles, pedestrians, or even trucks, such as those carrying commercial goods and cargo. Such accidents are likely to be more severe, especially if it's a larger vehicle such as a truck that has a higher fuel content, which may present a higher risk of an explosion. In some cases, the victims and the parties at-fault in such cases may be more than one leading to confusion as to who is to be held responsible for the unfortunate accident.
Serious Injuries after A Car Accident
Car accidents cause pain and suffering to the victims ranging from whiplash and surface cuts and bruises to heavy organ and physical damage, which requires time and money to recover from, and even then, a complete recovery may not be possible. Some common injuries caused by car accidents include:
1. Traumatic Brain Injuries
Serious car accidents cause trauma and pressure on the head, which leads to a number of issues such as concussions, objects that may pierce right through the skull, brain hemorrhaging, and so on. Their symptoms range from dizziness to bleeding from the ears and the head, impaired cognitive function, and impaired general motor skills. Some brain injuries can be recovered from completely over time, while others may leave the victim permanently impaired in some way.
2. Spinal Cord Injuries
The spine is a very important part of the human body, but it is also very fragile. The forceful impact of a car accident can sever the spine or greatly injure it, which may lead to posture problems, partial or complete paralysis, and damaged nerve endings. All of these require extensive surgery and physiotherapy for recovery.
3. Broken & Fractured Bones
Victims of car crashes are likely to end up with at least a fractured bone or two, even if the accident is minor. This is especially likely in rollover accidents, accidents with other vehicles, and so on. Broken and fractured bones may require bone grafting for repairs and may affect the victim's day to day movements. Most commonly, broken bones occur in the wrists, legs or hips.
4. Back Injuries
Similar to broken bones, back injuries are more likely to occur in rear-end collisions, rollovers, and other serious accidents where the victim's body may be hurled with so much force that their back is affected. This may range from cracked bones to joint dislocation and more, which may even impair the victim's posture for life.
What Damages Can I Pursue After A Car Accident?
If you've been in a car accident, you can pursue a claim for a number of damages to recover the cost for personal injuries and/or property damage.
1. Past and future medical bills
In the initial stages of the accident, the victim imay be taken by paramedics to the hospital to have their injuries checked. Depending on the severity of their injuries, they may need to undergo diagnostic testing such as X-rays, CT scans, and more followed by treatment plans, medication or surgery in the future. For victims with lifelong injuries like partial or complete paralysis, at-home care and physical therapy may also be required.
2. Lost wages and/or benefits and Reduced earning potential
Victims of car accidents require some time to recover from their injuries. This period may range from a few days to even a few months. During this time, if they were previously employed, their earnings will have stopped, and after the recovery period has passed, they may find that they no longer have the same earning potential. You may be able to pursue a claim for your lost wages for missed work due to your injuries or treatment as well as the loss of future earning potential.
3. Pain and suffering
Car accidents cause extensive pain and suffering for the victim ranging from physical injuries to mental pain and the loss of property such as their vehicle. Some victims may suffer from PTSD and depression and may even require medical help, which will add to their growing medical bills. Apart from that, victims may find themselves physically impaired and unable to perform many of the activities that they previously enjoyed. Victims can file a claim for this reduced quality of life.
4. Funeral and burial expenses
Some people may lose beloved family members in a fatal car accident. Apart from the great loss, this brings with it the sudden expense to arrange a funeral and a burial, and a claim can be filed. In case of loss of life, family members can pursue a wrongful death claim.
What to Do after A Car Accident, Florida Car Accident: Collecting Evidence
If you've been in a car accident, and suffered from injuries, here are some suggested steps you may choose to follow:
At the Scene of the Crash
If you have been in a car crash, do not leave the scene of the accident. Start off by calling 911 and filling out a crash/accident report with the Cooper City Police Department. Be sure to get a copy of the Drivers Exchange of Information and the Traffic Crash Report.
If you were injured in the accident, a team of paramedics will tend to your injuries. If the injuries are severe, you will need to receive emergency care at the hospital. Broward Health has a 24/7 emergency ward to tend to your wounds and injuries. If you do not go to the emergency room right away, be sure to get a medical examination from a qualified medical professional. You may go to a local hospital, urgent care center or to your own personal medical doctor.
Before leaving the scene of the crash, make sure to collect all the necessary evidence: take plenty of photos and videos of the scene of the accident, including the vehicles involved, the condition of the road, road signage and signals, surveillance cameras, etc.
If there were any witnesses present, make sure to obtain witness statements and keep a record of them. Also, obtain essential contact information from the witnesses, including a contact number and an email address.
After the Crash
Make sure to keep copies of your medical records. This includes your hospital discharge papers, emergency room documents, surgical care, prescriptions and referrals before leaving the hospital. Keep records of your follow up doctor visits, diagnostic testing and physical therapy.
Contact a personal injury lawyer who has plenty of experience in handling auto and car accident claims. At Frankl Kominsky, our team of dedicated personal injury attorneys are available to assist you with your personal injury claim. Let us help you fight for the compensation you deserve.
If you are contacted by an insurance agency on behalf of the party at-fault, avoid giving a recorded statement or signing any documents without speaking to your attorney.
Florida Statute of Limitations: Car Accidents
The amount of time you have to file a claim for damages is determined by the Florida Statute of Limitations. If you are planning to file for personal injuries and/or property damage, the following timelines may be applicable:
For both property damage and personal injuries, the statute allows a period of two years from the date of the accident to file a claim.
If a person loses their life in the accident, the case will turn into a wrongful death suit, and the statute will be for two years from the date of death.
If you fail to file your lawsuit within this time frame, it is likely your case will be dismissed and you may be barred from pursuing your claim. Speak to an experienced personal injury attorney for further legal guidance.
Hiring an Experienced Injury Lawyer for Your Cooper City Car Crash
If you're filing a claim for damages, there are a number of procedures you must follow. An experienced personal injury lawyer can provide help from start to finish, including gathering evidence, establishing your claim and negotiating with the at-fault party's insurance company and attorneys.
Establishing a Claim
This is the initial stage during which your lawyer will assist you in gathering all the necessary documentation to establish your claim. This includes:
Getting copies of the traffic crash report
Speaking on your behalf with the at-fault party's insurance company and locating all available insurance policies
Finding witnesses and obtaining their statements.
Consulting with an accident reconstructionist and other experts if necessary
Studying photos and videos from the scene of the accident and finding access to surveillance camera footage if there were any present nearby
Gathering your medical records, including emergency care, surgery, physical therapy, diagnostic testing, medical prescriptions, at-home care, etc. We will try to get future projections for at-home and hospital medical care for victims with lasting injuries and consult with medical experts
Obtaining evidence of lost wages and future loss of income
Handle all communications with the liable party's insurance company and their attorneys.
Handling Pre-SuitNegotiations
We will negotiate with the insurance company on your behalf to try and obtain fair and just compensation for your damages. If we are unable to settle your claim, we will file a lawsuit and proceed with litigation.
Get Started with a Free Consultation at Frankl Kominsky
Frankl Kominsky Injury Lawyers have a seasoned team of attorneys with over 40 years of experience in handling personal injury cases. Our lawyers have recovered millions in settlements and verdicts for our clients, and we may be able to do the same for you. You can begin with a free consultation with our lawyers without any obligations involved If you are unable to come, perhaps due to your injuries, we will come to your home or hospital, seven days a week.
Begin the road to improvement by contacting us at 754 – 800 – 8000 or reach out to us through our website.
What Should You Bring to a Car Accident Consultation
If you have any questions, you may want to watch our YouTube channel.
Car accidents are among the leading causes of death, injury, and emergency room visits in the state of Florida. They impact thousands of people, and you or someone you love may be a victim. If that is a case, and you have been impacted in the form of physical injuries, property damage, and mental trauma, don't suffer in silence. Stand up against the parties at fault, file a claim for damages and recover the expenses that could help you move on from the trauma of the accident.