Car Accident Lawyers Serving Dania Beach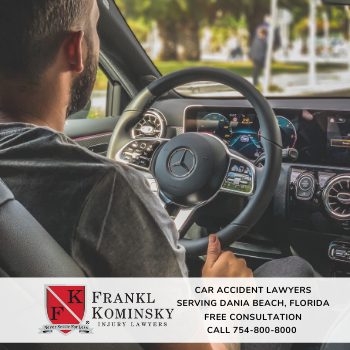 Thousands of Americans are involved in car accidents in the United States annually. While some crashes are minor fender benders that cause minimal injuries and property damage, others are severe and lead to tragic injuries such as disabilities or even death.
The Florida Department of Highway Safety and Motor Vehicles (FLHSMV) reports that over 250,000 people sustained injuries from motor vehicle accidents in 2021. Intoxicated driving, disobedience of traffic laws, and hazardous road conditions are among Dania Beach, Florida's top causes of car crashes.
Automobile accidents are traumatic experiences that frequently result in significant injuries and damages. The time immediately following a crash is often complicated and distressing. If you or a loved one have been involved in an automobile accident, a seasoned Dania Beach car accident lawyer can handle all your legal correspondences so you can focus on what matters most: healing.
The experienced motor vehicle accident lawyers at Frankl Kominsky Injury Lawyers can assess your case and walk you through the personal injury claim process. Call (561) 800-8000 now to schedule a free consultation.
What to Consider When Choosing a Car Accident Lawyer
It may be challenging to locate a dependable auto accident lawyer. When selecting a lawyer to represent you after a car accident, look for one with the following qualities:
Award and accolades.
Good reputation within the state bar and community.
Reputation of winning car accident cases.
Good negotiation and litigation skills.
Authentic and positive client testimonials.
The best car accident lawyers know all the rules and regulations that apply in Florida. They will explore all options to ensure the best possible outcome for their client's cases.
A Dania Beach car accident attorney will investigate the incident, pinpoint liability, negotiate with insurers, document damages, calculate damages, and draft a personal injury claim on your behalf. This gives you peace of mind and ensures that you remain focused on complete recovery.
Losses such as money spent on medical care, money lost from being unable to work, and damage to your property must be itemized and described in the car accident claim. If your insurance company offers a low settlement or refuses to pay compensation, the motor vehicle accident lawyers at Frankl Kominsky Injury Lawyers can help you seek compensation through the courts.
Top Causes of Dania Beach Car Accidents
Below are some of the most common causes of motor vehicle accidents in the Sunshine State:
Distracted Driving
Distracted driving causes a large percentage of accidents nationally and in the sunshine state. Even though Florida has approved laws forbidding distracted driving, many drivers continue to do so.
Driving while distracted is increasingly becoming common as drivers eat, drink, text, and fiddle with their GPS devices more while behind the wheel. A driver focusing on something other than driving threatens everyone on the road.
Drunk Driving
It's dangerous for all road users when someone has been drinking or using drugs and then gets behind the wheel. Drivers who cause accidents while under the influence of alcohol in Florida are subject to criminal prosecution.
In most situations, calling a cab would prevent accidents caused by intoxicated driving.
Noncompliance with Traffic Regulations
All drivers seeking a license in Florida must pass a knowledge test on the state's traffic laws. However, many motorists wilfully violate traffic regulations through actions such as driving too fast, failing to yield the right of way, or refusing to stop at red lights.
Intentional or negligent violation of traffic laws can lead to catastrophic consequences, including death.
Aggressive Driving
When drivers are frustrated with traffic flow, they often take their frustration out on innocent bystanders. The most common forms of aggressive driving in Dania Beach are swerving in and out of traffic, tailgating, and bullying other vehicles into moving over.
Road Hazards
Highway safety in Florida is the responsibility of state and local governments unless the road in question is privately owned. Severe weather may inflict significant damage to roads. Loss of control caused by a pothole, huge crack, or other obstacles might cause a car to smash into another vehicle.
Defective Auto Components
Automobile drivers may lose control of their vehicles because of a malfunctioning part. A loss of control can occur if the vehicle's brakes, tires, steering system, airbags, or other parts suddenly stop working.
If a malfunctioning component in a vehicle causes an accident, the supplier or maker of that component could be held liable for any ensuing financial losses.
What Should You Do After a Car Accident?
Knowing how to safeguard one's legal rights after an automobile accident is essential. What a person does in the moments following an accident can have a significant impact on how successful their compensation claim is.
Take the following steps after a car crash:
Move to safety: If you're in a dangerous area, get to a safe location.
Check yourself and others for injuries: if anyone was hurt in a car accident, an ambulance should be contacted right once.
Dial 911: Under local state law, anybody engaged in an accident must notify the police. The police will arrive and take statements that can be used in a civil suit for damages.
Exchange contact and insurance information: After a car accident, exchanging contact information with the involved parties is essential. This includes phone numbers, addresses, vehicle registration numbers, insurance information, and any other details that may be relevant.
Collect evidence: If you can do so without risking further injury, anyone involved in car accidents should take photos and videos of the incident as evidence.
Get medical attention: Accident victims should receive medical care immediately, even if they don't appear to be hurt, because any delay could result in worse injury. A physician can examine the accident victim and determine if they sustained injuries that won't become apparent for quite some time. If an accident victim in Florida does not seek medical attention within 14 days, they will likely waive their right to claim damages.
Inform your insurance company: If you've been in a car accident, you need to inform your insurance company as soon as possible. The time range for notice should be defined in each insurance policy. Victims of an automobile accident should not accept any compensation offers before consulting with an attorney.
Seek legal representation: Hiring a lawyer with experience in vehicle accident lawsuits can increase your chances of receiving a fair settlement after an accident. Feel free to call or email our office whenever you'd like for a no-risk consultation.
Common Types of Motor Vehicle Accidents in Florida
When people hear about a car accident, the first thing that comes to mind is two cars colliding. The spectrum of vehicles involved in accidents, however, is quite broad. Frankl Kominsky Injury Lawyers are well-versed in a wide range of motor vehicle accident scenarios, including, but not limited to, the following:
Truck accidents
Rideshare accidents
Motorcycle accidents
Pedestrian accidents
Multiple factors can contribute to a car crash. Insurance adjusters can use accident types as evidence that negligent parties should pay for victims' medical bills and other damages. The most common types of car accidents include:
Rear-end collisions: These happen when a car crashes into the vehicle in front of it from the rear.
T-bone accidents: Also known as broadside accidents, these are accidents where a car crashes with the broad side of another vehicle.
Sideswipe accidents: Sideswipe accidents often happen when a driver tries to change lanes but loses control of the car.
Multiple-vehicle accidents: Also called pile-up accidents, these involve more than two vehicles. They are usually caused by a rear-end collision that causes a chain reaction.
Rollover accidents: These are accidents where vehicles roll onto the side or complete a 360-degree turn.
If you were involved in a car crash, call our office at (561) 800-8000 to talk with an attorney.
Types of Injuries Sustained in Florida Car Crashes
Injuries sustained in car accidents can range from minor to severe and can affect many different parts of the body. Below are the most common car accident injuries in Florida:
Soft tissue injuries
Whiplash
Head injuries
Traumatic brain injuries (TBI)
Broken bones and fractures
Neck injuries
Loss of limbs
Spinal injuries
Our seasoned Dania Beach car accident lawyers will work with doctors to assess the full extent of the injuries sustained. Fair compensation can only be determined if the full extent of the accident victim's injuries is determined.
No matter how minor the damage to the vehicle or the victim's injuries, everyone involved in an automobile accident should get assessed by a doctor and speak with a lawyer.
Some injuries sustained in minor car accidents don't become apparent until many days later. Injuries like those suffered in a sideswipe collision may not become evident for hours or even weeks after the incident.
When considering the physical injury, most people think of visible injuries as cuts, head injuries, or broken bones. These injuries can have long-lasting consequences for accident victims. Injuries that aren't life-threatening, such as a sprained ankle, bruising, or strained hamstring, are often assumed.
Importance of Adhering to the Treatment Plan
Following your doctor's orders after an auto accident is your best bet for a speedy recovery. This helps prevent your injuries from worsening or progressing to chronic health issues.
It's best not to do anything that could make your insurer undervalue or outright reject your claim. If you avoid medical attention, the insurer's adjuster may try to prove that you share some blame for whatever happened to you.
Your Florida car accident lawyer will need to use your medical records to demand full reimbursement in the personal injury claim. It would be best if you didn't have to pay for the expenses caused by the negligent actions of another party.
Proving Liability after a Florida Car Accident
There must be evidence of negligence or blame in all situations involving personal injuries. Our team of experienced Dania Beach accident lawyers can help you prove the following crucial elements:
Duty of care: Every driver is responsible to other road users, including pedestrians and cyclists.
Breach of duty: Drivers' duty of care to other motorists is breached if they violate traffic laws, such as by exceeding the speed limit or failing to yield.
Causation: Because of the other driver's recklessness, you were hurt, or your property was damaged.
Damages: Injuries, time away from work, and repairs to the damaged property are some of the damages you may incur from injuries sustained in a car crash.
Accident Investigation
When an automobile accident occurs, our legal team will examine the situation thoroughly and address any concerns you may have. The circumstances surrounding the car accident that resulted in your injuries will be investigated to establish the responsible party.
Some of the most critical aspects of an auto accident investigation include the following:
Is it possible that the other driver was driving illegally?
Did the other driver admit fault?
Was the motorist impaired in any way?
Do you have a copy of the police report?
Are there any eyewitnesses to the incident who are willing to testify?
How to Recover Compensation from a Dania Beach Car Accident
Obtaining financial compensation after a Florida car crash may seem like an uphill battle. Which legal requirements apply to you will depend on the details of your case. Our experienced lawyers will look into several methods of pursuing compensation, such as:
PIP (Personal Injury Protection): Drivers in Florida must carry this type of insurance. In the event of an accident, regardless of who was at fault, PIP insurance would pay for medical bills, lost wages, and other related expenses.
Negligent driver's insurance coverage: If the other motorist were negligent, their insurance company would have to pay for your medical bills and other expenses over and beyond what your policy would cover.
Motor vehicle accident lawsuit: If you've been seriously hurt in a car crash, you may be able to file a lawsuit in civil court against the person or business at responsibility and demand monetary damages.
Frankl Kominsky Injury Lawyers will conduct a complete investigation and gather all the evidence we need to negotiate for the maximum amount of compensation, whether that's through your personal injury protection (PIP) insurance, the insurance company of the person who caused the accident, or a trial.
Financial Compensation for Florida Automobile Accident Victims
The attorneys at Frankl Kominsky Injury Attorneys will look into what happened and calculate fair compensation. Our firm has a track record of success and can help you get compensated for a wide range of losses, including:
Medical costs: Expenses incurred for medical treatment, including those for hospitalization, doctor visits, procedures, therapies, prescriptions, and more.
Lost wages: Compensation for lost wages includes monetary losses due to absence from work, decreased earning capacity, and other changes in income.
Damage to property: Repairing or replacing broken or damaged property, such as vehicles, clothing, electronics, and more
Pain and suffering: Victims are entitled to compensation if they experience physical pain, mental anguish, emotional trauma, depression, or post-traumatic stress disorder (PTSD).
Wrongful death: The local wrongful death legislation provides that if a family member passes away prematurely due to the negligence of another party, the family may be entitled to monetary compensation for the loss of financial support and the loss of the deceased person's bodily and emotional suffering.
Time Is of the Essence
All states have different statutes of limitations for when a person must submit a claim for damages after suffering a personal injury.
Victims of car accidents in Florida can bring personal injury claims up to two years after the incident. if a loved one was killed in an automobile accident, you also have two years to file a claim for wrongful death.
Failure to file a claim for personal injury or wrongful death within the time frame specified in Florida Statute 95.11 constitutes a waiver of any entitlement to compensation.
Consult a Dania Beach Car Accident Lawyer Today
After an automobile accident in Florida, you should contact an attorney immediately. Frankl Kominsky Injury Lawyers auto accident attorneys have spent years advocating for Floridians to secure just compensation after accidents.
If you've been in an automobile accident in Florida and need advice on how to proceed, our attorneys will be here. We understand how difficult this situation is for you, and we'll take care of everything related to your claim so you can focus on getting well.
You may rest assured that our Dania Beach car accident lawyers will investigate the incident, collect evidence, interview witnesses, negotiate with insurance companies, calculate damages, manage paperwork, and file your personal injury claim on time.
Contact us at (561) 800-8000 or through the online form on our website to set up a time to speak with an attorney about your car crash.