Boat Accident Lawyer Serving Boca Raton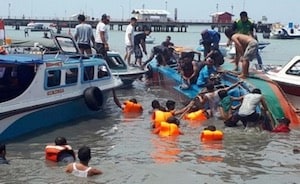 In the United States, Florida is famous for its beautiful beaches, waterways and picturesque bays. In addition, the state also has the largest number of boat registrations in the country. Unfortunately, it also has the greatest number of boat accidents in the U.S. As such, filing a boat crash lawsuit is a relatively common occurrence in Florida, especially in cases in which a personal injury has occurred.
The responsibility for enforcing Florida's boating safety laws falls into the hands of The Florida Fish and Wildlife Conservation Commission's division of law enforcement. In 2015, the Commission reported that 737 reportable boat accidents occurred in that year. When a "reportable" boat accident is mentioned, it refers to those accidents that meet a certain criteria which include:
A vessel has been complete loss
Damage to property or to the vessel itself totals at least $2,000.00
Someone requires medical treatment that goes beyond simple first aid
The disappearance of an individual that indicates possible injury or death
Someone dies
The most common type of boat accident involves the collision with another vessel. This type of accident accounted for 26% of the number of accidents reported. As far as boating accident fatalities, 55 fatalities were reported that year (2015). The number one cause of fatalities in these accidents was drowning, which comprised 64% of the total deaths. Falling overboard accounted for 42% of the fatalities. In addition, 19% of the fatalities involved drugs or alcohol.
Categories of Boating Accidents
Contrary to what some may believe, the majority of boating accidents that occur in Boca Raton may not be due to the result of dangerous weather conditions, such as storms or other natural occurrences. In actuality, the majority of boating accidents are the result of human error during times of good weather and calm seas. This is when most people are apt to go boating. Some of the types of recreational boating accidents that can result in a potential boat crash lawsuit can include:
Not having the proper safety equipment – Certain on-board safety devices are mandated by The Florida Fish and Wildlife Commission. These include; proper lighting, distress signals, fire extinguishers and personal floatation devices. Failure to have these on board can result in accidents and exacerbated personal injuries.
Fixed object or land collisions – There are objects that are floating in the water which must be accounted for, other than additional boats – such as buoys, and boating docks. This is also true of land-based formations such as sandbars. Colliding with any of these can cause a jolt which can easily throw a boating passenger overboard or into any nearby solid object on the boat itself.
Colliding with a large wave – Hitting a large wave can have enough force to either swamp the boat or cause it to capsize. In some cases, it may cause a boat to take on enough water in order to cause it to sink.
Hitting the wake formed by another boat – The wave that trails behind a moving vessel is known as a "wake". If the boat's size and speed are sufficient, then the wake can have a powerful effect on any boat that comes too near it. If approached at a certain angle, a boat's wake may cause another vessel to capsize.
Colliding with another boat – Florida is surrounded by ocean on three of its sides. Additionally, the state also contains a number of rivers and lakes. This leads to a sizable number of registered vessels that can crowd the waterways. This is especially true during holidays and the summer months. With crowded waterways comes the risk of one boat crashing into another.
Incorrect operation of a vessel due to alcohol and/or drug use – Florida statutes specifically state the limitations that are placed on the operation of a boat in addition with the consumption of alcohol or drugs. For example, Florida Statute 327.35 forbids the operation of a boat when a person is under the influence of alcoholic beverages, any chemical substance set forth in s. 877.111, or any controlled substance under chapter 893, when affected to the extent that the person's normal faculties are impaired. This includes a person who has a blood-alcohol level of 0.08 or more grams of alcohol per 100 milliliters of blood or the person has a breath-alcohol level of 0.08 or more grams of alcohol per 210 liters of breath.
How is Liability Proven in a Boating Accident?
When it comes to the question of liability in a boat crash lawsuit, the issues are usually based in negligence. In this manner, it's pretty much the same as attributing liability for a car accident. In order to prove a negligence claim, the victim (plaintiff) must be able to show that the operator of the boat failed to proceed in a safe manner and that this failure caused the plaintiff to be injured.
This may include any type of conduct which is determined to fall below the standard of care that would be expected from a boat operator who operating the boat in a reasonable manner. This may involve; turning the boat incorrectly so as to collide with a wave which caused the boat to capsize, taking the vessel out in less than optimal weather conditions or failing to have the proper safety equipment on board.
What If a Liability Waiver Was Signed?
In many cases, the passengers of a recreational boat are not just the family and friends of the owner. They can be members of the general public who have chartered the boat for a Boca Raton pleasure ride or a fishing excursion. In cases such as these, the boat's owner and boat operator's employer may have the passengers sign a liability waiver. This waiver is designed to release the boat owner from legal liability in the event of an accident.
If the liability waiver is to be enforceable, it needs to unambiguously and clearly state the rights that are being waved. This can include the right to sue for negligence. The terms of the waiver must be written in such a manner as to be clearly understood by an ordinary person who is capable of understanding exactly what rights are being waived. A court may decide to uphold a liability waiver just as long as these two conditions are met.
For a liability waiver to be defeated, it may need to be shown that was some sort of ambiguity attached to it. For example, there may be some ambiguities as to what activities were covered in the liability waiver. Another approach might be the length of time that the agreement was meant to cover. In addition, the courts may not enforce the liability waiver if there is any terminology that would confuse an ordinary person. With that said, it can be noted that signing a liability waiver is not an absolute; however, it can make the process far more difficult.
Florida Boating Regulations
As you might imagine, due to the number of boating activities in the state of Florida, there are many statutes that govern boating operations. These cover a number of different boating activities above and beyond the previously mentioned boating while intoxicated statutes. They can also include legal boating definitions. For example:
A vessel is considered a "dangerous" instrumentality in the state of Florida according to statute 327.32. This means that it is mandatory that the operator of any vessel in Florida to exercise extreme caution when operating a vessel. This also means that the owner of the boat is usually not liable in cases in which an accident is caused by reckless behavior, unless the owner was the one who was operating the boat at the time.

Any individual who operates a boat must do so in a prudent and reasonable manner, according to statute 327.33. This means that they must show regard for any other traffic in the water as well as posted wake and speed restrictions. However, unforeseen shoreline wash and vessel wake that results in an accident when the boat operator was acting in a reasonable and prudent manner may not constitute a violation. A violation of this statute will generally constitute a non-criminal violation as defined in s. 775.08.

It is against the law to operate a vessel when the operator has a physical or mental disability that prevents the safe operation of the boat according to statute 327.34. It is also forbidden for any owner of a vessel to allow a person who exhibits these limitations to operate their vessel. This statute is not designed to disallow paraplegics to operate a vessel or anyone else who is allowed to operate a motor vehicle on state highways.

s. 327.37 – Florida statute regarding moored ballooning, kitesurfing, kiteboarding, aquaplanes, parasails and water skis. An individual may not operate a vessel on any Florida waters that involves the towing of another individual unless there is a person who can monitor the person who is being towed. This person must be in addition to the operator of the boat. The observer must be placed in a position that will allow them to fully monitor the towed person's progress. The exception to this will be in cases in which the towing vessel has been equipped with a wide-angle rear mirror that has been mounted in such a way as to afford the boat operator the ability to monitor the person being towed. This doesn't apply to a class A motor boat that is designed to be operated by the person who is being towed and is not able to carry the motorboat operator. (1)(a).

An individual may not operate a vessel on Florida State waters while towing a person who is attached to a parasail (or similar device) unless there is an operator in the boat that is towing. In this case, an operator and a separate individual who is observing the towed person are required. A wide-angle mirror is not acceptable in this case. (1)(b).

An individual is forbidden to engage in activities similar to; aquaplaning, parasailing and water skiing between the hours from a half hour after sunset to a half hour prior to sunrise. (2)(a).

An individual may not engage in activities such as; aquaplaning, parasailing and water skiing unless the towed individual is equipped with wearing a non-inflatable personal floatation device. In addition, that device must be approved by the United States Coast Guard. The device must also be used in a manner that is specified by the United States Coast Guard approval label. (2)(b).

In accordance with s. 327.391 – Airboats must possess a automotive-style factory muffler or other device that is capable of sufficiently muffling the exhaust sound of the engine. (Which is described in s. 327.02(30)). It is prohibited to utilize flex pipe or cutouts as the sole equipment for this purpose. A violation of this statute will be considered as a non-criminal infraction and is punishable according to s. 327.73(1).
These are just some of the statutes that pertain to boating in Florida waters. Boating is one of the more popular activities in Boca Raton. If you have been involved in a Boca Raton boating accident, it's important to consult with a personal injury attorney, in order to try to receive the care and compensation that you rightfully deserve. Therefore, if you are involved in a Boca Raton boat accident, seek immediate medical care and contact a Florida personal injury lawyer.
Discuss Your Case with a Boating Accident Personal Injury Attorney Serving Boca Raton Today! If you were injured in a boating accident, turn to Frankl Kominsky for comprehensive legal guidance. Call (561) 800-8000 or use our Contact Form to set up a free consultation.