Truck Accident Lawyer Serving Fort Lauderdale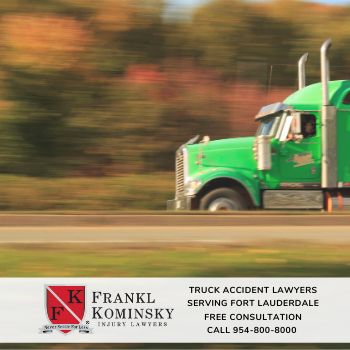 Fort Lauderdale, Florida, the county seat of Broward County is known throughout the country as a popular tourist destination. The average yearly temperature is 75.5 °F (24.2 °C) with 3,000 hours of sunshine makes this the ideal location for outdoor entertainment pursuits such as water sports and swimming. The Fort Lauderdale Swap Shop is known for having the world's largest 13 screen drive-in theater and Las Olas Boulevard is famous as a popular tourist shopping location. However, there is also the unpleasant reality that is associated with Fort Lauderdale's major highway commercial trucking route. Each year, there are a large number of truck crashes that lead to both serious injuries and fatalities.
Unfortunately, it's no secret that when you have a large number of tourists, local passenger vehicles and motorcycles in a particular region, along with commercial trucks, there is also the chance of horrific vehicle accidents that may occur. The local hospital emergency rooms in this area witnessed some of the most serious motor vehicle injuries and fatalities that result from commercial trucks involved in roadway accidents. This is why a number of accident victims have turned to an experienced truck accident lawyer , when it comes to seeking compensation for damages that have resulted from these types of accidents.
According to reports that have been compiled by the Florida Highway Safety and Motor Vehicles, 18-wheeler commercial trucks have accounted for nearly 32,000 accidents along with 27 fatalities, in 2017. Along with those numbers, the reports also indicate a total of 57 injuries that have resulted in permanent disability and about 1,050 victims that have suffered other types of serious injuries.
It's pretty easy to understand why a large commercial truck accident can create such devastation when it comes to a vehicle crash. When it comes to size and weight, a truck that is fully loaded may be 80,000 pounds or more. When comparing a commercial truck and a passenger car, you may be looking at a situation in which that passenger car is 30 times smaller than the commercial truck! This is what typically accounts for the seriousness of the injuries and potential fatalities.
There are many reasons why a commercial truck accident may occur. Many truck accidents result from something that can be easily avoided. That's because there are a large number of truck accidents that are due to the negligence of someone else.
If you have been injured or lost a loved one in such a crash, the Florida truck accident attorneys at Frankl Kominsky can investigate your case. We strive to bring a strong claim for damages, including compensation for your injuries, medical expenses, lost time from work and pain and suffering.
Top Types of Truck Accidents in Broward County
Accidents Involving Commercial Trucks
Garbage Truck Colliding with a car
Accidents involving Delivery or Moving Trucks
Commercial or Company Vehicles colliding with Motorcyclists and Pedestrians
What are the Most Common Causes of Commercial Truck Crashes?
Here are some of the issues that directly relate to how negligence can contribute to a truck accident:
Drowsy Driving Resulting From Driver Fatigue
In Fort Lauderdale, truck driver fatigue is involved in a large percentage of accidents involving moving trucks. A good part of this results from the fact that commercial truck drivers are under a great deal of pressure to meet certain deadlines when it comes to delivering their truck's cargo. There may even be a bonus attached when it comes to arriving at a sooner delivery time.
The federal government has created laws that are designed to regulate the number of hours that a commercial truck driver spends driving on the road as opposed to taking breaks from their driving. However, these government limitations could possibly be ignored. The result is that many commercial truck drivers will drive far beyond the point of exhaustion. This can lead to a lack of focus when it comes to their driving and has even resulted in situations in which a driver has fallen asleep at the wheel! Because of this, the resulting accidents have been catastrophic.
Driving While Being Distracted
Another common cause associated with commercial truck accidents has to do with the driver becoming distracted while on the road. This may come about for a number of different reasons. Since truck drivers spend a large number of hours in their trucks, it can be tempting to attempt to perform actions other than driving while the truck is in motion. But, when controlling such a large piece of machinery that is moving at high speeds, it takes the full concentration of the driver in order to avoid losing control of the vehicle.
Distractions often come in the form of using cell phones or making adjustments to the GPS in order to determine location. Another common situation has to do with the driver adjusting some form of electronic entertainment in order to stay awake while driving long hours.
Driving While Intoxicated
This is a problem that affects all types of vehicles on the road today. However, in 2017, when investigating truck accidents that had resulted in fatalities, it was discovered that over 5% of the commercial truck drivers that were involved in those accidents were driving while under the influence of intoxicating substances. However, this may only be the tip of the iceberg since about 60% of the large truck drivers involved in fatal accidents were not even tested for drugs.
This, is in spite of the fact that the law states that a truck driver involved in a fatal accident must be tested for use of intoxicating substances! Some of the more common intoxicating substances that have been noted, when it comes to large truck accidents include; alcohol, narcotics and amphetamines. Even over-the-counter drugs can be listed as causes in a number of these accidents.
Truck "Blind Spots"
Since commercial trucks are much larger than standard passenger cars, there are more "blind spots" that need to be accounted for. These blind spots are located in both the rear and the sides of these vehicles. One way for a passenger vehicle to avoid getting into an accident with a commercial truck is to assume that a commercial truck driver will be unable to see you if you can't see them in a side mirror. One common type of truck accident related to blind spots occurs when a truck crashes into another vehicle while the truck is backing up or making a turn.
Making a Wide Turn
Commercial trucks are heavy and long. Because of the length of these vehicles, they tend to require a rather wide space when it comes to making a turn. Because of this, truck accident lawyers may check to see if a truck involved in this type of accident was even legally allowed to be on that particular road.
Other types of similar accidents may occur when a commercial truck driver has forgotten to turn on the truck's flashers while turning. This may result in that truck "squeezing" a car in between the truck and a curb. It's been noted that, in these types of accidents, the truck driver usually doesn't even see the car until the accident occurs.
Overloaded Trucks
A trucking company knows that it can increase profits if they can somehow place additional cargo on their trucks. Because of this, some trucking companies could possibly load their trucks past the legal limits. But, when this occurs, the overloaded truck may run into a situation in which the load suddenly shifts and causes the driver to subsequently lose control of the vehicle. This problem is currently addressed by a number of government programs and various weigh stations located on highways in which commercial trucks travel. Yet, the problem still remains and results in devastating accidents each year.
Other Causes for Truck Accidents in Florida
Lack of truck driving experience
Operating oversized trucks on narrow roads
Failure to see other vehicles due to the truck's large blind spot
Failing to obey traffic laws
Failure to monitor the driving hours of the truck driver
Not keep the tractor and/or trailer in a safe, working condition
Hiring an unqualified or unfit truck driver
Failure to properly supervise the truck driver
Failure to properly train the truck driver
Selecting an unqualified or unfit truck company
Federal commercial truck weights and size limitations can be seen at: The Federal Motor Carrier Safety Administration .
For example:
Semi Trailers – The maximum weight that a semi is allowed to carry is:
20,000 lb (9,100 kg) on a single axle
34,000 lb (15,000 kg) on a tandem
80,000 lb (36,000 kg) total for any vehicle or combination
The maximum weight, per axel, is 20,000 pounds with the axels spaced no less than 40 inches apart and no more than 96 inches apart. Its maximum width is 8.5 ft (2.6 m) and no maximum height.
U.S. Semitruck – The maximum weight (with full trailer) is 80,000 pounds that is distributed over 18 wheels. ( 23 U.S.C. 127 ).
Trucks must also be equipped with a rear-end underride protection device according to 49 C.F.R. s. 393.86
It is equipped with a substantial rear-end underride protection device meeting the requirements of 49 C.F.R. s. 393.86, "Rear End Protection."
Florida Statutes: Truck Accidents in Fort Lauderdale
In Fort Lauderdale (and throughout Florida), the law (s. 316.550) states:
In a truck tractor-semitrailer combination, the semitrailer cannot exceed 48 feet in its overall outside dimensions. This is measured from the unit's front to its rear. This will usually exclude energy conservation and safety devices that have been approved to be utilized on open roads, by the Fort Lauderdale Department of Transportation.
In order to operate a semi trailer that is over than 48 feet in its lengths, may only operate in Fort Lauderdale if a special permit is used s. 316.550.
Ask Florida Injury Lawyer: Ethan F. Kominsky
Types of Injuries Sustained in a Truck Crash
Traumatic Brain Injuries
Broken or Fractured Bones
Injuries to the knee, shoulder, or hip
Nerve Damage
Injuries to the Spine
Back and Neck Injuries
Cuts and Bruises
What damages may I pursue when filing a truck accident claim?
When filing a claim for a truck accident in Fort Lauderdale, these are damages that may be possible to recover:
Medical expenses
Loss of Consortium - losing a spouse, parent or child
Repair or replacement of your vehicle
Therapy and rehabilitation
Vehicle or home modifications
Current and future lost wages
Loss of earning capacity
Mental anguish
Pain and Suffering
Benefits of Hiring a Florida Truck Accident Lawyer
Deaths and injuries from a Florida truck accident can be the result of reckless behavior, which may occur in Fort Lauderdale at any given time. The legal team at Frankl Kominsky offers over 40 years of combined court-related experience and have helped over 6,000 clients to recover their damages as a result of accidents.
We have secured millions of dollars of monetary benefits combined through jury verdicts as well as out-of-court settlements for their clients. We are ready to work with private investigators who can help collect evidence from the site of the accident and reports from witnesses.
Free Consultation with a Truck Accident Lawyer Serving Fort Lauderdale
The attorneys at Frankl Kominsky understand the depth of tragedy that a truck accident can cause and will stand by you to help you have a voice, whether you decide to settle out of court or proceed with a lawsuit. While you are recovering from the accident, we are dedicated to fighting on your behalf so that you can focus on your healing.
If you are not sure whether you have a case after a truck accident, our Fort Lauderdale personal injury lawyers can offer you a free consultation. If your loved one has been injured, you may have many questions for us. Our truck accident attorneys are available to serve clients in Fort Lauderdale and throughout Florida. We can help you understand your options and rights.
At Frankl Kominsky, we offer our clients the benefits of investigation and negotiation processes that are backed by years of experience. In addition, your first consultation is free – so you have nothing to lose! Call 954-627-1661 today!