Car Accident Lawyer Serving Fort Pierce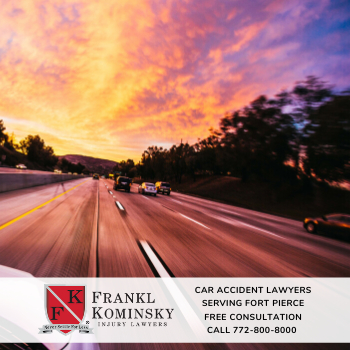 Fort Pierce is an idyllic city situated on the east coast of Florida. Attracted to the National Navy Seal Museum and the beaches at the Inlet State park, tourists frequently visit the city. The population, coupled with the large number of tourists who flock to visit the scenic spots, can create a traffic problem.
As of 2018, Florida has experienced total auto accidents of 403,626. Out of those, St Lucie County experienced 5,119 traffic accidents, resulting in 41 fatalities and 2,997 injuries, according to the Florida Highway Safety and Motor Vehicles.
In fact, traffic accidents in the Treasure Coast area have risen to 41% in just the past five years.
If you or a loved one have been injured in a car accident, contact the attorneys at Frankl Kominsky Injury Lawyers. We will review your case and provide guidance as to your legal options.
Most Dangerous Intersections in Fort Pierce
There are several intersections in Fort Pierce which primarily become the site of car accidents every year.
The Georgia Avenue/Sunrise Boulevard/US 1 intersection in Fort Pierce can be made more dangerous by a large rail yard on the east where semi-trucks load and unload cargo throughout the day. Our Fort Pierce truck accident lawyers know that this intersection is particularly difficult for semi-trucks to navigate.
Another tricky intersection is the St. Lucie Boulevard and US 1 intersection that is particularly dangerous for pedestrians. There are no street lights at this intersection which makes crossing it very difficult in the night.
The Okeechobee Road and the Midway Road are two highways that intersect and have no traffic lights. This intersection has a history of dangerous crashes.
Most Common Causes of Car Accident in St. Lucie County
The majority of traffic accidents in St. Lucie County are due to negligence and many of them are preventable. Drunk driving in Fort Pierce is one of the leading causes of auto accidents in the city. Some drivers also do not heed road signs or traffic signals which result in crashes near intersections. Distracted driving, speeding, road rage and impaired vision are other leading causes of car crashes in Fort Pierce.
Some road accidents are also a result of inclement weather or road debris.
The stats of some of the most common causes for car accidents in St. Lucie County are listed below:
Drunk Driving: According to the 2018 Florida Highway Safety and Motor Vehicles, St. Lucie County experienced over 60 crashes due to people driving while intoxicated. These crashes resulted in 321 injuries and 7 fatalities.
Driving Under the Influence of Drugs: St. Lucie County also experienced 31 car crashes due to driving under the influence of drugs in 2018. This resulted in 5 crashes and 4 fatalities, which means 80% of auto accidents by drugged drivers were fatal.
Distracted Driving: In 2018, Florida reported 12,598 non-incapacitating injuries, 3,100 incapacitating injuries, and 236 fatalities due to distracted driving.
Teens, Young, and Inexperienced Drivers: Teen and young adults also experienced a high number of traffic accidents in Florida. In 2018, teens between the age of 15 and 17 caused 276 auto accidents which resulted in 57 driver injuries. Drivers between the ages of 18 and 20 were responsible for 625 car crashes in Florida, which resulted in 153 injuries and five fatalities. Drivers between the age of 21 and 25 were involved in 727 crashes, resulting in 173 driver injuries and 4 fatalities.
Speeding and Reckless Driving: Speeding or reckless driving can result in rear-end collisions, T-bone or side impacts, and hit and run accidents. In Florida, speeding and road rage resulted in 3,973 non-incapacitating injuries, 1,255 incapacitating injuries and 403 fatalities in 2018.
Crashes Involving Vulnerable Road Users: Vulnerable users like pedestrians and bicyclists are more at risk of hit and run accidents. In St. Lucie County, there were 112 motorcycle crashes which resulted in 96 injuries and 8 fatalities. Meanwhile, there were 96 crashes involving pedestrians, which resulted in 88 injuries and 6 fatalities. People who rode bicycles were involved in 80 crashes that resulted in 76 injuries and 1 fatality.
Intersection Crashes: Intersection accidents can result in head-on collisions or side impact accidents. In Florida, intersection crashes in 2018 resulted in 27,885 non-incapacitating injuries, 7,219 incapacitating injuries, and 873 fatalities.
Failure to Yield Right of Way: In Florida, failure to yield right of way resulted in 11,109 non-incapacitating injuries, 3,028 incapacitating injuries, and 395 fatalities.
The unfortunate thing about these accidents is that some of them can be preventable.
If you have been injured in a car accident caused by the negligence of another, you can pursue financial compensation for your damages and losses. Let our attorneys fight to recover the compensation you deserve.
Common Types of Injuries Sustained in a Car Crash
Some of the injuries sustained in a car accident in Fort Pierce may be minor and not even warrant an immediate hospital visit. However, others can be serious and life threatening, requiring immediate medical care. The most common types of car crash injuries include:
Lacerations On The Face And Head: If a window or windshield of your car breaks during a crash, or if your face hits the interior of the car, you may suffer from severe facial lacerations which may cause permanent scars. Additionally, it also has the potential to blind a person if glass gets in their eye.
Whiplash: Whiplash can place a strain on your neck and back and can damage the tendons and muscles on that part. If this is severe, some people may have to undergo extensive physical therapy before they are able to regain normal function and movement.
Fractures: It can take three months for a cast to come out in case of a moderate fracture. If your bones are dislocated or broken, it may require extensive surgery causing significant pain.. In some cases, the bone may break in such a way that the damage is permanent and the victim may lose some mobility in their limbs.
Loss of Limb: In severe cases, a limb that is severely injured or contracts infection during treatment may need to be amputated.
Spinal or Back Injuries: Spinal and back injuries are particularly dangerous and can be caused from something as simple as a whiplash from a fender-bender. In severe cases, the person may lose the use of his lower limbs or become completely paralyzed.
Dental and Mandibular Injuries: Jaw displacements and broken teeth will require dental treatment and are quite costly. In severe cases, reconstruction surgery may also be necessary.
Organ Damage: Car accidents which result in being crushed either inside or outside of a vehicle can result in severe organ damage, which may require surgery.
Traumatic Brain Injuries: Injuries to the head can cause concussion, cracked skull, hemorrhage, or a coma. They may even result in the death of the victim.
If you sustain injuries, you will likely have medical expenses, pain and suffering and lost time from work. Frankl Kominsky Injury Lawyers can help you pursue monetary compensation for your losses.
Florida Car Accidents: Damages You Can Pursue
If you are injured in an automobile accident due to the negligence of another, you may be entitled to monetary compensation from the at-fault driver.
The amount of compensation will be determined depending on the extent and severity of your injuries and what impact it has on your current and future quality of life.
Some other factors include:
How much treatment is required for an injury
Ongoing medical and rehabilitation needs
Loss of economic opportunity
Impact on your family's future plans
The negligence of the at-fault driver
Whether you were also at fault in the accident and to how much degree
Some damages that may be pursued by the victim include:
Medical bills
Treatment facility cost
Cost of transportation to doctor's appointments
Past, current, and future lost wages
Pain and suffering
Vehicle or property damage
Disfigurement
Reduced quality of life
Funeral expenses in case of fatality
Loss of consortium
In some cases, Florida also allows punitive damages to be awarded to the victim if the at-fault driver had been found to be very willfully negligent. For example, these types of claims include driving while intoxicated or hit and run accidents.
Our car accident lawyers are available to serve Fort Pierce and will offer guidance as to fair compensation for your personal injury claim.
Suggested Steps to Take After a Fort Pierce Car Accident
If you are involved in a car crash, there are some things you may choose to follow:
Scene of the Crash
If you are in a car accident, do not leave the scene of the crash until the police or an emergency response team comes to the scene.
If you are able to, call 911 or your local police station immediately. Wait at the scene until they arrive so that you can file a police crash report. Here are the details to the local Fort Pierce police department:
City of Fort Pierce Police Department
City of Fort Pierce, 100 N U.S. Highway 1, Fort Pierce, FL 34950 | 772-467-3000
If you are injured in a car crash, make sure the emergency medics examine you for any injuries. If necessary, let them take you to a hospital. It is advisable to to have a full medical exam even if you do not think you have been injured, since some injuries have delayed symptoms, which can cause bigger problems for you in the future. You may go to the emergency room at a local hospital or to your own qualified medical provider.
Lawnwood Regional Medical Center: Emergency Room
1700 S 23rd St, Fort Pierce, FL 34950, United States | 772-468-4551
If your phone is intact, take photos and videos of both the property damage as well as your Also be sure to take a photo of all the traffic signs and signals at the scene of the crash.
Write down everything you remember about how the crash occurred as well as what happened before and after the accident. Since your memory is fresh, you will not miss out in important details that may help your case.
Get the name, contact information, and insurance details from the other party in the incident.
Get the name, phone number and address of the witnesses at the scene of the accident.
After the Crash
Get originals or copies of all your medical bills, hospital records and discharge papers from the treatment facility.
Also get a copy of the police crash report as well as the name and badge number of the law enforcement officer. The police crash report is an important piece of evidence that will need to be shown in court.
After the crash, you may receive a call from the insurance agent of the at-fault party. They may request you to give them a recorded or written statement and they may offer you a settlement. It is strongly recommended that you first consult your lawyer. It is possible that the insurance company will hope to settle with a lowball number while waiving your rights at the same time.
Contact an experienced car accident attorney, who can help you understand your legal options and protect your rights.
Statute of Limitations in Florida Car Accidents
In Florida, the time frame for filing a personal injury lawsuit based in negligence is two years from the date of the accident. If you fail to file your lawsuit within this time period, it is likely that your lawsuit will be dismissed and you will be barred from pursuing a claim. If a loved one died as the result of a car accident, then in a wrongful death claim, the Statute of Limitations is two years from the date of death. Contact an experienced car accident attorney for further guidance.
What Clients Are Saying
Why You Should Hire An Injury Attorney For Your Car Accident Claim
Florida's laws allow personal injury victims to file a claim if the injury was caused by a careless and negligent action of another party. To prove negligence, victims need to establish that:
The other party had a duty of reasonable care that could have prevented the actions that lead to the injury.
The other party broke traffic rules or failed to exercise reasonable care
The other party did not just break rules but also caused damage or injury to the other party.
The damages caused by the other party were measurable
Filing your own claim can be a very time-consuming and tiring task. Frankl Kominsky Injury Lawyers strive to help protect your rights. Our legal team will establish your claim and collect all necessary documents including medical records, evidence of lost wages, witness statements and security camera footage if available. We will handle all communications with the at-fault party's insurance company and try to negotiate a fair settlement on your behalf. It is our goal to keep you fully apprised of all the details and major decisions as well as advised on what course of action you need to take.
We understand that the impact of a car accident goes beyond just physical damage and that no two cases are equal. That's why we will customize a clear path for you and try to help you receive the maximum compensation for your damages.
At Frankl Kominsky Injury Lawyers, our car accident attorneys offer a free consultation during which they can discuss your options with you. We offer our services on a contingency basis. This means that you do not have to pay us anything unless we recover on your behalf.
We strive to get you the justice you deserve. Our legal team can be reached easily by phone at 772-800-8000. You can also fill out our free case evaluation form if you want to book an appointment with us.