Motorcycle Accident Lawyer Serving Greenacres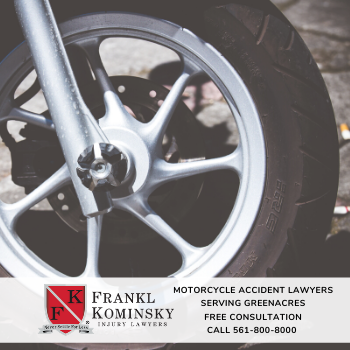 It would be safe to say that, if asked, most people in Greenacres would have no real idea as to how many motorcycle crashes occur on the roads in their area. But one thing to take into account has to do with the number of people who ride motorcycles in Greenacres. That number can be quite high, since the weather in that part of the country is perfect for riding, throughout most of the year. Those who live in and visit Greenacres have an image of sunny skies and weather that makes owning and riding a motorcycle a great option for both recreation and transportation. But a motorcycle accident lawyer may look at things a bit differently.
Because of the large number of motorcycle riders in the area, you can also find a larger than usual number of motorcycle accidents in Greenacres, as well. This also goes for the entire state. In 2015, for example, Florida was the # 1 spot in the country when it came to motorcycle accident deaths. Those motorcycle accident deaths actually made up 19% of all traffic deaths in the state.
Therefore, when someone has been injured or killed in a motorcycle accident, an experienced motorcycle injury attorney, who serves Greenacres, can be the best option when it comes to helping accident victims. An experienced motorcycle accident lawyer can try to help when it comes to recovering the compensation that are needed in order to pay for medical costs and other accident expenses.
What are Some of The Laws That Apply to Motorcycle Riding In Greenacres?
Due to the number of motorcycle accidents in the state, Florida has paid close attention to the laws that are in place which relate to this problem. There are even certain laws for motorcycle riding in the state that are not found in any other part of the country. This is a direct result of the high number of deaths that have occurred in Florida. Some of these laws are:
Florida Statute 316.2085 (2) has made it against the law to pull various "stunts" when riding a motorcycle. These include, for example, riding with one of the tires lifted off the ground ("wheelie"). Of course, this has nothing to do with a situation in which this type of move is needed in order to avoid a road hazard.
You may be living in Greenacres and you would like to add a motorcycle "endorsement" to your regular driver's license. In order to do this, there are strict state requirements that need to be followed. For example; you need to be at least 16 yrs. old and have a clean driving record over the last year, if you're less than 18 years old. You must also complete a state-approved motorcycle safety course.
You can't ride a motorcycle with an engine that's over 50cc unless you either have a motorcycle license or a motorcycle endorsement on your regular license.
If you're under 21 years old, you need to wear a motorcycle helmet that is approved by the state. Also, you need to carry a medical insurance policy in the minimum amount of $10,000 if you decide not to wear a helmet. The reason for this has to do with the possibility of head injuries that can happen as a result of not wearing a helmet. However, it has been shown that 1 out of 7 riders without helmets don't carry the necessary insurance.
All motorcycle riders, no matter their age, are to have protection for their eyes.
Who is Usually at Fault for Motorcycle Accidents?
If you asked a Greenacres resident who they thought was usually to blame for a motorcycle accident, they might tell you that it was the "motorcycle rider". But a motorcycle accident lawyer who serves Greenacres might tell you something different. In most road accidents, the reasons will usually be the same. That means that the one who has been negligent is generally the one who has caused the accident. In legal terms, this means that an accident had come about due to a "breach of a duty of care".
Therefore, the one who was responsible for that "breach" would be the one who may be required to pay for the damages that were caused by the accident. In these cases, the "duty of care" refers to doing what is expected of you, such as following the rules of the road. The payment of the damages that were caused by the accident is where an experienced motorcycle accident attorney may be able to assist you.
See Video: How is it determined who is responsible for causing a Florida motorcycle accident?
What Injuries can Happen When There's Been a Motorcycle Accident?
When a person is riding on a motorcycle, they usually have a lot less personal protection from harm when compared to riding in a car. Since the usual thing that happens is the rider(s) being thrown from the motorcycle, the injuries that are suffered can be quite serious. Some of the various injuries that are usually seen in these types of accident are:
Neck Injuries
Back Injuries
Spine Injuries
Soft Tissue Injuries
Contusions and Lacerations
Traumatic Brain Injury
If the accident should end in a death, there can be damages that relate to:
Expensive medical costs while the victim was still alive
The costs of a funeral home
The burial costs
Loss of financial support from the deceased, etc.
Another major factor that can account for the seriousness of motorcycle injuries has to do with the difference in size between the motorcycle and a truck or car. As strange as it may seem, in many cases the driver of the larger car or truck might expect the smaller motorcycle to just get out of their way. In other cases, the driver of a large vehicle may not actually "see" the smaller motorcycle. But the result is still the same. The driver who caused the accident was being negligent.
Some common causes of motorcycle crashes include:
Swerving in front of a motorcyclist
Cutting off motorcyclists at intersections
Failing to follow posted speed limits
Failing to yield when appropriate
Failing to leave sufficient room between vehicles
Failure to see a motorcyclist changing or entering lanes
Neglecting to pay appropriate attention to other drivers
Driving under the influence
Misjudging the motorcyclist's speed or distance
Failure to see the motorcyclist
Panic and stopping in the motorcyclist's path
Relying on the judgment of another driver, who also fails to see the motorcyclist
Can Using Cell Phones Also Cause Motorcycle Accidents?
Most drivers on the road logically understand that being distracted by cell phone use can cause an accident. Fortunately the state has put a new law into place that makes driving while using a cell phone a "primary" offense rather than a "secondary offence". With a primary offense, a police officer may stop a driver and issue a summons without the driver having committed a "primary" offense, such as speeding.
See Florida Statute 316.305 for more information relating to cell phone use while driving.
Motorcycle Safety Statutes
As it's already been said, Greenacres has a number of (sometimes one-of-kind) motorcycle operating laws. These laws include:
No individual shall operate a motorcycle with a helmet that is equipped with a headphone, headset or other form of listening device other than a hearing aid. section 316.304(1)
According to section 316.304(2), this does not apply to;
 Any person operating a motorcycle who is using a headset that is installed in a helmet and worn so as to prevent the speakers from making direct contact with the user's ears so that the user can hear surrounding sounds.
 Any person using a headset in conjunction with a cellular telephone that only provides sound through one ear and allows surrounding sounds to be heard with the other ear.
Any person using a headset in conjunction with communicating with the central base operation that only provides sound through one ear and allows surrounding sounds to be heard with the other ear.
Every vehicle shall be equipped with a mirror so located as to reflect to the driver a view of the highway for a distance of at least 200 feet to the rear of the motor vehicle. section 316.294
Every motorcycle shall be equipped with at least one stop lamp . section 316.420
Every motorcycle shall be equipped with multiple-beam road lighting equipment . section 316.430(1)
Such equipment shall:
Reveal persons and vehicles at a distance of at least 300 feet ahead when the uppermost distribution of light is selected; section 316.430(2)(a)
Reveal persons and vehicles at a distance of at least 150 feet ahead when the lowermost distribution of light is selected. section 316.430(2)(b)
All motorcycles are entitled to full use of a lane and no motor vehicle shall be driven in such manner as to deprive any motorcycle of the full use of a lane. This subsection shall not apply to motorcycles operated two abreast in a single lane. section 316.209(1)
A person may not operate or ride upon a motorcycle unless the person is properly wearing protective headgear securely fastened upon his or her head which complies with Federal Motorcycle Vehicle Safety Standard 218 promulgated by the United States Department of Transportation. The Department of Highway Safety and Motor Vehicles shall adopt this standard by agency rule. section 316.211(1)
What Steps Should I Take if I get Into a Greenacres Motorcycle Accident?
If you should get into a motorcycle accident in Greenacres, then there are some steps that you can take that may help you out with your situation. Let's say that you were riding your motorcycle and, all of a sudden, you're in an accident. What do you do?
Well, first of all, if you've been seriously injured have someone notify the police and emergency medical services. If you haven't been seriously hurt, then you'll want to render any possible help to those who have been or have asked you for your help. You'll also want to make sure that there are no vehicles blocking the roadway, if you can. This can prevent other possible accidents. Then contact the local Police Department .
The next thing that you want to do is to get information from the other motorist and let them have your information, as well. This includes; name, contact info, their driver's license number, a description of the vehicle they were driving and the license plate number along with their insurance info)
Take a number of accident scene photos along with any photos of the injuries. Just make sure that you don't get in the way of the police office(s) that show up. You also want to make sure not to get into an argument with the other driver or say anything that might seem that you were taking the blame for the accident. Another important thing is to get the contact information and statements of any witnesses of the accident.
You will then want to head straight on over to the local hospital emergency room or visit your own doctor. Get a full examination and make an appointment for a follow-up exam. Obtain a copy of all medical bills and doctor's reports and keep them in a file in your home. Contact your insurance company and never speak to the other driver's insurance company.
If the other driver's insurance company (or attorney) offers you money in order to "help" with your accident expenses, NEVER ACCEPT IT or sign any documents that they may present to you. This is very important, since you may be signing away your legal rights for full damages payments. At this time, you may want to get in touch with a motorcycle accident attorney for help. The first visit is free – so there's nothing to lose and you may get some very helpful advice.
Contact a Greenacres Injury Lawyer to Help Protect Your Rights
Negligent behavior causing a Florida motorcycle accident can result in severe injuries and even death. This can occur in Greenacres at any given time. In addition, it's important to understand that while high speeds are often a factor, there are also many times when this isn't the situation. There have been a number of cases in which a very low speed motorcycle crash has resulted in in a permanent injury. If you or a loved one are involved in a Florida motorcycle accident that occurred at a low speed, it is advised that you seek medical care and the advice of a motorcycle accident personal injury attorney. Your initial appointment is free of charge.
Discuss your case with a Motorcycle Accident Personal Injury Attorney Serving Greenacres Today! Turn to Frankl Kominsky for superior client communication and comprehensive legal guidance. Call 561-800-8000 or use our Contact Form to set up a free consultation.