Slip and Fall Lawyers Serving Greenacres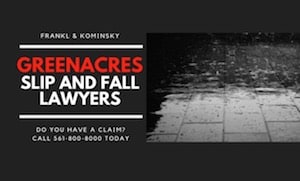 Slipping and falling is something that we all have done at some point or another. For children, it's something that is very familiar, since they have not yet learned how to take their time and walk carefully. Also, a young child will need time in order to learn how to keep their balance under different situations. But, as an adult, slipping and falling down will usually come as a shock, since we rarely do it once we've grown up. In addition, adults who have slipped and fallen can end up with injuries that are far more serious than a small cut or a skinned knee.
Injuries to the neck and back are often the results of a slip and fall or a trip and fall. If this type of accident is the result of negligence on the part of a property owner, then it can be a good idea to speak with a slip and fall lawyer serving Greenacres. They can try to help you obtain the compensation that you may need to pay for medical bills and other expenses that have come from your accident.
While a slip and fall accident can be something in which no one is to blame, there are times in which an accident is the result of someone's negligence. When you consider the major expenses that can come from doctor visits, physical therapy, a hospital stay, surgery and time off from a job, you may need to know the best way to recover those expenses.
Are there certain laws that apply to a Greenacres slip and fall accident?
If you've had a slip and fall accident in Greenacres, there are some issues that you should be aware of, if you want to file a lawsuit. The first thing to keep in mind is the Statute of Limitations that applies to these types of accidents. As an example, let's say that you were visiting an office building for an appointment. Suddenly, you slipped on a wet spot in the middle of a hallway. Since there was no indication of a hazard that was posted and you ended up with a broken hip, you have decided to pursue a claim against the building owner.
In a case like this, in Greenacres (and the rest of the state), the statute of limitations is 4 years from the time of the accident. This means that you have four years from the date of the accident to file a lawsuit. There are, of course, some exceptions to this, but this is a rare situation. If this is a wrongful death situation in which someone has died from that type of fall, then the person's estate only has 2 years from the time of the accident in order to file a lawsuit. You can find this information in Florida Statute section 95.11(3)(a) or you can ask for more guidance from the experienced slip and fall lawyers at Frankl and Kominsky.
Is there a Pure Comparative Negligence Statute in Greenacres?
When it comes to filing a lawsuit for a slip and fall accident, it can be possible to run into a legal situation known as the "comparative negligence rule". Here, we have the possibility that more than one of those who are named in a lawsuit can be held liable for the accident. Going back to our earlier example, let's say that the person who slipped and broke their hip has decided to sue the building owner. However, it can be shown that the injured person was wearing slippery shoes and was talking on their cell phone when the accident happened.
Now we have a situation in which the fall can potentially be blamed, in part, on both parties. The building owner's attorney may say that the fall may not have happened if the person was not wearing slippery shoes and was also not distracted by being on a phone call. So now, we have the fault resting on both parties. In this situation, the court will need to decide just how much of the fault will apply to each party and base their financial award decision on that. Therefore, for example, it may be that in this case, the injured person will only get a certain percentage of their damages.
I'm sure that you can now see why the property owner's lawyers may potentially want to say that the fall was completely your fault. Here are a few of the reasons that an attorney may use when trying to place the entire blame of a slip and fall accident on the victim:
A sign was posted that warned of the danger
The injured person was walking in an area that they were not supposed to be in
The danger could easily be seen
The injured person was wearing shoes that were slippery to begin with
The victim was distracted (cell phone use, etc.) and not paying attention
It's also important to understand that these excuses could potentially also be used when you and your attorney settle out-of-court.
What should I do if I slip and fall on another's property?
Should you experience a slip and fall in Greenacres there are some steps that you should take:
The first thing that you will always want to do is to make sure whether or not you've been seriously injured. If so, you should have someone call an ambulance and go to the hospital right away. If you are not seriously hurt, you should call for help anyway. This way, someone else will know that you have fallen and help you if you become dizzy when trying to stand and/or walk.
You should also get the contact information and statements from any witnesses in the area.
Make sure that the fall is reported to either the building owner or building manager. A report should be made and you don't want to leave the building unless you have a written copy of that report!
Be sure to take photos of the accident scene. Include any photos of any liquids or uneven surfaces if applicable.
If you are able to travel, then go straight to a local hospital emergency room (or your own doctor). Get a full checkup and set an appointment for a follow-up visit. Get a copy of all medical bills and doctor's reports. Place everything in a single file in your home.
Remember the "slippery shoes" excuse? Well, make sure to keep the clothes and shoes that you wore during the accident in a separate location in your home. You may need them later.
Never write about your accident on social media. Also, don't discuss the accident (or take any money/sign any checks) from the building's insurance company. Don't have any long conversations with the building owner, either. Don't accept any blame for the accident and don't place any blame for what happened. Let an attorney speak for you.
Contact an experienced slip and fall lawyer. The first visit with a lawyer will be completely free – so you have nothing to lose. A legal professional can try to help guide you to the next step that you should take.
See video: "I was injured on someone else's property. What should I do?"
What are some of the statutes that cover slip and fall cases?
There are several laws that cover slip and fall injury cases:
Statute768.0425 (1) Which applies to damages against contractors for injuries suffered from poor property care.
Statute 768.0755 (1) Which applies to premises responsibility for items that are not properly cleaned up in a business building.—
(1) If a person slips and falls on a transitory foreign substance in a business establishment, the injured person must prove that the business establishment had actual or constructive knowledge of the dangerous condition and should have taken action to remedy it.
Statute 768.10 relates to pits and holes that should not be left open. It is not lawful for any company or individual to leave open any pit or other hole outside of an enclosure of a greater depth and breadth than 2 feet; provided, however, such pit or hole may be left open by enclosing the same with a fence or other enclosure
What are some of the most common injuries that come from slip and fall accidents?
There are many different types of injuries that one can receive in a slip and fall accident. Some of these are:
Neck Injuries
Back Injuries
All types of broken bones
Traumatic Brain damage
Spine Injuries
Soft Tissue Injuries
While many of these injuries are pretty obvious, there are some that are not seen at the time of the accident and may present later on that day or the next. This is why you should seek medical attention following your slip and fall.
What types of damages can I pursue in a Greenacres slip and fall?
Of course, it can be said that each accident is a different situation. Because of this, there's no way to know the exact amount of damages that can be recovered. Here are some damages that can be pursued in a slip and fall claim:
Medical Bills (Past and Present)
Future Medical Expenses
Lost Wages and/or Future Lost Wages
Pain and Suffering
Loss of Consortium (Services)
Contact an Experienced Personal Injury Lawyer to Protect Your Rights
Property maintenance negligence can result in permanent and severe injuries, which may occur in Greenacres at any given time. Slip and Falls can occur at private residences, grocery stores, shopping malls, restaurants, hotels, nightclubs, schools parks, sports stadiums, parking lots or amusements parks. If you or a loved one are involved in a slip and fall accident that occurred on a private or commercial property, it is advised that you seek medical care and the advice of a slip and fall personal injury attorney.
Seeking the advice of a personal injury attorney, who can try to assist in receiving the best care and compensation that you rightfully deserve. Therefore, when you or a loved one are involved in a Greenacres slip and fall accident, contact a Florida personal injury attorney.
Discuss your case with a Slip and Fall Personal Injury Attorney Serving Greenacres Today! Turn to Frankl & Kominsky for comprehensive legal guidance. Call 561-800-8000 or use our Contact Form to set up a free consultation.