Car Accident Lawyers Serving Hialeah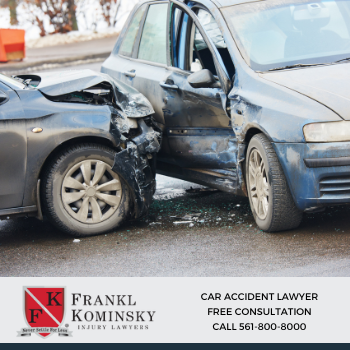 Car accidents are among the leading causes of unintentional injuries and death in Hialeah, Florida. Motor vehicle crashes happen primarily because of drivers' errors or factors outside their control. Victims of these occurrences may be entitled to financial compensation from a negligent driver.
The compensation process is often fought with challenges. First, the victim must deal with the at-fault driver's insurance provider. Since insurance companies are always reluctant to pay compensation, the process can drag on for a long time. During this time, the injured party may lose their right to sue, leaving them at the mercy of the insurer.
One crucial way to avoid losing out is hiring a Hialeah car accident lawyer. Our attorneys at Frankl Kominsky Injury Lawyers offer top-notch legal services to injury victims. Contact us if you or a loved one suffer injuries from a traffic collision.
What are the Different Types of Car Accidents?
Generally, traffic crashes involve a single vehicle or two or more cars. There are different kinds of car crashes, ranging from rear-end accidents to head-on collisions:
Rear-End Accidents
A rear-end collision happens when a car collides with another from behind. The most common cause of rear-end crashes is tailgating. The latter means following the vehicle in front too closely. Under Florida law, drivers must maintain a safe following distance between cars.
The law specifically asks drivers to stay 300 feet away from each other. When a driver fails to do so, they will be at fault for the collision. However, proving liability in a rear-end accident can be difficult. Contact our Hialeah car accident lawyers if you find yourself a victim of one to set up a free initial consultation (by appointment only).
Sideswipe Accidents
A sideswipe accident happens when the side of a car collides with the side of another vehicle. It is common when two vehicles are traveling in the same direction. A sideswipe crash also happens when drivers fail to check their blind spot before changing lanes. The driver who didn't exercise due care would be the at-fault party in such a case.
T-Bone/Side-Impact Accidents
A T-bone crash happens when a speeding car strikes another by the side. Here, the front of one vehicle hits the passenger or driver side of another, forming a T shape. Side impact collisions are common at intersections and can cause severe injuries to the person on the impact side.
Head-On Collisions
This is another car accident that happens at intersections. A head-on collision is also common where one motorist drives in the opposite direction of traffic on the same lane. Crashes such as these happen at high speeds and often result in catastrophic injuries or death.
What Are the Leading Causes of Car Accidents in Hialeah, FL?
Car accidents happen because of one or more of the following:
Drunk Driving
The National Highway Traffic Safety Administration reports that about 28 people in the United States die in drunk-driving crashes every day. That's one person every 52 minutes. Alcohol affects the brain's cognitive functions, reducing the driver's reaction time. An adult driver is considered legally drunk if they have 0.08% blood alcohol concentration. Thus, the motorist will face a criminal charge in addition to the civil action brought by the victim.
Distracted Driving
According to the Centers for Disease Control and Prevention, about eight people in the United States are killed in crashes involving a distracted driver every day. Distractions happen in three ways: mental, visual, manual. Texting while driving is a prime example of a distraction that uses your hands, mind, and eyes. Other known distractions are eating, changing the radio, checking GPS, etc.
Speeding
In Hialeah, Florida, each roadway has a speed limit drivers must follow. A driver speeds when they go over this limit and may face fines for doing so. The danger with driving at high speeds is less reaction time in an emergency and the potential of high-impact crashes that can result in severe injuries or death.
Following Too Closely/Tailgating
Drivers should keep their distance between themselves and other vehicles on the roadway. When they fail to do so and follow too closely, they are much more likely to cause an accident. Tailgating accidents are common in slowed traffic or where the car in front stops abruptly.
Disobeying Traffic Control Lights
Drivers often fail to obey traffic lights at intersections, leading to accidents. When approaching a stop sign or red light, it is best to begin slowing down before the intersection. Remain stationary until the light turns green and make sure the coast is clear before accelerating. Driving through a four-way intersection without having the right of way may cause a T-bone accident.
Other known causes of car accidents are adverse weather conditions, bad roads, animal sightings, fatigue, and mechanical failure. Proving liability after a crash requires understanding the investigation process and legal expertise. Our Hialeah car accident lawyers have years of experience in dealing with personal injury cases, so allow us to help you (by appointment only).
What Are the Injuries Sustained in a Car Accident?
The severity of a crash injury depends on the accident's impact, the seating position of the car occupant, and whether they wore a seat belt. To this end, you may suffer minor, severe/catastrophic, or fatal injuries. Below, we discuss some common injuries sustained in motor vehicle accidents.
Traumatic Brain Injury (TBI)
The CDC defines a traumatic brain injury as a wound that affects how the brain works. It results from a bump, blow or jolt to the head, or a penetrating injury. TBI's can be mild, moderate, or severe. If it's the latter, TBI's can lead to a coma for an extended period and even death.
Broken Bones
The human body can only withstand so much force. When the pressure is more significant than what the body can take, it causes bones to break. A broken bone or fracture is painful and may need surgery to fix. You may also need rehabilitation to recover completely.
Spinal Cord Injuries (SCI)
As many as 450,000 people in the United States live with a spinal cord injury (SCI). The spinal cord connects different parts of the body with the brain. When the connection is severed, the body no longer receives signals from the brain. This explains why most SCI victims stop feeling their limbs or cold and heat sensations.
Soft Tissue Injuries
A soft tissue injury affects muscles, ligaments, and tendons throughout the body. Most soft tissue injuries occur from a sprain, strain, or one-off blow resulting in a contusion or overuse of a particular body part. An example of this injury type in car accidents is a whiplash, caused by the head's sudden forward and backward jerking.
Cuts or Lacerations
Flying debris such as glass and metal parts cuts or lacerates the skin. A minor cut may not require medical attention. However, deep painful lacerations require immediate medical attention. In some cases, you may undergo surgery to avoid permanent scarring.
Burns
Crash victims suffer burns when exposed to chemicals or a hot surface. The burn degree (first, second, third, or fourth) determines the pain, scarring, and treatment needed. In worst-case scenarios, it results in death. This is common when the car catches fire upon impact.
What Are the Steps to Take After a Car Accident in Hialeah, Florida?
Winning or losing a personal injury or wrongful death claim starts from the accident scene. However, the steps you take moments after the collision can make or break your case. Always do the following immediately after a crash:
Call 911: If you are conscious and your injury allows it, call 911 and request an ambulance. The call will alert the nearest law enforcement agency and other first responders. If you are coherent, the investigating officer may ask you to narrate how the crash happened. If not, postpone until you feel better. Whatever you say to the police will be part of their report and can be used for or against you during the claims process.
Seek Medical Attention: Even if your injuries are minor or you feel fine, see a doctor. Some wounds have delayed symptoms and may not show up immediately after the crash. However, a thorough medical exam may detect an injury. Also, your medical record is one of the pieces of evidence needed when seeking maximum compensation from the at-fault party.
Gather Evidence: If you can, you should gather evidence from the accident scene. While the police will also do this, you need personal proof, especially if you want to commence the claims process before the investigation concludes. Helpful evidence in a car accident case includes photos of the crash scene and your injuries, video footage, and witness statements.
Contact An Auto Accident Lawyer.
What Compensation Is Available in a Car Accident Case?
Not every car accident victim in Hialeah, Florida, will be eligible for financial compensation. This is because Florida operates a no-fault car accident insurance system. This means that after a crash, each of the parties relies on their own personal injury protection coverage (PIP) to pay for their wounds.
Under the 2021 Florida Statutes Chapter 627 Section 737, you can only seek compensation if you suffered:
Significant and permanent loss of an important bodily function;
Permanent injury within a reasonable degree of medical probability, other than scarring or disfigurement;
Significant and permanent scarring or disfigurement; or
Death.
The deceased's estate or personal representative will file a wrongful death claim in the case a death occurs. For the other three scenarios, you can commence a personal injury action. A meritorious claim should compensate your economic and non-economic damages when it's successful.
Economic Damages
Economic damages refer to financial losses suffered in an accident. These losses are tangible with a fixed dollar amount. As such, you can recover the exact sum from the negligent party. Examples of economic damages include:
Medical bills
Cost of medical equipment
Rehabilitation cost
Lost wages
Out-of-pocket expenses
Loss earning capacity
Burial and funeral expenses
Non-Economic Damages
Non-economic damages compensate for injuries and losses that have no monetary value. The absence of a fixed dollar amount can make it difficult to calculate. However, car accident lawyers and insurance companies have a formula for calculating this compensation. Usually, lawyers pick a number between one and five and multiply it with the total amount of your economic damages.
Suppose you are awarded $10,000, and the number chosen is 2. That means you'll receive $20,000 as non-economic damages. Examples of what this money covers include:
Loss of enjoyment of life
Physical pain and suffering
Mental anguish/emotional distress
Loss of consortium
Loss of companionship
Punitive Damages
The first two damages are compensatory, which means they serve to repay the victim what they lost and stand to lose because of the accident. On the other hand, punitive damages punish a defendant for grossly negligent, intentional, or egregious conduct. In addition, it deters others from committing the same act.
Depending on the extent of the injury, punitive damages can be hundreds of thousands of dollars. However, Florida law puts a cap on how much the damages can be. Our car accident lawyers will provide more information on this when you contact us.
What Is the Standard of Proof in a Car Accident Case?
Auto accident cases are civil and therefore, follow civil procedure rules. As a result, the standard of proof is on a balance of probabilities. This means the court weighs the evidence and then decides in favor of who deserves to win. Therefore, if your proof outweighs that of the defendant's, as a plaintiff, you win. Vice-versa.
This is why the burden of proof lies on the plaintiff and not the defendant. In establishing that the defendant caused the accident that injured you, you must show:
The existence of a duty of care
The breach of the obligation by the defendant
The breach caused the incident that injured you
The damages (losses) you suffered as a result
These four are the elements of negligence. Proving these elements by yourself can be difficult, but our Hialeah car accident lawyers can help you establish negligence and seek a fair settlement.
Comparative Fault
The victim of a car accident is not always faultless. When you contribute to the events that caused the crash, the law reduces the compensation you can recover. This is known as the Florida modified comparative negligence rule.
Under this law, your compensation is lowered by your fault percentage. Suppose you are awarded $50,000 as a settlement. But your comparative fault is 10%; you'll receive 90% of the $50,000. If your fault is at 50% or more, you will not be awarded anything.
What Is the Statute of Limitations for Car Accident Cases?
Most accident victims are unaware they have limited time to commence their lawsuits. As a result, they waste time negotiating with insurance companies only to discover later that their case is statute-barred. This should not be your case.
The Statute of Limitations for car accident cases in Florida is two years. The time starts counting from the day the crash happened. While two years may seem like a long time, it passes quickly if you don't take action. Once it does, your only option will be to accept whatever amount the fault party's insurance company offers you.
What Is the Role of a Hialeah Car Accident Lawyer?
During our years practicing as car accident lawyers in Hialeah, Florida, we discovered injury victims choose not to hire attorneys for the wrong reasons. Most myths surrounding legal representation are false, and your case benefits from having a legal team.
Our lawyers perform the functions below and more when handling your case:
Investigate the claim to ascertain the facts and put together the necessary pieces of evidence
Educate you on the legal process, your chances of success, and how much a fair compensation amount is for your unique case
Contact the at-fault party's insurance carrier and commence the negotiation stage
Speak on your behalf to the insurance company for an adequate agreement
If the insurer rejects the claim or makes a lowball offer, file a lawsuit in court
Argue your case in court and file an appeal if the court does not rule in your favor
In a nutshell, our lawyers are there for you during the entire process and will take care of all the legal work while you focus on recovering. Our attorneys are bound by the attorney-client privilege, meaning we will not divulge what you tell us unless in certain circumstances required by law.
Discuss Your Negligence Claim with an Attorney
If you have been harmed because of someone else's carelessness, there is no substitute for having dedicated legal representation on your side. At Frankl Kominsky Injury Lawyers, we are committed to helping injured victims. Our firm has over 40 years of combined experience handling accident and injury cases, and we know what it takes to try and prove a negligence claim. You can expect the utmost respect and professionalism from our licensed attorneys and legal staff.
Our Injury Lawyers offer a Free Consultation by calling 855-800-8000 or contact us online. Let us help you through this stressful time, our office is available 24/7 and we speak Spanish and Creole.