Motorcycle Accident Lawyers Serving Hialeah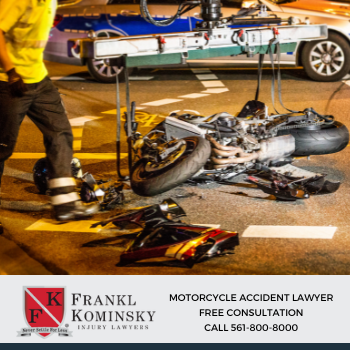 Hialeah is a city in Florida with approximately 228,533 residents. That said, it's clearly a very busy and big city. Accidents of any kind are bound to happen on these roads, and that includes motorcycle accidents.
When a motorcyclist is involved in an accident, there can be more chances for severe accidents or death to occur. According to statistics recorded after 2020, motorcycle accidents make up for 14% of all roadside accidents with 18% of those accidents including fatalities.
If you have been involved in an accident with a motorcycle, you should take action immediately with the help of a Hialeah Motorcycle Accident Lawyer.
Frankl Kominsky Injury Lawyers is a team based in Boynton Beach, Florida, and serves the neighboring areas including Hialeah, Florida (by appointment only) to help residents fight their accident battles that have resulted in injuries. We have the knowledge and resources needed to help victims seek help for the damages they lost and to hopefully make up for a part of this accident.
Reasons Motorcycle Accidents Occur
There is no one-answer-fits-all answer to the question, "Why do motorcycle accidents occur?" Just as car accidents, there are multiple reasons on the motorcyclist's or other drivers' end for these accidents.
Here are some of the most common reasons motorcycle accidents may occur:
Blindspot/unsafe lane change
Speeding
DUIs
Sudden stops
Inexperience
Road conditions
Weather
Motorcycle problems
Distracted driving
Left turns
As mentioned earlier, not every reason for a motorcycle accident can be the motorcyclist's fault, but since motorcyclists are more susceptible to greater injury or death if involved in an accident, it's crucial they pay closer attention while on the road.
A motorcyclist could be very vigilant but there could be another driver on the road who isn't. For this reason alone, a motorcyclist must pay attention when changing lanes, coming to a stop, or making a turn of any kind.
Where Do Most Motorcycle Accidents Occur
Intersections are where most traffic accidents of any kind, including motorcycles, occur. In a big city such as Hialeah, Florida, there are bound to be many intersections in the downtown streets that a motorcyclist will reach.
Intersections are more prone to accidents since this is where more drivers cross paths and there can be confusing rules if the intersection is not controlled by a traffic light. Another prominent place for motorcycle accidents to occur is interstates.
There are several reasons why intersections can be a place for accidents waiting to happen. For starters, there's the right of way issue that can be confusing without traffic lights indicating who should go first. Then, there's the possibility of distracted drivers or drivers under the influence running through the intersection and hitting someone else.
At intersections, there are two main ways motorcyclists end up in an accident:
Left turning vehicles
Rear-end accidents
Left turns can be harmful to both motorcyclists and left-turning cars. Since you have to cross two lanes of traffic to turn left, the vehicle approaching might not see the motorcycle coming which then results in an accident.
Rear-end accidents mostly occur when they are sitting at a stop sign or stoplight. Motorcyclists are more vulnerable in these instances because they don't have bumpers installed as cars have to protect them from the impact of force. When motorcyclists are rear-ended, they can go flying off the bike and the force of the hit can result in serious injury or death.
Results of Being in a Motorcycle Accident
Any kind of accident on a motorcycle can result in various types of medical concerns. The mildest accidents can result in a few scrapes or broken bones while the most severe can result in brain damage or even death.
The most common results of being in a motorcycle accident are:
Traumatic Brain Injuries
Spinal Cord Injuries
Internal Injuries
Fractures
Road Rash
Traumatic brain injuries and spinal cord injuries can have severe consequences on the quality of life a motorcyclist experiences after an accident. Paralysis can occur based on how much the spinal cord was impacted by the crash.
Internal injuries can also be life-threatening even if the impact did not pierce skin. These types of injuries can result in damage to internal organs and cause bleeding that requires surgery to try and stop the bleeding from causing an infection or further damage.
What Are Florida's Motorcycle Laws?
Since motorcycles are vastly different than other vehicles, motorcyclists have rules and regulations they must follow under Florida law. These rules are not just for their safety, but for other drivers as well.
To drive a motorcycle legally on the road in Florida, drivers must wear a helmet, carry insurance, and follow the standard traffic laws. There are also certain requirements for the bikes as well.
Before a motorcyclist can even take their bike on the open road, they must have a motorcycle endorsement. A motorcycle endorsement is a type of license that allows Floridians who already have an active driver's license to drive their bike, while a motorcycle-only license is for those who only drive a motorcycle.
There are steps you must take to receive your motorcycle endorsement in Florida, and those are:
Make sure your license is valid
Undergo a motorcycle training course
Gather the right paperwork and take it to the nearest DMV
Once you have your motorcycle endorsement or motorcycle-only license, then you must follow other guidelines while operating your motorcycle on the road.
Under Florida law 316.405, drivers must use daytime headlights even during the daytime hours to ensure they are seen by oncoming traffic. When it comes to weaving in and out of lanes, Florida law 316.208 prohibits drivers from going in and out of traffic. Motorcycle drivers must obey all standard traffic laws and wear a helmet if they are under 21, per Florida law 316.211.
Do Florida Car Laws Pertain to Motorcyclists Too?
Florida's modified-comparative rule when auto accidents occur means that both parties involved in the accident share the blame to some degree and should seek financial help from their insurance company instead of filing a lawsuit.
Does this apply to motorcyclists too? Yes, it does.
Because of this requirement, all Florida drivers are required to carry a minimum of $10,000 in personal injury protection and property damage liability. These two coverages do not help with damage done to a vehicle or a motorcycle, so if you would like to have financial help for that, you will need to add collision coverage too.
There is no motorcycle-specific insurance coverage a motorcyclist must have in Florida unless they opt to add on a plan that a certain company could offer. As long as they have the $10,000 in PIP and PDL, they are legally covered to drive.
What to Do After Your Accident
If you are ever involved in a motorcycle accident in Hialeah, Florida, here is what you should do.
Move Out of Oncoming Traffic
If you are physically capable, move yourself and your motorcycle to the side of the road and out of the way of traffic. Do not attempt to stand your bike up if it is severely damaged.
Call 9-1-1
It is possible that someone else already called law enforcement, but make sure to call the police yourself right away as well if you are unsure. Calling law enforcement will also mean an ambulance will come to the scene to observe your injuries and make sure you are okay.
You should not refuse medical attention because the records can potentially be used by your attorney later on for a fairer settlement. If your case is eligible for a lawsuit, the same can be said about your police report as it serves as another source of evidence.
Hire an Attorney
Before you speak to insurance, it is well-advised to hire an attorney. Most people wait until their insurance representative has wronged them or issues in the case arise. It then becomes more challenging for your attorney to pick up the pieces and advise what to do next.
Calling an attorney right away can make your chances at a fair outcome better than you thought possible. You can also discuss the details of your case with your attorney to determine if you qualify for a lawsuit so that they can begin working on your case as soon as possible.
Contact Insurance
Now is when you can contact your insurance representative to start the claims process of your coverage. Your insurance representative may want to see medical records and proof of the accident by looking at your bike and reviewing the relevant reports. Before you hand anything over, consult with your attorney.
How Long Do You Have to File a Claim in Florida?
A person in Florida who has suffered from an accident, whether it's an auto or motorcycle accident, has two years from the date of the crash to file a claim with insurance.
Although two years may appear as a long time, it's easy to let the days go by and for frustration to build. If you were to wait a long time before filing your claim, you could potentially allow the time to run out and decrease your chances significantly of reaching a fair settlement.
Even though it's a requirement for Florida drivers to carry $10,000 in PIP, there's no guarantee that you will receive the full amount from your claim. If you prolong your insurance claim or potential lawsuit, then your case can easily be dismissed or not taken seriously since it looks like you were not in need of assistance.
However, there are exceptions if you were severely injured as a result of the accident. For example, it is understandable not to be able to file a claim right away if your injuries caused you to be incapacitated or in the hospital for a long time.
When to Seek the Help of a Lawyer
You should seek the assistance of a Hialeah Motorcycle Accident Lawyer right away. It's normal to wait after the first day depending on when your accident occurred to receive the medical examinations out of the way, rest, and recover from the shock of the accident.
However, the following day, if you are able, you should contact your trusted attorney or start looking for one in your area to work on your case.
How to Find the Right Motorcycle Accident Lawyer
If you do not have a lawyer, you can start searching for one by looking up motorcycle accident lawyers near you in your search engine. A list of reputable firms will pop up, so you should take some time thoroughly reviewing the following:
Reviews, testimonials, and awards
Experience
Professionalism
Detailed information on their site
The reviews from previous clients will tell you how trustworthy and successful their services are. Try to find the most highly rated personal injury attorneys in your area.
Ideally, you should find a handful of firms to consult with before selecting which attorney will handle your case. Choosing an attorney should not be a fast decision because they will be responsible for dealing with the legal aspects of your case. It is important to feel confident in the professional you hire. Most attorneys offer a free consultation for you to discuss what happened so you can ultimately determine who you feel most comfortable with.
How Much Does an Attorney Cost?
It shouldn't be a shock that attorneys can be costly. However, there are payment agreements that can be reached. Attorneys usually charge for their services by the hour or on a contingency fee basis. If your attorney charges by the hour, they will keep a running tab open of how long they work on your case.
On the other hand, contingency fee agreements work differently. Contingency fee agreements mean that you will pay a lump sum based on an agreed-upon percentage of your final earnings. Many lawyers agree to a contingency fee between 33%-40%. As an example, if you are awarded $100,000 from insurance or the court and your lawyer's contingency fee is 33%, you would owe them $33,000 from your final earnings.
How Much to Expect in Your Motorcycle Accident Settlement
There is no set price you should expect to receive from your insurance company or from your lawsuit (if your case makes it to trial). The final earnings are all dependent on the unique facts and details of your case.
The jury will look at all the evidence and determine an outcome based on your pre-existing conditions before the accident and what resulted from the collision. They will also look at your economic and non-economic losses to determine what you've incurred physically and mentally in pain and suffering.
There could possibly be a need for a higher award amount due to the severity of the accident or when the damages are exceedingly large. In some cases, the multiplier method can be applied where your final earnings will be multiplied by any number between one to five.
The difference between economic and non-economic losses are:
Economic: costs that can actually be totaled up.
Medical bills
Lost work wages
Vehicle damages
Non-economic: physical or mental anguish that can't be literally totaled but will cost the driver life-altering changes.
Pain
Mental suffering
Scars
Amputations
Paralysis
Loss
More
Discuss Your Negligence Claim with an Attorney
If you have been harmed because of someone else's carelessness, there is no substitute for having dedicated legal representation on your side. At Frankl Kominsky Injury Lawyers, we are committed to helping injured victims. Our firm has over 40 years of combined experience handling accident and injury cases, and we know what it takes to try and prove a negligence claim. You can expect the utmost respect and professionalism from our licensed attorneys and legal staff.
Our Injury Lawyers offer a Free Consultation by calling 855-800-8000 or contact us online. Let us help you through this stressful time, our office is available 24/7 and we speak Spanish and Creole.