Slip & Fall Lawyers Serving Hialeah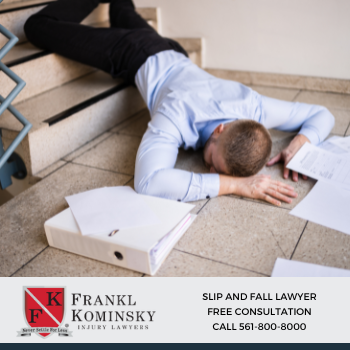 Hialeah, Florida, is known as "The City of Progress." With its rich cultural heritage, welcoming community, and recreational attractions, it's among one of the loveliest places to live in the state. However, just as every other city, Hialeah has had its fair share of devastating personal injury cases. Slip and fall mishaps are among one of the most common incidences.
Slips and trips can happen anytime you lose balance due to a hazard which causes you to fall to the ground. These kinds of accidents can happen anywhere and are prevalent in workplaces, parks, restaurants, shopping malls, etc. They can often cause devastating injuries and compensation may be sought.
If you're a slip and fall accident victim, a Hialeah slip and fall lawyer at Frankl Kominsky Injury Lawyers can help (by appointment only). There are numerous kinds of compensation that we can help you seek. If you need legal advice after a slip and fall accident, give us a call at (561) 800-8000.
Common Causes of Slips, Trips, and Falls
Numerous factors can cause a slip and fall accident in Hialeah, Florida. These include:
Wet or Oily Surfaces
Slippery floors are among the most common causes of slips and falls. According to the National Floor Safety Institute (NFSI), slips and falls make up 12% of total falls. When a floor surface is wet or oily due to spilled liquids, it can reduce foot/ground friction, which can put you at risk of a severe fall when you walk on such surfaces.
Poor Lighting
Poor vision due to poor lighting conditions can easily lead to a trip and fall incident. It's difficult to know your way around when you can't see your surroundings correctly as you walk. As such, you can easily hit your foot against any object in your way. Poor lighting is one of the most common causes of trips and falls.
Weather Hazards
Adverse weather conditions such as heavy rain, snow, ice, hail, etc., can significantly increase your risk of falls. This is why you must be even more cautious when moving in bad climatic conditions. Even in roofed locations, other visitors can bring in water from their shoes and umbrellas, which can cause a slipping accident.
Clutter
An organized and neat culture adds to the beauty of any place. Apart from aesthetics, properly arranged environments also reduces your risk of tripping and falling. When there are clusters everywhere, there's hardly any free space to walk around in. You can easily trip over different objects lying around in such conditions.
Uneven or Damaged Floor Surfaces
One of the reasons you can walk confidently without looking at the ground is even surfaces. You're trusting that there are no changes in elevation that may require you to lift your legs higher or lower.
Unfortunately, that's not always the case. For example, in public places with poor maintenance, broken floors can cause uneven surfaces that increase your risk of a tripping accident.
Lack of Handrails
Handrails help to support your movement when you grasp them by the hand. These rails are essential in ascending and descending surfaces such as escalators and staircases. When there are no handrails when you need them, you are at high risk of a fall mishap.
Inappropriate Footwear
Sometimes, you can be the cause of your slip and fall accident by wearing inappropriate clothing and shoes for the environment you're in. Some shoe soles reduce friction and predispose you to accidents on certain types of surfaces. For example, wearing high-heeled shoes to a sporting event is not advised. You need adequate foot support for natural strides in your environment.
Common Injuries from Slip & Fall Accidents in Hialeah, Florida
According to the World Health Organization (WHO), falls are the second leading cause of unintentional injury deaths worldwide. When fall victims don't pass away, they may sustain devastating, debilitating, and long-term injuries such as:
Broken Bones or Fractures
You can easily break your bones after a fall accident, especially when the fall is from a significant height. A fracture happens when your bones encounter a higher force that overwhelms and crushes them. Broken bones are not typically life-threatening. However, they still require urgent medical treatment as they can cause severe complications.
Common symptoms of fractures include excruciating pain in the affected area, heavy bleeding, swelling, and numbness. In some cases, the bone will protrude through the skin and be visible.
Whiplash
Slips and falls can cause numerous types of neck injuries. Whiplashes are some of them. Sometimes, you may only become aware of this type of injury a few hours or several days after the incident. They can be mild, moderate, or severe.
Common whiplash symptoms include neck pain, headaches, neck stiffness, muscle spasms, and numbness around the arms, etc.
Weakness, dizziness, and disturbed sleep patterns may also result from whiplash.
Traumatic Brain Injuries
When you hit your head against the floor or hard object as you fall, you can sustain head injuries. In severe cases, such trauma to the head can affect your brain and cause traumatic brain injuries. Traumatic brain injuries (TBIs) can be mild, moderate, or severe.
Common TBI symptoms include headaches, ringing in the ears, concentration problems, and loss of consciousness. Severe traumatic brain injuries can cause brain damage and death. As such, they are medical emergencies.
Internal Bleeding
Internal bleeding is one of the likely consequences of a devastating slip and fall accident. They're usually a result of trauma, broken bones, or internal organ compression. Internal bleeding can lead to organ failure, coma, and even death.
Unfortunately, you may not always realize that you're bleeding internally early enough. That's because internal injuries will typically not show any external symptoms immediately. As such, you must visit your doctor immediately after any falling accident whether you sustained physical injuries or not.
Spinal Cord Injuries
Slips and falls are common causes of spinal cord injuries. This injury can either be complete or incomplete. They also cause permanent loss of movement and can affect you socially, emotionally, and mentally.
Apart from immobility, spinal cord injury symptoms include difficulty breathing, loss of sensation, pain, and fertility problems. The worst thing about spinal cord injuries is that they have no cure.
Cuts and Lacerations
Cuts and lacerations from a slip and fall accident happen when a sharp object pierces your skin as you fall. This is different from an abrasion because, in this type of injury, your skin remains complete. Cuts and lacerations are some of the easiest and quickest conditions to diagnose.
The primary symptom of cuts and lacerations is bleeding in the affected area. They may also cause severe pain and permanent scarring. Excessive and uncontrolled loss of blood from deep cuts can lead to death. Also, cuts can quickly become infected if you don't treat them on time.
What Compensation Is Available in a Hialeah Slip and Fall Claim?
Slips and falls are usually due to someone else's negligence. As such, it's only proper that they bear liability for their actions. If another person caused your slip and fall injuries, you could be eligible to seek compensation for the following damages:
Medical Expenses
Injuries from a fall accident require urgent medical attention. Medical bills aren't inexpensive, and you'll have to spend a lot of money on medication, therapy, etc. Hialeah slip and fall lawyers help you place the responsibility of footing such bills on the person who caused your injuries.
Lost Wages
You might not be able to resume work for some time after a trip and fall injury. The at-fault person may compensate you for the salary you lost due to your inability to earn a living.
Future Earnings
You may also seek damages for the money you would have made in the future if you hadn't sustained fall injuries.
Property Losses
If you lost or damaged any property during a slip and fall, the negligent party may be responsible to pay.
Non-Economic Damages
Non-economic damages cover non-monetary losses. They compensate you for the psychological, social, mental, and emotional injuries you suffered from the accident. Common examples of non-economic damages include pain and suffering, loss of consortium, mental anguish, etc.
Other
There are numerous other types of compensatory benefits you can seek from a slip and fall injury claim. For example, you may seek damages for your transportation costs to the hospital and other incidentals. Your slip and fall lawyer will let you know what types of compensation you may qualify for.
Can Victims Sue for a Slip and Fall in Hialeah, Florida?
You can sue an at-fault party for their role in your slip and fall accident. However, you must prove the following to be eligible to file an injury claim or lawsuit:
Ownership of the Business or Property
You can't simply sue the first person you see at the accident scene for your mishap. You will have to prove that the defendant in your case was responsible for maintaining the property in question. They are usually the property owners and administrators accountable for your safety on the premises.
Negligence
After proving that the at-fault party has significant control over the property, you must also show that they were negligent. Negligence, in these cases, means that they failed in their responsibility to keep you safe due to specific actions and inactions.
That is, they were directly or constructively aware of dangerous conditions in their premises but failed to fix them. When it is impossible to improve the hazardous situation immediately, they'll be negligent if they fail to provide adequate warnings.
Causation and Damages
It's not every time that a hazardous condition results in injuries. As such, you can't sue a property owner in a personal injury claim merely because of a harmful condition. If you didn't sustain injuries directly due to the hazard, you do not qualify for an injury lawsuit.
What to Do After a Trip and Fall Injury
Your actions after a slip and fall accident can significantly determine the outcome of your case. As such, you must be intentional about the steps you take following your injury.
You can help your injury claim or lawsuit by doing the following:
Call for Medical Attention
Your life and health should be your topmost priority after sustaining a slip and fall injury. Therefore, you should visit your doctor immediately after such an accident. This is regardless of whether you've sustained physical injuries or not.
In addition, your doctor's report can help you prove the severity of your injuries when negotiating compensation.
Notify the Property or Business Owners
As soon as you can, it's wise to let the owners of the premises know that you sustained injuries on their property. They may require you to fill out an incident form. If so, ensure that you receive a copy of the document and keep it safe.
Gather Evidence
Personal injury claims are always based on satisfactory evidence. Therefore, you must be able to prove all your allegations more than the defendant can disprove them. As such, gathering as much evidence as possible after the accident is essential.
You can gather enough proof by taking photos and videos of your injuries and the accident scene. Also, preserve the clothes you were wearing when the accident happened.
Contact a Hialeah Slip and Fall Attorney
Even the most straightforward injury cases can become complicated in a minute. To avoid losing out on the compensation you may deserve, ensure that you hire a Hialeah slip and fall lawyer quickly. As legal experts, our attorneys will protect your rights and help you with our settlement strategies (by appointment).
Types of Evidence in a Slip and Fall Case
You may need the following pieces of evidence to prove various elements of your slip and fall injury case:
Medical and Other Official Reports
Specific third-party reports can go a long way in helping you win your injury claim. These include medical reports, pharmacist's records, documentation from police officers, etc. The information will also describe the circumstances surrounding your accident, the severity of injuries, and your recovery process.
Photographic Evidence
Photos from your accident are some of the most critical pieces of evidence in your case. They prove that the accident happened. Photographic evidence also shows the severity of your injuries.
Security Camera Footage
Security footage from the accident scene can show the dangerous condition that caused your accident. This is one of the most vital pieces of evidence you can have in your claim.
Eyewitness Depositions
Eyewitnesses can corroborate your allegations. In addition, if there are any unclear facts from your photos and videos, an eyewitness can help add context to the situation.
How Will Our Hialeah Slip and Fall Lawyers Help Your Claim?
Our Hialeah slip and fall attorneys will play a significant role by doing the following:
Independent Investigations and Reviews
Our slip and fall lawyers are experts in reviewing cases and determining how to solve their complexities. They will also conduct independent investigations to gather relevant information to help your case.
Identify the Best Compensation Strategies and Avenues
There are several routes to obtaining justice in an injury case. However, some strategies produce better results than others. Our lawyers will consider your case's specifics and discuss what your best options are.
Documentation and Paperwork
Filing a compensation claim or lawsuit requires a lot of documentation and paperwork. Our slip and fall attorneys will know how to have them done accurately and on time.
Negotiations With Insurance Companies
Insurance companies can be challenging to deal with. Fortunately, your injury lawyers will leverage their knowledge and experience to help you negotiate a fair settlement for your case.
Arguing Your Case at Trial
If your case gets to trial, you can trust our attorneys to put up sound arguments on your behalf.
Can a Delay in Seeking Compensation Affect the Outcome of a Slip and Fall Case?
When filing an injury claim or lawsuit, it's essential that you do so as soon as possible. This is because Florida only gives claimants a period of two years within which they must file their lawsuits. Failure to meet this time frame can disqualify you from compensation of your injuries.
Discuss Your Negligence Claim with an Attorney
If you have been harmed because of someone else's carelessness, there is no substitute for having dedicated legal representation on your side. At Frankl Kominsky Injury Lawyers, we are committed to helping injured victims. Our firm has over 40 years of combined experience handling accident and injury cases, and we know what it takes to try and prove a negligence claim. You can expect the utmost respect and professionalism from our licensed attorneys and legal staff.
Our Injury Lawyers offer a Free Consultation by calling 855-800-8000 or contact us online. Let us help you through this stressful time, our office is available 24/7 and we speak Spanish and Creole.