Truck Accident Lawyer Serving Hollywood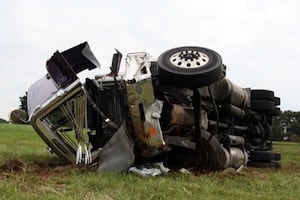 Hollywood is a big city; with a population of 150,000+ residents, it is no wonder that truck accidents in Hollywood, Florida, are perhaps more common than in other states and cities. Modern, commercial cities like Hollywood have a high number of trucks operating within the city, as part of the transportation of goods and services. With the great number of vehicles on the road, accidents can be frequent.
The state of Florida has the third-most number of traffic fatalities involving trucks in the United States. According to the Florida Highway Safety and Motor Vehicles, nearly 32,000 accidents involving a large truck, including commercial trucks and 18-wheelers, occurred in the state in 2017. These accidents resulted in 27 fatalities, 57 incapacitations, and 1,053 other types of injuries.
Hospitals in Hollywood, such as Broward Health Medical Center and Memorial Regional Hospital, receive and treat victims of unfortunate auto and truck accidents. Small cars and sedans, SUVs are built to be more survivable during crashes, and due to their size and weight, collisions may not always be as devastating.
With heavy vehicles like trucks, 18-wheelers, semi-trucks, and trailers, the impact of the collision is so great that it often results in grave injuries for the passengers and drivers, and almost always results in the deaths of one or more parties involved in the crash. Being involved in a truck accident can cause serious spinal cord injuries, brain damage, or lifelong disability. If you or a loved one has been injured in a truck accident, contact a dedicated truck accident attorney who can bring a claim and try to help you get compensated for your injuries, medical expenses and lost time from work.
Following the truck accident, it is crucial that you report the incident as soon as possible. Contact 911 or your local police station, the Hollywood Police Department, and present a detailed report of the accident.
Frankl Kominsky has a team of truck accident attorneys who have represented victims of truck accidents, helping them receive compensation for their injuries, trauma, and pain and suffering.
Types of Truck Accidents
There are several types of trucks and heavy vehicles moving on the streets. Trucks that are most commonly involved in accidents include:
Commercial Trucks
Large trucks and vehicles owned by companies and businesses are always on the move, transporting raw materials, finished products, or fuel. Commercial trucks are not a special kind of truck; any truck that is used to transport goods or provide services is referred to as a commercial truck. Commercial trucks are generally huge because they need a large capacity to hold their cargo.
Semi-Trucks
Semi-trucks are part trucks, part trailers. The trailer part at the back is used for carrying and transporting freight. They are also called semi-trailer trucks, tractor-trailer trucks, rigs, or 18 wheelers. Because of their immense size (generally 53 feet long), if semi-trucks collide with cars, motorcycles, other vehicles, or pedestrians on the road, it can prove disastrous for the opposite party.
Company or Rented Trucks
Company owned or rented trucks are used by companies to occasionally transport goods. Company trucks are owned and branded by the employers while rented trucks are owned by the drivers themselves or a contractor who provides transportation services to other companies.
Moving Trucks
Moving trucks, as the name suggests, are trucks that you use when you're moving into a new house, or need to move furniture or other heavy items from one place to another. To fit all of that inside, moving trucks are huge, and can often be found in neighborhoods where someone is packing up to move out of their home. Due to their large size and the narrow streets that they often have to maneuver through, these trucks are likely to tip over or collide with pedestrians or other vehicles if the drivers of the trucks are not experienced enough.
Work Trucks
A work truck is different from a regular pick-up truck but just as heavy-duty. Work trucks are used for transporting products or people.
Typical work trucks include dump trucks or construction trucks that can be very dangerous to drivers, cyclists, and pedestrians. These trucks carry large amounts of garbage, debris, cement, sand, or other material. Because of their large size, they have huge blind spots and a high center of gravity, which makes them prone to tip-overs and falling debris. Accidents in a work vehicle can be deadly.
Leading Causes of Truck Accidents in Broward County
Truck accidents in Florida are numerous and can be caused by a multitude of reasons. Determining the cause of the accident is essential as it can establish which parties need to be held accountable. For example, a truck accident is not always just the driver's fault; it can also potentially be the manufacturer's fault or loader's fault, as discussed below.
Driver Error
While it may not always be the driver's fault, it is driver error that results in most truck accidents. Truck drivers may often drive recklessly, drowsily, or under the influence. They don't realize the size and strength of the vehicle they are driving and rush around, trying to complete mileage goals or the number of deliveries set by the company. The driver can be at fault in the following ways:
Driving a truck without having the required experience to do so
Overloading their trucks
Driving trucks on narrow roads that they aren't familiar with
Failure to see other vehicles due to the truck's large blind spot
Failing to obey the traffic laws
Driving for too long without taking a break
Failure to monitor their driving hours
Not ensuring that the truck or the trailer are in proper working condition
Not being qualified to drive a truck in the first place
Failure to properly supervise the truck driver
Driving a truck despite having insufficient training
Selecting an unqualified or unfit truck company
Whatever the reasons for the truck accident, according to Florida's laws, the employer or the trucking company may be held liable to pay for the damages, not the individual driver.
Poor Truck Maintenance
While trucks are made and designed for extensive and rough use, they require proper maintenance and care to keep functioning at their best. Oftentimes, truckers ignore this part and continue driving their vehicles.
Improper and careless maintenance work can result in worn brake pads or a cracked windshield, and while these may seem like minor issues in smaller cars and sedans, it might be the cause of major, fatal accidents with big trucks and heavy-duty automobiles.
Faulty Parts and Equipment Failure
Sometimes, a defective part can be at fault for a truck accident. These technical or mechanical errors are hard to identify and are beyond the control of drivers. If equipment failure occurs in a truck, and it causes an accident, the manufacturer of the truck will be liable to pay for the damages. Your truck accident lawyer might be better able to ascertain if the manufacturer of the vehicle can be held responsible if:
The defective truck or the faulty part was "unreasonably dangerous"
The truck was being operated as the manufacturer intended
The truck's performance had not changed since its initial purchase
Improperly Loaded Cargo
Most of these trucks carry heavy loads and cargo. There are laws governing how much cargo is loaded onto trucks because the incorrect or careless loading of cargo can result in cargo spillage. Improperly loaded cargo can also cause the truck to turn over. This happens due to bad load distribution. Such situations usually lead to a lot of damage, both for the truck driver as well as for vehicles and pedestrians that are involved in the accident.
Broward County, Florida: Who is Responsible for My Truck Accident?
By law, if an employee is involved in a truck accident while on the job, their employer may be held responsible, and the lawsuit can be filed against the employer. The trucking company or the company who owns the vehicles are the ones who will be held accountable and may be held liable to pay damages for the losses caused by their employee and their vehicle. As discussed above, it might be the driver's individual fault if the accident happened, but the employer or the company can be the party held liable.
Therefore, in accidents involving commercial trucks, the victims should not face these big corporations and companies alone; rather, they should contact an experienced truck accident attorney for guidance and assistance with their claim.
It might just be that there are multiple parties to blame for a single truck accident. The company that owns the trucks might be responsible for the losses incurred by the victim, but they might also be able to prove the fault of the truck manufacturing company or tire-company, too.
What Damages can I Claim After a Truck Accident?
If you have been involved in vehicular accidents involving company trucks, or worse, in a pedestrian accident with a truck, seek help from a truck accident attorney that can assist you in your case and strive to pursue fair compensation from the big manufacturing and trucking companies. Experienced accident lawyers can assist you in obtaining compensation for damages such as:
Medical Expenses

Truck accidents are often fatal. If you are lucky, you might escape with a few injuries and scrapes that will heal over time. More often than not, the injuries are expected to be severe, such as injuries to the neck and back, whiplash, spinal cord injuries, bone fractures, and traumatic brain injury damage, and they require multiple surgeries.

The pain medication, the doctor's bills, physical therapy and the cost of the surgeries are bound to be weighty, and the compensation claimed can be used to cover past and future medical expenses as a consequence of the accident.

Therapy and Rehabilitation

Accidents involving moving vehicles can leave you physically and mentally affected. You might need physical therapy and rehabilitation to get you back on the right track and speed up your recovery.

Vehicle or Home Modifications to Accommodate a Disability

With such large, heavy vehicles, severe accidents often leave victims severely dysfunctional or disabled for life. Disability comes with financial costs, too; someone losing a leg in a truck accident will need to modify and alter their vehicle and house to continue living with relative ease and without discomfort.

Current and Future Lost Wages

Being severely injured as a result of a truck accident means that you will have to stay at home while you recover from your injuries. This obviously means that you won't be able to work and collect a paycheck.

The compensation you receive as a result of your claim may address that you're able to sustain yourself despite not being able to work. It addresses that you will be able to provide for your dependents even through this tough time.

Loss of Earning Capacity

Sometimes, a person is never able to recover from their injuries and go back to their regular jobs. The accident could leave them physically disabled, which means that they may never even be able to leave their homes without assistance.

In such cases, the victim of the accident can pursue compensation for any potential future earnings that they're missing out on as a result of not being able to work.

Mental Anguish, Pain, and Suffering

A collision with such an intimidating vehicle and the consequence of such an accident takes a toll on a person's mental health. Though you can't attach a figure to the psychological trauma that someone suffers, the monetary compensation can help the victim through the whole ordeal, as well as pay for therapy and related medications.

Wrongful Death - Losing a Spouse, Parent or Child

In the unfortunate instance where you had family members in your vehicle during the time of the truck accident, and one of them tragically passed away, you can additionally file a lawsuit for wrongful death. Wrongful death claims aim to compensate the family for the life that is lost due to the actions of the other party. Wrongful death claims try to recompense you for the physical, financial, and mental suffering that you have to go through as a result of losing a family member.

It is advisable to hire a lawyer who is experienced and has dealt with wrongful death lawsuits so they can guide you through the painful event.

Repair or Replacement of Your Vehicle

If your vehicle is damaged in an accident, you can file a claim for the damages to your car, motorcycle, or truck. The compensation should be sufficient enough to pay for repairs or replacement of your vehicle.

Other Accident-Related Expenses

Compensation can also be used to cover any expenses that the victim incurs as a consequence of the truck accident.

The following video helps clarify why you should consider hiring a truck accident lawyer if you or a loved one has been involved in an accident involving a heavy vehicle.
What Frankl Kominsky Injury Lawyers can do for You
Frankl Kominsky injury accident attorneys have over 40 years of experience, and in that time, they have managed to successfully serve 6000 clients, and have helped them recover monetary benefits to make up for the damage and trauma, financial and otherwise, that they faced. They will investigate the details of the case, collect evidence from the site of the accident and the doctor's reports of your injuries and try negotiate with the at-fault party. If you are someone who has been injured as a result of a truck accident, contact us for a free consultation and let us handle it from there. We will represent you and assist you in getting your due rights and the compensation you deserve.
We understand the sensitivity of such cases, and our attorneys are considerate while dealing with suffering victims. Our truck accident attorneys are dedicated to getting you the justice that you deserve.
Frankl Kominsky offers a free consultation or free case reviews, reach out to Frankl Kominsky for any questions, appointments, or case evaluations by filling out the free case evaluation form. Or, you can simply call their office at 954-627-1661.