Car Accident Lawyer Serving Jupiter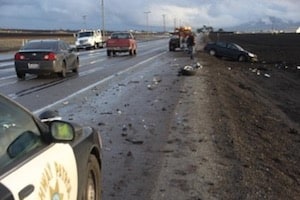 If you happen to have some time off or if you plan to take a holiday, then you might want to consider heading over to Jupiter, Florida. That's because Jupiter is considered to be a vacation spot when it comes to both day and night activities. However, because of this, the number of visitors that are unfamiliar with the roads and can be distracted by looking for various destinations. This situation can easily lead to car accidents that can produce serious injuries and even fatalities.
When these accidents occur, those who are involved may need the help of an experienced car accident lawyer. These professionals may try to assist you when it comes to receiving the compensation that you'll need in order to pay for your medical costs and other expenses that can come about from your accident. You may think that it would be best to let your insurance company handle all of the details, but this can potentially be a mistake. If you are injured in a car accident in Jupiter, contact an experienced attorney for guidance. Your initial consultation is free - so you have nothing to lose.
Is there a Jupiter no-fault insurance statute?
The automobile statutes concerning Jupiter car accidents include what is known as a "no-fault insurance law". This means that your insurance company will be responsible for paying a portion of your medical bills and lost wages, no matter who was at fault for the accident. (SB 896: Motor Vehicle Insurance) Therefore, drivers in this state need to have what is known as a PIP policy (which stands for Personal Injury Protection). That policy must legally be no less than $10,000. However, if you're familiar with medical costs these days, you'll know that $10,000 can easily be too little to handle all of the expenses that can come from an auto accident. This is why many drivers will carry additional insurance in order to help pay for the expenses, as well. But, even so, the extra insurance coverage may not be enough to handle all of the accident-related expenses. For example, what about time away from work or a long hospital stay?
What if your accident costs turn out to be far more than your $10,000 PIP policy?
When you think about things, such as a long time off from work, or perhaps not being able to return to your job at all, it's easy to see just how even your extra insurance coverage may not be enough. Then there are also situations that involve a fatality. What if the deceased was the one who was supporting the family? These are the types of situations in which filing a lawsuit may be the best answer. This is where you can consult an experienced car accident lawyer for guidance in pursuing a negligence claim.
Common types of car accidents that Jupiter drivers may be involved in include:
Accidents involving Drunk or DUI Drivers
Rear-End Collisions
Distracted Drivers
Inexperienced Drivers
Crashes Involving motorcycles, bikes, pedestrians or commercial vehicles
What kinds Jupiter car accident injuries can victims face?
While a fatality is certainly a possibility when it comes to a Jupiter car accident, a serious injury is far more common. These injuries may take a very long time to heal from and, in some cases; the victim may never heal from them completely. There are other considerations as well. What about any changes to the home that the injured person may need in order to get around the house? These may include installing ramps or a device that can be used to get up and down the stairs. Some of the most common serious injuries that have been seen in a Jupiter car accident include:
Whiplash
Back Injuries
Neck Injuries
Traumatic Brain Injuries
Spine Injuries
Soft Tissue Injuries
Another thing to consider is that other liable driver will likely have their own lawyer to assist them. Facing an expert in the field of law is something that may not be a wise decision while you are trying to heal from an injury. Once you decide to seek the advice of a car accident lawyer, who serves Jupiter, you will see that the first visit is completely free of charge. So, there is nothing to lose for getting some expert advice as to what your options are!
What are some of the safe driving statutes in Jupiter?
Jupiter (as the rest of Florida) has a number of very strict laws that have to do with keeping the roads safe. In addition, Jupiter Police Officers have the very important job of making sure that those laws are followed. Examples of these laws are the ones that pertain to driving too closely, such as:
Statute 316.0895 (1) states that "The driver of a motor vehicle shall not follow another vehicle more closely than is reasonable and prudent, having due regard for the speed of such vehicles and the traffic upon, and the condition of, the highway."
Statute 316.0895 (2) states that "It is unlawful for the driver of any motor truck, motor truck drawing another vehicle, or vehicle towing another vehicle or trailer, when traveling upon a roadway outside of a business or residence district, to follow within 300 feet of another motor truck, motor truck drawing another vehicle, or vehicle towing another vehicle or trailer."
There are many other statutes that apply to drivers in order to stop illegal driving habits and keeping those drivers who are drunk or using drugs from driving on the road.
See video:
What are some of the things that an attorney looks at in a Jupiter car crash case?
There are a number of things that a Jupiter car accident lawyer will take a look at when it comes to an auto accident case. For example, in the hit-from-behind accident that we talked about earlier, the attorney will want to know who was really at fault. Was it the driver in the rear? Or was it a mechanical problem that made the accident possible? For example, there have been times in which a car repair shop didn't do their repairs properly and there was a brake failure. Or perhaps there was a problem with the rear brake lights on the car in front. These things can make a huge difference when it comes to who should be held responsible when it comes to paying damages in a lawsuit. Can you see the difference between a poor car repair job from a national car-repair chain as opposed to a driver who just wasn't paying close enough attention?
What does "comparative negligence" mean in a car accident case?
Those who are seeking damages, when involved in a Jupiter car accident case, might have to deal with Florida's Comparative Negligence statute (Florida Statutes 768.81). This means that there is a situation in which both of the drivers are found to be at fault for the accident. An example of this would be a rear-end car accident in which the driver in the back was not paying attention and driving too close to the car in front. However, the car in front had defective brake lights which contributed to the accident, as well.
When something like this happens, the court may find that both parties are responsible and this can affect what the driver in front may receive as compensation. The amount of each responsibility can be different in every case and will be decided by the court. Florida is one of only 12 states that have this law. This type of situation can also affect the amount that the party at fault's lawyer would be willing to settle for in the event of an out-of-court settlement. This is another good reason for having an experienced car accident lawyer try to assist you with your claim.
Contact the Experienced Attorneys at Frankl and Kominsky
Because of the things that were just mentioned (and other reasons, as well), you can see why it can be a good idea to speak with a car accident personal injury attorney. Our car accident lawyers serve Jupiter. We show our clients compassion and understanding, and will try to present your case in the best manner possible. And remember, your first appointment is free.
Hire a Personal Injury Lawyer to Protect Your Rights in your Automobile Accident Claim
Deaths and injuries from driving can be the result of catastrophic rear end collision accidents, drunk-driving collisions, distracted drivers, inexperienced drivers and collisions with other types of vehicles, both commercial and non-commercial. These may occur in Jupiter at any given time. In addition, it's important to understand that while high speeds are often a factor, there are also many times when this isn't the situation. There have been a number of cases in which a very low speed car crash has resulted in an injury that eventually led to a person's death. If you or a loved one are involved in an automobile crash, it is advised that you seek medical care and the advice of a car accident personal injury attorney.
Seeking the advice of a personal injury attorney, who can try and assist in receiving the best care and compensation that you rightfully deserve. Therefore, when you or a loved one are involved in a Jupiter car accident, contact a Florida personal injury attorney.
Also, in the case of the death of a loved one, discuss your case with a Car Accident Personal Injury Attorney Serving Jupiter, today! Turn to Frankl & Kominsky for comprehensive legal guidance. Call 561-800-8000 or use our
Contact Form
to set up a free consultation.