Truck Accidents Caused by Weight Violations Lawyer Serving Jupiter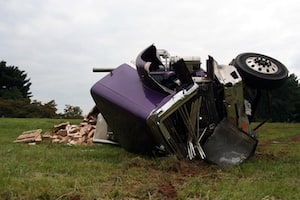 Truck accidents occur on a daily basis, throughout the United States. Due to the sheer size of the trucks themselves, these accidents have the potential to be catastrophic. The sad part is that these accidents are avoidable, yet the number of Jupiter truck accidents due to weight violations continue in the state. As a matter of fact, it's estimated that one in ten truck accidents, throughout the state, results in a fatality.
Some of us may find ourselves completely shocked at the size of this percentage, but it makes perfect sense, considering that a fully loaded semi-truck can weigh up to 80,000 lbs, (or more). Compared to that, the average car only weighs about 5,000 lbs, (or less). When you have two vehicles of such disparate proportions, then a major disaster is imminent. Of course, the smaller vehicle will usually be the one to suffer the most damage – although this is not always the case. A car that suddenly swerves into the path of a truck and causes it to crash and overturn can easily injure or kill the truck driver, as well. However, here, we'll be discussing accidents caused by truck weight violations. First, let's take a look at truck-related accidents in 2014.
When it comes to large truck accidents that involved fatalities, about 68% of the individuals that were killed were riding in passenger cars. Other fatalities amounted to 15% for motorcyclists, bicyclists and even pedestrians. This can be compared to 17% of those who were either driving or riding in the truck.
In addition, from 2009–2014, the number of deaths involving large trucks actually increased by about 16%.
In 2014, 59% of truck accident fatalities occurred on a major roadway that was outside of the state roadway system (freeways and interstates). That percentage was 9% on smaller roads.
The hours between 6 a.m. and 3 p.m. were statistically the most dangerous hours when it came to truck accident-related deaths, with 47% of truck fatalities occurring during that time.
What are some overweight and overloaded semi-truck dangers
By taking into account the laws of physics, it can be easy to see why an overweight/overloaded truck could potentially be responsible for an accident. Take, for example, if the truck is overweight, the driver will not be able to control their steering should an emergency need to maneuver their vehicle occur. And if a sudden maneuver is attempted, the overweight truck can cause the driver to completely lose control of their vehicle.
Then you have the factor of poor weather conditions, which can play a part in limited vehicle control that is exacerbated by rain or snow. These are some of the reasons why we see so many instances of a truck's cargo becoming loose or the truck actually tipping over. Add to that, the size of the truck and you can have a multi-vehicle crash.
What definitions are used in truck-related statutes?
When discussing the potential concerns related to federal and state truck statutes, we have specific definitions that pertain to these laws. (Florida Statutes 320.01) These include:
Trailer – is a form of vehicle that is unable to move under its own power. This is generally used for carrying cargo, which will be towed by the motorized driver-controlled part of the vehicle. It is also stipulated in the statutes that no part of the trailer's weight can rest on the vehicle that is towing it.
Semitrailer – is a form of vehicle that resembles a trailer since it doesn't have an ability to move on its own. Here, though, the difference revolves around the fact that part of the semitrailer's weight is allowed to rest on the motorized portion of the vehicle that is performing the towing operation.
Gross weight – refers to the net weight of the truck in its entirety, to include the weight of the truck's load, which is towed.
Net weight – refers to the scale weight (the actual weight) of the vehicle to include all of its equipment.
Truck – refers to a motorized vehicle that is designed to tow/transport cargo as its main function and is 5,000 lbs. or less in its net weight. The term also includes the equipment that isn't part of the driver's or a passenger's personal items. The equipment may include items such as; box, cabinet, rack, platform, etc.
Heavy Truck – refers to a motorized vehicle that is the same as the "Truck", but with a net weight of over 5,000 lbs. the vehicle, however, is registered under its gross weight. (Florida Statute 320.08(4)).
Truck tractor – refers to a motorized vehicle that is equipped with four or more wheels with a 5th wheel that can be utilized for the attachment of a trailer.
What are the weight limitations for trucks and their trailers?
The Federal Motor Carrier Safety Administration (FMCSA), along with additional agencies, oversees truck-related restrictions and regulations. The goal of these agencies is to limit the number of weight violation truck accidents and other causes of truck accidents throughout the state and the rest of the U.S. a number of different factors are involved when it comes to determining the amount of cargo weight that a truck is legally allowed to transport.
These different factors involve a truck's calculated braking ability, the number of a truck's axels and the truck's gross weight. These restrictions are both monitored and enforced by using highway weight stations.
Yet, even with these enforcements in place, Jupiter still encounters an unfortunate number of truck-related accidents per year that could have been avoided.
What are the federal and Florida state regulations for a truck's weight and size?
Overall, the federal restrictions that govern a semitrailer's maximum weight are:
The maximum weight, per axel, is 20,000 pounds with the axels spaced no less than 40 inches apart and no more than 96 inches apart.
80,000 lb (36,000 kg) total for any vehicle or combination
34,000 lb (15,000 kg) on a tandem
20,000 lb (9,100 kg) on a single axle
The maximum weight for a semitruck is set at:
U.S. Semitruck – The maximum weight (with full trailer) is 80,000 lbs. that's distributed over 18 wheels. (23 U.S.C. 127).
In addition, trucks must also be equipped with a device that provides rear-end underride protection (49 C.F.R. s. 393.86)
Under Jupiter (and the rest of the state) statutes s. (
316.550
):
In a combination that includes a semitrailer and truck tractor combination, the semitrailer is limited to no more than 48 ft. for its overall dimension (unit's rear to front.). However, state law will usually allow safety devices and energy conservation equipment which has been approved Florida's Dept. of Transportation for use on its open roads.
If the semitrailer is more than 48 ft. in its length, a special permit is required. (s. 316.550)
What are your rights under the overloaded / overweight truck statutes?
Should you or a loved one become injured in one of Jupiter's weight violation truck accidents, you may have the right to seek damages from the trucking company or the truck driver who is responsible for the overweight truck accident. This compensation can be used to mitigate any expenses that are the result of personal injuries or property (i.e. vehicle) damages, as well as lost income and other items that you may have suffered.
To pursue a claim you will need to show negligence. Here, you would want to prove that the defendant(s) (truck driver, trucking company or both) had failed to exercise reasonable care that was required in a similar situation.
For example, this means:
There was a failure on the part of the defendant to exercise reasonable care
There was a breach of the duty of care (such as overloading the truck)
The direct result of that breach of duty was the accident that subsequently occurred
The accident has directly caused the injuries and the damages that have been sustained.
A truck company in Jupiter can be held liable for your truck accident if that accident was the result of the truck being overloaded and/or overweight. This may have occurred as a result of an incorrect calculation of the truck weight when it was fully loaded. This situation is an example of "negligence".
Who is liable for my Jupiter overloaded/overweight truck accident?
Addressing the question of liability for Jupiter weight violation truck accidents can become rather complicated. In these cases, either the driver or the trucking company may be at fault (and sometimes both). In other cases, the fault might lay with the loading company and their calculations. In other cases, the loading company might be responding to a direct order from the manager or owner of the trucking company, with the assistance of the driver. So, as you can see, the liability for these accidents can rest on more than one party.
This is where the assistance of an experienced overweight/overloaded truck accident attorney can be of assistance. With the help of a truck accident attorney, who serves Jupiter, they may try to:
Have the truck's "black box" subpoenaed, if the truck happened to be equipped with one. This will need to happen prior to the destruction of any evidence that would be essential to the case. The trucking company would usually not to want to hand over the black box to just anyone, unless it is first mandated by the court.
An experienced accident attorney can also work with accident reconstruction specialists to recreate the accident scene in order to establish just how the accident had taken place.
What types of personal injuries can be sustained in an overweight/overloaded truck crash?
Those who have been the victims of Jupiter weight violation truck accidents could be suffering from severe bodily injuries as well as the loss of their own vehicle. It may take quite a long time for those injuries to heal and, in many cases, the injuries are permanent. These injuries can include; burns, loss of limbs, disfigurement, loss of mobility and various broken bones.
There can also be mental issues such as PTSD and constant stress related to the loss of a loved one or just the fear that things may never get back to normal, again. Add to this, a lifetime lack of mobility or constant, permanent pain and you can see the need to pursue damages to assist in this type of situation.
Enlist an Experienced Personal Injury Lawyer to Protect Your Rights
Deaths and injuries from a negligent truck accident can be the result of reckless behavior, which may occur in Jupiter at any given time. In addition, it's important to understand that while high speeds are often a factor, there are also many times when this isn't the situation. There have been a number of cases in which a very low speed crash has resulted in an injury that eventually led to a person's death. Therefore, if you are involved in an overweight truck accident, it is advised that you seek medical care and the advice of a truck accident personal injury attorney.
Seek the advice of a personal injury attorney, who can try to assist in receiving the best care and compensation that you rightfully deserve. Therefore, when you or a loved one are involved in a Jupiter overweight truck accident, discuss your case with an Overweight Truck Accident Personal Injury Attorney Serving Jupiter Today! Turn to Frankl Kominsky for comprehensive legal guidance. Call 561-800-8000 or use our Contact Form to set up a free consultation.