Uber Accident Lawyer Serving Lake Worth
Frankl Kominsky: What to Do After a Lake Worth Uber Accident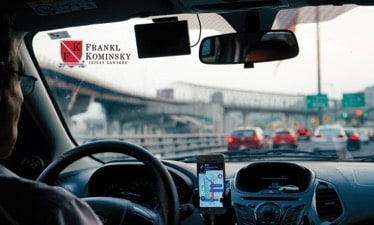 Situated in beautiful South Florida, Lake Worth is an up-and-coming destination for locals and out of town guests. The revitalized downtown invites visitors to stroll along its pedestrian-friendly streets, lined with restaurants, bars, antique stores, and art galleries. Lake Worth is a unique area where visitors can still find one-of-a-kind gems complete with old Florida charm and hospitality. The City also hosts distinctive festivals, like the Street Painting Festival where local artists chalk the main street with their creations, or the adult-themed "Hallowscream" festival on All Hallows' Eve guaranteed to delight and fright. If that's not enough, you can head for Lake Worth's beautiful beaches and new fishing pier, or the scenic Lake Worth Municipal Golf Course located along the Intracoastal Waterway and the Lake Worth Lagoon. At night, live music rings from the Lake Worth restaurants and bars, with local celebrities stopping in to hear the talented musicians.
Uber Comes to Lake Worth
The draw to Lake Worth has increased demand for ride-sharing company Uber. The company employs thousands of drivers throughout South Florida, and is increasingly popular throughout the region. Uber operates everywhere in the Lake Worth area, frequently shuttling passengers around downtown, to the beaches, or to and from local airports. The easy Smartphone-based Uber app combined with the freedom of not having to find a parking space or worry about navigating Lake Worth and having a driver on-call has reinforced this growing trend. Moreover, the ease, price and cash-free experience has encouraged many passengers to select Uber over traditional taxi's or car services.
Uber Accidents
Accidents involving Uber drivers in Lake Worth are also increasing with the higher use of Uber. Crashes can happen at any time, in any location, and Uber is certainly not immune from that situation. An Uber accident in Lake Worth could cause damage to passengers, other vehicles, property, or even pedestrians.
Uber accidents can be more difficult to unravel than a traditional accident, requiring experienced accident attorneys like Frankl Kominsky. For example, there are various nuances regarding the way Uber drivers are insured depending on whether they have a passenger in the car or whether they are simply waiting for that first fare. There is also some confusion regarding whether the damage involves a passenger, a pedestrian, another vehicle, or Lake Worth property. The situation is even more difficult because Uber drivers are independent contractors, not employees, raising questions about which insurance covers specific incidents. While victims may have a right to compensation from both the driver's insurance policy and the $1 million per ride insurance policy under Uber, the difficulty of reaching an Uber representative often leaves victims frustrated and without the coverage they deserve. This can mean uncovered medical bills, time and money lost from work without reimbursement, and little compensation for pain and suffering.
Frankl Kominsky is dedicated to helping Uber accident victims pursue all avenues to receive the compensation they deserve after a collision. We are experienced auto accident lawyers who have helped numerous Lake Worth car accident victims assert their case for damages against responsible drivers. Call us at (855) 800-8000 or fill out our online form to schedule a free consultation. We will review your individual case and explore and explain your legal options. If we decide to move forward, we will work hard to secure the best outcome for you. We serve clients in South Florida communities such as Delray Beach, Lake Worth, and Palm Beach Gardens. We are fluent in Spanish and Creole.