Slip and Fall Lawyer Serving Lantana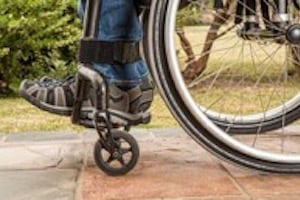 Lantana is a quaint town nestled between Boynton Beach and Lake Worth, Florida with a growing population of over 10,000 residents that call Lantana home. Many of the residents come from neighboring cities in Palm Beach County. Many of the locals and residents enjoy the shopping shopping centers, public parks, and other attractions.
Hospitals across Florida have reported a rise in emergency room visits as a result of slip and fall accident. Many of which resulted in serious injuries such as broken or fractured bones, injuries to the Spine and Back, and Knee injuries.
Who is at Risk For Slip, Trip, and Fall Injuries
Children are known to be constantly engaging in behavior that lends itself to accidental slips and falls. Part of the reason for this, is that they have not yet fully developed their sense of balance. Fortunately, children's bones are relatively flexible and they are pretty much low to the ground, when it comes to height.
Therefore, broken bones and other serious injuries from falling are not all that common. But for adults, it can be a different story. For example, an adult in Lantana who has slipped and fallen can run the risk of a serious injury that may even be life-threatening in some situations. In addition, the loss of bone flexibility can result in a greater chance of a broken bone and the medical issues that it can cause. A situation such as this may lead to seeking the assistance of a slip and fall lawyer serving Lantana.
Of course, slipping and falling happens all the time and may just be the result of a simple accidental misstep. But, there are also many cases in which an accidental slip and fall or trip and fall is due to negligence on the part of a property owner or manager.
Other Slip and Fall Injuries:
Broken or Fractured Bones
Traumatic Brain Damage or Concussion
Knee Damage
Muscle Sprains
Dislocated Shoulders
Nerve Damage
Injuries to the Spine
Cuts and Bruises
In these cases, the slip and fall victim has a right to seek compensation for the financial losses that have come about from their injury. These damages can include; expensive medical care, on-going care, lost wages from job absence and other related expenses. Without the ability to seek compensation from the responsible party, the victim will have to pay for these damages themselves.
Therefore, it can be very important to understand just how to proceed if you become injured in a slip and fall accident. You should know what to do in this event and how to go about pursuing damages to pay for your accident-related expenses and recover from any financial losses.
Where Do Slip & Fall Accidents Occur
Slip and Falls at Private Residences
Retail Stores or Shopping Malls
Grocery Stores
Restaurants, Hotels, Nightclubs
Schools, Parks, Sports Stadiums
Parking Garage or Parking Lots
Amusement Parks
Florida Slip and Fall Accidents
It's important to understand just what is involved when it comes to filing a lawsuit in a slip and fall accident situation. The first thing that you should be aware of is that a statute of limitations that will apply to this legal process. Let's take a look at an example of this situation.
Let's say that you have a business appointment in a commercial building located in the downtown area of the city you live in. You arrive for your appointment and, on the way to your appointment, you happen to slip on a puddle of water that is located in the hallway where you were walking. This was something that took you completely off guard since there were no signs posted indicating a possible slipping hazard
Fortunately, you weren't seriously injured, so you can get up and walk after having called out for assistance. However, your hand hurts quite a bit and upon seeking out immediate medical assistance it's determined that you have two broken bones in your hand. Your hand has been placed in a cast and you're told that it's going to take a long while to heal. Since you need to use both hands in your profession, you're going to have to take some time off from. Since you are a contractor, you don't have sick time to fall back on. This means that you won't be able to receive an income while your injury is healing. On top of that, you will need to use up your savings in order to pay for your medical bills. Because of all this, you decide to bring a slip and fall claim against the owner of the building.
Florida Statute of Limitations: Premises Liability
According to Florida law, you have just 2 years from the time of the accident in order to file your negligence lawsuit. Failure to file within that time limit will result in your case being forever barred. In a situation in which a slip and fall accident has led to the person's fatality, that person's estate will only have 2 years from the time of the death in order to file a lawsuit. There are some exceptions to these limitations, but they are extremely rare. You can obtain some more information regarding these limitations here: Florida Statute section 95.11(3)(a). In addition, a slip and fall lawyer serving Lantana can also try to assist you with questions that you may have regarding this statute.
There are several laws that cover slip and fall legalities. Slip and fall lawyers serving Lantana often refer to:
Statute 768.0755 (1) Which applies to premises responsibility for items that are not properly cleaned up in a business building.—

If a person slips and falls on a transitory foreign substance in a business establishment, the injured person must prove that the business establishment had actual or constructive knowledge of the dangerous condition and should have taken action to remedy it.
Who is Responsible for Your Slip and Fall Injuries
In some states like Florida, property owners have a statutory obligation to keep their premises safe and secure. They are required by law to fix any hazards on their property and, at the very least, make sure that guests are adequately warned of any dangers. Additionally, they have a responsibility to regularly inspect their property and to correct and prevent any dangerous conditions. When a property owner is negligent in maintaining their premises, and a person on their premises is injured as a result, our attorneys may be able to help the injured party recover compensation for their losses. In Florida, a property owner or manager can be considered negligent if they knew or should have known of a hazard and failed to repair it, or failed to provide warning about a known hazard.
Invitees vs Licensees vs Trespassers
Invitees are the people who are present at the property for a reason. They can be a business or a public invitee. For example, a person who is present at a park or a public library is a public invitee. On the other hand, an individual in a retail store is a business invitee. The invitation to the property is implicit for invitees.
Licensees are present at the property for amusement at the invitation of the property or the business owner. Relatives who visit a family member are licensees. Similarly, guests at a party are also licensees.
Anyone present on a property without being invited or for a business benefit is known as a Trespasser. Property owners are required to keep the property safe for trespassers as well. Examples of trespassers include robbers and vandals
What damages can you try to recover in a Florida Slip and Fall Claim?
Medical Bills
Future Medical Expenses
Lost wages and future lost wages
Pain and Suffering
Full of Partial Disability
Cost of Home Accommodations
What to Do After a Slip and Fall or a Trip and Fall
There are a number of suggested steps you can choose to take should you suddenly slip or trip and fall on another person's property:
The first thing that you'll want to do is to determine whether or not you are seriously injured. It's considered best if you call out for assistance, just in case you become dizzy when you first attempt to stand. In the case of a serious injury, however, you should be transported to the hospital by ambulance.
You will want to get the contact information of any witnesses that saw the accident.
Take photos of the slip and fall site and any hazards or defects that contributed to the fall.
Next, you should immediately file an accident report with the building owner or manager. Make sure to get a written copy of the report before leaving the building.
After that, you should immediately go to a local hospital emergency room or your own doctor for a complete check up. Also, you should schedule a follow up appointment just in case some further injury has manifested itself. Keep all medical reports and doctor's bill receipts in a single place in your home.
Believe it or not, you should also place the clothes and shoes that you were wearing at the time of the accident, in a separate location. These items have been important in a number of slip and fall lawsuit cases in the past.
You should also refrain from discussing your accident with anyone but your own attorney. It's also very important that you don't post any of your accident details on social media.
You should also keep from getting into a discussion of your accident with: the building owner, building manager or their insurance company
Most importantly, get in touch with a slip and fall lawyer serving Lantana as soon as you can. The attorney can assist with pursuing a claim for your damages. In any case, the first appointment is free – so you have nothing to lose!
Never accept any money or sign any checks or documents that the other party may try to give you for your accident without first speaking to a slip and fall accident attorney.
Contact a Personal Injury Lawyer for Your Lantana Slip and Fall Accident
Severe injuries from slip and fall accidents can be the result of property maintenance negligence, which may occur in Lantana at any given time. In addition, it's important to understand that while pits and holes are often a factor, there are also many times when this isn't the situation. There have been a number of cases in which neglected trash, spilled liquid, foreign substances on the floor, poor lighting and faulty steps and railings has resulted in severe injuries. If you or a loved one are injured in a slip and fall accident that occurred on a private or commercial property, it is advised that you seek medical care and the advice of a slip and fall personal injury attorney serving Lantana.
Discuss your case with a Slip and Fall Personal Injury Attorney Serving Lantana Today! Our attorneys have over 40 years of combined legal experience. Turn to Frankl Kominsky for comprehensive legal guidance. Call 561-800-8000 or use our Contact Form to set up a free consultation.