Personal Injury Lawyer Serving Loxahatchee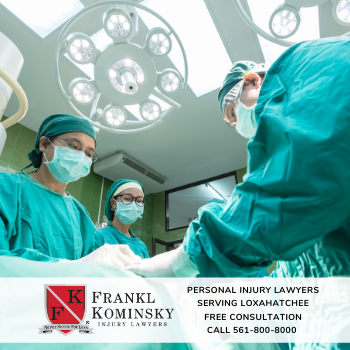 Loxahatchee is a town located in Palm Beach County, Florida with a population of over 25,000 residents. Its name literally means "turtle river." People who live in or travel to the area can enjoy the Lion Country Safari , a drive-through safari park that has been characterized as the first "cageless zoo" in the United States. In addition, there is the J.W. Corbett Wildlife Management Center. Every year, however, a number of people in this city fall victim to accidents. If you've been harmed in Loxahatchee because of someone else's carelessness, you may be able to pursue compensation for your injuries.
At Frankl Kominsky, our skilled injury lawyers can try to help you hold the responsible party accountable. We are prepared to handle a wide range of claims arising from accidents on the highway, in the hospital, in grocery stores and restaurants and in many other situations.
Florida Crash Statistics
In 2018, the Florida Highway Safety and Motor Vehicles reported over 102,756 hit-and-run accidents, and of that, 215 resulted in fatalities. The report also included:
Over 254,000 people were injured in an auto accident in Florida.
A total of 9,122 motorcycle accidents with 502 resulting in fatalities.
A total of 9,365 car accidents involving pedestrians with 720 resulting in fatalities.
The report also indicates a rise in accidents in March, August, and December.
What are Some of the Most Common Injuries Following an Accident?
The types of injuries that are usually seen by injury lawyers serving Loxahatchee may result in many different mental and physical issues. Some of these include:
Neck and back injuries
Whiplash
Paralysis due to spinal damage
Muscular Injuries
Bone fractures
Brain trauma
Permanent facial and body scars
Protect Your Rights and Hold Negligent Defendants Accountable
If you've been injured by someone else's careless conduct, you can file a negligence claim to try and seek compensation from whoever was responsible. Negligence is typically defined as the failure to be at least as careful as a reasonably prudent person in similar circumstances. The legal elements that an injured person must prove in most of these cases include:
Duty: the defendant owed the victim a duty of care;
Breach: the defendant breached the required standard of care;
Causation: the victim was hurt because of the defendant's breach; and
Damages: actual economic or non-economic harm resulted from the injuries.
While your total recovery can be affected if you contributed to the accident, it will not be denied unless the defendant had no responsibility at all for harming you. If a court finds that you were partially at fault for your injuries, your total compensation award may be reduced by your percentage of fault. This is known as the Comparative Negligence Rule under Florida law. For example, if someone is deemed to be 15 percent at fault for a particular accident, that person will be able to recover 85 percent of the total damages.
If your loved one suffered a tragic death because a person or company acted negligently, you may be able to pursue a wrongful death lawsuit. Under Florida law, the personal representative of an estate can file a wrongful death action. If damages are recovered, certain surviving family members are eligible to receive a share of the compensation.
Types of damages sought by an accident victim in a negligence lawsuit may include economic or non-economic harm, ranging from medical expenses and lost wages to pain and suffering. Different forms of compensation may be available in wrongful death claims, such as funeral and burial expenses, lost earning capacity, and the loss of companionship, consortium, or support.
Florida Statute of Limitations for Personal Injury Claims
All personal injury cases are subject to the Florida Statute of Limitations, which is a specific time frame during which you must file your lawsuit. The statute of limitations for personal injury and wrongful death lawsuits differ. In Florida, you must file a personal injury lawsuit within two years from the date of the accident.
In wrongful death cases, the time frame to file is two years from the date of the death. If you fail to file your claim within the applicable statute of limitations, your lawsuit will likely be dismissed and you may be barred from pursuing your claim.
Of course, there are a few rare exceptions and should be discussed with a personal injury lawyer serving Loxahatchee.
If you've lost a loved one due to the negligence of someone else, you may be able to pursue a wrongful death lawsuit against the party that was responsible. These cases are very complicated and must be filed within strict timelines. If you think you may have a wrongful death claim, you should consult a Florida attorney immediately.
Injury Claims That We Are Available to Handle in Loxahatchee and Palm Beach County
Slip, Trip and Fall and Premises Liability Claims : If you were injured in a slip and fall accident on; a personal property, in a department or grocery store or in a parking lot, you may have a claim for your injuries
Boat, Cruise, or Jet Ski Injury Claims: This can occur if a passenger is injured because of a lack of medical supplies, traveling at excessive speed, the boat or watercraft malfunctioning or striking another watercraft
Bicycle and Pedestrian Accident Claims : Victims who have been seriously hurt by reckless or distracted motor vehicle drivers
Car and Auto Accidents Claims : Accidents involving a careless driver, or accidents while you were a passenger in another's vehicle
Motorcycle and Scooter Injury Claims : Motorcyclists who are injured by drivers of vehicles or trucks who speed, drive drunk, or are distracted by texting devices
Bus Injury Claims: Passengers who are injured because the operator and/or owner failed to maintain the bus, was distracted, was operating the vehicle while tired or driving while under the influence of alcohol or drugs
Injured in Loxahatchee? What Should You Do After An Accident
If you've been injured, these are some things that you should remember:
Report the accident and injury to the authorities and property owner

Palm Beach County Sheriff's Department | (561)687-6800

If possible, document the scene of the accident with videos, photos, and witness statements. Be sure to get contact information from any witnesses
Seek Immediate Medical Care from a qualified medical professional

Example: AFC Urgent Care | (561) 220-6692

Find an experienced personal injury lawyer for a Free Consultation
DO NOT neglect your injuries or fail to seek medical treatment by a qualified doctor or medical professional
DO NOT try to negotiate a settlement offer without speaking to an injury lawyer
DO NOT post the information about the accident or your injury on Facebook, Instagram or Social Media
DO NOT give a recorded statement to the insurance company without first consulting with a personal injury attorney
Top Injuries Following an Accident in Palm Beach County
Broken Bones: symptoms of a fractured or broken bone includes severe pain which worsens with movement or pressure
Head injuries, Fractured Skull, Concussions, and Traumatic Brain Injuries: early symptoms of a traumatic brain injury include Loss of consciousness, confusion, or being disoriented, headaches, nausea, problems with speech, or loss of balance
Injuries to the Spinal Cord: if left untreated, a spinal cord injury could lead to paraplegia or quadriplegia
Dislocated Shoulder, Knee, or Hip: Obvious deformity or out-of-place shoulder, Inability to move the joint, Swelling or bruising, Intense pain
How Will Frankl Kominsky Try To Help Me
40 Years Of Protecting Injury Victims
Our accident lawyers have over 40 years of combined experience protecting injured victims and families who have lost a loved one.
$100 Million in Accident & Injury Settlements
"My job then is to fight for my clients' rights and to bring them the full recovery they deserve. I use every weapon at my disposal." - Attorney Ethan F. Kominsky, a veteran of over 65 trials in Florida and Illinois.
Free Consultation Available 24/7 - 365
Accidents can happen at any time. When it does, give us a call for a free consultation. We will always answer your call or respond to your chat.
Personal Injury Claims: Types of Damages You May Recover
Medical bills and expenses related to the accident and injury. This could include emergency transportation to the hospital via ambulance or flight, cost of treatment at the emergency room, urgent care or your primary care physician, chiropractic treatments, MRIs, and prescription medication.
Extended Medical Care, Rehabilitation and Custom Accessibility which includes home health care, wheelchairs, walkers, in-home lifts, long-term care facilities, and home renovation for accessibility.
Lost wages and Loss of Future Income including time missed from work due to your injuries or to seek medical treatment, follow up doctor appointments, MRIs and more.
Property Damage for your vehicle
Pursue Compensation Through a Personal Injury Claim
No matter how you were hurt, legal liability will depend on whose fault it was. If another person or entity was responsible for the accident, a victim can file a negligence lawsuit to pursue compensation for his or her injuries. The claim must establish that the defendant violated a duty of care owed to the victim, which ultimately caused the accident and the resulting injuries or damages.
A duty of care is an implicit obligation to others in society to exercise reasonable care in one's conduct and avoid foreseeable risks of harm. Reasonable care is defined as how a prudent person would behave in a similar situation.
For example, the duty of care requires every driver on Florida roads to obey traffic laws and avoid posing unnecessary risks to others around them.
Unfortunately, many people in Loxahatchee and other Florida towns fail to meet this obligation and cause harm to others around them. Examples of negligent behavior can range from an automobile driver speeding through a stop sign to a store not using a "wet floor" sign after mopping the floor.
Their careless conduct can cause serious injuries and even death. When this happens, Florida law gives a victim legal rights and a way to hold wrongdoers accountable.
An injured person can seek monetary compensation by proving four main elements. First, the defendant must have owed the victim a duty of care.
The defendant also must have breached this duty, and this breach must have led directly to the accident in which the victim was hurt.
Thus, causation is a key factor in a successful negligence claim. It consists of not only proving that the harm was reasonably foreseeable but that it would not have happened without the breach.
Monetary compensation can help ease the burden of costs associated with accidents. After establishing liability, a victim may be able to recover reimbursement for medical bills, lost income and benefits, pain and suffering, rehabilitation costs, and more.
In wrongful death cases, family members may be able to recover costs such as loss of society and companionship, funeral and burial expenses, lost earning capacity, and any other costs associated with the accident.
Start Your Free Personal Injury Consultation Today
At Frankl Kominsky Injury Lawyers, our experienced accident attorneys are available to work closely with clients in Loxahatchee and other areas to try to help them understand their legal rights and options. We are prepared to try to investigate the details of your case, work with adverse parties, consult experts, and do whatever else it takes to try to maximize your chance of getting compensation. We proudly serve clients across South Florida. To learn more, contact us online or call us toll-free at (561) 354-6184. We are fluent in Spanish and Creole.