Nursing Home Negligence Lawyers Serving Miami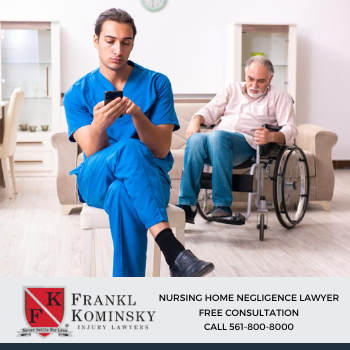 A nursing home should be a safe facility for elderly or disabled adults seeking long-term care. Unfortunately, it is not uncommon for our loved ones to be abused, taken advantage of, or poorly cared for. Don't hesitate to consult with a lawyer if you or a loved one have suffered from or suspect abuse or negligence. Our nursing home negligence lawyers who serve Miami help families affected by abuse and neglect pursue justice and financial compensation.
Our support for our aged adults who require full-time help may not always be enough. When they are moved to residential facilities that provide long-term care services, we trust that they will be adequately cared for. Unfortunately, they can suffer neglect from their trusted caregivers for various reasons.
Elder abuse is more prevalent in nursing homes than in the general community. Sadly, many cases go unreported because the victims are afraid to report or tell their loved ones. The sheer inaction of a nursing home staff can result in physical and emotional harm to an elderly resident.
Some common signs of neglect include malnutrition, depression, or physical injuries that can result in lasting disabilities. However, victims don't have to suffer in silence. With the help of an experienced lawyer, they can assert their legal rights against the nursing home or abuser.
Understanding Nursing Home Negligence
The National Institute on Aging (NIA) states that nursing homes are long-term facilities for older adults. These facilities have a duty to provide services from basic housing to extensive medical and personal care to their residents. This also includes listening to their complaints and addressing problems as they arise.
Nursing home negligence connotes a violation of the expected standard of care. It arises when there is a failure to meet the resident's basic needs, resulting in harm. Unfortunately, many nursing home staffs in Miami are understaffed, underpaid, or poorly trained, so it's easy for residents' care to fall through the cracks. Time and time again, nursing home negligence proves to be a problem.
On the other hand, nursing home abuse is the physical, emotional, sexual, or financial harm caused to elderly adults. Typically, direct action is taken against another with the intent to harm. According to the Center for Disease Control and Prevention, elder abuse is the intentional act or failure to act that causes harm to an older adult.
Nursing home negligence differs from abuse because negligence may not be intentional. Though it is not as violent as nursing home abuse, it is still harmful to the physical and mental health of the victim.
The distressing element of nursing home neglect and abuse is that it is inflicted on those who cannot defend themselves. As a result, victims are afraid to speak about the abuse, making it more difficult to detect.
What Rights Do Miami, Florida Nursing Home Residents Have?
Florida law states the rights of nursing home residents under the Resident Bill of Rights. Under the law, no resident shall be deprived of their civil or legal rights, benefits, or privileges. In addition, every resident of a nursing home shall have the right to:
Live in a safe and decent environment, free from abuse and neglect.
Be treated with consideration, respect, and due recognition of personal dignity.
Use personal property as long as it does not threaten the safety of other nursing home residents.
Unrestricted private communication and access to a telephone
Visit with anyone between the hours of 9 a.m. to 9 p.m.
Manage financial affairs unless the resident authorizes a representative to provide safekeeping for funds.
Adequate, appropriate, and consistent health care with established and recognized standards within the community.
Exercise civil and religious liberty, including the right to personal decisions.
When these rights are violated, it can amount to nursing home negligence. Therefore, victims or their loved ones have a right to seek justice and compensation for their injuries and losses.
Common Forms of Nursing Home Negligence
Negligence is a common type of abuse experienced by elderly residents and can take many forms. According to World Health Organization, this can lead to severe injuries and long-term psychological consequences. Understanding the different forms can prevent it from happening to your loved ones.
The following are common forms of nursing home negligence:
Physical Nursing Home Negligence
This form of negligence causes injury by punching, shoving, or unwarranted restraint of the victim. Residents may suffer cuts, bruises, broken bones, or injuries from unexplained slips and falls.
These incidents are common because most residents are elderly or impaired and cannot fight back. However, whether the actions are direct or indirect, they should not be tolerated.
Neglect of Basic Needs
Nursing homes are negligent when they fail to provide proper nutrition, water, or a clean environment. As a result, serious medical issues can arise. Sadly, many residents are starved, dehydrated, overmedicated, and suffer painful bedsores. In addition, failing to treat or provide medications appropriately can result in injury or death.
Emotional Nursing Home Negligence
Again, nursing home care providers can cause psychological and emotional harm to residents. This includes inflicting pain or distress through verbal and non-verbal acts such as humiliation, threats, intimidation, isolation, etc. Many residents are isolated, ignored, and deprived of social contact and stimulation.
Emotional neglect is as harmful as physical neglect. It can result in anxiety, depression, anger, resentment, or neurocognitive disorders such as dementia or Alzheimer's.
This form of negligence is more difficult to identify. However, it can manifest in the victims that develop emotional and psychological symptoms. We advise you not to wait until you see signs of neglect and abuse. Instead, speak with an experienced nursing home negligence lawyer to help you take action as soon as possible.
Financial Negligence
Most nursing home residents are seniors, so it is not unusual for them to be financially exploited. Unfortunately, unscrupulous staff can take advantage by stealing their valuables, using their credit cards, or charging them for unnecessary services.
Thankfully, some family members may notice changes to a loved one's financial situation and report accordingly. Other financial abuse includes coercion to sign documents, improper use of guardianship, conservatorship, or power of attorney.
Warning Signs of Nursing Home Negligence and Abuse
Family members should understand the common signs of abuse and neglect in nursing home facilities. Note that the indication of abuse manifests differently based on multiple factors. These factors include the neglect and abuse's type, degree, and duration.
Below are red flags to look out for:
Bedsores
Malnutrition and dehydration
Infections
Weight loss
Bruises, cuts, rope marks, lacerations
Loss or lack of mobility
Unexplained open wounds
Depression, anxiety, sudden change in behavior, withdrawal from activities
Poor hygiene
Unattended or untreated health problems
Unexplained death
Identity theft, stolen assets or possessions, unexplained transfer of assets, etc.
How Do I Report Nursing Home Abuse in Miami, Florida?
Family members, friends, staff, other residents, physicians, and nurses are obligated to report nursing home abuse. Also, nursing homes are required by the federal government to report and investigate all allegations of abuse, neglect, mistreatment, etc. When they fail to do so, they can be held liable.
Concerned family members can also report to the nursing home if they suspect foul play. It is best to have a lawyer involved when the facility denies the abuse. Doing so can prevent further harm to your loved ones.
Below is a brief guide on how to protect your vulnerable loved ones.
Call 911 or the Local Authorities to Report Immediate Danger
Health emergencies require immediate action. If you suspect abuse on your aged loved one, report it to the authorities immediately. The Miami Police Department or paramedics can remove a resident from an abusive nursing home to a safe place. In addition, they can carry out criminal investigations to determine if any laws were broken.
File a Complaint With Florida Agency for Health Care Administration
Suspected foul play should be reported to Florida Agency for Health Care Administration (ACHA). The state regulators can help launch an investigation of the matter. You can file a report online or call 1-888-419-3456.
Report to the Adult Protective Services (APS)
The APS is in charge of investigating non-urgent complaints of nursing home neglect. When a victim or their relative file a complaint, they will conduct a welfare check on the resident and recommend the next step. In addition, they may call social service workers they have partnered with to address the victim's complaints.
Get in Touch With a Florida Long-Term Care Ombudsman
Nursing home ombudsmen serve as advocates for adults in long-term facilities. They will address the concerns of the victim and conduct investigations for neglect. In addition, they can help victims take legal action if needed.
Contact a Miami Nursing Home Negligence Lawyer
Victims of nursing home abuse are entitled to financial compensation for economic and non-economic damages. While reporting the matter to state regulators is important, it may not be enough for justice.
We strongly recommend hiring a lawyer immediately. They will build a solid case to help seek compensation when victims and their loved ones merit it.
Proving Liability in Nursing Home Negligence
Filing a nursing abuse lawsuit can help victims seek justice and deter future neglect. Nursing homes can be liable for the harm caused by the actions of their employees. Every nursing home negligence claim is unique. However, in every case, four elements must be proven to recover financial compensation. They include a duty of care, liability, causation, and damages.
This means:
The nursing home owed the resident a duty of care
The nursing home breached its duty of care
The failed duty caused harm to the resident
The resident suffered considerable damages because of the neglect and abuse.
You must establish that the abuse and neglect were the proximate cause of the victim's injuries or death. Building a solid case requires presenting credible evidence. The burden of gathering this evidence rests on the victim and their lawyer.
How Long Do I Have to File a Nursing Home Negligence Lawsuit?
Florida law has a time limit for victims of nursing home negligence to take legal action. Under this requirement, victims can institute a lawsuit against the facility within two years from the date of the injury. The law also permits delayed discovery, where victims have two years to file a lawsuit from the date of discovery.
If you miss the deadline, your action becomes statute barred. If you are unsure about the timeline, we advise you to call a lawyer as soon as possible. A lawyer will begin working on your case immediately to avoid missing deadlines and keep your case on track.
How Can I Get Legal Help for Nursing Home Abuse?
Nursing home abuse can be heartbreaking for victims and their loved ones. Victims can receive legal help by connecting with an experienced lawyer. We advise them to work with a law firm specializing in nursing home abuse cases. Their experience and proven track record can build a solid lawsuit on the victim's behalf.
Nursing home negligence lawyers can significantly help victims of nursing home abuse. Victims can learn about their legal options and build their case. Remember that nursing homes and insurance providers can deny the abuse or blame the victim. It's best to have a lawyer uncover the facts and protect victims' rights.
From filing a victim's claim to recovering compensation, there are several benefits of obtaining legal representation. These include the lawyer:
Investigating the incident to establish the liability of the responsible parties.
Gathering all necessary evidence to support a victim's claim.
Providing expert witnesses to testify on the victim's behalf.
Building a solid case by compiling evidence of the abuse and the facility's carelessness.
Handling all communication and negotiating for a potential settlement with the insurance company.
Filing a lawsuit if settlement fails.
While you can do the above yourself, you should always consider having a lawyer assist you. Not having legal assistance can put you at a disadvantage against the insurance company.
How Much Is My Nursing Home Abuse Case Worth?
A victim of nursing home abuse can seek compensation in two ways:
Insurance Settlement
After you file a personal injury claim against the nursing home, their insurance company may offer an outright lump sum settlement. The amount agreed upon can range from thousands to millions of dollars depending on the case's unique circumstances and merits. However, victims may not always receive the fair offer they deserve. Therefore, we advise them to contact a lawyer to negotiate on their behalf.
Litigation
Victims can file a lawsuit in civil court if parties fail to settle or agree on a settlement sum. Court trials rely on the jury's verdict to decide the case. Victims may receive more or less compensation if they win.
Furthermore, the case value of a victim's nursing home abuse case depends on various factors. These include the extent of the victim's injury, medical expenses, pain, suffering, etc. However, awards for damages vary on a case-by-case basis. Have a lawyer evaluate your case to better understand what to expect.
What Damages Can a Miami Nursing Home Negligence Lawyer Help Me Recover?
A Miami nursing home negligence lawyer can help victims recover economic and non-economic damages for the suffered injuries.
Economic Damages
Economic damages are also known as special damages. They must result directly from the negligent act. Victims shouldn't have to pay for the financial cost of harm done to them. The nursing home may be liable to pay the cost to compensate victims for:
Medical treatment related to the abuse. This includes hospitalization, medication, physical and behavioral therapy, surgery, rehabilitation, etc.
Relocation costs
Property damage
Mobility aids
Loss of income
Funeral and burial costs, etc.
Non-Economic Damages
Non-economic damages are also called general damages. They flow from a tortious act and relate to how the neglect and abuse impacted the victim's life. These damages are more complicated to recover without the help of a lawyer. An experienced lawyer will know how to prove these damages if applicable.
Non-economic damages include:
Pain and suffering
Anxiety
Depression
Loss of quality of life
Loss of enjoyment of life
Post-traumatic stress disorder (PTSD)
Punitive Damages
Punitive damages are also known as exemplary damages. It is awarded under specific circumstances but not as compensatory damages. It is aimed to punish nursing homes for their actions or inactions and prevent future occurrences.
Discuss Your Negligence Claim with an Attorney
If you have been harmed because of someone else's carelessness, there is no substitute for having dedicated legal representation on your side. At Frankl Kominsky Injury Lawyers, we are committed to helping injured victims. Our firm has over 40 years of combined experience handling accident and injury cases, and we know what it takes to try and prove a negligence claim. You can expect the utmost respect and professionalism from our licensed attorneys and legal staff.
Our Injury Lawyers offer a Free Consultation by calling 855-800-8000 or contact us online. Let us help you through this stressful time, our office is available 24/7 and we speak Spanish and Creole.