Slip & Fall Lawyers Serving Miami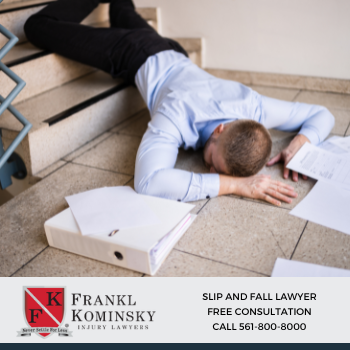 Slips and falls happen on a daily basis and anywhere imaginable. While it's safe to say accidents can and do occur, there are some instances where slips and falls could have been prevented, especially with the injuries they can cause.
Some individuals that suffer from slip and fall accidents can face life-altering health concerns and safety hazards that place them in the hospital. Not only can this be burdensome to endure for physical purposes, but there can also be a monetary burden placed on the individual and their family as well.
Miami, Florida, is a major city with nearly 490,000 residents. There are thousands of businesses and busy streets, which means an accident can occur at any time.
If you have recently experienced a slip and fall injury due to someone else's fault, you could be entitled to file a claim. The experts at Frankl Kominsky Injury Lawyers are here to help and answer any questions you may have while also providing insight as to if you are eligible to file a lawsuit.
What Is a Slip & Fall Accident?
Slip and fall is a type of personal injury lawsuit you can file if you were injured by the known negligence of another individual or entity. Slip and fall means that you have fallen on the premises, or that an item on the property was not safe and caused the accident.
The business owner or property owner's legal responsibility is to make visitors aware of certain circumstances that can lead to potential falls and injuries. For instance, if you were to visit a store and slipped on a puddle of water but there was no caution sign out, you could file a claim against the business for their lack of caution.
Anyone looking to file a personal injury claim for a slip and fall-related accident will have to be patient with the investigation process that comes with these kinds of accidents. Since some slip and fall accidents can be purely accidental, not every claim will be valid.
Common Injuries Associated With Slip & Falls
Where the accident takes place can play a role on the injury. Individuals who experience a slip and fall accident can experience any of the following injuries or more:
Broken bones
Fractures
Torn ligaments
TBIs
Bruises
Joint pain
Sprains
Back or spine injury
Neck injury
Cuts or abrasions
Death (in the most severe cases)
The type of injury resulting from these accidents will vary in severity based on the individual and their preexisting conditions before the accident occurred.
Regardless of the injury that a person experiences, it is always troublesome to modify your schedule for an accident that could have been prevented. Those who experience impactful injuries could see a change in their daily life for long periods of time due to the accident, especially if the injury occurs to an elderly person.
Sometimes individuals can experience a terrible accident that leads to them facing several injuries at once. If this is the case, it's imperative to contact a slip and fall attorney immediately to exercise your legal rights.
Where Do Most Slip & Fall Accidents Occur?
There is no limit as to where slip and fall accidents can occur. They can happen at residential properties, places of business, recreational parks, and more, including government facilities and properties. Public places are where most slip and fall accidents occur since some properties can have hazards jeopardizing their safety.
Here is more information regarding accidents at each of these possible locations.
Residential Property Accidents
Residential property accidents can occur at anyone's home, but more specifically, if you live somewhere that is owned and managed by a landlord or organization, they have a legal obligation to warn you of any known potential hazards. If you suffer an injury at one of these locations without receiving proper warning beforehand about the danger, you could potentially file a claim against the organization or individual.
Commercial Properties/Businesses
Businesses and commercial properties cannot forget to warn customers about potential hazards since they may face a potential lawsuit if an accident occurs on the property. However, this does not mean they will always cover their tracks.
Any business, entity, or commercial organization that fails to warn the public about hazards can run the risk of having claims filed against them if someone experiences an injury at their negligence.
Government Locations
Government locations including any state or federal buildings and properties such as parks that you may frequent can also have a claim filed against them. Most of these locations, including parks, already have warnings posted about potential dangers, but if you are injured on a property, it's still worth seeing if you meet claim requirements.
What Is a Slip & Fall Claim?
When you file a slip and fall claim, you are claiming that your sustained injuries and harm were the result of known negligence by someone else. These types of claims are filed under personal injury law, which in legal terms, means harm that an individual experiences by someone else.
Slip and fall accidents can result in physical and emotional injuries that you bring awareness to when you file. Your claim needs to be strong and sufficient to prove that what you suffered was an accident that could have been prevented.
These types of cases are also known as premises liability claims, which means a landlord or property owner failed to warn the public about any dangers that led to the harm or injury you have suffered.
Who Is a Slip & Fall Lawyer?
A slip and fall lawyer is the professional that will review your position and give you the best indication on how to go about your claim. Having the help of an attorney who has handled slip and fall accidents before can greatly make or break your case.
An attorney will be your advocate and give you the best legal advice based on the evidence you have and the position you are in. They will review your medical records and any photo evidence you have from the scene of the accident to help you strengthen your claim.
In most slip and fall cases, your claim can be handled by either negotiations or a court case. Regardless of how your claim is handled, it is well-advised to have the help of an attorney. They know the ins and outs on how to negotiate with the other side and can give you advice on what a fair outcome looks like for your case.
To get started looking for a Miami slip and fall lawyer, you should begin searching for firms in your area that have the background and experience of fighting similar cases. You should spend some time thoroughly searching through these firms, but not too long that it delays when you file your claim.
Most firms have free consultations where you can schedule a time to meet with an attorney that will be assigned to your case from the firm. We highly recommend taking advantage of these free consultations.
You can learn a lot about the firm and the attorney you will be working with to give you a feeling if the firm is right for you.
Things to determine about an attorney while you are at your free consultations include:
Professionalism and communication
Background with similar cases
How many similar cases they have had successful experiences with
Their cost
Past reviews and testimonials from previous clients
The lawyer you hire to represent you should be one you feel extremely confident in handling your case. They will be responsible for speaking on your behalf and for the progress that is made along the way. While budget is certainly something to consider, do not let price steer you to a less experienced attorney.
Proving Fault in Slip & Falls
Slip and falls are not the easiest accidents to prove. This is because although accidents do happen, your attorney can help you determine if your case is purely accidental or if it was preventable and due to negligence.
You will need sufficient evidence in your case to prove there was known negligence that led to your injuries and that the property owner or business failed to warn the public of these dangers. In order to do this, you will need sufficient proof.
Naturally, slipping and falling will not be enough to show that a property owner or manager failed to maintain the premises or warn of dangers. Here are a few things you can use as proof:
Failure to keep the area clean and secure
Failure to provide safe supervision
Failure to provide adequate warnings
Knowledge of potential hazards and did not fix them
What to Do After a Slip & Fall Accident
If you are ever out and suffer from a slip and fall accident, here are the steps you should take immediately after your accident to ensure you cover your tracks and start the process of obtaining the right evidence for your claim.
Call 9-1-1 if Needed
There may be a need to call emergency services if you feel that you have suffered an accident warranting their services. For example, if your injury resulted in hitting your head, then you might need to call 9-1-1 to be observed and rule out any TBIs.
Importantly, being medically examined can help rule out severe internal injuries while also serving as a source of evidence that your attorney can possibly use.
Report Your Injuries
The next thing you should do is report your injuries to someone working at the business. It is their duty to file an accident report that you should receive a copy of. The accident report makes the incident official and serves as another document your attorney can use.
Take Photos
If you are able to take photos of the accident scene, you definitely should. This is crucial for evidence to show the setting and potential hazards. You should also take photos of your injuries and anything else that can be visual proof of your slip and fall.
Call a Trusted Attorney
Before you file a claim with your insurance, call or start searching for an attorney. Your slip and fall lawyer should be notified immediately of the accident and any injuries you experienced as a result. They can then schedule a time for you to come in and begin reviewing the details of your case to determine if you're eligible to file a claim.
Things to Expect With Your Claim
When you file a slip and fall claim, you should expect to have a longer timeline to work with since you need to have substantial evidence to prove the known negligence. There are also other factors to consider that can alter the timeline of your case, such as the cooperation of the defendant.
As your case begins, you will undergo several negotiation processes with your insurance and the defendant. If nothing is resolved through a settlement agreement with the defendant, your case can then go to trial, which is something else that can alter your claim's timeline.
To receive the best indication as to how long your claim should take, ask your attorney.
Florida Limitations With Slip & Fall Claims
Floridians have two years to file a claim from the date of their accident. Any claims filed after this timeline will likely be dismissed, absent certain exceptions.

If you want the best outcome for your case, it's crucial to file within two years of the statute of limitations.
How a Slip & Fall Accident Is Settled
Just as the timeframe, there is no one figure-fits-all in these cases. How much you may be awarded will depend on preexisting conditions before the accident and how severe the injuries are.
If your case goes to trial, the jury will be responsible for divvying out your reward and how much you should receive. Your attorney will have to present the economic and non-economic damages you lost from the accident that will contribute to your settlement cost.
Economic losses are any items that can actually be totaled up, such as:
Medical bills
Lost wages from time off work
Property damages
Non-economic losses refer to non-physical injuries a person may sustain. Some examples include:
Trauma
Physical impacts
Emotional distress
Alter to daily life
Sometimes, if an accident is severe, the multiplier method will be added to your total. The multiplier method is taking a number between one to five and using it to multiply your settlement amount.
For example, if you suffered injuries from a slip and fall that left you with two broken arms and time off work and the jury awards you $60,000 in damages but uses the multiplier method of 1.5. This means your settlement total will then come out to $90,000.
Trust Frankl Kominsky Injury Lawyers
If you are looking for a high-quality attorney in Miami to handle your slip and fall accident, look no further than Frankl Kominsky Injury Lawyers (by appointment only). Our firm specializes in accident cases and helping residents seek justice against those that have caused preventable injuries.
We have the right resources to strengthen your claim and help guide you throughout the process. Not only are we a highly acclaimed firm, but we also sympathize with the situation at hand.
No one should have to suffer at the hands of someone else's negligence, so we want to help you in the best way we know how: to help you seek the compensation you deserve.
Discuss Your Negligence Claim with an Attorney
If you have been harmed because of someone else's carelessness, there is no substitute for having dedicated legal representation on your side. At Frankl Kominsky Injury Lawyers, we are committed to helping injured victims. Our firm has over 40 years of combined experience handling accident and injury cases, and we know what it takes to try and prove a negligence claim. You can expect the utmost respect and professionalism from our licensed attorneys and legal staff.
Our Injury Lawyers offer a Free Consultation by calling 855-800-8000 or contact us online. Let us help you through this stressful time, our office is available 24/7 and we speak Spanish and Creole.