Slip & Fall Lawyers Serving Pembroke Pines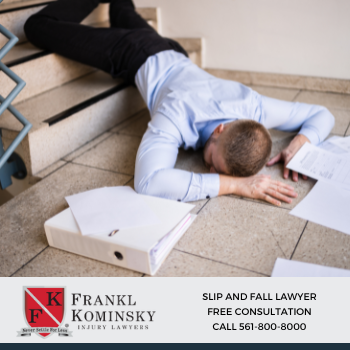 Slips and falls are one of the most common accidents a person can endure. They occur every day, and a person can suffer from minor to severe injuries depending on where and how the accident occurred.
Public places tend to have the most slip and fall causes since floors can be slippery, lighting may need to be fixed, or there may be inclement weather. Regardless of why you have slipped and fallen, it is a public place's responsibility to put out an adequate warning of a possible danger or to fix hazards that can lead to an incident.
If you have recently been out and about and suffered a slip and fall from negligence and lack of warning, you may be entitled to seek compensation for your injuries. Frankl Kominsky Injury Lawyers is a firm of legal professionals who have over four decades of experience handling these cases and helping individuals in Pembroke Pines, Florida, seek compensation to help their injuries (by appointment only).
Here's how to go about your slip and fall case and why you need the assistance of a slip and fall lawyer.
What Is a Slip & Fall in Legal Terms?
Slip and fall is a section of personal injury, and a type of claim someone can file if they were injured in public. In legal aspects, the terms slip and fall, and personal injury require there to be known negligence on the defendant's end or that they knew about the potential dangers but failed to warn the public. This is a key portion in filing for personal injury because these incidents can be purely accidental.
It is the business owner's responsibility to give customers or visitors notice that a potential danger is present on the property. Failing to do so can result in you taking legal action against them since their lack of warning led to your harm. For instance, if an apartment complex has worn-out steps that have been in terrible condition for months and you were to fall through them, this could qualify as a personal injury.
Do not take every time you fall in public as an occurrence that warrants a lawsuit. These cases are very complex and could benefit from a skilled attorney to review all the evidence to determine if there was known negligence on the defendant's side for the situation to constitute as a slip and fall worth suing for.
There is an investigation process that goes on during these cases to determine fault before the rest of the case begins. That stated, anyone looking to file for personal injury due to a slip and fall should be patient and know that it is not a fast-moving case, especially in the beginning.
Injuries From Slip & Falls
Not all slips and falls pose the same risks and injuries a person may sustain, but there are common injuries typically involved with these incidents. The location and time of the accident also have a part in the type of injuries that can arise following a slip and fall.
The most common slip and fall injuries include:
Broken bones
Fractures or sprains
Torn ligaments
TBIs
Bruises
Joint pain
Cuts and scrapes
Back or spine injury
Neck injury
Death (in the most extreme cases)
Preexisting conditions play a factor in the injuries as well, based on the individual's health. For instance, older individuals or those that are feebler may experience more severe injuries that take longer to heal from than a teenager.
It is possible for someone to face a multitude of injuries from slips and falls, which can be very burdensome and expensive to deal with. Unfortunately, accidents do happen from time to time, but it is a business owner's responsibility to make sure the area is as safe as it can be for all guests.
There may be times when individuals are in locations where certain slips and falls can be exponentially more dangerous than they would be at a store, such as at a hiking part, for example. Since this is a public place where slips and falls can result in death, it's the park's responsibility to have a warning sign posted for people to use their discretion and remain safe, or else danger can occur.
If a business or public entity has a warning posted and an accident still occurs, it could be difficult to fight against them because they have a public warning posted.
Public Places Slip & Falls Occur
Slips and falls can happen anywhere at any time. You can even experience a slip and fall at your home or the home of a loved one. Outside of your home, the places where most slips and falls occur are broken into three categories: residential, commercial, and government.
Here is more information about experiencing a slip and fall at each location.
Residential Properties
Slips and falls that occur on residential properties can happen at a friend's house, a family member's house, or somewhere such as an apartment or townhome complex. If a residential property is owned by a landlord or housing organization, they have a legal obligation to make necessary repairs around the area and to warn tenants if anything is broken that can lead to accidents.
Slips and falls at residential properties can be a cause of not only slippery surfaces but also the following:
Dim lighting
Poorly maintained landscaping
Hazardous objects
Faulty stairs or unmaintained common areas
It's important to note that slipping and falling at a friend or family's house might not always warrant a lawsuit and could be considered a pure accident. However, if you experience injuries from slipping and falling at a residential complex without there being a proper warning, you could be eligible for a lawsuit.
Commercial Properties
Commercial properties cover a wide range of places you may visit. This section covers:
Restaurants
Businesses
Work
Hospitals
Other public entities or organizations
These locations might not be as forgetful as others when it comes to making sure the area is safe and well-maintained, especially because these commercial locations will want to avoid lawsuits and bad press. Regardless, this doesn't mean that it isn't possible to encounter a slip and fall on these kinds of properties.
Any business or entity that fails to warn the public of possible hazards, such as a yellow caution sign if the floor is slippery, could be found responsible for the accident. The good news is that there will also likely be video evidence showing the area, how it became slippery, and whether an employee posted a warning.
If you experience an injury in public at one of these locations after not receiving a warning, you could qualify for a personal injury claim against them.
Government Properties
Government properties cover any federal buildings or areas such as public parks, schools, libraries, and other facilities managed by the government. Even they can fail to keep up with the premises to provide a safe area for the public.
Most of these locations already have warning signs posted to cover their tracks in case situations such as these were to arise, but it's still worth to consult with an attorney if you are ever injured on government property.
Do I Need a Lawyer?
Whether you should hire a slip and fall lawyer depends on the unique details of the incident and whether you need the assistance. Most people that seek the help of a slip and fall lawyer do so to seek compensation to help cover medical bills associated with the injury, future medical expenses, and to bring a sense of closure to the accident.
Since most slip and fall cases can be complex, it's worth it to bring your situation to the attention of an attorney to hear if it's even possible for there to be a case. If it turns out the other party is responsible for the accident and you would like to pursue a lawsuit, you will most likely benefit from a lawyer, especially if you are going up against a well-established organization.
A slip and fall injury lawyer, such as the one you would work with at Frankl Kominsky Injury Lawyers, will provide you with the following services:
Open communication
Full review of your case
Collection of all necessary evidence
Speaking on your behalf to the defendant and in court
Negotiating for a reasonable outcome
It is well-advised to contact a lawyer if your injuries are severe enough that they place you out of work or have forced you to make significant modifications to your daily routine. One of the many advantages of hiring an attorney is that you can trust someone who is on your side with your best interests in mind. Your attorney works for you, which means their mission is to see you succeed and seek the compensation you deserve.
How to Find the Right Slip & Fall Lawyer
If you do not have a lawyer in mind that you can call, you should start looking for an attorney as soon as possible. Florida's Statute of Limitations states that a person looking to file a personal injury claim has two years from the date of the accident to file. This may seem like a long time, but it's easy to let the time pass you by before taking action. Those who decide to wait past the four years without taking legal action can face the repercussion of their claim being easily dismissed or not taken seriously.
It is highly recommended that you begin looking for an attorney the day after you are released from the hospital, or as soon as you go home. Here's how to begin looking for the right attorney.
Research
There are many firms in the Pembroke Pines, Florida, area. As you research firms near you, investigate each firm further by thoroughly reviewing their site, past reviews, and practice areas. Write down at least three to four firms you would like to consult with since most firms offer free consultations.
Ask Questions
Your free consultation is your chance to interview each attorney that could be assigned to your case. This is your opportunity to ask them about their experience, how many similar cases they have handled, what resources they will use throughout your case, and any other questions you may have. You should select an attorney that has competence in this area and has experience working on slip and fall cases.
Choose the Best Fit
Take the time to thoroughly consider which attorney will be the best one for you. You will meet several attorneys as you consult with various firms, so it's important to review all your notes for the consultations to choose the one that you know will be the best fit based on skills and experience. Do not let lawyer fees and payments deter you from the right lawyer.
What Is a Slip & Fall Claim?
Slip and fall claims essentially state that you are saying you suffered harm or injury by falling on someone else's property and that the owner of the property was aware that such injury could occur and failed to do anything about it. Slip and fall are filed under personal injury, which means your harm was caused by someone else's fault.
Sometimes these cases can also be considered as premises liability since the accident happened on someone else's property that they failed to maintain. They are not always the easiest cases to file, as you will need sufficient evidence to prove the other person's actions (or inactions) led to the accident.
How Do You Prove Fault in a Slip & Fall Claim?
Proving fault in slip and fall cases is a job your attorney will handle. One of the best ways to help your attorney with evidence collecting is to take photos of the area if you are able to after your accident.
Preexisting conditions such as how the area was set up right before the accident can help demonstrate the known negligence that occurred at the time. You will need proof that the property owner/manager failed to:
Keep the area clean and secure
Provide safe supervision
Provide adequate warnings
Fix potential hazards that they knew or should have known existed
How to Seek Compensation for a Slip & Fall Claim
If you are awarded compensation, you will receive this compensation in one of two ways: through a private settlement or in court. A settlement is between you and the defendant where you both will agree on a fair price. If no price can be agreed upon, your case will then go to court where a jury will decide who is at fault and what adequate compensation is.
What to Know About Payment for Slip & Fall Attorneys
If paying your lawyer is a concern for you, rest in the fact that most attorneys work on a contingency fee basis. If your attorney prefers the contingency fee method, you will agree to pay your attorney a certain percentage of your earnings if you win (which is usually between 33%-40%) at the end of the case.
For example, if your attorney agrees to a contingency fee of 33% and you receive a settlement of $70,000, you will owe your attorney $23,100, leaving you with $46,900.
Why Frankl Kominsky Injury Lawyers?
Have you recently been out in public and suffered an injury from slipping and falling? Was there no proper warning? If so, you could seek compensation with the help of a dedicated attorney from Frankl Kominsky Injury Lawyers.
Slip and falls could have major impacts on a person's life if the injuries sustained are severe enough. We know how to give you sound legal advice and fight on your behalf.
We will always have your best interest in mind. To hear more about how we can help you, call (561) 800-8000 to schedule your free consultation. During the consultation, you will get to sit down with one of our attorneys to walk through your case in greater detail and hear how we can best serve you. You can also leave your name and contact information in our online case evaluation form.
Due to Florida's Statute of Limitations, a person has two years from the date of the accident to file a personal injury claim. Don't let any more time pass you by before you call Frankl Kominsky Injury Lawyers to get started.