Car Accident Lawyer Serving Plantation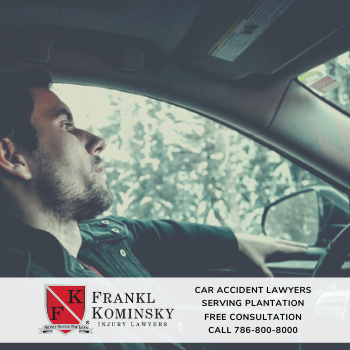 Plantation is a city in the state of Florida. It is a suburb of the Fort Lauderdale area, and is a part of Broward County. As of 2018, the population of Plantation, Florida was a little over 94,000 people. Plantation is one of the best places to live in Florida. It consists of friendly neighborhoods, recreational facilities and a stable business community. Many families and young professionals live in Plantation, and it has a diverse population.
While Plantation is considered one of the best places in the state of Florida to live, its residents are still involved in a large amount of dangerous car accidents each year. While there are many minor traffic accidents in Plantation each year, luckily, only a small number are fatal. In 2017, there were 6 total fatal car accidents. This number has decreased from 11 fatal accidents in 2016. In general, the trend is decreasing. Some of these terrible, fatal accidents occurred in the same intersections or on the same roads. In Plantation, many accidents occur on SR-817. Peters Road is also the site of many accidents as well. Those injured in one of the many car accidents were typically taken to either Plantation General Hospital or Westside Regional Medical Center for medical care and treatment
While the number of fatalities are relatively small each year, the number of injuries is not. Car accident injuries can range from minor to severe. If you are injured in a car accident in Plantation, Florida, whether it is minor or serious, contact the experienced attorneys at Frankl Kominsky Injury Lawyers for dedicated representation. We offer a free initial consultation and guidance as to your legal options.
Top Causes of Car Accidents in Plantation
Whether the reason is negligence, inexperience, or distraction, accidents happen all the time and are unavoidable. No matter what type of accident you are involved in, the legal team at Frankl Kominsky Injury Lawyers is available to help. Let us handle your car accident claim, we will fight for the fair and just compensation you deserve.
Accidents Involving Drunk or DUI Drivers

While on the decline, accidents involving drunk or DUI drivers are still relatively frequent. With the development of ride share apps like Uber and Lyft, there are multiple different ways to avoid driving while under the influence of alcohol. In Florida, the legal limit for Blood Alcohol Content is .08% and below. If you have been drinking and need to go somewhere, use one of the driving services above or stay put.

Rear-End Collisions

Rear-end collisions are extremely common. A rear-end collision is when a vehicle strikes the vehicle in front of it. The chance of a rear-end collision increases during times of high traffic, like rush hour. However, when a rear-end collision occurs during these times, it is typically minor, like a fender bender.

Distracted Drivers

Unfortunately, distracted driving is more and more common with the rise of handheld technology. While it is illegal in many states to even use a cell phone while driving, it is still a common act, and causes many minor, serious, and even fatal accidents. While this is the most common distraction that causes an accident, other distractions are adjusting the stereo, interacting with other passengers, or trying to perform another task while driving, like putting on makeup.

Inexperienced Drivers

Inexperienced drivers are the cause of many motor vehicle accidents. Technically, a driver is considered inexperienced until they are 25 years of age. This means that there is a wide age range of inexperienced drivers on the road. If you are an inexperienced or new driver, make sure to drive with an experienced driver as much as possible.

Crashes Involving Motorcycles, Bikes, Pedestrians, or Commercial Vehicles

Car crashes are not the only accidents that cause injuries or fatalities. Crashes involving motorcycles, bikes, pedestrians or commercial vehicles often cause more injuries or fatalities because those involved are not as protected as they would be in a car, truck, or SUV.
Plantation: Types of Injuries Sustained in a Car Crash
There are many types of injuries that can be sustained in a car crash. Each of the injuries listed below are common among car crash victims. Depending on the severity of the car crash, these injuries can range from minor to life-altering. Even if you think your injury is minor, you should see a medical professional. Many times, minor injuries are more serious than we think.
Cuts and Bruises

Both cuts are bruises are more superficial wounds than others on this list. However, just because they are more superficial does not mean that they don't have the potential to be serious. While many cuts and bruises sustained in minor car accidents are not serious, more damaging car accidents can cause cuts and bruises that are far worse. Deep cuts and bruises are emergent medical issues and need to be treated immediately.

Soft Tissue Injuries

Soft tissue injuries occur in the soft tissues of our bodies: the muscles, ligaments and tendons. These types of injuries often result from the stretching, pulling, or tearing of these parts of our bodies. Recovery for soft tissue injuries typically includes physical therapy or even surgery.

Broken or Fractured Bones

Broken bones are common injuries that result from car accidents. Broken bones are caused by extreme pressure that is placed on the bone, causing it to break or fracture. Broken bones need immediate medical attention so that they can heal properly.

Whiplash

Whiplash is an injury of your neck that is caused by a rapid back-and-forth motion. Whiplash can happen to passengers in car accidents that are violent and sudden. Some symptoms of whiplash are neck pain and stiffness, headaches, or loss of motion in the neck. If you are experiencing any of these symptoms after a car accident, seek medical attention.

Back Injuries

The severity of back injuries from a car crash can range from a mild strain to long lasting or permanent disability. Whether the back injury you suffer from is minor or serious, you deserve fair compensation.

Neck Injuries

Neck injuries are extremely common after a car accident. Some of the most common types of neck injuries are neck strain, disc injuries, and muscle spasms.

Traumatic Brain Injuries

Traumatic Brain Injuries, or TBI, are one of the most serious injuries that can result from a car accident. Traumatic Brain Injuries are defined as injuries that happen suddenly to cause damage to the brain. These injuries can happen when there is a severe bump or blow to the head, or even when an object penetrates the skull.

Spine Injuries

Serious motor vehicle accidents can result in a sudden blow to the spinal cord. A serious blow like this can injure the spinal cord, surrounding tissues, ligaments, discs, and vertebrae. This blow can cause discs and vertebrae to break or cause tissues to become crushed or separated.
What Damages Can I Pursue After A Car Accident?
If you are involved in an accident in the Plantation, Florida area, there many steps you may choose to follow after the accident occurs. If you are interested in pursuing damages after your car accident or have any questions, contact Frankl Kominsky Injury Lawyers. We are dedicated to helping you you get the compensation you deserve.
Past and Future Medical Bills

If you have been physically injured in a car accident, you should seek medical attention. If you receive some type of medical care, you are entitled to payment for both past and future medical bills that pertain to the injury you sustained in the accident. This includes the ambulance ride, emergency room care, doctor visits, physical therapy, diagnostic testing or surgery.

Temporary or Permanent Disability

Whether your injury leaves you temporarily or permanently disabled, your life will be altered. If you are involved in an accident that leaves you disabled, you can file a claim.

Vehicle or Property Damage

No matter the severity of the accident, vehicle or property damage almost always occurs in a car crash. It is important to take pictures of the damage that is done to your vehicle and even to personal property that is damaged inside your vehicle.

Lost Wages and/or Benefits

Being involved in a car accident can leave you injured to the point of not being able to perform your job correctly or for a long period of time. If this is the case, and your car accident injury affects your job performance, you can claim for lost wages and/or benefits.

Reduced Earning Potential

A claim for reduced earning potential can be filed if an injury from a car accident prevents you from earning money. An example of a reduced earning potential claim is if you missed an important sales meeting that took away chances of earning money due to the accident.

Pain and Suffering: Diminished Quality of Life

Quality of life refers to the general health and well-being of a person. Quality of life allows a person to live and enjoy their everyday life. If a car accident leaves you permanently injured and your quality of life is affected, you could receive compensation.

Loss of Consortium

Loss of consortium can be claimed by the spouse or family of the injured victim. Loss of consortium means that the person who was injured in the accident was injured so badly that they are no longer able to provide their normal amount of love or support. This type of claim is typically only valid if the victim dies or has life-altering injuries.

Disfigurement

Disfigurement is an injury that permanently alters your physical appearance. If you are in a car accident that results in the disfigurement or permanent scarring of yourself or someone you know, you deserve compensation.

Funeral and Burial Expenses

The last major category of damages is for funeral and burial expenses. Obviously, this claim can be filed in the event that the car accident is fatal. This claim is filed by the family of the deceased.
Do You Need To Call The Police After A Car Accident
Steps to Take After a Plantation Car Accident
After a car accident takes place, there is a certain order of steps that you may choose to follow. The legal team at Frankl Kominsky Injury Lawyers are ready to help you through the following steps in detail.
Obtain accident reports from police

The first step that you should take after being involved in a car accident is to contact the police. Even if you think the accident is minor, the authorities should still be contacted. When the police arrive, they will create an accident report. Be sure to get a copy of the report and the Driver's Exchange of Information.

Eyewitness statements

If there are any witnesses to the accident, it is necessary to interview them. You need to have personal accounts of what really happened to cause the accident from unbiased people. Most of the time, the police that are contacted will interview eyewitnesses while creating their accident report. Get their contact information including their name, phone number and email address.

Video & Pictures from the scene of the accident

Make sure to take pictures and videos of the vehicles involved in the accident, as well as the scene of the crime. You can also take photos of your injuries.

Seek immediate medical care and gather your medical records

If the car accident that you are involved in leaves you injured, it is imperative that you seek immediate medical care. Make sure to keep track of all your doctor's visits, medical bills, and medical records so that you have an accurate representation of your medical history as it pertains to the accident. You can go to a local emergency room, your own physician or a qualified medical professional.

Other documentation of your injuries

nce all the above steps are taken care of, the last thing you can do is compile any other documentation you may think you need.
Florida PIP Law: Car Accidents
Florida's No Fault Statute is a specific statute for the state of Florida. This statute requires drivers within Florida to carry Personal Injury Protection coverage as part of their insurance policy. If you become injured in a motor vehicle accident, PIP will cover a percentage of your medical expenses for qualified medical treatment and lost wages, regardless of who is at fault for the accident. This rule requires individuals injured in a car crash to seek medical attention within 14-days of the accident. Even if you believe your injuries to be minor, it is imperative that you be examined by a qualified medical professional. Some injuries are not immediately noticeable and may take a day or two to be correctly identified.
Hiring an Experienced Injury Lawyer for Your Plantation Car Crash
Our injury attorneys will help protect your rights and pursue the fair and just compensation you need. The legal team at Frankl Kominsky Injury Lawyers will help you through every step of the claims process. We will immediately establish a claim with the at-fault party's insurance company. Once a claim is filed, a member of the insurance company will begin the investigation process. During this process, they will review the events of the accident to determine fault. We will collect all necessary documentation to help establish your claim. This can include the accident report, witness statements, medical records and bills, evidence of lost wages, accident reconstruction, etc. Lastly, the attorneys at Frankl Kominsky Injury Lawyers will handle all communications and negotiations with the insurance company. If we are unable to settle your claim, we will pursue with the litigation process.
Start Your Free Consultation with Our Injury Lawyers
The above process is not one to take lightly. If you are injured in a car accident in Plantation, Florida and plan to file a claim, experienced representation can be helpful. Contact Frankl Kominsky Injury Lawyers no matter the accident or injury. They even come to your home or hospital to meet with you if your injuries prohibit you from traveling. Our legal team is dedicated to helping you get the compensation you deserve. Call 754-800-8000 24 hours a day and seven days a week for a free consultation.