Pompano Beach Train Accident Lawyer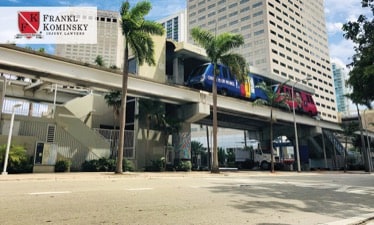 Pompano Beach residents and visitors regularly hear trains roll through the city. Pompano is part of the Florida East Coast Railway, and is also serviced by Tri-Rail.
While railroad transportation is generally safe, when an accident with a train occurs, it is often catastrophic. The lawyers at Frankl Kominsky are available to try to help anyone in Pompano Beach involved in a railway accident.
Florida Trains
Pompano Beach is part of the larger Florida rail system, which is comprised of 2,789 miles of mainline track. These tracks are owned by both private companies and the State of Florida. The trains that use these tracks include Class I Railroads, Class II Railroads, Class III Railroads, and one railroad which specializes in switching and stations. The largest carrier, according to the State of Florida, is CSX Transportation. That company owns more than half of the track in Florida, and individuals in Pompano frequently see the CSX cars racing by on local tracks.
Many of the trains that go through Pompano are freight trains. In 2014, more than 111 million tons of freight traveled through Florida. Passenger trains also use the rails. Tri-Rail trains run regular schedules all week. Brightline, the high-speed rail project currently also transits Pompano Beach.
Train Accident Victims
Train accidents in Pompano can happen for a number of reasons. If a train collides with a vehicle or an individual, the result can be catastrophic. Passengers on the train can also face injury in the event of a train wreck or derailment. Railroad workers can also experience injury from accidents. An inexperienced or fatigued train driver, or one under the influence of drugs or alcohol can also cause an accident. Other causes of train accidents include faulty railroad cars, faulty tracks, lack of maintenance or inadequate maintenance of the railroad cars or tracks, malfunctioning gates at crossings, unprotected crossings, or foul weather.
Legal Recourse
Individuals in Pompano Beach who have been injured in a train accident, or the families of those who have been killed in an accident, can face major hurdles in bringing suit against those responsible.
The legal team at Frankl Kominsky is available to try to help determine the best course of action for any Pompano Beach victim of a train accident. We will investigate the situation and try to identify those responsible, research whether they breached the duty of care to act as a reasonable person would act under similar circumstances, and calculate the damages due to those who have been injured.
At Frankl Kominsky, we know that every case is different, and we try to tailor each approach to the specific circumstance to obtain the best result. We are ready to work tenaciously to bring justice in train accident cases, as well as other personal injury cases. If you or a loved one in Pompano Beach or throughout South Florida have been injured in a train accident, call us for a confidential consultation, at (561) 354-6184, or contact us online. We speak Spanish and Creole.