Nursing Home Negligence Lawyers Serving Port St. Lucie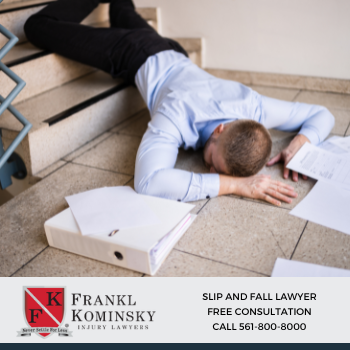 If you have to place a loved one in a nursing home, whether it's an ill spouse or elderly individual, you are likely familiar with the pain that comes with this decision. Deciding to give up your care and responsibility for your loved one can feel very overwhelming, which is why it is very important for you to trust the medical staff and facility you place your loved one in.
The last thing any family should think of is the possibility of negligence taking place. Nursing homes have legal responsibilities to provide a safe and nurturing environment for all patients, and there is a standard level of care employees are expected to follow. Anything that portrays the opposite can be very upsetting to handle.
If you suspect that your loved one is a victim of nursing home negligence, contact the attorneys at Frankl Kominsky Injury Lawyers immediately. There are rights you and your loved one have to seek legal action against these facilities to seek damages that were lost as a result.
Here's everything you need to know about nursing home negligence and how to go about your claim.
The Responsibility of Nursing Homes
Nursing homes are similar to other medical facilities, which means they have trained staff who are responsible for taking care of and meeting the health needs of all the patients on-site. This also means there is an expected standard level of care all the employees are required to follow, including the administrative staff, who are to keep the facility safe and nurturing. If any employee breaches the standard level of care and neglects a patient, legal action can be taken by the victim and their family, known as nursing home negligence.
The Nursing Home Reform Act that was passed by congress in 1987 states the services, activities, and care that nursing home facilities are expected to provide. Here are a few of the services, activities, and duties of care these facilities are to offer:
Hire and fully train licensed staff
Develop and follow care plans meant for each patient
Ensure residents receive appropriate care and resources based on their care plans
Provide health treatments and services
Respect each patient
Offer around-the-clock nursing care
Provide nutritional meals that also meet dietary restrictions
Thinks and acts on the patient's quality of life
Supervise every patient responsibly and adequately
Monitors the health and well-being of each patient
Offers educational, stimulating, and enriching activities
More
These rules and regulations are in place for the country, which means nursing homes in the Port St. Lucie area are expected to follow them. There is a lot of staff that make up a nursing home other than the trained and licensed medical employees such as administrative, food service, janitors, and maintenance that are expected to follow their level of care too. Any employee that works at a nursing home greatly risks the life of patients if they pose a threat to the patient's health.
There are red flags and signs of nursing home negligence that you should take action on immediately. As soon as you suspect there may be something going on with your loved one, it's crucial to speak to an attorney as soon as possible.
What Is Nursing Home Negligence?
Nursing home negligence is when a patient is neglected by an employee of the facility in a physical or emotional way. The neglect patients may face tend to be unintentional, which is why it falls into the negligence category, though these actions can be preventable since many times it's the fault of the staff not being properly trained.
When a patient at a nursing home facility experiences neglect, it is usually found in one or a combination of the following areas:
Medical neglect
Neglect of needs
Personal hygiene neglect
Here's more about each area.
Medical Neglect
This area can often be considered medical malpractice if the situation shows that an on-site nurse or doctor made an error in care. For instance, if they prescribed the wrong medicine or failed to treat a medical need properly. Other forms of medical neglect at nursing homes can be from staff forgetting to give patients their medicine on routine, leaving needs untreated, or not taking action during a medical emergency. If it's found that the health of your loved one has been compromised or declined in any way at a nursing home, it is likely due to medical neglect.
Neglect of Needs
Everyone has basic life needs for staying healthy and alert, and sometimes ill patients at nursing home facilities experience neglect in this area too. Staff can neglect to give patients adequate food and water, or even neglect to assist them to the bathroom if that's the kind of need a patient requires. These errors can leave patients in a state of extreme dehydration, malnutrition, or improper conditions that can lead to the early death of the patient. Neglect of needs can qualify as nursing home negligence since it's not ensuring patients have a clean and safe environment to live in, and it is a compromise of their health and healthcare plan.
Personal Hygiene Neglect
Along with bathroom assistance, some patients in nursing homes require hygiene assistance from the staff. This can include help with bathing, changing clothes and bedsheets, and more. If a staff member at the facility neglects patients that need this assistance, it can lead to other health concerns such as depression and anxiety, as well as suffering in unlivable conditions. Not only is this a breach of the standard care the facility is supposed to provide, but it also establishes a dangerous environment.
The Difference Between Nursing Home Negligence & Nursing Home Abuse
It's easy to have nursing home negligence and abuse confused even though negligence is a form of abuse. The main difference between the two cases is the intention behind the act.
In nursing home negligence cases, the actions behind the negligence are oftentimes unintentional. As we mentioned earlier, it can be due to improperly trained staff or from errors and lack of judgment without malice.
Abuse is the opposite. The harm behind the actions in abuse cases is intentional where the defendant knows they are posing harm to the patient.
Since it can be difficult to know which type of case you should file, depending on the circumstances of your case, it's important to speak to an attorney so they can look at every angle and give you the best advice about what to do next.
Ways to Spot Nursing Home Negligence
If you aren't paying attention closely, it may be difficult to spot the possibility of nursing home negligence, especially if everything seems okay on the outside. However, there are warnings or ways to spot that something or someone may be harming your loved one in these facilities that could jeopardize your loved one's health.
Here are some behaviors and other indicators to look out for:
Changes in weight
Patient seems withdrawn or has a lack of enthusiasm
Other behavioral changes: depression, anxiety, sudden anger, or lack of interest in activities
Poor hygiene
Sudden medical complications
Bruises
Loss of memory
Filthy clothes or living quarters
As you visit your loved one at the nursing home, spend some time speaking to them and ask about the quality of care they receive on a daily basis. Also, take a look around the facility and at the patient's room to see if there are other signs of nursing home neglect that may be taking place.
How to Sue for Nursing Home Neglect?
If it's found that your loved one has been suffering and not receiving the adequate care they deserve, you have the right to sue the facility. Families looking to sue for nursing home neglect must file a claim within two years of the date they discovered the neglect, and they must have substantial proof. Just as medical malpractice claims, these cases can be complex since you are fighting against a medical facility.
Deciding to sue a nursing home in Port St. Lucie means you will benefit from the help of an experienced attorney. It's not advisable for individuals to try and go through the process alone, especially because these cases can become very difficult.
Attorneys can help you seek justice for the wrongdoings of the medical staff you trusted while also helping you and your loved one seek compensation to cover bills or treatments that were caused by the neglect. The best way to get started with your claim? Contact an attorney today.
What Is a Nursing Home Claim
A nursing home claim is a lawsuit you and the patient can file against the facility that is suspected to have caused some kind of neglect to the patient. When a nursing home negligence claim is filed, it will be considered a personal injury, and the victim will seek to recover damages they have incurred under the care of the facility.
Personal injury is a legal term that states a person experienced harm due to someone else's actions, which is why these claims fit this category.
What Is a Nursing Home Nursing Home Negligence Lawyer?
As you start to file your claim, you should reach out for the assistance of a nursing home negligence attorney. These attorneys have the experience and background in these claims that you need, such as knowing the state's statute of limitations and in-depth knowledge about health facilities and their responsibilities.
A nursing home negligence lawyer can review your claim and all the evidence surrounding it to determine what the right angle is for your case. They can help you collect additional evidence and walk you through the process.
The best and most comforting part about having an attorney on your side is that they will do most of the work for you. They will file your claim on your behalf, speak to the other side's attorney, your insurance, and be your advocate for all areas of your case. They have your best interest in mind and will advocate for you every step of the way.
When & How to Find the Right Nursing Home Attorney
You should work on seeking the assistance of a nursing home negligence attorney as soon as you discover the neglect. The two-year timeline can pass by quickly, and there's typically a lot to do in these cases.
It can take up to a year or more for nursing home negligence cases to be settled. That is because there has to be a thorough investigation of the accused negligence, and the facility has to be looked into for their part in the incident.
When you start looking for an attorney, here are qualifications to discuss with each firm to find the right one for your needs:
Overall experience
Previous experience with similar cases
Outcomes of cases
Resources that will be used in your case
Legal fees
Finding the right lawyer is not a quick task, but it's important to remember the two-year timeline. Take the right amount of time adequately interviewing and finding the right attorney for the success of your case.
Damages You Can Seek to Recover
Depending on what your case entails and what your loved one has lost, you have the potential to seek the compensation you and your family deserve. Discussing what to recover with your attorney can give you an idea of what you could walk away with at the end of your case.
Here are some of the damages you may be able to recover in your nursing home negligence claim:
Medical expenses associated with the negligence (past, current, and future)
Funeral expenses if your loved one passed away as a result of neglect
Monthly facility payment
Therapy expenses
Housing and utility expenses
Physical or mental anguish
Pain and suffering
Trauma
Emotional distress
How Medical Malpractice Claims Work
After you find the right attorney and file your claim, the real work begins. There is a period of time in the case after the papers have been served to the facility where you and they will start to research and build each side. This is known as the case-building period.
It is possible for your case to reach a settlement, which will knock out the need for trial. Most of the time, this is how these claims turn out. A settlement can be reached through negotiations with each side and their attorneys.
Your attorney can do most of the speaking at this point, and they will negotiate with the other side for a settlement figure that is fair and can cover your incurred damages. If no settlement can be reached, then the case will proceed to trial, where a judge or jury then becomes responsible for the outcome.
The best chance for success in these cases is to have strong evidence of the negligence that was experienced at the nursing home facility. If you have substantial proof, your case may end up with a fair settlement, as the nursing home does not want to have bad press reported or have negligence hurt their business.
If you have trouble gathering evidence, talk to your attorney. They can help you collect evidence, but anytime you can, take photos of any injuries or the living conditions your loved one has had to suffer from. This is one of the best methods to produce proof of negligence or abuse for your claim.
Speak to an Experienced Attorney Today
If you need assistance with your nursing home negligence claim, speak to a Frankl Kominsky Injury Lawyer today. Our legal experts can help you review your claim and assess your situation to inform you of your legal rights against these facilities.
You can trust our attorneys because they have over four decades of experience fighting these types of claims and have in-depth knowledge of state limitations, especially those regarding the responsibility of nursing homes and their level of care. In our four decades of practice, we've helped clients recover damages across multiple injury instances, including nursing home negligence.
We start each claim with a free consultation that is of no obligation to you. After calling our office at (561) 800-8000 or leaving your information on our online form, someone will reach out to you to schedule a day and time that works best with your schedule to come in. You will meet one-on-one with one of our attorneys that will be assigned to your case, and you will have the chance to ask questions and hear how our services and resources can help.
Please bring the following information with you for your consultation so our attorney can best assess your needs:
Medical bills
Documents or information associated with the negligence
Photos you may have of injuries or other elements
Insurance information
Documents or other items you may have received from the nursing home
Let us help you seek the compensation you deserve to cover your damages and help right the wrong that was made. Call Frankl Kominsky Injury Lawyers today.