Work Injury Lawyers Serving Port St. Lucie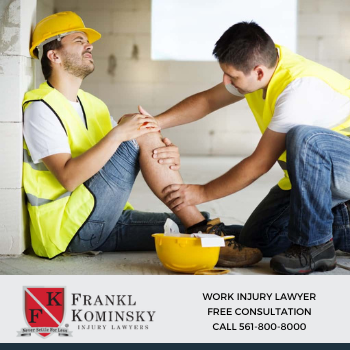 Every job has its own possibilities for employees to suffer from work-related injuries. If you have recently been injured on the job, you will need to act quickly and take advantage of potential workers' compensation benefits available to you.
This isn't always an easy task, however. Sometimes workplaces make it very difficult to seek workers' comp, and claims can either be denied or significantly reduced. The bottom line is that no employee and their family should have to deal with the stress and worry that comes with being placed out of work or finding a way to pay for medical bills following a work-related injury.
If you run into difficulties with your workplace after filing a workers' compensation claim, you could benefit from the services of a work injury lawyer in Port St. Lucie, Florida. Frankl Kominsky Injury Lawyers is a firm of dedicated professionals who will put your needs as a first priority, especially if you've suffered from work injuries that are not being treated properly (by appointment only).
Here's your guide to seeking help for your injuries with the assistance of a work injury lawyer.
Work Injury Overview
A work injury is a physical, mental, or internal injury that happens at a workplace due to materials, machines, or other conditions on the job. They can be devastating for workers and families to manage since they often leave people out of work and, if they are severe enough, can completely alter one's way of life.
Businesses have liability regulations they must follow to try and protect all employees and prevent injuries from happening through training and other interventions, but they are still supposed to offer assistance through workers' compensation in case there is an accident.
Not everyone associated with a company can file for workers' compensation. It is important to note what your position is and what you may qualify for so you can be sure if you are covered to receive benefits. Here's who can qualify for workers' compensation and how:
Full-time and part-time employees (volunteers and freelancers do not qualify)
An official report is filed within a one-year timeline from the date of the accident
The injury is deemed work-related
The company carries workers' compensation insurance
In Florida, workers have a one-year timeline, starting from the date of the accident, to file a claim with their workplace. It is a very short timeline that can go by quickly, especially if you are dealing with medical interventions or a lengthy hospital stay. It is important to have your claim filed as soon as you can because an investigation process will have to begin on your employer's side to deem your injuries as work-related before they will offer benefits.
It is possible that during the investigation process, you will be asked to visit doctors that are not your typical provider. These doctors are associated with your company, which means this can be an avenue for your business to find reasons to reduce your claim or deny it. That's why it is highly recommended to also go to your own provider to have their records on file to combat your employer's provider if issues arise.
You should also write down exactly what happened at the time of the incident for memory purposes and to support your position. Workers' compensation through your place of employment works similarly to standard insurance: they advertise having your best interest at heart, but that is not always the case.
Freelancers and volunteers do not qualify for any kind of workers' compensation assistance since they are not directly hired as official employees. If you fit into one of these categories and are injured on the job, you will have to seek compensation through your own insurance or other avenues.
Types of Work Injuries
Each workplace is different in the type of work and materials that are involved, which can lead to different injuries. The most common kind of work injury is a physical injury.
Here are five other types of common work injuries you may experience at your job that could qualify for seeking workers' compensation.
Slip/Fall
Slip and fall is a common type of work injury. Floors can be slick for any reason due to beverage spills, oils, or other kinds of spilled liquids. The reason why a person slips and falls on the job can also be the employer's fault, especially if it is due to poor lighting or there being holes or patches on the ground. Your employers should put out adequate warnings to all employees when there's potential for slips and falls on the surfaces.
Consistent Chemical Exposure
If you work in a field that spends a lot of time around harmful chemicals such as herbicides or pesticides, it's possible that you can breathe in the products that can cause horrific internal damage. If chemicals and other detrimental products come into contact with your nose, ears, or skin, it can cause skin burns and respiratory problems.
Since chemical exposures can cause internal injuries, it's possible that the root of this will not be discovered until later on when you begin developing symptoms from the targeted areas. It might be unknown at first that work is the cause of your injury, so internal work-related injuries may be given a slight grace period in the one-year timeline.
A great tip for workers who come into contact with chemicals and other harsh items is that they wear protective gear that covers their entire body and face and be on a routine to be medically observed to prevent further internal damage from happening.
Muscle Strain and Overexertion
Physical labor jobs are very demanding and require several workers. It is very possible to endure joint issues, muscle strain, and overexertion if you are working yourself too much on these jobs.
If you work somewhere that requires you to lift items, type on a computer, turn wrenches, or do other forms of physical labor, you must take care of yourself and take breaks. Businesses in this area should have breaks in place as they are legally obligated to do so to prevent these issues from occurring.
If your employer is not meeting their legal requirements by offering breaks and you've suffered an injury in the process, it's time to consult with an attorney.
Being Struck by Objects
Falling objects, faulty machinery, and improper training of certain equipment can all lead to accidents. Factory workers and workers who deal with certain machines can face severe injuries from severed limbs to death if they are not properly taught how to handle company property or if these machines have faulty parts.
Injuries from these kinds of accidents can cause life-altering events in a person's life that can place them out of work and forced to learn how to make lifelong modifications. If you have recently been injured from a work machine and suffered a severe injury, you could be entitled to compensation and benefits to greatly help in this time of need.
Vehicle Crashes and Collisions
Construction workers face one of the most dangerous types of workplace accidents daily since their work can take place on main roads. It's not uncommon for a construction worker to be struck by a civilian, whether the worker is in a company vehicle or off to the side of the road. Forklift accidents and other business vehicle collisions could potentially all qualify for workers' compensation benefits as long as you are found not responsible for the accident.
Remember to pay close attention to your surroundings and other drivers around so you can quickly move out of the way if something were to happen.
Steps to Take After a Work Injury
As soon as you are injured on the job, it's crucial that you report the incident and your injuries immediately. Florida's Statute of Limitations states that a worker has one year from the date of their injury to file a claim. A year can pass by quickly, and that is not taking into consideration the investigation and other steps you will need to take if your claim is denied.
Once you are cleared from the hospital to go home, you will need to contact the head of HR at your workplace so they can give you the appropriate documents to fill out. Once you've returned the paperwork to your HR rep, ideally a day or two after receiving the documents, they will file the paperwork, and the investigation process will begin.
While you are waiting for the investigation to be complete, it would be a good time to review your company's workers' comp policy to see what you are eligible to possibly qualify for. Knowing what the handbook states is important so you will know whether you should accept a settlement offer or hire a lawyer to negotiate on your behalf.
How to Know If You Need a Port St. Lucie Work Injury Lawyer
If you are dealing with a work-related injury, you should not automatically assume you need to hire a work injury lawyer. There are two incidents that qualify individuals for seeking legal assistance during this time and that is when:
Employers deny your claim
Your settlement and benefits are not as expected
After you experience a work-related injury, you will have to go through the process with the company you work with. It can take a while to hear back about benefits and/or compensation, so if you experience one of these outcomes, contact an attorney immediately.
You may also run into a situation where your employer tries to quickly diminish your claim by offering you a lump sum as a settlement. If this happens to you, do not automatically take the settlement before thinking it over or asking an attorney if this is adequate.
Sometimes, your employer may disregard your rights to other benefits and assistance. Essentially, if you accept the money, that is all the help you will receive in the end. When that happens, it is very possible that you will run into financial or other issues down the road without having your damages fully compensated.
If your employer offers you a lump sum settlement, contact Frankl Kominsky Injury Lawyers to discuss what you should do next.
Work Injury Lawyer Responsibilities
What does a work injury lawyer do? For starters, they listen to your situation in order to give you the best legal advice for your next steps. Since not every worker will need a work injury lawyer for their case, it is up to the attorney you consult with the see if they can provide the assistance you need.
If you can benefit from a work injury lawyer, they will be responsible for the following throughout your case:
Collecting and reviewing all evidence (this includes medical records and your employer's workers' comp information)
Negotiating settlements from your employer
Speaking on your behalf
Being your trusted partner and giving you sound advice for the duration of your case
A work injury lawyer is someone you can work closely with can help you seek optimal results for their hard work. It can be a complex process going up against large corporations and businesses, so it is crucial to select an attorney that has a strong background in workers' comp cases and has demonstrated success.
Other Benefits to Seek for Work-Related Injuries
There are benefits you can seek for work-related injuries in Florida other than what is offered by your employer. These benefits will likely need the assistance of an attorney who understands the system and how to give you the best chance at successfully acquiring them if needed.
Additional work-related benefits to discuss with your attorney are:
Wages up to 104 weeks if you are out for partial disability
Permanent disability settlement
Disability benefits if you are unable to remain working
If your injury is severe enough to cause a partial or full disability that places you out of work, you could qualify for disability assistance through the Social Security Administration (SSA). This is not an easy process as only one-third of applicants are accepted every year.
Applying for benefits through the SSA is a lengthy process and works as a heightened workers' comp claim. You can benefit from having an attorney on your side that understands the SSA application process and can help fill out your application.
How Third-Party Claims Work for Work Injuries
Sometimes it is not your place of work responsible for your injuries, but rather, outside elements. If you are injured on the job by someone or an animal crossing into your work and causing harm, this is considered to be a third-party claim.
In the case that you are injured by an ex-employee, disgruntled individual, or aggressive animal, you can still file a claim. The type of claim you will file will be considered as personal injury and does not require you to go through HR. It is well recommended that you reach out to an attorney to begin the process of investigating your claim and advising you of your next best options.
Personal injury claims in these instances can then be filed against the individual responsible for your injury or your place of work for failing to provide appropriate security measures. If you choose the latter, it will require you to have proof that your place of employment could have prevented the accident, which can be done with the help of a great lawyer.
Contact Trusted Work Injury Lawyers Immediately
Do you need help with your workers' compensation claim? The experts at Frankl Kominsky Injury Lawyers are ready to help. We have been serving those in Port St. Lucie, Florida, and other nearby cities for the last forty years (by appointment only). Our services help victims that were injured from car accidents to other personal injury claims including workers' comp.
If your workplace is not giving you the assistance you need, it is time to take action. No one should have to suffer from employers or companies that do not provide their employees with the right assistance.
The benefits of working with one of our work injury lawyers include:
Trustworthy legal advice
A partner who's on your side
Evidence review and case evaluation
An excellent communicator
Negotiation tactics with your best interest in mind
Comfort knowing you're receiving the help you deserve
We can help you seek the compensation and benefits you need to help cover medical bills or other needs associated with your work injury. We work for you, which means you can count on the fact that your needs are always a priority.
Take advantage of our no-obligation free consultation by calling (561) 800-8000 or leave your contact information on our online form. We will schedule a time for you to speak with one of our attorneys in person to discuss your position further.
Don't allow more time to pass by. Contact Frankl Kominsky Injury Lawyers today to begin making progress in your case.