Workplace Injury Lawyer Serving Riviera Beach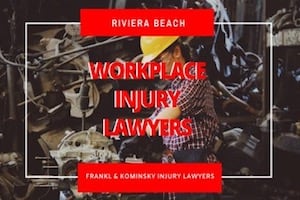 Riviera Beach is a beautiful city, and the home of the Blue Heron Bridge, one of the best, most touted dive sites of the country. It is an ideal place to visit for people who want to enjoy the beach, water parks, and water sports, as the city has plenty of such attractions.
There are various work injury lawyers, who are dedicated to pursuing compensation should you become injured at your workplace. Injury lawyers can handle claims for injuries sustained in the workplace, and help the njured party recover compensation for the damages they suffered.
The team of personal injury attorneys at Frankl Kominsky are available to help work injury victims pursue the compensation they deserve.
Types of Workplace Accidents & Injury Claims
Even though the laws and regulations of Riviera Beach, Florida, clearly state that employers are responsible for the safety and well-being of their employees and that they are supposed to provide proper equipment, training, and safe working conditions for their employees, oftentimes, employers do not pay heed, resulting in accidents at the workplace that can even prove to be fatal.
Accidents occur despite preventative measures being in place. While there may not always be a clear perpetrator in a workplace injury case, there is always a victim. The law in Florida does not discriminate between workers who were at fault and those who weren't; it is a no-fault system, and each workplace injury is compensated. The most common types of accidents that occur and can be handled by our workplace injury lawyers at Frankl Kominsky are:
Construction-Related Accidents: These include fires, explosions, and debris falling onto workers.
Scaffolding and Ladder Accidents: A painter can slip off a ladder while working on the roof of a house. Additionally, a window washer could fall from their platform, resulting in serious injuries.
Transportation accidents: Road accidents can occur while making deliveries or transporting goods and people in company vehicles.
Burn Injuries: Employees working in boiler rooms and experimental labs can get grave burn injuries.
Pinned between Objects and/or Vehicles: A collapsing building can pin an employee to the floor or a wall, which can result in serious injuries. Alternatively, employees can also be pinned against walls by vehicles that got out of control.
Slip and Fall / Trip and Fall: Tripping and slipping can occur anywhere and can cause serious spinal or neurological damage.
Falls from a Great Height: So many jobs require working at a height, and the slightest movement can cause workers to fall and hurt themselves.
Struck by Falling Objects: Falling bricks, containers, or debris can severely injure an employee.
Machine Entanglement: Bench drills and other machines can cost employees fingers, limbs, and even their lives if they get entangled.
Exposure to Toxic, Hazardous, or Harmful Substances: Dangerous fumes and chemicals can threaten employees' safety and health if proper safety equipment isn't provided.
Electrocution: Inappropriately insulated machine wiring can cause workers to get electrocuted if they come in contact with these exposed wires.
In case you have suffered a workplace injury, you should get a proper medical exam done to rule out life-threatening injuries or the need for surgery. Hospitals in Riviera Beach, such as Kindred Hospital or Riviera Beach Urgent Care are available to provide you the medical assistance you need.
There are also times when the injury is caused by the negligent actions of a third party. Should this happen to occur, it might be the best time to seek the help of an experienced personal injury attorney. If you or any of your loved ones have suffered any such accidents at work, you should contact an experienced work injury lawyer for guidance on how to proceed with your work injury claim. Find out more about workplace injuries and what course of action to take by watching this video –
The Most Dangerous Jobs in the US
An article by USA Today lists down the most dangerous jobs in the country, and the dangers associated with each job. It quotes the statistics of workplace injuries included in the Bureau of Labor Statistics' annual National Census of Fatal Occupational Injuries report, which shows the probability of getting hurt in a workplace accident in any industry.
The most dangerous jobs include:
Commercial Fishers
According to the report, the highest number of deaths on the job was in the fishing industry in 2017. Carrying heavy loads and doing manual labor on slippery, wet surfaces increases the chances of a worker slipping and hurting themselves. In worst-case scenarios, workers can even fall overboard and drown. Their distance to medical facilities also means that it's very difficult for these fishers to seek medical attention.
Roofers
Maintaining and building roofs while being elevated at such great heights make slip and fall accidents very frequent. These falls often result in serious injuries and even death. In 2017 alone, there were 91 fatal injuries to roofers and 2810 non-fatal ones!
Structural Iron and Steel Workers, Construction, Laborers, Maintenance, and Contractors, First-line Supervisors of Construction Trades and Extraction Workers
Structural and construction workers, laborers, and maintenance workers, working at great heights are thus exposed to accidental slip and fall accidents, leading to grave injuries or even death if proper safety equipment is not provided.
Drivers/Sales and Truck Drivers, Taxi, Lyft, Uber Drivers and Chauffeurs
Road accidents are a common cause of injuries or death for people whose job keeps them on the road all day, delivering material or transporting people. There were over 77,000 road accidents in the profession in 2017, with 987 of them being fatal.
Landscaping, Groundskeepers
Groundskeeping had a death toll of 53 in 2017, as these workers work with heavy-duty tools or hazardous chemicals on the job.
Electrical and Mechanical, Installers, Repairers, etc
Electrical and mechanical workers tend to work at great heights, which means that they're susceptible to slip and fall accidents. Along with this, getting electrocuted or crushed by machines are also situations that can cost them their lives.
Agricultural Workers
Heavy farming machinery and tools, some that have been in use for years, can cause grave injuries and harm to the farmers operating them.
Police, Sheriffs, Corrections Officers, Firefighters, EMS
Police officers, Deputy Sheriffs, Correction Officers, Emergency Responders, and other disaster workers are often working in close proximity to dangerous situations that put them in harm's way. Police officers and sheriffs lost their lives due to violence in 2017, and almost 34 disaster workers died in fire-related situations.
Warehouse, Grocery Store Workers (like Inventory, Delivery, Deli or Meat departments)
People working in large warehouses or grocery stores are exposed to injuries by way of transportation machinery accidents and falling objects or heavy containers.
Workers' Compensation and Employee Rights
Florida law states that if an employee gets injured on the job, the employer is liable to compensate that employee, regardless of whether the accident was their fault. To protect the employees and to ensure that employers always stay vigilant when it comes to the quality of safety equipment and machinery they are providing at work, the law makes it mandatory for every employer with more than four employees to purchase workers' compensation insurance. If the employer is in the construction industry, then workers' compensation insurance is required even with just one employee.
Under Florida's workers' compensation insurance, workers are entitled to receive monetary benefits to reimburse the damages that they endured during any workplace accident. It typically covers employees' medical bills, such as emergency room visits, prolonged hospital stays, rehabilitation, physical therapy, and more. In severe cases, workers might even suffer long-term or permanent damage such as limb amputation, paraplegia, or a neurological disease as a result of being injured on the job.
The insurance protects both the employer and employee. While claiming workers' compensation benefits, the employee is well-compensated for the injuries they sustained, and the employer is protected against the employee filing a lawsuit against them (except in certain, specific conditions).
In extreme cases where workplace injuries lead to death, workers' compensation also covers burial and funeral expenses and provides monetary support to the dependents of the deceased.
Are You Eligible for Workers' Compensation Coverage in Riviera Beach?
Under Florida's state laws, workers' compensation is a no-fault system, where access to compensation for a workplace injury is a basic employee right, regardless of who was at fault. Thus, all employees who have been a victim of workplace accidents in Riviera Beach are eligible to receive workers' compensation coverage if they meet the following criteria.
Note that the criteria for workers' compensation coverage can vary slightly from state to state. In Florida, the following criteria ensure an employee's right to the insurance. Check to see if you're eligible to claim workers' compensation.
Is your Employer Really Your Employer?
Under Florida's workers' compensation' law, the person you are filing a workers' compensation claim against should be your employer. This simple criterion is made complicated by the existence of contractual workers now. The person you are working for is not necessarily legally your employer. A work injury lawyer may be able to tell you whether you are an employee of a company or not.
However, even if you're a contractual worker, you can still claim some form of compensation. If you're injured on-site, you may have a claim against your employer for premises liability.
Your Employer is Covered By Workers' Compensation
Florida law requires every employer who has four or more employees working under them to purchase a workers' compensation program. The requirement for the minimum number of workers that should be employed by the employer changes from state to state, but Florida has set it at four for most industries. If the employer is in the construction industry, then workers' compensation coverage is required even for one employee.
Many employers in Florida that are not legally required to purchase workers' compensation insurance do so because it protects the employer in case of a lawsuit too.
Your Injury or Sickness is Work-Related
Any injury that you suffer in your occupational capacity while performing the assigned job tasks or while you are on the job counts as a work-related injury. This does not only cover injuries encountered within the workplace but also those that occur outside the workplace, while the employee was still performing tasks for the employer.
Examples of work-related injuries could be – loss of hearing due to exposure to loud machinery, fractured limbs from falling down while performing a work-related task, or any bodily damage suffered due to workplace machinery.
Workers' Compensation and Third-Party Liability
In case of accidents where a third party is responsible for the injury or harm that you've suffered, you can file a third-party liability claim. A third-party liability claim is against a third party whose negligence or disregard caused you bodily harm.
Third parties are not your direct employers; they are separate entities that might have hired your employer's services for contractual work or whose manufactured equipment was the cause of the injury at your workplace. If you suffer an injury working in such a capacity, you can file a lawsuit against the entity that is the maker or owner of the machine, place, or tool or at-fault party that caused the injury.
It could be someone that your own employer had contracted for specific work or against a manufacturer whose defective material or equipment resulted in an employee incurring an injury on the job. For example, in the case where a contractual electrical worker had done a poor job, leading you to be electrocuted, or where a cement provider at a construction site ran over your foot while backing out, you can file a third-party liability claim against the contractual electricity worker or the cement provider's employee. If you are driving a truck for your employer while you are at work and you are injured in a car accident, you may bring a negligence claim against the at-fault driver.
Unlike claims for workers' compensation, where employees are eligible to receive compensation, whether the employer was at fault or not, third-party liability claims require you to prove how the third-party's actions caused your injuries or losses.
Through a third-party liability claim, you may be able to pursue compensation for:
Past and future medical expenses not covered by workers' compensation insurance
Lost wages and employment benefits not covered by workers' compensation
Physical pain and suffering
Cosmetic damage such as scarring or disfigurement
Permanent disability
Inability to lead a normal life
YouTube Video Links
This video can help clarify what options you have if unsafe working conditions on someone else's property causes you to suffer an injury.
The following video explains what you should do in case you get injured while working on a construction project in Florida. In the case of such an unfortunate workplace accident, you should contact an experienced work injury attorney who is dedicated to pursuing compensation for your losses.
Let Frankl Kominsky Injury Lawyers Handle the Insurance Companies While You Recover
Let Frankl Kominsky assist you in pursuing the compensation that you are entitled to, while you recover from the physical and emotional damage from a workplace injury accident.
We have a team of injury attorneys who are dedicated to recovering damages on your behalf in your workplace injury claim that will study and analyze the details of your case for you and strive to get you the full value of your workers' compensation, third-party liability, or wrongful death claims.
Why Choose Frankl Kominsky Injury Lawyers
At Frankl Kominsky Injury Lawyers, we have over 40 years of combined legal experience handling accident and injury claims in all counties throughout Florida, including West Palm Beach.
Our accident and injury lawyers have helped over 6,000 clients recover from their injuries while obtaining over $100 million in settlements and verdicts. If you or a loved one are injured at work, let our legal team handle your personal injury claim and help you get your life back on track.
For a Free Consultation with our Palm Beach County Injury Lawyers, call 561-701-9992. We offer free in-home and hospital visits and stand by our superior client services.