Slip and Fall Accident Lawyer Serving Wellington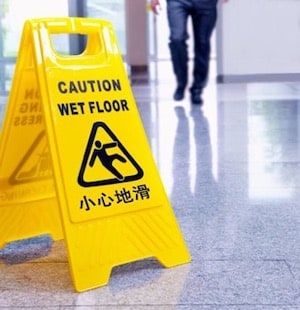 Whether you're an adult or a child, slipping and falling is something just about all of us have experienced at one time or another. For most of us, these instances are mostly relegated to when we were much younger and haven't had the experience of looking out for various slip-inducing dangers. But for others, slip and fall accident injuries can be a harsh reality that come unexpectedly in our lives. That's because those who have experienced a slip and fall occurrence in Wellington, and have sustained severe injuries, may have had a sudden, life-changing event that they were completely unprepared.
This type of an accident can come about through no fault of the one who fell. But the consequences can result in debilitating injuries that potentially may never completely heal. Due to this potentially catastrophic scenario, it's important to know just what to do in the event that this happens to you. You will want to know the best way to proceed and how to possibly take care of any expenses that have been incurred as a result of a slip and fall injury.
What are the Laws That Govern Slip and Fall Accidents in Wellington?
While there are many considerations regarding a slip and fall injury, one of the first things that you will want to take into account is the statute of limitations regarding these events. Let's say that you have slipped on an unmarked wet floor site in a commercial establishment. If you wish to file a lawsuit in order to be compensated for your medical bills, you only have 2 years from the time of the accident in order to file. (Florida Statute section 95.11(3)(a)) If you don't file a lawsuit within that time period, then you can discover that the case will be dismissed, except under certain (rare) circumstances. For wrongful death cases, the statute of limitations is 2 years. These circumstances should be discussed with a slip and fall injury attorney, for complete details. This limitation governs both personal injuries and property damage (i.e. a broken cell phone).
What is the Modified Comparative Negligence Rule?
If you're the victim of slip and fall accident injuries, and you wish to file a lawsuit, then you may run into something known as the comparative negligence rule. This rule mandates that in an accident case, the determination of negligence can be assigned to more than one party, based on each party's percentage of the accident fault. For example, let's say that there was a portion of commercial building flooring that was unsafe and you tripped or slipped on it.
Now consider that the floor was in an area that was marked as "unsafe flooring". While the owner of the commercial property has some responsibility, you would also share some of that responsibility because you should have taken note of the warning. In a case such as this, percentages of negligence can be distributed among the two parties named in the lawsuit. Therefore, the commercial property owner may only be required to pay for the percentage of the damages that equates to what the court has determined to be their responsibility.
Here, you will find an insurance company, for the commercial property owner, may try to argue that their insured was not responsible for the slip and fall. In the past, the types of arguments that have been made included:
The person who fell was wearing footwear that was unsafe
The danger that was present was obvious enough for the victim to see
The area where the accident occurred was restricted
There was appropriate signage that signified that there was a slipping hazard
The person wasn't being observant because; they were on the cell phone, etc.
What Should You do if You are Involved in a Slip and Fall Accident?
If someone is involved in a slip and fall accident, here are some standard suggestions to follow:
1. In any type of accident, the first priority is to ensure that you are okay, physically. Call for assistance, if needed. But, in any case, you will want to make a visit to the nearest hospital emergency room or your own family physician. There, you should have a complete physical evaluation that may detect any hidden injuries as well as any obvious ones. Remember to have everything documented and get a copy of all documentation and bills for your own personal files (which should all be kept in a single location). If any injuries are noted and treated, then schedule a follow up appointment and keep a journal of your healing progress.
2. The owner of the property on which the accident occurred needs to be immediately informed of the accident. If the commercial property owner is not readily available, then a report should be made to the manager of the property. A report should be done in writing and you should retain a copy of that report for your own accident file. Unless you are going to the doctor by ambulance, don't leave the property without first obtaining a copy of that report.
3. Every detail of the accident should be documented along with contact information of any witnesses to the accident. You should also keep the shoes and clothing that you wore, during the accident, in a safe location, since these may be needed in a lawsuit, as evidence. You might be surprised at how important this step can be!
4. Do NOT post any information of your accident on a social media site! In addition, don't engage in any conversations regarding the accident with the property's insurance company or attorney. Keep the conversation with the owner or manager of the property to a minimum, as well.
5. Contact an experienced slip and fall accident injuries attorney, who serves Wellington. The first consultation is free and they can discuss any further options that you may have. Dealing with the details for obtaining any possible financial restitution for slip and fall accident injuries is a very complex process. You may want some immediate assistance with this.
What Needs to be Proven in a Slip-and-Fall Claim?
Although slip and fall injuries happen all the time, sometimes the owner or manager of a property is the one who is at fault. This can be due to negligence on their part. All of this boils down to the fact that a property manager/owner is obligated to keep the property in a "reasonably safe condition". Florida statute 768.0755 mandates that there can be a liability issue when "transitory foreign objects" are located on a walkway that they are responsible for and these result in an accident.
Therefore, it is the duty of the property manager/owner to fix this situation as soon as they can. If this isn't fixed in a timely manner and manages to cause an accident with injuries, then the property manager/owner may be held liable for damages. Here, the property manager/owner is considered negligent which may allow the accident victim to file a claim for any medical and property damages that have occurred.
When a lawsuit is filed for a Wellington slip and fall injury case, the injured party will need to provide proof that:
A "duty of care" needs to be established, that was owed to the party who was injured by the property manager/owner who had provided an invitation to the injured party. That duty of care was to provide an area that was reasonably safe.
"Reasonable care" was not given when it came to the maintenance of the property where the accident occurred. The "reasonable care" is determined by court authorities for each, individual case.
Due to this lack of reasonable care, an accident has occurred.
As a direct result of this accident, damages were acquired.
What Statutes Apply to Wellington Slip-and-Fall (Property Management) Cases?
There are a number of applicable statutes that apply to Wellington (and the rest of the state), when it comes to keeping properties safe from slip-and fall-injuries. These include:
Statute 768.0425 (1) relates to damages in actions against contractors for injuries sustained from negligence, malfeasance, or misfeasance.
Statute 768.0755 (1) relates to Premises liability for transitory foreign substances in a business establishment.—

If a person slips and falls on a transitory foreign substance in a business establishment, the injured person must prove that the business establishment had actual or constructive knowledge of the dangerous condition and should have taken action to remedy it.

Statute 768.10 relates to pits and holes that should not be left open. It is not lawful for any company or individual to leave open any pit or other hole outside of an enclosure of a greater depth and breadth than 2 feet; provided, however, such pit or hole may be left open by enclosing the same with a fence or other enclosure.
What are Some Common Injuries That Occur in Slip and Fall Accidents?
There is a wide variety of slip-and-fall accident injuries that one may receive. These can include:
Minor or severe broken and fractured bones
Full or partial paralysis related to spinal injuries
Torn tendons, muscles and ligaments
Soft tissue injuries
Severe lacerations and cuts that may lead to disfigurement
Skull fractures
Brain trauma
Some injuries may not be obvious at first. This is the reason why it's so important to immediately pay a visit to a doctor after a slip and fall accident. For example, a minor injury can eventually become a major issue if it's not treated promptly.
What Type of Damages can I Seek in a Wellington slip & Fall Case?
In situations in which an injured party has filed a lawsuit involving a slip and fall accident the amount of compensation will obviously vary according to the type of injury that has been sustained.
All medical expenses
Future medical expenses
Lost wages – and loss of future income
Pain and suffering from the healing process and economical difficulties
Property such as broken electronics, cell phones or laptop
Other associated costs that pertain to the accident
Enlist an Experienced Personal Injury Lawyer, Serving Wellington, to Protect Your Rights
Deaths and injuries from slip and fall accidents can be the result of property negligence, which may occur in Wellington at any given time. Therefore, if you are involved in a slip and fall accident that occurred on a private or commercial property, it is advised that you seek medical care and the advice of a slip and fall personal injury attorney.
Seek the advice of a dedicated personal injury attorney, who can try to assist in receiving the best care and compensation that you rightfully deserve. Therefore, when you or a loved one are involved in a Wellington slip and fall accident, contact a Florida personal injury attorney.
Discuss your case with a Slip and Fall Personal Injury Attorney Serving Wellington Today! Turn to Frankl Kominsky for comprehensive legal guidance. Call (561) 800-8000 or use our Contact Form to set up a free consultation.