Slip & Fall Lawyer Serving Boca Raton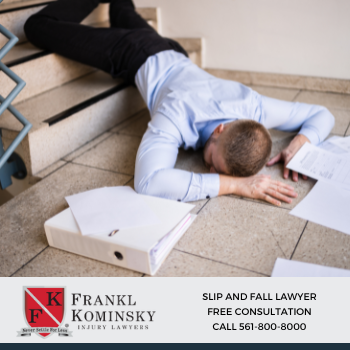 Accidents happen on a daily basis, but that doesn't mean certain ones could have been completely avoided. Slip & fall injury individuals experience can result in severe injuries and hefty medical bills that add unneeded stress to a person's life, as well as the impact on their quality of life from sustained slip & fall injuries.
The team at Frankl Kominsky Lawyers serves as Boca Raton Slip & Fall lawyers who are ready to help individuals protect their legal rights and seek justice against the property owners or individuals responsible for the injuries (by appointment only).
What Is Slip & Fall?
Slip and fall refers to an incident where an individual undergoes an injury from slipping or falling on another property owned by another entity or organization. Slip and fall accidents can happen anywhere and legally, the owner of the property can be held responsible under certain circumstances.
Are There Any Limitations to Slip & Fall?
Anyone can file a Slip & Fall claim for any injury sustained on another person's property or premises. Even the most minor injuries a plaintiff experiences can be filed as a slip & fall claim. Slip & Fall can happen anywhere, whether it's indoors, outdoors, or on another property.
These claims and settlements are geared more towards the conditions that led to the accident and how they could have been avoided. When a slip & fall accident occurs, it's important that the person filing the claim knows the difference between a pure accident and an accident resulting from another entity's carelessness at providing a safe environment.
Common Conditions for Slip & Fall Accidents
When a person files for a slip & fall claim, the accident area needs to be reviewed carefully as well as the conditions. For instance, if the accident occurred outside, it is important to look at the conditions from weather to any potholes on the ground. If there is inclement weather in the area, such as rain, snow, or ice, it's the property's responsibility to make other individuals aware of potential slipping hazards.
The same observance has to be made if the accident occurred indoors. Again, lawyers will look at the conditions of the flooring and note if there was any torn carpeting, slippery floors, bad lighting, broken steps, or anything else that could have caused the incident.
Places Slip & Falls Can Occur
Anytime an individual goes to another residence or property and a slip or fall occurs, the injured individual has a right to file and seek compensation. These accidents can happen anywhere out in public and can serve a wide range of possibilities in terms of hazardous conditions.
Here's a list of where slip & falls can occur:
Residential properties (homes, apartments, townhomes, etc.)
Commercial properties (stores, businesses, hospitals, etc.)
Government properties (local, federal, or state)
Residential properties
If you live in a rental home, apartment complex, or another housing facility owned by a landlord or other entity, you can file against them for sustaining slip & fall related injuries. In addition, you could file a claim if you slip and fall on another individual's property if they fail to warn you about potential hazards on their property as well.
Commercial properties
Retail stores, businesses, or other commercial buildings that do not inform patrons of potential hazards such as slippery floors or broken facilities can be held legally responsible. Since most commercial properties are owned by third parties, multiple individuals can be held responsible for the accident once the claim is filed.
Government properties
These locations may be tricky to prove slip & fall since these buildings usually have certain rules in place to help protect them from being held responsible for a sustained injury. This is why it is advantageous to have an experienced lawyer on your side who knows the tactics of these organizations to help build a strong case.
Proving Slip & Fall
The key to proving your sustained slip & fall accident lies in the property owner's hands is demonstrating that the owner knew about the hazard and tried to prevent any injuries from occurring. Therefore, another key focus in the claim is proving that you or the injured individual was not acting recklessly, but was rather actively trying to avoid injury.
Proving slip & fall takes a lot of work in observing the circumstances around the area and proving that the location was acting under dangerous potential conditions and the property owner was aware of the hazard.
A requirement for potentially creating a favorable slip & fall case is proving that the injured individual had no knowledge of the hazard risk and did not expect the accident to happen. There are ways you can prove the negligence of the other party and owner of the property that includes the following:
It's the property owner's doing that created the risk.
The property owner knew about the hazard and did not act on correcting or fixing the site.
There was ample time for the property owner to discover the danger and prevent an accident from occurring.
How to File for Slip & Fall
When filing for a slip & fall claim, there are certain things you should do immediately to strengthen your claim, and one of those is reporting it as soon as you can. If the sustained injury does not require immediate medical assistance, you should report the accident right away to the highest-ranking worker on the property of the location at that time, especially if there are no witnesses.
Not having any witnesses around is not a major issue, but it's important to note that waiting days after the accident to file a claim when there was no one else around to support your position can weaken your claim. If there were witnesses around, gather as many names as you can to strengthen your case.
Having evidence is crucial for your case since many businesses or professional organizations are going to do their part in cleaning up the area as quickly as they can to sweep the occurrence under the rug. If you are not severely injured or with someone else, take photos of the area to serve as evidence that you can add to your claim later on.
The photos could help make your case if they are taken clearly and in focus, but it's important to act immediately. For example, if you are somewhere and experience an injury due to weather, take photos as soon as you can because weather conditions can melt or disappear quickly.
The next step in filing for a claim is still a part of the pre-filed process. It involves speaking to your healthcare provider and making sure the details you tell them are the same details you describe in your lawsuit.
When you're ready to get the ball rolling with a legal professional to help you build your case, it's time to search for the best Boca Raton slip & fall lawyer. The lawyer you select to represent you should have a solid background in slip & fall cases with a proven track record in understanding the rules and guidelines the other parties use to protect themselves. We have been representing clients throughout the state of Florida to fight for the justice they deserve from the careless negligence of others.
Filing your claim with us starts with speaking with one of our team members about your situation and how we can help you build a strong case against the responsible party when you have a potentially meritorious claim.
When to Look for a Slip & Fall Lawyer
If your accident is severe, you might have to wait a little bit in the process to hire the right attorney to represent you. However, if the accident is minor, the sooner, the better.
Hiring a Boca Raton Slip & Fall Lawyer from the start will help you build a solid case with professional strategies and guidance that can help you seek compensation. Proving the fault of other organizations can be a difficult task, which is why it's best to have a reputable professional on your side from day one.
Frankl Kominsky Injury Lawyers has spent over 40 years in the business and knows what to expect from the other side in your fight.
Protect Your Legal Rights
Taking on an established, professional organization or entity can seem extremely intimidating. That's why we're here to help you protect your legal rights and seek the compensation you deserve from sustaining a preventable injury.
When we travel outside of our homes, we put our safety and assurance in the hands of professionals who are supposed to provide an injury-free environment. In addition, there are laws, codes, and guidelines businesses and other property owners are required to follow to ensure an individual doesn't have to file a claim in the first place.
Frankl Kominsky Injury Lawyers is a team of legal professionals who are ready to help you act on your legal rights and preserve your health with your slip & fall claim. We advocate for residents in the Boca Raton, Florida area, and other areas and are eager to start (by appointment only).
To speak with one of our representatives, call our 24/7 firm number at (561) 800-8000 or contact us online today.