Motorcycle Accident Lawyer Serving Vero Beach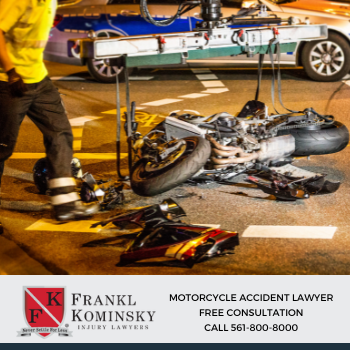 Though it is not a large city, it is one of the nicest ones in Florida. Vero Beach, a part of and the seat of Indian River County, Florida, has been around for a long while, and has a rich history of its own, with the Spanish treasures and fleets passing through its seas in the Second World War.
Today, the small beachfront city is home to about 15,000 people and a popular tourist attraction to many more. Vero Beach lies along Florida's Treasure Coast and hosts some of the prettiest beaches along the line. Vero Beach also has a bunch of water parks and recreational centers that make it an ideal city to enjoy the sea and watersports of all kinds.
The Indian River Lagoon also passes through Vero Beach and has given rise to activities such as boating, skydiving, and many others. The small city also has its own Disney's Vero Beach Resort!
With so much going on in the city, commercial activity has also grown. It has malls, and fancy resorts and golf clubs, and pretty much every other luxury and facility found in many bigger cities.
With so many people congregating in a small city, accidents are also guaranteed. Vero Beach has witnessed its own set of catastrophes and accidents, ranging from vehicular crashes to other unfortunate incidents.
Motorcycles, specifically, are widely used in Vero Beach, and it is not rare for them to be involved in deadly crashes on the roads of Vero Beach.
If you are injured in a motorcycle accident through the carelessness and recklessness of someone else, you may be eligible to file a claim for compensation. Contact the experienced motorcycle accident attorneys at Frankl Kominsky for a free consultation and case evaluation.
Motorcycle Accidents and Injury Claims
Some of the common motorcycle accidents are caused by the following:
Distracted Driver
Many motorcycle accidents are brought about by diverted drivers, be it the motorcyclist themselves or the driver of the other vehicle. There is no space for distraction when out there; one moment of eyes off the street or entertaining thoughts about something else could have grave ramifications for all parties associated with an accident. Distracted driving can include text messaging while driving, chatting on a cellphone, or making conversation with the passengers of the vehicle.
Failure to Obey Traffic Laws
Traffic rules are set up to protect us, and failure in tailing them never bodes well. When motorcyclists or drivers overlook speed limits, traffic signals, and general guidelines of the street, crashes are inescapable.
Hit and Run Motorcycle Crashes
Sometimes, a motorcycle crash can result in grave injuries or even death. Numerous motorcyclists speeding along the street think that they can escape the consequences by speeding away. This hardly ever works in their favor, as they are usually identified, brought in, and face even harsher punishment for leaving the scene of the accidents. Keep in mind that while an accident isn't exactly a crime, leaving the area of an accident is. In the event that you have encountered a motorcycle accident, wait until the authorities show up.
Motorcycle Accidents Involving Company Vehicles and Commercial Trucks
Numerous times, business vehicles and trucks with capable drivers engage in accidents with motorcycles. Because of their enormous sizes, they have a greater vulnerable side and can frequently not spot vehicles as little as motorcycles. They could possibly be in a rush to make deliveries and transfers on a deadline. If you are involved in a crash with a company truck, the employer of the driver may also be held liable for damages.
Defective Motorcycle Parts
Often, the motorcycle accident isn't the motorcyclist's fault by any means. Rather it is the motorcycle producer who may be liable for the broken or defective motorcycle part that caused the accident.
Most Common Causes for Motorcycle Accidents in Vero Beach
Failing to follow posted speed limits
Speeding is one of the main causes for a wide range of accidents. It tends to be particularly hazardous with motorcycles, the small but powerful vehicles. They can fly past vehicles and transport threefold their size. Speed limits are constantly reiterated and enjoined so individuals can spot vehicles and make vital moves to forestall an impact, yet motorcycles often disregard the speed limits and, in this manner, bear the consequences.
Failing to yield
A few drivers simply don't ease up. In their rush to get ahead or their own ignorance of their speeds and those of other drivers, they don't yield in time to other motorists and wind up colliding. Obviously, it ends up damaging for both vehicles.
Failing to leave adequate room between vehicles
Motorcyclists, in their overconfidence to traverse little spaces due to their minimized size, squeeze between bigger vehicles, and between paths wanting to make it past quickly. A little turn from either driver at that point brings about an accident that can leave both drivers injured. Safe distances from different vehicles on the streets are recommended.
Failure to see a motorcyclist changing or entering paths
Motorcycles are perhaps the littlest vehicles on streets and aren't entirely visible to huge vehicle drivers, for example, trucks, and buses. Numerous times, when a motorcyclist changes or enters another path, though, with each safety measure on his part, it is missed by the drivers of greater vehicles. Huge vehicles likewise have a greater vulnerable side that can keep them from seeing the motorcyclists in time.
Driving impaired
Driving while under the influence of drugs or alcohol is a criminal offense. However, in spite of that, the number of drunk drivers on the road is incredibly high. In a city like Vero Beach, which is celebrated for its tourist life and large gatherings, many motorcycle accidents are brought about by drivers who are under the influence. Impaired, the drivers misconstrue distances, have migraines, hazy vision, and compromised judgments. You should never get in the driver's seat under the influence, as you are putting the lives of everybody, including yourself, in harm's way.
Fail to see the motorcyclist
Because of the little size of the vehicle, numerous drivers neglect to see the motorcycle on the road, and because of that fail to stop and brake in time. Drivers can likewise neglect to see motorcycles when the motorcyclists are speeding, or when the drivers are occupied and have their attention distracted.
Other common reasons for motorcycle accidents:
Cutting off motorcyclists at crossing points
Misjudge the motorcyclist's speed or separation
Neglecting to give suitable consideration to different drivers
Panic and stop in the motorcyclist's way
Rely on the judgment of another driver, who likewise neglects to see the motorcyclist
Swerving before a cyclist
Common Injuries Sustained in a Motorcycle Crash
Bone fractures and breaks In the event that the victims get pinned under a motorcycle, there is a high chance of bones breaking. While inconceivably painful, some fractures may require surgery while most fractures and breaks do recover fully with time.
Severe head injury In an extreme accident, the odds of the victim encountering serious head trauma are very high. Traumatic brain injuries can occur in these types of accidents.
Neck injuries: Neck wounds are ordinary in essentially all vehicular crashes. The 'whiplash' from the impact of slamming into another vehicle or from braking abruptly when a motorcyclist shows up in your way out of nowhere can cause injuries to the neck.
Brain Damage Some head wounds can be more serious than they appear outwardly. In the event that there is an event of injury to the head, the brain may likewise be influenced. A detailed clinical assessment is mandatory as cerebrum damage can cause brief or permanent disability if not addressed right away.
Disfigurement: A few limbs or facial features may everlastingly be scarred in light of the disaster. Some severe cuts and deep lacerations can result in permanent scarring.
Loss of appendages On the off chance that injuries to the appendages are extraordinary, a total amputation may be the right course of action. If your limbs were completely crushed underneath a vehicle, you may lose partial or complete usage of those appendages.
Paralysis Loss of motion may happen due to trauma to the nerves in your body. Your lower body might be destabilized, and you most likely won't have the choice to perform regular errands like previously. The loss of motion might be temporary or lasting.
If you are fortunate, you may only escape with mere cuts, wounds, and scars. Regardless, it is important to have a thorough medical examination from a qualified medical professional. You can go to your own personal doctor or a local hospital, for example, the Indian River Hospital,
How Long do I Have to File a Lawsuit For My Motorcycle Accident Lawsuit?
Florida's Statute of Limitations require that in the case of a motorcycle accident due to negligence, the victim has just 2 years from the date of the accident to file a lawsuit against the at-fault party. Should you fail to file your lawsuit within the time frame of the statute of limitations, the court will likely dismiss your lawsuit and you may be barred from pursuing your claim.
Talk to an experienced motorcycle accident lawyer for questions on the statute of limitations with your motorcycle accident claim.
What Damages Can I Pursue in my Motorcycle Accident Claim
If you or a loved one are injured in a motorcycle accident, the damages you may be eligible to claim are:
Medical Expenses
Your injuries from the motorcycle accident may be extreme and require medical attention. The medical bills from the hospital, doctor visits, diagnostic testing, physical therapy, prescription medication and surgery may be costly. Also, rehabilitation will also be needed to fully recover from the injuries and ensure your wellbeing.
Present and future lost wages
Your injuries may make it impossible to return to work immediately. You may have to take some time off to recuperate or to attend your doctor appointments. It is possible that because of your wounds, you may never again be able to work in a similar capacity or earn a similar sum. The compensatory damages should compensate for the present, and future wages lost to give financial security to the person and their family.
Repairs to your vehicle
Your vehicle may have sustained damage by the motorcycle accident. You reserve the right to request financial remuneration to get your vehicle fixed, and on the off chance that it is a total loss, you may be entitled to the fair market value of your vehicle.
Pain and Suffering
The wounds you bear may cause you incredible anguish such as the loss of the ability to enjoy life. The suffering may not simply be physical; there may likewise be emotional injury connected to the accident.
Loss of Consortium
If you were married at the time of the accident, your spouse may be able to pursue damages for loss of consortium. This is a claim for the loss of services and support of the injured spouse.
Contact the legal team at Frankl Kominsky Injury Lawyers for your motorcycle injury claim. We are dedicated to helping you recover the damages and compensation you deserve.
What to Do After a Motorcycle Accident
Here are some steps you may choose to take if you become involved in a motorcycle accident:
Scene of the Crash
Never Leave the Scene
Never leave the area of the accident. You are legally required to remain until law enforcement officers arrive and conduct an investigation..
Get Medical Help
If you sustained injuries, be sure to undergo a complete medical examination. You may be taken by ambulance to the closest hospital. You can also visit your own personal physician.
Medical clinics in Vero Beach you can visit include Indian River Hospital and Encompass Health Rehabilitation Hospital of Treasure Coast, among others.
Report the Accident to the Police
Report the accident to the closest Vero Beach Police Department or call 911. The police will examine the location of the accident, gather proof, and talk with witnesses. Be sure to get the Drivers Exchange of Information or the accident report.
Eyewitness statements
If there were witnesses to your accident, take down their contact information including their name, email, phone number and address. Though the police will do it for you, you can help them by taking notes of their explanations.
Pictures from the area of the accident
Take photos of the area of the accident, the vehicles in question, and the close by road signs and instructions. You can also take photos of your injuries.
Other documentation of your wounds
Keep a diary of your injuries and note down how the wounds recuperate, how much time they are taking, and how your injuries interfere with your everyday life.
After the Crash
Collect Medical Records
Gather receipts of your medical expenses and records. Keep your discharge papers from the emergency room or clinic. Make duplicates and store them safely.
Obtain the Traffic Crash Report
With the crash report number of the accident report, you can go to the police station and request a copy of the accident report.
Speak to a Motorcycle Accident Lawyer
Consult with an experienced motorcycle accident lawyer who can offer legal guidance as to your motorcycle accident claim.
Don't Talk to Anyone Without Your Lawyer's Knowledge
The at-fault party's insurance representative may get in touch with you for a recorded statement. Avoid giving a recorded statement without first speaking with your attorney.
What Frankl Kominsky Injury Lawyers Can Do For You
Frankl Kominsky accident attorneys have over 40 years of combined experience, and in that time, they have managed to successfully serve 6000 clients. They have helped these clients recover monetary benefits to make up for the damage and trauma, financial and otherwise, that they faced when they encountered a personal injury accident.
Our legal team will investigate the details of the motorcycle accident case, collect evidence from the site of the accident, interview witnesses, obtain your doctor's medical reports of your injuries and negotiate with the at-fault party. If you are someone who has been injured as a result of a motorcycle accident, contact us for a free consultation and let us handle it from there.
At Frankl Kominsky Injury Lawyers, we offer our clients conscientious legal representation along with excellent client support. You can rest assured that the case is in good hands and that our lawyers are dedicated to getting you the justice that you deserve.
Free Consultation with a Motorcycle Accident Lawyer Serving Stuart
Frankl Kominsky offers a free consultation or free case reviews, reach out to Frankl Kominsky for any questions, appointments, or case evaluations by filling out the free case evaluation form. Or, you can simply call their office at 772-800-8000.