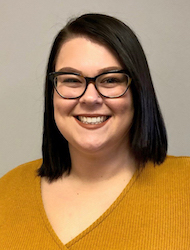 Brooke Reaves
Case Manager
Brooke Reaves is a Case Manager at Frankl Kominsky Injury Lawyers, tasked with opening claims, scheduling important meetings for attorneys and clients, and assisting and handling cases for her clients from the very beginning of their case to the end.
She has been a great addition to our team and prides herself on being personable and having a "can-do" attitude with all tasks. She also enjoys communicating with clients, medical providers, insurance companies and co-workers.
A West Virginia native, Brooke moved to Florida in June 2019. She holds a Bachelor's Degree in Political Science from Shepherd University and has over four years of legal experience. She has been providing support and assistance to her clients at Frankl Kominsky for nearly three years.