Electric Shock
Tenacious Premises Liability Attorneys Serving South Florida Residents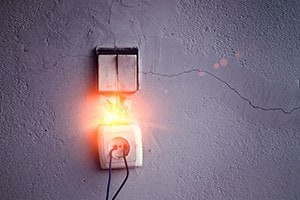 Electric shocks typically occur when a person comes into contact with a live electrical current. In many cases, the individual could have avoided harm if a property owner had taken reasonable measures to protect him or her from the hazard. The premises liability lawyers at Frankl & Kominsky offer seasoned and steadfast representation to victims of electric shock throughout South Florida. Our dedicated staff can help you hold a property owner accountable if you were hurt as a result of its negligence.
Electric Shock
Electric shocks may be minor, causing a tingling sensation in an extremity with no physical damage. High-voltage shocks, however, can cause serious brain damage, spinal cord injury, and burns. When this type of event causes cardiac arrest and death, it is an electrocution.
Some electric shocks occur at work or while using a defective product, but many are caused by dangerous property conditions, including downed or sagging power lines, broken or exposed electrical cords, and faulty wiring. If you suffered harm from an electrical current, you may have a viable claim for damages against the party in control of the site where the accident took place.
Hold Negligent Property Owners Accountable for Your Injuries
A property owner may be liable for your electric shock injury if you can prove that it was caused by the defendant's negligence. This means that you would have to demonstrate that:
You were owed a duty of care based on your visitor status;
The property owner breached this duty of care;
You were hurt as a result; and
You incurred quantifiable damages because of the accident.
Property owners in Florida have a duty to take reasonable measures to protect invitees and licensees from dangerous conditions on their premises. An invitee is someone on the property for a business purpose. If a visitor is an invitee, the property owner must promptly warn of or repair any hazards that it found or should have found through reasonable inspection. A licensee is invited onto the property for a social or public purpose. If the visitor is a licensee, the property owner must repair or warn of any known or hidden risks. If the visitor is a trespasser, he or she is owed no duty of care, except in some situations involving children.
Once you show that you fall into a protected category, you must identify the conduct that comprised the breach. For example, a store could be deemed to have violated its duty of care if it failed to promptly repair a downed wire outside its entrance. An electric company may also have acted unreasonably if it did not inspect and quickly repair its wires after a storm, and a person was electrocuted by a downed power line.
You must then connect the property owner's breach to your electric shock injury. The defendant's careless action and your harm have to be proximately linked for a negligence claim to succeed.
You may be able to recover damages from a property owner if its carelessness harmed you. Some forms of available compensation may include your medical costs, lost income, pain and suffering, and other damages. Family members can also bring an action for wrongful death if the victim was electrocuted. Florida gives injured people four years to file a claim, and it provides two years for surviving relatives to initiate a wrongful death lawsuit.
Discuss Your Accident Case with Knowledgeable Boynton Beach Lawyers
At Frankl & Kominsky, our accident attorneys can help you pursue a claim for damages if you were hurt near Boynton Beach or the surrounding communities by a negligent property owner. We will explore the events that resulted in your injuries, the extent of your damages, and your legal options. If we proceed with representing you, you can depend on our tenacity in seeking a favorable outcome on your behalf. We serve clients in Lake Worth, Palm Beach Gardens, and Miami, among other Florida cities. Call us today at (855) 800-8000 to schedule a no-obligation consultation, or fill out our online form. We are fluent in Spanish and Creole.