FDA Request Recall of All Zantac/ Ranitidine Products. Is This the Tip of a Much Larger Iceberg?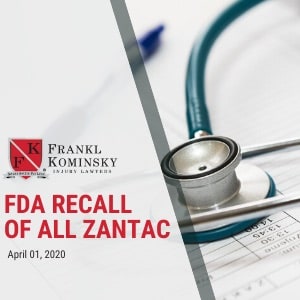 On 04/01/2020, the FDA requested that all makers of all ranitidine drugs (Zantac and generics) remove their products from the market. The reasoning cited by the FDA "The FDA has determined that the impurity in some ranitidine products increases over time and when stored at higher than room temperatures may result in consumer exposure to unacceptable levels of this impurity". See the entire press release at this link.
The reason the FDA has requested that all ranitidine (Zantac et.al) products be removed from the market goes far beyond the reasons currently stated in the FDA press release.
PRIMARY TOPICS COVERED IN THIS ARTICLE
The FDA may (and arguably should) demand the recall of all 'histamine H2-receptor antagonists' (227 approved products in total) as the "contamination issue" is not the primary defect or danger presented by these drugs. In more simple terms, these drugs most likely cause the production of high levels of N-Nitroso compounds when introduced in the human body, especially in individuals with higher than normal levels of acid in their stomach or GI tract. Why? 'Histamine H2-receptor antagonists are nitrosatable.
Nitrosatable: Capable of being converted into nitroso compounds also referred to as n-nitroso compounds. (See a list of n-nitroso compounds in appendix A below)
Nitrosatable Drug: Drugs Capable of being converted into nitroso compound also referred to as n- nitroso compounds.) Generally, the conversion to or production of the n- nitroso compound occurs when the drug interacts with the acidic compounds found in the stomach and gastrointestinal tract.
The litigation resulting from the current ranitidine requested recall may dramatically increase in scope over the next year, to include all 'histamine H2-receptor antagonists without regard to whether an individual consumed a product known to have been contaminated.
The litigation will be complex as under certain scenarios cases involved ANDA approved products (generics) may be foreclosed on by Pliva v. Mensing, while under other circumstances Pliva v. Mensing may not foreclose on claims involving generics (this subject will be more thoroughly covered in future articles)
The injuries or adverse events caused by the n-nitroso compounds, whether through contamination in the production process, aggravated by heat or due to the inherent nitrosatable properties of Histamine H2-receptor antagonists are not limited to cancer, the n-nitroso compounds produced by consumption of these drugs (without regard to contamination, not only are believed to cause cancer. The n-nitroso compounds in question are also known to cause major organ failure, stillbirths and birth defects. The fact that pregnant women often have issues with stomach acidity and consume 'histamine H2-receptor antagonists" to mitigate the pain associated with this ailment, is of significant concern to this researcher. (this subject will be more thoroughly covered in future articles)
THE ELEPHANT IN THE ROOM
The FDA's reasoning behind the requested recall of all ranitidine products being that the level or amount of the N-Nitroso impurity (contamination) increases when exposed to heat higher than room temperatures begs the following question:
Why is the FDA only requesting the removal of ranitidine products and not other products such as the various blood pressure medications (ie. Valsartan) that have also been found to be contaminated with N-Nitroso compounds?
There may be a simple answer to the question posed. Ranitidine like all other 'histamine H2-receptor antagonists' are nitrosatable while Valsartan et.al. drugs are not nitrosatable.
Histamine H2-Receptor Antagonists
Histamine H2-Receptor Antagonists also known as H2 blockers are a group of medicines that reduce the amount of acid produced by the cells in the lining of the stomach. They include cimetidine, famotidine, nizatidine, and ranitidine, and have various brand names, including Zantac. (See Appendix B1, a list of all FDA approved ranitidine and Appendix B2 for a list of all other FDA approved 'histamine H2-receptor antagonists' (141 products)
Individuals take H2-receptor antagonists due to pain caused lower than normal PH Levels (more acidic) stomach and gastrointestinal "juices" than normal. The lining of the stomach and other structures in the gastrointestinal tract are not designed to resist degradation by acids with lower PH (more acidic) than the normal levels found in healthy individuals.
The scientific literature supports the conclusion that the introduction of a Nitrosatable Drug in a patient with lower than normal (more acidic) PH levels in their Stomach and GI tract, produces higher levels of as n-nitroso compounds than are produced with that same drug is introduced into the body of an individual with normal PH levels (normal acid levels) in their Stomach and GI tract see:
See: N-Nitrosamines in gastric juice of patients with a gastric ulcer before and during treatment with histamine H2-receptor antagonists: https://link.springer.com/article/10.1007/BF02776810
REASONABLE CONCLUSION
Reasonable Conclusion: A Nitrosatable Drug designed to treat individuals known to have lower than normal PH levels in their Stomach and GI tract, is defective in concept and design in that the drug will arguably create higher levels of n- nitroso compounds in the group of individuals that the drug is intended to treat, versus a nitrosatable Drug designed to treat individuals not known to have lower than normal PH levels in their Stomach and GI tract (such as Valsartan). More simply stated, the drugs are intended to treat individuals with pre-existing conditions that make these individuals more susceptible to the significant adverse events that can result from consumption of the drug.
THE TIP OF A VERY LARGE ICEBERG
The issue arising from contamination certain lots of Valsartan and certain Ranitidine products was first brought to the attention of the FDA by a small company relatively young company Valisure, LLC (founded in 2015) operating out of New Haven Connecticut. See the record of communications between Valisure, LLC and the FDA at this link
Valisure's Harvard- and Yale-trained scientists have developed laser-based technology to analyze the chemical properties and ingredients of pharmaceutical products. The novel technology employs laser-induced, quantum shift emissions to address the variability and quality problems that pervade many pharmaceutical products throughout the US.
On an unrelated note that might be of interest to investors, Valisure, currently a privately held company, filed the required documents to make a public stock offering in 2019 see documents at this link
Shortly after Valisure filed its first petition related to its findings of NDMA and other n-nitroso compounds found in certain lots of blood pressure drugs (Valsartan et.al.) and antacid drugs (Zantac et.al) the FDA began a rapid-fire succession of actions designed to remove certain lots of these products from the market. See the relevant FDA actions at this link.
The fact that the FDA has now requested the removal of all ranitidine drugs from the market, (without regard to specific lot contamination) while not requesting the same of those non-nitrosatable drugs (Valsartan) for which contaminated lots have been discovered, lead this researcher to the conclusion that the issue with the ranitidine and other H2 blockers, goes far beyond the fact that a limited number of lots were found to be contaminated with the same harmful compounds the drug produces when introduced into the human body, without regard to additional contamination during the manufacturing process.
APENDIX A
LIST OF N-NITOROS COMPOUNDS
| | |
| --- | --- |
| NAA | N-nitrosoamino acids |
| NDBA | N-nitrosodibutylamine |
| NDBZA | N-nitrosodibenzylamine |
| NDEA | N-Nitrosodiethylamine |
| NDMA | N-Nitrosodimethylamine |
| NDPA | N-Nitrosodipropylamine |
| NHMT | N-nitroso-2-(hydroxymethyl)thiazolidine |
| NHMTCA | N-nitroso-2-hydroxymethylthiazolidine-4-carboxylic acid |
| NHPRO | N-nitroso-4-hydroxyproline |
| NMAMBA | N-nitroso-N-(1-methylacetonyl)-3-methylbutylamine |
| NMEA | N-Methyl-N-ethylnitrosamine |
| NMOCA | N-nitroso-5-methyloxazolidine-4-carboxylic acid |
| NMOR | N-nitrosomorpholine |
| NMTCA | N-nitroso-2-methylthiazolidine-4-carboxylic acid |
| NPIP | N-nitrosopiperidine |
| NPYR | N-nitrosopyrrolidine |
| NPRO | N-nitrosoproline |
| NSAR | N-nitrososarcosine |
| NTCA | N-nitrosothiazolidine-4-carboxylic acid |
| NTHZ | N-nitrosothiazolidine |
| NTHZCA | N-nitrosothiazolidine carboxylic acid and related homologues |
| N03 | Nitrate |
| NO2 | Nitrite |
APPENDIX B1
LIST OF ALL FDA APPROVED H2 RECEPTOR ANTAGONIST CONTAINING RANITINIDINE or RANITINIDINE HYRDROCHLORIDE ( 86 Products)
APENDIX B2
LIST OF ALL FDA APPROVED H2 RECEPTOR ANTAGONIST (141 Products)
AXID (NIZATIDINE) | NDA #021494 | SOLUTION;ORAL | BRAINTREE
AXID (NIZATIDINE) | NDA #019508 | CAPSULE;ORAL | SMITHKLINE BEECHAM
AXID AR (NIZATIDINE) | NDA #020555 | TABLET;ORAL | GLAXOSMITHKLINE
NIZATIDINE (NIZATIDINE) | ANDA #075934 | CAPSULE;ORAL | MYLAN PHARMS INC
NIZATIDINE (NIZATIDINE) | ANDA #075616 | CAPSULE;ORAL | WATSON LABS
NIZATIDINE (NIZATIDINE) | ANDA #075668 | CAPSULE;ORAL | ANI PHARMS INC
NIZATIDINE (NIZATIDINE) | ANDA #075806 | CAPSULE;ORAL | MYLAN PHARMS INC
NIZATIDINE (NIZATIDINE) | ANDA #075461 | CAPSULE;ORAL | ANI PHARMS INC
NIZATIDINE (NIZATIDINE) | ANDA #076383 | CAPSULE;ORAL | APOTEX INC
NIZATIDINE (NIZATIDINE) | ANDA #076178 | CAPSULE;ORAL | SANDOZ
NIZATIDINE (NIZATIDINE) | ANDA #090576 | SOLUTION;ORAL | AMNEAL PHARMS
NIZATIDINE (NIZATIDINE) | ANDA #090618 | CAPSULE;ORAL | GLENMARK GENERICS
NIZATIDINE (NIZATIDINE) | ANDA #077314 | CAPSULE;ORAL | DR REDDYS LABS LTD
TAGAMET (CIMETIDINE) | NDA #017920 | TABLET;ORAL | GLAXOSMITHKLINE
TAGAMET (CIMETIDINE HYDROCHLORIDE) | NDA #017924 | SOLUTION;ORAL | GLAXOSMITHKLINE
TAGAMET (CIMETIDINE HYDROCHLORIDE) | NDA #017939 | INJECTABLE;INJECTION | GLAXOSMITHKLINE
TAGAMET HB (CIMETIDINE) | NDA #020238 | TABLET;ORAL | MEDTECH PRODUCTS
TAGAMET HB 200 (CIMETIDINE) | NDA #020951 | SUSPENSION;ORAL | GLAXOSMITHKLINE
TAGAMET HYDROCHLORIDE IN SODIUM CHLORIDE 0.9% IN PLASTIC CONTAINER (CIMETIDINE HYDROCHLORIDE) | NDA #019434 | INJECTABLE;INJECTION | GLAXOSMITHKLINE
CIMETIDINE (CIMETIDINE) | ANDA #074890 | TABLET;ORAL | HIKMA
CIMETIDINE (CIMETIDINE) | ANDA #074948 | TABLET;ORAL | APOTEX
CIMETIDINE (CIMETIDINE) | ANDA #074972 | TABLET;ORAL | PERRIGO
CIMETIDINE (CIMETIDINE) | ANDA #074961 | TABLET;ORAL | CONTRACT PHARMACAL
CIMETIDINE (CIMETIDINE) | ANDA #074963 | TABLET;ORAL | CONTRACT PHARMACAL
CIMETIDINE (CIMETIDINE) | ANDA #075122 | TABLET;ORAL | SANDOZ INC
CIMETIDINE (CIMETIDINE) | ANDA #075285 | TABLET;ORAL | L PERRIGO CO
CIMETIDINE (CIMETIDINE) | ANDA #075345 | TABLET;ORAL | IVAX SUB TEVA PHARMS
CIMETIDINE (CIMETIDINE) | ANDA #075425 | TABLET;ORAL | WATSON LABS TEVA
CIMETIDINE (CIMETIDINE) | ANDA #074316 | TABLET;ORAL | WATSON LABS INC
CIMETIDINE (CIMETIDINE) | ANDA #074329 | TABLET;ORAL | CHARTWELL MOLECULES
CIMETIDINE (CIMETIDINE) | ANDA #074151 | TABLET;ORAL | TEVA
CIMETIDINE (CIMETIDINE) | ANDA #074246 | TABLET;ORAL | MYLAN
CIMETIDINE (CIMETIDINE) | ANDA #074250 | TABLET;ORAL | SANDOZ INC
CIMETIDINE (CIMETIDINE) | ANDA #074100 | TABLET;ORAL | YAOPHARMA CO LTD
CIMETIDINE (CIMETIDINE) | ANDA #074566 | TABLET;ORAL | PLIVA
CIMETIDINE (CIMETIDINE) | ANDA #074568 | TABLET;ORAL | PLIVA
CIMETIDINE (CIMETIDINE) | ANDA #074361 | TABLET;ORAL | CYCLE PHARMS LTD
CIMETIDINE (CIMETIDINE) | ANDA #074463 | TABLET;ORAL | TEVA
CIMETIDINE (CIMETIDINE) | ANDA #074349 | TABLET;ORAL | WATSON LABS INC
CIMETIDINE (CIMETIDINE) | ANDA #074339 | TABLET;ORAL | DAVA PHARMS INC
CIMETIDINE (CIMETIDINE) | ANDA #074340 | TABLET;ORAL | DAVA PHARMS INC
CIMETIDINE (CIMETIDINE) | ANDA #074401 | TABLET;ORAL | IVAX SUB TEVA PHARMS
CIMETIDINE (CIMETIDINE) | ANDA #074402 | TABLET;ORAL | IVAX SUB TEVA PHARMS
CIMETIDINE (CIMETIDINE) | ANDA #074365 | TABLET;ORAL | TEVA
CIMETIDINE (CIMETIDINE) | ANDA #074371 | TABLET;ORAL | CYCLE PHARMS LTD
CIMETIDINE (CIMETIDINE) | ANDA #074506 | TABLET;ORAL | UPSHER SMITH LABS
CIMETIDINE (CIMETIDINE) | ANDA #074424 | TABLET;ORAL | IVAX SUB TEVA PHARMS
CIMETIDINE HYDROCHLORIDE (CIMETIDINE HYDROCHLORIDE) | ANDA #074428 | INJECTABLE;INJECTION | DAVA PHARMS INC
CIMETIDINE HYDROCHLORIDE (CIMETIDINE HYDROCHLORIDE) | ANDA #074344 | INJECTABLE;INJECTION | HOSPIRA
CIMETIDINE HYDROCHLORIDE (CIMETIDINE HYDROCHLORIDE) | ANDA #074345 | INJECTABLE;INJECTION | HOSPIRA
CIMETIDINE HYDROCHLORIDE (CIMETIDINE HYDROCHLORIDE) | ANDA #074353 | INJECTABLE;INJECTION | LUITPOLD
CIMETIDINE HYDROCHLORIDE (CIMETIDINE HYDROCHLORIDE) | ANDA #074412 | INJECTABLE;INJECTION | HOSPIRA
CIMETIDINE HYDROCHLORIDE (CIMETIDINE HYDROCHLORIDE) | ANDA #074422 | INJECTABLE;INJECTION | HOSPIRA
CIMETIDINE HYDROCHLORIDE (CIMETIDINE HYDROCHLORIDE) | ANDA #074541 | SOLUTION;ORAL | CYCLE PHARMS LTD
CIMETIDINE HYDROCHLORIDE (CIMETIDINE HYDROCHLORIDE) | ANDA #074553 | SOLUTION;ORAL | PHARM ASSOC
CIMETIDINE HYDROCHLORIDE (CIMETIDINE HYDROCHLORIDE) | ANDA #074610 | SOLUTION;ORAL | ANI PHARMS INC
CIMETIDINE HYDROCHLORIDE (CIMETIDINE HYDROCHLORIDE) | ANDA #074664 | SOLUTION;ORAL | HI TECH PHARMA
CIMETIDINE HYDROCHLORIDE (CIMETIDINE HYDROCHLORIDE) | ANDA #074005 | INJECTABLE;INJECTION | VINTAGE PHARMS LLC
CIMETIDINE HYDROCHLORIDE (CIMETIDINE HYDROCHLORIDE) | ANDA #074251 | SOLUTION;ORAL | LANNETT CO INC
CIMETIDINE HYDROCHLORIDE (CIMETIDINE HYDROCHLORIDE) | ANDA #074252 | INJECTABLE;INJECTION | TEVA PARENTERAL
CIMETIDINE HYDROCHLORIDE (CIMETIDINE HYDROCHLORIDE) | ANDA #074176 | SOLUTION;ORAL | G AND W LABS INC
CIMETIDINE HYDROCHLORIDE (CIMETIDINE HYDROCHLORIDE) | ANDA #074296 | INJECTABLE;INJECTION | HOSPIRA
CIMETIDINE HYDROCHLORIDE (CIMETIDINE HYDROCHLORIDE) | ANDA #075560 | SOLUTION;ORAL | PHARM ASSOC
CIMETIDINE HYDROCHLORIDE (CIMETIDINE HYDROCHLORIDE) | ANDA #075110 | SOLUTION;ORAL | ANI PHARMS INC
CIMETIDINE HYDROCHLORIDE (CIMETIDINE HYDROCHLORIDE) | ANDA #074757 | SOLUTION;ORAL | WOCKHARDT BIO AG
CIMETIDINE HYDROCHLORIDE (CIMETIDINE HYDROCHLORIDE) | ANDA #074859 | SOLUTION;ORAL | ANI PHARMS INC
CIMETIDINE HYDROCHLORIDE IN SODIUM CHLORIDE 0.9% IN PLASTIC CONTAINER (CIMETIDINE HYDROCHLORIDE) | ANDA #074269 | INJECTABLE;INJECTION | HOSPIRA
CIMETIDINE HYDROCHLORIDE IN SODIUM CHLORIDE 0.9% IN PLASTIC CONTAINER (CIMETIDINE HYDROCHLORIDE) | ANDA #074468 | INJECTABLE;INJECTION | HOSPIRA
PEPCID (FAMOTIDINE) | NDA #019462 | TABLET;ORAL | VALEANT PHARMS NORTH
PEPCID (FAMOTIDINE) | NDA #019510 | INJECTABLE;INJECTION | MERCK
PEPCID (FAMOTIDINE) | NDA #019527 | FOR SUSPENSION;ORAL | SALIX PHARMS
PEPCID AC (FAMOTIDINE) | NDA #020902 | TABLET;ORAL | J AND J CONSUMER INC
PEPCID AC (FAMOTIDINE) | NDA #020801 | TABLET, CHEWABLE;ORAL | J AND J CONSUMER INC
PEPCID AC (FAMOTIDINE) | NDA #020325 | TABLET;ORAL | J AND J CONSUMER INC
PEPCID COMPLETE (CALCIUM CARBONATE; FAMOTIDINE; MAGNESIUM HYDROXIDE) | NDA #020958 | TABLET, CHEWABLE;ORAL | J AND J CONSUMER INC
PEPCID PRESERVATIVE FREE (FAMOTIDINE) | NDA #019510 | INJECTABLE;INJECTION | MERCK
PEPCID PRESERVATIVE FREE IN PLASTIC CONTAINER (FAMOTIDINE) | NDA #020249 | INJECTABLE;INJECTION | MERCK SHARP DOHME
PEPCID RPD (FAMOTIDINE) | NDA #020752 | TABLET, ORALLY DISINTEGRATING;ORAL | MERCK
FAMOTIDINE (FAMOTIDINE) | ANDA #201695 | FOR SUSPENSION;ORAL | NOVEL LABS INC
FAMOTIDINE (FAMOTIDINE) | ANDA #201995 | FOR SUSPENSION;ORAL | HI-TECH PHARMA CO
FAMOTIDINE (FAMOTIDINE) | ANDA #206530 | TABLET;ORAL | AUROBINDO PHARMA LTD
FAMOTIDINE (FAMOTIDINE) | ANDA #206531 | TABLET;ORAL | AUROBINDO PHARMA LTD
FAMOTIDINE (FAMOTIDINE) | ANDA #077146 | TABLET;ORAL | WOCKHARDT
FAMOTIDINE (FAMOTIDINE) | ANDA #077351 | TABLET;ORAL | PERRIGO R AND D
FAMOTIDINE (FAMOTIDINE) | ANDA #077352 | TABLET;ORAL | PERRIGO R AND D
FAMOTIDINE (FAMOTIDINE) | ANDA #077367 | TABLET;ORAL | DR REDDYS LABS LTD
FAMOTIDINE (FAMOTIDINE) | ANDA #075942 | INJECTABLE;INJECTION | APOTEX INC
FAMOTIDINE (FAMOTIDINE) | ANDA #076101 | TABLET;ORAL | SANDOZ
FAMOTIDINE (FAMOTIDINE) | ANDA #078641 | INJECTABLE;INJECTION | MYLAN LABS LTD
FAMOTIDINE (FAMOTIDINE) | ANDA #078916 | TABLET;ORAL | ALEMBIC PHARMS LTD
FAMOTIDINE (FAMOTIDINE) | ANDA #091020 | FOR SUSPENSION;ORAL | NAVINTA LLC
FAMOTIDINE (FAMOTIDINE) | ANDA #090283 | TABLET;ORAL | SUN PHARM INDS LTD
FAMOTIDINE (FAMOTIDINE) | ANDA #090837 | TABLET;ORAL | WOCKHARDT
FAMOTIDINE (FAMOTIDINE) | ANDA #090440 | FOR SUSPENSION;ORAL | LUPIN LTD
FAMOTIDINE (FAMOTIDINE) | ANDA #075062 | TABLET;ORAL | WATSON LABS
FAMOTIDINE (FAMOTIDINE) | ANDA #075192 | INJECTABLE; INJECTION | MARSAM PHARMS LLC
FAMOTIDINE (FAMOTIDINE) | ANDA #075193 | INJECTABLE; INJECTION | MARSAM PHARMS LLC
FAMOTIDINE (FAMOTIDINE) | ANDA #075194 | INJECTABLE; INJECTION | MARSAM PHARMS LLC
FAMOTIDINE (FAMOTIDINE) | ANDA #075302 | TABLET;ORAL | PLD ACQUISITIONS
FAMOTIDINE (FAMOTIDINE) | ANDA #075311 | TABLET;ORAL | TEVA
FAMOTIDINE (FAMOTIDINE) | ANDA #075312 | TABLET;ORAL | TEVA
FAMOTIDINE (FAMOTIDINE) | ANDA #075400 | TABLET;ORAL | PERRIGO
FAMOTIDINE (FAMOTIDINE) | ANDA #075404 | TABLET;ORAL | WATSON LABS
FAMOTIDINE (FAMOTIDINE) | ANDA #075457 | TABLET;ORAL | MYLAN PHARMS INC
FAMOTIDINE (FAMOTIDINE) | ANDA #075511 | TABLET;ORAL | IVAX SUB TEVA PHARMS
FAMOTIDINE (FAMOTIDINE) | ANDA #075512 | TABLET;ORAL | P AND L
FAMOTIDINE (FAMOTIDINE) | ANDA #075607 | TABLET;ORAL | SANDOZ
FAMOTIDINE (FAMOTIDINE) | ANDA #075610 | TABLET;ORAL | APOTEX
FAMOTIDINE (FAMOTIDINE) | ANDA #075611 | TABLET;ORAL | APOTEX
FAMOTIDINE (FAMOTIDINE) | ANDA #075639 | TABLET;ORAL | SUN PHARM INDUSTRIES
FAMOTIDINE (FAMOTIDINE) | ANDA #075650 | TABLET;ORAL | ACTAVIS ELIZABETH
FAMOTIDINE (FAMOTIDINE) | ANDA #075651 | INJECTABLE;INJECTION | ATHENEX INC
FAMOTIDINE (FAMOTIDINE) | ANDA #075488 | INJECTABLE;INJECTION | WEST-WARD PHARMS INT
FAMOTIDINE (FAMOTIDINE) | ANDA #075674 | TABLET;ORAL | MYLAN
FAMOTIDINE (FAMOTIDINE) | ANDA #075684 | INJECTABLE;INJECTION | ATHENEX INC
FAMOTIDINE (FAMOTIDINE) | ANDA #075704 | TABLET;ORAL | MYLAN
FAMOTIDINE (FAMOTIDINE) | ANDA #075705 | INJECTABLE;INJECTION | HOSPIRA
FAMOTIDINE (FAMOTIDINE) | ANDA #075707 | INJECTABLE;INJECTION | APOTHECON
FAMOTIDINE (FAMOTIDINE) | ANDA #075709 | INJECTABLE;INJECTION | FRESENIUS KABI USA
FAMOTIDINE (FAMOTIDINE) | ANDA #075715 | TABLET, CHEWABLE;ORAL | PERRIGO
FAMOTIDINE (FAMOTIDINE) | ANDA #075718 | TABLET;ORAL | DR REDDYS LABS LTD
FAMOTIDINE (FAMOTIDINE) | ANDA #075793 | TABLET;ORAL | SANDOZ
FAMOTIDINE (FAMOTIDINE) | ANDA #075799 | INJECTABLE;INJECTION | WEST-WARD PHARMS INT
FAMOTIDINE (FAMOTIDINE) | ANDA #075805 | TABLET;ORAL | CARLSBAD
FAMOTIDINE (FAMOTIDINE) | ANDA #075786 | TABLET;ORAL | CELLTRION
FAMOTIDINE (FAMOTIDINE) | ANDA #075870 | INJECTABLE;INJECTION | HOSPIRA
FAMOTIDINE (FAMOTIDINE) | ANDA #075905 | INJECTABLE;INJECTION | HOSPIRA
FAMOTIDINE PRESERVATIVE FREE (FAMOTIDINE) | ANDA #075813 | INJECTABLE;INJECTION | FRESENIUS KABI USA
FAMOTIDINE PRESERVATIVE FREE (FAMOTIDINE) | ANDA #075825 | INJECTABLE;INJECTION | ATHENEX INC
FAMOTIDINE PRESERVATIVE FREE (FAMOTIDINE) | ANDA #075708 | INJECTABLE;INJECTION | APOTHECON
FAMOTIDINE PRESERVATIVE FREE (FAMOTIDINE) | ANDA #075669 | INJECTABLE;INJECTION | HOSPIRA
FAMOTIDINE PRESERVATIVE FREE (FAMOTIDINE) | ANDA #075622 | INJECTABLE;INJECTION | ATHENEX INC
FAMOTIDINE PRESERVATIVE FREE (FAMOTIDINE) | ANDA #075486 | INJECTABLE;INJECTION | WEST-WARD PHARMS INT
FAMOTIDINE PRESERVATIVE FREE (FAMOTIDINE) | ANDA #078642 | INJECTABLE;INJECTION | MYLAN LABS LTD
FAMOTIDINE PRESERVATIVE FREE (FAMOTIDINE) | ANDA #075789 | INJECTABLE;INJECTION | WEST-WARD PHARMS INT
FAMOTIDINE PRESERVATIVE FREE (FAMOTIDINE) | ANDA #076324 | INJECTABLE;INJECTION | APOTEX INC
FAMOTIDINE PRESERVATIVE FREE (PHARMACY BULK) (FAMOTIDINE) | ANDA #076322 | INJECTABLE;INJECTION | APOTEX INC
FAMOTIDINE PRESERVATIVE FREE IN PLASTIC CONTAINER (FAMOTIDINE) | ANDA #075591 | INJECTABLE;INJECTION | BAXTER HLTHCARE
FAMOTIDINE PRESERVATIVE FREE IN PLASTIC CONTAINER (FAMOTIDINE) | ANDA #075729 | INJECTABLE;INJECTION | ABBVIE
FAMOTIDINE, CALCIUM CARBONATE, AND MAGNESIUM HYDROXIDE (CALCIUM CARBONATE; FAMOTIDINE; MAGNESIUM HYDROXIDE) | ANDA #077355 | TABLET, CHEWABLE;ORAL | PERRIGO R AND D
FAMOTIDINE, CALCIUM CARBONATE, AND MAGNESIUM HYDROXIDE (CALCIUM CARBONATE; FAMOTIDINE; MAGNESIUM HYDROXIDE) | ANDA #204782 | TABLET, CHEWABLE;ORAL | PERRIGO R AND D