Florida Amputation Injury Lawyer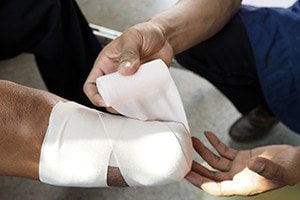 Being one of the metropolitan states in the U.S, Florida frequently has a wide array of accident cases ranging minor injuries to traumatic amputations. Currently, 1.9 million people are forced to live without a limb in the United States. This is approximately 185,000 amputations per year, and the number is expected to increase due to the constant occurrence of dangerous accidents on a daily basis. In 2014, about 11,173 amputations were performed mainly due to severe accidents and diabetes. According to statistics over the past years, there was a 32.24% increase in the number of total amputations that were carried out in the years 1997-2014.
If you or a loved one has lost a limb in an accident resulting from another person's negligence, contact the law firm of Frankl Kominsky Injury Lawyers. We are dedicated to fight for compensation on behalf of injured individuals. We offer a free initial consultation and case evaluation. Let us help you protect your rights and pursue the damages that you deserve.
What Is Considered An Amputation Injury?
An amputation refers to the partial or complete removal of a limb such as an arm, leg, foot or toe, caused by an unexpected accident. It ranges from the loss of a finger to the loss of an arm or a leg. The loss of a limb results may result in a significant amount of blood loss, immobilization, physiological effects, or even death. The most common amputation/loss of limb occurs in the upper or lower part of the knee. Amputations are irreversible, and many people require prosthetics or reconstructive surgeries after going through a catastrophic incident.
The severity of medical complications and time to recover depends upon the site of injury. In some cases, there is a complete amputation in which a finger or a toe has been completely removed from the body.
In other circumstances, the injury victim might go through a partial amputation. This refers to a situation in which some soft-tissue connection remains. Therefore, according to the nature of the injury, a surgeon may be able to reattach the limb.
Recovery after an amputation is not an easy one. Along with the long period of time it takes to heal, your mental and emotional health may also be affected adversely. Lack of movement and less stamina can lead to a downward spiral on your personal and professional life.
Types of Amputation Injuries in Florida
The following is an explanation of the types of amputations and the areas of the body that are commonly affected.
Traumatic Amputation
Broadly speaking, it would be reasonable to say that all amputations are traumatic. However, traumatic amputation is basically the way in which the amputation has occurred. This could be either the result of a sudden, unfortunate event or an instance where a person is knowingly in a hazardous or fatal situation, such as a truck accident, a slip and fall incident or in mishandling machinery. Traumatic amputations are usually said to be life-threatening, but due to the ongoing advancements in medical procedures, the chances of survival are considerably better as compared to previous decades.
Prompt arrival of medical services at the accident site along with quick treatment can prevent blood loss and remove the patient out of danger. In traumatic amputations, a limb cannot be reattached, and a surgery may have to be performed in order to shape the bone.
Surgical Amputation
The most common reason why surgical amputation occurs is because of the complications that arise in the blood vessels. Precisely, this happens when the blood's supply to the limbs has stopped, and a symptom called 'necrosis' appears that causes the tissue to die prematurely. Surgical amputation is carried out as part of emergency treatment in order to save the patient's life, in the event of an accident or industrial equipment failure, because the bones and tissues have been so badly damaged that they cannot be reconstructed.
All in all, surgical amputation is the last resort. Moreover, there are also instances where the amputations are carried many years after the initial injury. For example, an individual may have undergone major joint reconstruction. A few years later, health complications arise, and their condition starts to worsen and a joint replacement surgery is needed immediately. However, the bone has weakened over time and cannot withstand the pain that comes along with proper surgery, making surgical amputation the last option.
Areas of Amputation
Different amputations affect patients in different ways. An amputation may happen to any of the body's limbs and extremities, whether it is the upper or lower part of the body. The following are the two areas of amputation categorized by the part of the body that is removed.
Upper Limb Amputation: This implies to the arms, hands or fingers and can be categorized according to the following:
Shoulder disarticulation – this is amputation of the entire arm at your shoulder level. It is basically the amputation through the shoulder itself.
Forequarter amputation – this is similar to the shoulder disarticulation but also involves the removal of the shoulder, the collarbone, as well as the shoulder blade.
Trans-humeral amputation- this is called as the amputation of the upper arm between the elbow and the shoulder.
Elbow disarticulation – amputation of the elbow joint
Wrist disarticulation – amputation of the wrist joint
Metacarpal amputation – this is basically the partial removal of the hand, where only a part of the hand is removed, and the wrist is kept intact.
Lower Limb Amputation: This refers to the amputations of the legs, feet or toes. The following is a brief insight into lower limb amputation.
Pelvic amputation – this is also known as hemipelvectomy, which is a type of lower-extremity amputation and includes the removal of up to half of the pelvis areas and the leg as well. There are two categories of pelvic amputations:

Internal – this is where the leg is kept intact, but a part of the pelvic is removed
External – in this, the leg has to be removed along with the part of the pelvis.

Hip disarticulation –amputation of the leg through the hip joint.
Transfemoral amputation – an amputation that occurs through the thighbone.
Ankle disarticulation – this refers to the removal of the ankle joint itself.
Digit amputation – an amputation that involves the removal of the toe or just a partial removal such as the tip.
Causes of Amputation Injuries
Here, we have a list of some of the common causes of amputation injuries in Florida.
Traffic accidents – this includes all outdoor accidents occurring from trains, motorcycles or even bicycles.
Workplace/construction accidents – dangerous working conditions involving loading and transporting heavy equipment usually leads to employees getting hurt and losing one of their limbs. Apart from that, the surroundings of the construction sites are also equally hazardous due to the cranes and other machinery.
Electrocution accidents – electrocution is one of the most common causes of amputation as it destroys the blood vessels in a matter of seconds. If the affected part of the body is not treated immediately, a surgical amputation may possibly be the only option.
Agricultural accidents – usage of lawnmowers at agricultural sites causes unfortunate accidents that ultimately require surgery or the immediate removal of the affected limb.
Explosive accidents – military casualties are a norm when it comes to explosive accidents. However, it is important to treat the victim to stop blood loss.
Medical malpractice – Amputations are sometimes the result of negligence by a doctor or a health care provider. For instance, removing the limb may have been medically unnecessary, or it may have become necessary only because of poor post-surgery care that resulted in an infection such as gangrene.
If you underwent an amputation and believe it was caused by someone else's negligence, you can try to hold that party accountable for your injury. Our compassionate and dedicated attorneys will evaluate your claim and offer guidance as to your legal options.
Can You File a Claim for Amputation Injuries Following an Accident in Florida?
Just like in any other accident or personal injuries, injuries that lead to amputations are also eligible for claims or lawsuits against the responsible parties, and the victims may be entitled to compensation and damages in return.
Current and projected medical treatment bills

Your medical expenses can include everything from the immediate hospital bills, diagnostic testing, medical prescriptions, physical therapy, surgical operations costs and even long term care facilities. Depending on the nature of the amputation injury you have sustained, the costs will vary. The medical bills, along with the arrangement of the prosthetic limbs, and other long-term care items, as well as rehabilitation and therapy, can be substantial and should be compensated.

Loss of job and future income potential

Due to the severity of injuries and medical treatment, the victim might not be able to work for some time. As such, the money that they earn for themselves and their families will be affected. Even after the initial treatment, patients might be confined to a long period of bed rest or might require physical therapy to get back to their normal routines. Some might be unable to work in the capacity every again. The damages should accommodate this and provide some financial safety for people already going through trying times.

Pain and Suffering

The pain and suffering the person goes through in the wake of the amputation injuries might be deeper than an observer could imagine. Besides the physical pain from the injury, there is a lot of mental anguish involved too. Though it cannot be quantified, victims may be eligible to pursue compensation for the pain, both physical and mental that they had to go through as a result of the amputation injuries.
How Long Do You have to File an Amputation Injury Lawsuit in Florida
Florida's Statute of Limitation provides that lawsuits based on ordinary negligence have a four-year statute of limitations. This means that you have four years from the date your injury occurred to file a lawsuit. If you do not file your lawsuit within the Statute of Limitations, the court will likely dismiss your case and you may be barred from pursuing your claim.
How Comparative Fault Can Affect Your Amputation Injury Claim
Victims are often sceptical as to whether or not to pursue an injury claim, particularly if they feel they may be partially at fault. This dilemma brings up the issue surrounding comparative fault. Since Florida is a comparative fault state, you still may be able to pursue a claim; however, your compensatory damages will likely be reduced by your percentage at fault. For additional information and guidance, you should contact an experienced personal injury attorney.
Should You Hire a Personal Injury Attorney?
Frankl Kominsky Injury Lawyers have over 40 years of combined legal experience. They have served over 6000 clients successfully, and have helped them recover financial compensation to make up for the losses and damages, financial and otherwise, that they had to go through as a direct consequence of the negligence of the other parties.
They strive to investigate the details of the case, establish liability of the at-fault party, confirm insurance coverage and gather documentation of your injuries, expenses, lost wages and pain and suffering. Our legal team will handle all communications and negotiations with the liable party's insurance company and attorneys.
If you or your loved one have been injured which resulted in an amputation, let us help you fight for the compensation you deserve. Our compassionate attorneys will handle your claim and keep you informed so that you can focus on your recovery.
Start Your Free Consultation with Frankl Kominsky Injury Lawyers
Frankl Kominsky Injury Lawyers offer a free consultation and case reviews. If you would like to speak with our dedicated and experienced injury lawyers, reach out to Frankl Kominsky Injury Lawyers for any questions, appointments, or case evaluations by filling out the free case evaluation form.
A prosthetic limb on an amputated patient