Florida Broken Bones Injury Lawyer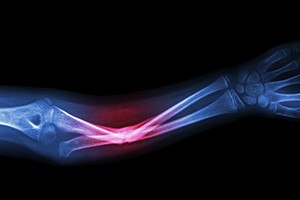 Accidents including motor vehicle crashes, slip or trip and falls, work injuries or medical malpractice all have the potential of leaving victims with broken or fractured bones. This ranges from hairline fractures to extensive bone damage which may require bone grafting. Repairing broken bones can be a painful and costly process. In addition, these fractures may leave you impaired for life, alter your physical movements and cause other problems that impact you negatively.
If you or someone you love have suffered from broken bones due to an accident caused by the negligence of another, you may be eligible to pursue a claim for damages. Contact Frankl Kominsky Injury Lawyers for a free consultation and case evaluation. Our dedicated legal team is available to help you understand your rights.
Read on as we look at the common accidents that cause broken or fractured bones and the damages you can pursue against the at-fault party.
What Are Broken Bones?
Broken bones, including fractures, occur through accidents that cause a heavy impact on the body. These accidents include slip and falls, trip and falls and motor vehicle accidents. The physical force has to be strong enough to break or fracture something as solid as your bones. Bones may shatter into multiple fragments or become disjointed or misaligned.
The process of repairing broken bones is twofold: the first step involves repairing the bone if it is partially or completely broken. The next step involves realigning the bone so that it fits into its original position and doesn't affect your posture and day to day movement.
In some cases, such as an open fracture, the broken bones pierce through your skin which can lead to blood loss and also expose the wound to the risk of infection. For these types of injuries, surgery will be necessary.
Broken bones may require setting and casting, bone grafting, surgery and physical therapy to help victims recover and retain mobility; in some cases, the victims may never recover completely.
What Are the Common Types of Broken Bone Fractures in Florida?
Accidents lead to broken bones and fractures of different kinds including:
Simple Fractures: these do not pierce through the skin and are relatively easier to repair. They are also known as closed fractures.
Open Fractures: these breaks pierce through the skin.
Incomplete Fractures: visible and large cracks in the bone which don't actually split it.
Complete Fractures: the bone splits into multiple pieces.
Hairline Fractures: a small crack in the bone.
Compacted Fractures: a break caused by the collision of two or more bones.
Displaced Fractures: misalignment of broken bone pieces.
Comminuted Fracture: a bone shattering into multiple tiny shards.
Your physician will discuss the type of fracture you have, the procedures and treatments involved, the estimated expenses, the time required to recover and the potential future costs that will be generated.
What is the Average Cost of Treating Broken Bone Injuries?
Broken bones are not only painful but also expensive to repair. The average cost of surgery can be upwards of $3,000. To this, you will need to add the expense of:
Diagnostic testing such as X-rays
Medical prescriptions
Ambulance ride to the hospital
Physical therapy
Surgery and if necessary, the hospital stay
Follow up visits to your doctor
The overall expense of treating broken bones can be costly. The attorneys at Frankl Kominsky are available to try and help victims of accidents in Palm Beach County. Contact us for a case evaluation and let us fight for the compensation you deserve.
What are Some Common Causes for Broken Bones in Palm Beach County?
Broken bones are likely to occur anywhere, anytime due to a range of reasons such as the following types of accidents:
Auto Accidents

The force and impact of an auto accident like a truck or a motorcycle accident jerks the body of the victim and causes them to hit against the interior of the vehicle. This may lead to broken bones, especially in the wrists, hips and legs.

Road accidents may occur in a number of ways including:

Head on collisions involving drivers driving on the wrong side
Rear end collisions with drivers speeding or driving recklessly
Accidents involving truck drivers not following truck routes
Not having a valid license or operating a commercial vehicle without the right license
Pedestrians or smaller vehicles caught in the blindside of a car or truck
Driving under the influence of alcohol or drugs
Underage and nighttime driving
Distracted driving including texting, talking on the phone and eating while driving
Improperly serviced trucks and commercial vehicles
Vehicles with faulty brakes or non-functioning air bags.

Slip-and-Falls

Another leading cause of broken bones are slip and falls. They are a higher risk for people who fall from a height and those who are senior or suffer from weak bones. Slip, trip and falls may occur in a range of circumstances including:

Slipping in a dimly lit parking lot or a parking garage with uneven flooring
Tripping on objects on the floor
Rickety stairs, broken steps or broken bannisters
Falling in a shopping mall, grocery stores or retail outlet
Slipping on spilled liquid
Tripping in the outdoor space of a public building
Falling on school or sports grounds
Broken tiles, damaged flooring, etc.
Damp, sticky or oily surfaces that were not labeled properly

Misdiagnosis & Surgical Error

In some cases, people may have pre-existing conditions that weaken their bones, and they may suffer from broken bones without the negligence of a third party. However, if a doctor fails to diagnose this properly, then the injury can potentially become the cause of medical malpractice.

Accidents that Occur On-the-Job

Workplace accidents such as trips and falls may occur to employees while they are performing tasks related to their job description.
Damages That Can Be Pursued in a Broken Bones Claim
If you've suffered from broken bones in an accident, you can pursue a claim for damages including:
Medical Expenses

This includes emergency care after an accident occurs, diagnostic testing such as X-rays, MRI scans and CT scans; prescription medication, follow up doctor visits, surgery, physical therapy, medical equipment such as crutches or casts, and so on. It also includes future medical expenses such as at-home medical care, installing new home equipment such as ramps to help the victim, additional medical treatment and physical therapy.

Lost Wages

Victims may be unable to work while they are recovering from their injuries and attending doctor appointments. If some or all their injuries are permanent, they may face unemployment, or they may have reduced earning potential from what they were capable of before their accident. Claims for lost wages and lost earning potential can be pursued.

Pain and Suffering

This includes the loss of the ability for the enjoyment of life as well as any inability they may face in performing basic daily tasks. Victims may be unable to travel or enjoy other leisurely activities as well.
Comparative Negligence
If an accident occurred for which you were partly responsible, be aware that you can still pursue a claim for damages. Florida is a comparative negligence state. This means that if you were partially liable, you can still pursue a claim for damages, but your compensation will be reduced by your percentage of fault.
What to Do if You Were in An Accident
If you were in an accident that led to broken bones, here are some steps you may choose to follow:
Firstly, do not leave the site of the accident until paramedics or EMS have arrived. Call 911. The paramedics at the scene will assess your injuries and you may be transported via ambulance to a local hospital for treatment.
Attain a copy of the accident or incident report. Take photos of the scene of the accident including any vehicle damage. If there were any witnesses, get their contact information.
Be sure to keep records of all of your medical documentation including discharge papers, emergency care bills, surgery reports, medical prescriptions, diagnostic testing, an estimate of future costs from your medical practitioner, and so on.
If you are contacted by the at-fault party's insurance company, it is advisable that you avoid giving a recorded statement or signing any document without first speaking to an experienced personal injury attorney. Frank and Kominsky Injury Lawyers offer a free initial consultation and case evaluation. We know that a catastrophic injury can cause long term consequences for your family. Let us help you pursue compensation for your injuries and damages.
Hiring a Personal Injury Attorney for Your Broken Bones Injury Case
Our accidents attorneys are ready to assist you in your Palm Beach County broken bone injury claim. We will help you pursue damages against those responsible for your injuries. These may include:
Obtain the accident report
Interview witnesses
Collect medical records, medical expenses and documentation for projected future expenses
Establish liability of the at-fault party
Obtain evidence of lost wages
Consult with experts including accident reconstructionists if warranted
Handle all communication with the insurance company and all liable parties
Try to negotiate a settlement with the insurance company of the at-fault party
File a lawsuit and represent your interests in court if necessary
At Frankl Kominsky Injury Lawyers, our attorneys are dedicated to pursuing full compensation for your injuries.
What Your Lawyer Will Do For Your Broken Bone Injury Case
While the types of broken bone injuries you sustain may vary, the majority of these injuries occur due to the negligence of others involved. Your personal injury lawyer will be responsible for:
Show a sense of ownership and responsibility of the at-fault party such as being behind the wheel vehicle that caused the accident, being in charge or owning the property where the accident occurred, and so on.
Show that the at-fault party was negligent and careless in their actions such as drunk driving, speeding, etc.
Establish a connection between your broken bone injuries and the accident.
Lay out the losses incurred through the accident and the injuries sustained.
Free Consultation with Frankl Kominsky Injury Lawyers
If you or your loved one has sustained broken bones in an accident due to the negligence of someone else, you may be able to pursue a claim for damages against those responsible. Contact us for a free consultation with Frankl Kominsky Injury Lawyers who are available 7 days a week for home and hospital visits. The first visit is free and is a chance for you to learn about your legal options and rights. Contact us through our website or call at:
(561) – 800 – 8000, Boynton Beach
(954) – 800 – 8000, Pompano Beach
Our dedicated attorneys have recovered millions of dollars in settlements and verdicts and have 40+ years of combined legal experience to help with your accident case. The accident lawyers at Frankl Kominsky are ready to pursue the compensation you need for your broken bones and other harm, so that you can get started on the road to recovery.
Broken and fractured bones may result due to a variety of reasons including car accidents, slip and falls, or work injuries. Our legal team is available to evaluate your case and will try to answer any questions you may have. We are dedicated to helping you recover the compensation you deserve.