Personal Injury Lawyer Serving Greenacres
Attorneys Helping Accident Victims in Greenacres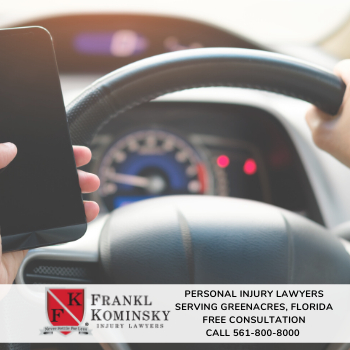 The city of Greenacres is situated just a few miles from the Atlantic Ocean in Palm Beach County, Florida. A popular attraction for residents and visitors alike is Hoffman's Chocolate Factory , which has been serving the community with gourmet chocolate for decades. In addition, there is also the Atlantis Skateway for family entertainment. For each of the last 21 years, Greenacres has earned a "Tree City USA" designation.
Just as with any other small city in the United States, a number of people in this community are injured in accidents each year. If you were hurt due to the carelessness of another person in Greenacres, you should contact an experienced accident lawyer at Frankl Kominsky. We are available to handle virtually all types of personal injury claims, ranging from car, truck, and motorcycle crashes to slip and falls, medical malpractice, and wrongful death.
Auto Accidents in Palm Beach, Florida
Auto related accidents such as passenger car accidents, motorcycle crashes and even accidents involving pedestrians are a leading cause of injuries throughout all of Palm Beach County.
As reported by the 2018 Florida Crash Report by the Florida Highway Safety & Motor Vehicles, Palm Palm Beach County has had one of the highest crash rates in Florida.
Total Fatalities as a result of Auto Accidents in Palm Beach County: 183
Total Crashes in Palm Beach County: 26,962
Total Victims injured in an Auto Accident in Palm Beach County: 16,046
Total Accidents involving Bicyclists: 422
Total Motorcycle Crashes in Palm Beach County: 450
Total Hit & Run Fatalities: 13
Total Accidents Involving Pedestrians: 595
Total Fatalities Involving Pedestrians: 42
Palm Beach County Emergency Room Visit Statistics
In Palm Beach County, the number of emergency room visits indicates the seriousness of injuries in personal injury accidents. For example, we see in 2018:
Motor Vehicle Total: 4,013
Motorcycle Accident: 189
Cyclist: 171
Pedestrian: 82
Motor Vehicle (Unspecified): 1,081
Motor Vehicle Occupant: 2,490
The Types of Personal Injury Claims That We Are Available to Handle in Greenacres
Motorcycle and Scooter Injury Claims : Motorcyclists who have been injured by motor vehicles or drivers of larger vehicles who speed, drive while intoxicated, or
Bicycle and Pedestrian Accident Claims : Those who have been injured by reckless or distracted drivers.
Boat, Cruise, or Jet Ski Injury Claims: When passengers have been injured due to a lack of needed medical supplies, excessive speed, watercraft malfunctions or colliding with another boat or watercraft.
Car and Auto Accidents Claims : Accidents that involve a negligent or reckless driver.
Bus Injury Claims: Passengers who are injured because the bus owner or operator had failed to maintain the bus, was distracted, was driving while very tired or driving while under the influence of drugs, alcohol or over-the-counter drugs.
Slip, Trip and Fall and Premises Liability Claims : Those who were injured in a slip and fall accident at a grocery store or department store, a private property or a home, or a parking lot.
Palm Beach County Statute of Limitations for Personal Injury Claims
Florida Statute of Limitations section 95.11(3)(a) applies to injured victims suing in Florida on a civil action founded in negligence. The statute of limitations for personal injury and wrongful death lawsuits differ. In Florida, you must file a personal injury lawsuit within two years from the date of the accident.
In wrongful death cases, the time frame to file is two years from the date of the death. If you fail to file your claim within the applicable statute of limitations, your lawsuit will likely be dismissed and you may be barred from pursuing your claim. You should consult with an experienced personal injury attorney as soon as possible for advice and guidance.
After You Have Been Injured, File an Injury Claim to Protect Your Rights
If you've been harmed by someone else's negligent and careless conduct, you may be able to seek compensation by pursuing a personal injury claim.
This is based on the at-fault party's failure to use reasonable care in certain actions that resulted in an injury to someone else. To prevail, an injured victim must prove the following four elements:
The at-fault party owed a duty to the victim to not be careless, reckless, or create an unreasonable risk;
The at-fault party breached the duty with some identifiable action;
This breach was the direct and proximate cause of the accident; and
The accident victim suffered injuries and damages as a result.
If a loved one has died because of someone else's carelessness or misconduct, you may be able to pursue a wrongful death claim. Under the Florida Wrongful Death Act , the deceased person's personal representative can bring the lawsuit because the victim could have brought it on his or her own behalf if he or she were still alive.
Surviving family members are eligible to be compensated for a number of costs, including the value of lost support, loss of future support and services, loss of companionship and protection, and pain and suffering.
To effectively pursue compensation, however, you must file the lawsuit within the applicable statute of limitations. In Florida, a personal injury claim must be filed within two years from the date the accident took place. Plaintiffs filing wrongful death cases must file within two years from the date of their loved one's death. Because of the complexities involved in bringing a negligence or wrongful death lawsuit, you should consult with an experienced wrongful death attorney to help you through the process.
Pursuing Compensation After a Florida Accident
People who were hurt because of the carelessness of another person or entity often can file a negligence lawsuit against the responsible party. Negligence is generally defined as the failure to take reasonable care to minimize the risk of foreseeable harm to others.
These types of claims require an injured person to show that the defendant had a duty of care, which means acting as a reasonably prudent person would have acted in a similar situation. For example, in the context of driving a vehicle, the duty of care typically consists of obeying traffic laws and not jeopardizing the safety of others on the road.
Unfortunately, reckless behavior causes many accidents in Greenacres, Florida because people and entities often fail to meet this standard of reasonable care. Beyond drivers, the duty also extends to owners of property, including stores, restaurants, and hotels. These businesses are legally obligated to ensure that their premises are generally in safe condition for guests, customers, or patrons.
In the medical malpractice context, physicians, nurses, and other healthcare professionals are held to a more specific standard of care when they are treating patients. This is defined as what the ordinary medical professional in the relevant specialty would do in a similar situation.
To prove that a defendant acted negligently, a injured victim must not only establish that the defendant failed to act in a reasonable manner, but also that this breach caused injuries and damages. It should also be noted that the state uses a comparative negligence system ( Florida Statute 768.81 ).
This means that if the victim was partially at fault for the accident, the compensation award will be reduced by the percentage of his or her fault. For example, if the victim is deemed to be 30 percent at fault, he or she may be able to recover 70% of the total damages.
If you've lost a loved one through someone else's negligence, you may be eligible to file a wrongful death claim against that party. A wrongful death lawsuit allows the family members of a loved one to recover compensation on behalf of the decedent and for their own losses. While no amount of money can ever replace your loved one, monetary compensation can help ease the financial burdens that are often associated with such a loss.
What Should You Do After an Injury?
If you've been injured, these are some things that you should consider:
Report the accident and injury to the authorities and property owner
Greenacres Police Department | (561) 642-2153
If possible, document the scene of the accident with videos, photos, and witness statements
Seek Immediate Medical Care from a qualified medical professional. This can be your own doctor or a local emergency room.
Example: NYU Langone Health | (561) 365-3000
Keep a record of how your injury has affected your life.We recommend keeping a journal of routine tasks or job duties that you can no longer perform or have difficulty performing.
If you are undergoing treatment such as seeing a chiropractor or a physical therapy, be sure to document your progress. Has the injury hindered your ability to walk long distances or sit at your desk at work?
You should provide your attorney with copies of your medical expenses and medical records including MRIs, evaluations, and prescriptions.
Find an experienced personal injury lawyer nearby for a Free Consultation
What You Should Not Do After Being Injured in an Accident
You should never neglect your health and injuries. If you have been injured in a car accident in Palm Beach County, Florida's PIP laws require you to undergo medical treatment within the first 14 days of the accident. Otherwise, the insurance company may not cover your medical expenses.
After an accident, we do not recommend you giving a recorded statement to the insurance company - including your insurance company - without first consulting with a personal injury attorney.
Injured victims should never try to negotiate a fast settlement without consulting a knowledgeable injury lawyer.
Do not post photos, videos, complaints, or any other details of your injuries and case on social media including Facebook and Instagram. Insurance company adjusters and investigators may try to document any online posts related to the claim.
What are Some Common Injuries Following an Accident in Palm Beach County?
The types of injuries that are usually seen by injury lawyers serving Greenacres may result in many different mental and physical issues. Some of these include:
Cuts, Scrapes, and Bruising
Whiplash
Broken or Fractured Bones
Internal Bleeding
Herniated Discs
Injuries to the Hip, Knee or Elbow
Injuries to the Spine
Head and Brain Injuries
Concussions
Traumatic Brain Injury
How Can a Personal Injury Lawyer Try to Help my Claim?
If you or a loved one is injured in an accident, your number one priority should be to seek medical treatment and focus on restoring your health.
At our personal injury firm, our dedicated legal team strives to help every client by relieving the stress of starting a claim for injuries, property damage, securing a car rental and collecting medical records, medical bills and accident reports.
Personal Injury Claims: Types of Damages You Can Recover
Sudden Medical Expenses as a result of your accident and injuries that can include emergency transport by ambulance or flight, cost of an emergency room visit, cost of an MRI or X-Ray, the cost of chiropractic care or rehabilitation, physical therapy, doctor visits, surgery and custom home accessibility such as a stair lift.
Pain and Suffering: Let's say you were in a car accident that caused severe injuries to your neck and back or fractured bones. These injuries could affect your daily life activities.
Lost wages: Lost wages due to being unable to work for a period of time because of your injuries.
Loss of Future Income: Let's say your injuries are so significant that you can no longer perform your job duties such heavy lifting, standing for long periods of time, walking long distances.
Future Medical Treatment this could be for regular check ups, surgery, home health care, and long-term care facilities.
Property Damage for your car
Start Your Free Injury Consultation Today
At Frankl Kominsky Injury Lawyers, our mission is to provide every injured client with diligent legal representation through meticulous file management, one-on-one attention, and exceptional communication and customer service.
Why You Should Hire Our Injury Firm
Our founders, Attorney Ethan Kominsky and Attorney Steven Frankl, along with our dedicated attorneys have over 40 years of experience in handling personal injury and accident claims throughout Florida.
Our injury lawyers have recovered more than $100 million in accident and injury settlements
We have over 700 verified client reviews and testimonials
Dealing with the aftermath of an accident is never easy, but the skilled injury attorneys at Frankl Kominsky are committed to assisting Greenacres residents through this difficult time. You can rest assured that we will assess the merits of your case and try to explore all your legal options.
We pride ourselves in providing personalized service to our clients so that each person feels as comfortable as possible. We strongly believe that preparation is the key to effectively representing our clients. To set up a free initial consultation, contact us online or call us toll-free at (561) 708-5483. We are fluent in Spanish and Creole.