Wrongful Death Lawyers Serving Hialeah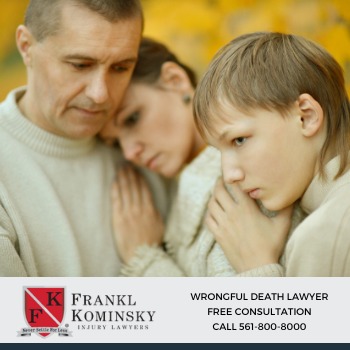 Losing a loved one is a very traumatic event, and it's even more hurtful to go through loss when it could have been prevented. There are several accidents and instances that result in wrongful death that could make the surviving family of the victim eligible to file a claim.
If you are mourning the loss of a loved one due to a wrongful death situation, you could be entitled to legal action. Filing a wrongful death claim can help victims' families seek appropriate justice and bring closure to the unfortunate situation. If you have been left with financial responsibilities due to wrongful death, filing a lawsuit could also help.
Families in the Hialeah, Florida, area left with the pieces of a wrongful death experience can contact the law office of Frankl Kominsky Injury Lawyers with their questions. Our legal experts are more than happy to discuss the options you have for your potential claim.
Here is everything you need to do about wrongful death claims and when to seek the help of an attorney.
What Is Wrongful Death?
Wrongful death, in legal terms, is a civil action where death occurs due to a person or entity's negligence or fault. There can be many examples of situations that cause preventable death, and if your loved one passed away because of someone else's negligence, you could be entitled to file a claim.
Some situations that can result in wrongful death include:
Car accidents
Medical malpractice
Defective products
Pedestrian accidents
Bicycle or motorcycle accidents
Personal injury accidents
Work injury
Criminal violence
Some of these instances can have additional charges or lawsuits on top of the wrongful death lawsuit you are filing. For example, criminal violence and car accidents can have police charges included in the case and lawsuit you file against the person that is at fault.
How to Qualify for a Wrongful Death Claim
When it comes to qualifying for a wrongful death claim, the individuals filing must meet certain requirements. The first is to be the right individual to file a claim.
In order to file a wrongful death lawsuit, you must have one of the following relations to the person you are seeking justice for:
Immediate family members
Distant family members
Spouses or partners
Financial dependents
Parents of deceased babies and children
Adoptive members
In Florida, the statute of limitations allows family members two years from the date of the accident to file a claim. A person in Florida that is filing a wrongful death claim could also be listed as a representative in the victim's will.
When you begin filing your claim, it is highly advised to consult with your Hialeah Wrongful Death Lawyer about the situation to review all the evidence to determine if you have a case to that constitutes this type of claim.
Depending on who you are filing against, whether a medical organization or business, it can be difficult to prove that there was negligence involved. Therefore, these cases can take longer than others. If you are filing a claim against a large organization, it will be your attorney's duty to thoroughly review evidence to determine if there is proof that there was known negligence done by the defendant.
How Does a Wrongful Death Claim Work?
The steps your wrongful death case has can vary from others, but it can be a long and intense process to share with your attorney. If you are about to file a wrongful death claim, here is how you can expect your claim to work.
Step One: Seek a Specialized Attorney
You can benefit from the help of a highly skilled wrongful death attorney for this process. It is usually not a good idea to try and take legal matters into your own hands, especially if you are going up against a difficult defendant.
When you meet with prospective attorneys, ask about their experience with these cases and how they can help you seek the compensation you deserve. The attorney you select should have a background in wrongful death claims that demonstrates their competence and successful outcomes.
Step Two: Provide Documentation or Evidence
There are certain kinds of evidence that can boost your chances of winning your case. Your attorney will ask about these documents, such as medical records, police reports, witness statements, and more, to determine how to best establish your case against the defendant.
If you do not have some of this evidence, that is okay. Your attorney can help you acquire it to include in your case.
Step Three: File Your Lawsuit
Once your attorney reviews all evidence and deems it appropriate to file a claim, you will start that process. You can be relieved to know that it will be your attorney's duty to file the necessary paperwork that will be delivered to the defendant.
Step Four: Possible Settlement
After your papers make it to the defendant, they may try to settle the lawsuit without the case going to trial. This could be what happens if you are filing against an organization or entity since they will likely not want bad press.
If there is talk of a settlement, you and your attorney will meet with the defendant and their attorney to negotiate a fair amount to cover your incurred damages. If nothing can be agreed upon, or if the defendant decides not to choose a settlement, you can take your case to trial.
Step Five: Possible Trial
Not every case will have a settlement. If your case doesn't allow that option or the defendant does not want to offer a settlement, your case can go to trial where all evidence will be presented in front of a jury.
The jury will be responsible for deeming if the wrongful death case is viable and if so, how much you should receive in compensation. This is where it's important to hire an attorney you feel confident in since court cases have many potential outcomes.
When to Seek the Help of a Wrongful Death Lawyer?
If you believe you qualify for compensation in a wrongful death claim, you should begin looking for an attorney as soon as possible. Not only will the two-year time limit pass by quickly, but you may need the help of an experienced attorney to help you gather the relevant information you might not have.
There are also some instances where cases can prolong in time because of several factors. For instance, if you are going up against a medical organization, there will be a tedious investigation that requires speaking to several other trusted doctors about the medical procedure.
If your case is a cause of criminal actions, there may be some trouble searching for the responsible defendant if they have fled the area to prevent going to jail or facing a lawsuit.
You may not know what all your case entails until you speak to a Hialeah Wrongful Death Lawyer. If you do not have a lawyer in mind to call, here's how to find the right attorney for your case.
Research
You will need to use your search engine to start looking for firms in your area to consult with. Consider using "Hialeah Wrongful Death Lawyer Near Me" and browse the results. It is best to have a handful of firms to investigate further and set up consultations with.
Look at Practice Areas
Not every firm specializes in the same field of law, so not every attorney handles wrongful death claims. Firms such as Frankl Kominsky Injury Lawyers that specialize in the various forms of injury and accidents will likely be able to handle your case. Browse the practice area page of each firm's website to make sure wrongful death is listed.
Schedule a Consultation
The best way to find the right attorney for you is to take advantage of the free consultations that most law firms offer. Free consultations give you time to discuss your situation in greater detail with a trusted attorney to hear about your legal options and how the attorney can help. This will also be the time for you to deem how well you can communicate with an attorney and how confident you feel in their ability to help.
After doing some research, it's best to hire an attorney as soon as possible. It is understandable to think of this as being impossible while you are grieving, but an attorney will guide you through the legal process so that you can seek the chance of a resolution.
Qualities of the Right Wrongful Death Lawyer to Look For
As you begin your consultations, there are certain qualities to look for in each wrongful death lawyer to assess their capabilities and qualifications. While your attorney will have a list of questions ready for you, you should have questions ready for them as well. Here are some questions to ask and characteristics to look for.
Expertise and Outcomes
One of the most important aspects to have in a wrongful death attorney is their expertise. This should be one of the first things you discuss with an attorney during your meeting. Ask them how long they have been handling wrongful death claims and importantly, what the outcomes have been.
Similar Cases
Along with expertise and outcomes, you should also ask about similar cases they might have handled. If you are dealing with wrongful death from medical malpractice, ask your attorney to discuss more about what you should expect.
Communication
It is very important that your attorney communicates with you throughout the case. How does your attorney plan to communicate with you and how often? Gauge their communication skills as they meet with you and their attitude towards the matter. You should feel confident that you will be able to ask questions and receive competent answers in a timely manner throughout your legal situation.
Payment
Most attorneys work on a contingency fee or hourly fee basis (or combination of both). Consult with your attorney to know what their preferred method of compensation is to see if it fits within your budget.
What Will Your Wrongful Death Lawyer Do?
You will work alongside your hired Hialeah Wrongful Death Lawyer, but they will do most of the work in the case. You will be responsible for providing your attorney with necessary evidence and information but can rely on the fact that your attorney will take the reins.
Many people find relief in working with an attorney since these professionals will do most of the advocating in court, settlement portion, and other instances.
Here are some duties you can expect your wrongful death lawyer to take care of:
Negotiating with the defendant or insurance
Speaking on your behalf in court
Advising you on the best legal courses of actions
Informing you of your rights and how to best go about your case
Most importantly, your wrongful death lawyer will help you seek compensation for expenses such as medical bills or financial assistance if the deceased person was someone you relied on. They will help you seek justice and provide your case with high-quality services.
Florida's Wrongful Death Damages
As your case unfolds, you may find that you may be eligible to file a claim for a series of damages under Florida law.
Some of the wrongful death damages you could potentially recover in your case include:
Funeral expenses
Medical bills
Mental anguish
Loss of parental support, partner, or companion
More
Your attorney can give you a better insight into what to expect after they review the evidence and defendant's position.
The Process of a Wrongful Death Claim
Your wrongful death legal fight will not happen under any specific timeline, and it can be difficult to go through as you continue to mourn the loss of life. Most wrongful death cases, if not extremely severe or difficult, last upwards to a year or slightly over.
Settlements between you and the defendant can make your case end sooner if it is something the defendant will agree to. If the defendant does not agree to a settlement, then your case can go to trial which will prolong the life of your case due to scheduling and how the court hearings unfold.
How Settlements Are Awarded in These Cases
Your attorney or the defendant's attorney might propose a settlement to end the case without going to court. Settlement negotiations entail you and your attorney sitting down with the defendant and their attorney to discuss a fair solution.
This is where your wrongful death attorney's negotiation skills can be a big help. If you can reach a settlement agreement, the case will end without going to court. You can also negotiate other damages such as funeral or medical expenses in addition to other compensation.
Failed settlement attempts can then move the case to trial, which may have other sets of obstacles to face. It will then be up to the jury to decide who should be compensated and for how much. The jury will look at the plaintiff and all they have lost in the case to determine how much should be awarded.
Children who have lost parents to negligence or other severe cases tend to see higher settlements since the situation has taken away their support or life guidance. To have the best indication as to how much you can receive out of your case, ask your attorney.
Questions? Ask Frankl Kominsky Injury Lawyers
Experiencing a wrongful death is devastating for any family regardless of who lost a loved one and how. Our attorneys offer services for residents in Hialeah, Florida, to help victims seek compensation with our highly awarded skills (by appointment only).
Frankl Kominsky Injury Lawyers has been in practice for over four decades and has helped a multitude of victims seek recovery from their losses. Our time in practice has given us the information we need to know how to structure your case to illustrate what happened. We have seen many wrongful death situations and want to help you in the best way we know how—by fighting for you and alongside you.
We understand that you will likely have many questions about your case, whether it's specifics or what to do next. We offer free initial consultations to answer those questions.
Call our firm at (561) 800-8000 or leave your information in our online case evaluation form so one of our representatives can be in contact with you.
We are ready to help you with your claim and give you the advice you need to help during these difficult times. Call our firm today.