How Do Personal Injury Cases Work?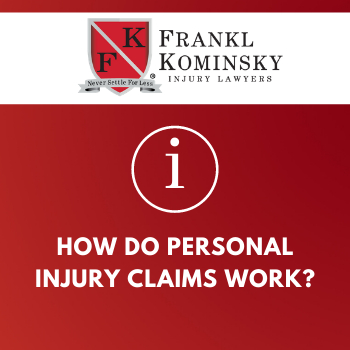 With a growing population across all counties, Florida sees its fair share of personal injury cases. From car crashes to truck accidents to slip and falls and other accidents, injuries can occur under a variety of circumstances. If you or someone you love have sustained any injuries, that resulted from an accident caused by the carelessness and negligence of another party, you may be able to pursue a personal injury claim. Filing a claim for damages against the party/s responsible can help you obtain the compensation that you deserve.
Keep reading to look at some common questions many of our clients have when they are planning on pursuing a personal injury case.
6 Frequently Asked Questions about Personal Injury Claims
When pursuing a claim for personal injuries, your attorney should help you navigate through the following issues that may arise:
1. What if I can't pay my medical bills?
Accidents that cause injuries are a gateway to growing medical bills. You may avoid getting the medical treatment you need to recover for fear of being unable to pay the medical expenses. Treatment is vital and should not be avoided. When it comes to your medical expenses, there are multiple options that may be available given your circumstances:
If you have health insurance, be sure to use it and seek medical professionals within your network. A medical provider may refuse to bill your health insurance and ask that you sign an attorney-physician lien on the personal injury settlement. However, you should speak to your attorney at Frankl Kominsky Injury Lawyers before signing or agreeing to anything.
If you were involved in an automobile accident, your Personal Injury Protection (PIP) automobile policy should cover a percentage of your medical bills and lost wages, regardless of who was at fault for the accident. However, this policy will provide coverage up to your policy limits.
In case you don't have insurance coverage, let your lawyer and medical practitioner know beforehand and your attorney will try to have the bills settled through the compensation you receive in your personal injury settlement or verdict.
Look for other forms of insurance such as workers compensation if the accident occurred while you were on the job.
Do not go for advanced settlement payment or funding. This may be a tempting option; however, it is a loan that you will have to repay and the repayment rates may leave you in a position that is worse than where you started out from.
2. Why won't the insurance company for the person or entity who caused my injuries automatically pay my medical bills as they are incurred?
If the party at fault has liability insurance, then a claim will be made against that policy. Most insurance companies for the party that caused the accident will not typically pay the medical bills as they are incurred. Rather, they will wait for the settlement demand from the injured party and their attorney. It is advised that you should avoid speaking to the at-fault party's insurance company without first consulting with a personal injury attorney. Let our legal team review your case and help you understand your rights and legal options. Contact Frankl Kominsky Injury Lawyers for your free consultation.
3. Do I really need a personal injury lawyer?
Personal injury cases can be quite complex and may be difficult to handle yourself. You lawyer can assist you with:
Collecting all documentation to establish your claim
Determining liability of the at-fault party
Gaining access to surveillance footage from the accident scene to prove the opposing party's fault.
Consulting with expert medical practitioners
Locating witnesses and obtaining their statements
Handling all communications and negotiations with the at-fault party's insurance company and attorneys
Filing a lawsuit on your behalf and representing you in court if necessary
The attorneys at Frankl Kominsky Injury Lawyers offer a free initial consultation. Let us help you understand your legal rights and recover compensation for your damages.
4. What if I can't afford a lawyer?
Frankl Kominsky Injury Lawyers offer a contingent fee basis where you do not pay us anything until we recover a settlement or judgment in your case. It is important to speak to an attorney if you have been in an accident to understand your legal options.
5. How long will it take to resolve my case?
Each case is different and will have a different timeline. Consult with your attorney and provide them with the details of your case including who the party at-fault is, how the accident happened (such as a car accident), if there were any witnesses, injuries and medical treatment, and so on. Let the legal team at Frankl Kominsky Injury Lawyers help you obtain the compensation you deserve for your personal injury claim.
6. What is the potential value of my case?
The value of your case is determined by the damages incurred. These may include:
Economic Losses
Medical expenses – including ambulance transportation, emergency care, hospital treatment, doctor visits, physical therapy, diagnostic testing, surgery, medical prescriptions and any long term care for serious injuries like 24/7 nursing attention and home adaptations.
Past and future lost wages – during recovery due to injuries and medical treatment as well as any lost future earning capacity.
Significant vehicle and/or property damage, etc.
Non-economic Losses
These damages are more difficult to quantify but are included in your personal injury claim:
Physical pain and suffering
Mental and emotional trauma such as anxiety and depression (this may also result in economic losses such as therapeutic treatment costs)
Loss of consortium – the negative impact on your marital relationship
Reduced quality of life – such as the inability to enjoy hobbies, recreation or perform simple tasks like going for a walk
Shortened life expectancy
Hire an Experienced Personal Injury Attorney
Accidents can leave their victims with life-long injuries ranging from minor scrapes to severe injuries, paralysis, and even loss of life.
If you or someone you love has been injured in an accident due to the negligence of another person, reach out to Frankl Kominsky Injury Lawyers. Our dedicated attorneys have over 40 years of combined legal experience and have obtained millions in settlements and verdicts for our valued clients.
Start your free first consultation with us for a case evaluation and legal guidance. Reach out to us at:
Frankl Kominsky Injury Lawyers in Boynton Beach
Call 561-800-8000 Free Consultations Available: 24/7-365
Frankl Kominsky Injury Lawyers in Pompano Beach
Call 561-800-8000 Free Consultations Available: 24/7-365
Frankl Kominsky Injury Lawyers in Port St. Lucie
Call 772-800-8000 for a Free Car Accident Consultation Available: 24/7-365
You can also find us on our website. We are also available to come for a consultation to your home or hospital if you are unable to meet in our offices.