Medical Malpractice Lawyers Serving Palm Beach Gardens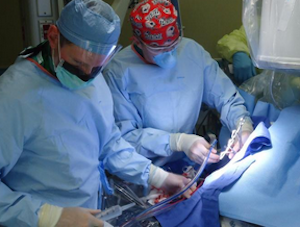 The relationship between most people and their doctors is one of the most trusted and respected by many. While medical professionals can save lives, they are human and can make mistakes that may cause catastrophic injuries and disastrous outcomes.
The negligent acts of medical practitioners can cause severe and sometimes fatal injuries. Florida laws allow victims of medical malpractice to seek compensation and justice for the injuries they sustained.
If you or a loved one suffers an injury because of someone else's carelessness or wrongdoing, it's natural to feel helpless and distraught. Medical malpractice cases are often complex and challenging to prove. But they don't have to be. Consult a Palm Beach Gardens medical malpractice lawyer for legal counsel.
Our team of dedicated attorneys can help you get the compensation you deserve. Call us at (561) 800-8000 or fill out the online contact form for advice on the best course of action.
What Is a Palm Beach Gardens Medical Malpractice Claim?
If a patient suffers harm because a medical professional failed to provide a reasonable standard of care as expected from another professional in the same field, the patient may have a case for medical malpractice.
However, the following criteria must be met before a case can be considered medical malpractice under Florida law:
Doctor-Patient Relationship
To prove medical malpractice, there must be a doctor-patient relationship where the doctor owes the patient a duty of care. This relationship develops when the doctor agrees to treat the patient, and the patient agrees to receive care from the doctor.
Breach of Standard of Care
A breach of the standard of care occurs when medical personnel deviates from the generally accepted minimum level of care provided by doctors or healthcare workers in the same field.
You have the right to insist that the medical staff attending you uphold a reasonable standard of care. Proving that the healthcare provider failed to do so is essential to proving negligence on their part.
Negligence Caused Injury
Proof that a doctor or other medical worker acted below acceptable standards isn't enough for a successful claim. Additionally, you must prove that your injuries were caused solely by the defendant's negligence.
You must show that the medical provider's carelessness directly led to your injuries. In the absence of proof that the injury was caused by the defendant's negligence or could not have occurred in the absence of negligence, you would not have a valid medical malpractice claim.
Sometimes it's tough to tell if your medical malpractice lawsuit has any chance of success. However, at Kominsky Injury Lawyers, our Palm Beach Gardens medical malpractice lawyers consider every case unique, allowing us to provide you with the individualized attention you deserve. After reviewing the facts of your case, we can advise you on whether or not you have a chance and the possible next steps in the legal process.
Understanding the Standard of Care
When discussing healthcare, the term "standard of care" refers to the level of care patients should expect from medical professionals. The standard of care is measured against the standards of other medical practitioners working under similar conditions.
Sometimes even within practitioners in the same discipline, there can be significant variations in the expected level of care provided. For instance, the level of care expected of a pediatrician at a small, rural town clinic will differ from that of a surgeon at a large, urban university hospital.
To prove the defendant's negligence in a medical malpractice case, the plaintiff will often call on the expertise of another doctor in the same specialty as the defendant. The defendant may benefit from hearing from expert witnesses on what they would have done had they been in the same situation.
Always remember that medical malpractice is not the same as a simple medical error, but rather, medical carelessness that might have been avoided if the attending physician had simply done their job.
Who can be Liable for Medical Malpractice in Florida
Medical care professional is a broad term that encompasses various healthcare workers. Other than doctors, other parties can be held liable in medical malpractice suits in Florida.
Below are some of the medical professionals that can be held liable for medical malpractice claims:
Nurses
Surgeons
Pharmacists
Medical technicians
Nursing aids
Hospitals
Healthcare facilities
Rehab facilities
Blood banks
Chiropractors
For a free consultation with a Palm Beach Gardens medical malpractice attorney, call (561) 800-8000
Common Signs of Medical Malpractice
When something goes wrong, medical professionals rarely admit it. But you may quickly notice something isn't right with your body after undergoing treatment.
For example, your condition may worsen even after following doctors prescribed treatment plan, or you might start experiencing unexpected pain.
Below are some of the potential warning signals of medical malpractice:
When other medical professionals give differing opinions, it's possible that the first doctor you saw misdiagnosed your condition.
A physician diagnosed a severe condition without first conducting any testing.
You may develop complications after surgery. Although some complications are unavoidable, others may be caused by medical errors or malpractice.
You take a drug and discover it has unanticipated adverse effects.
In a nutshell, if you get a bad feeling about anything, you should trust your gut. A medical malpractice attorney can assist you in evaluating your case and provide you with a second view.
What to do If You Are the Victim of Medical Malpractice
You may quickly notice clear evidence of medical malpractice in some cases, like birth injuries or trauma. On the other hand, you may find out much later that you were seriously injured because of your caregiver's carelessness. For instance, you may discover a misdiagnosis or a missed diagnosis in your medical records, exposing you to significant ongoing pain because you haven't received the proper treatment. Time is of the essence when you discover medical negligence.
Care for your health should be your top priority. Medical misconduct often has far-reaching effects on a patient's critical care. If a doctor makes the wrong diagnosis, prompt action may be required to alter the treatment plan and improve the patient's prognosis. A catastrophic error, such as surgery on the wrong body part, may necessitate emergency medical attention.
You should never delay getting medical attention after a possible or confirmed medical negligence. Ensure to get a second opinion if you feel your first doctor didn't take you seriously or if your symptoms don't fit the sickness your doctor diagnosed.
This information could help you determine the best course of treatment. If you have suffered a severe injury or are experiencing serious side effects, you should get medical help immediately.
Consult with a personal injury lawyer about your medical malpractice case as soon as possible. Your attorney will help you figure out the next steps. You'll be in a better position to exercise your legal rights to financial compensation if you thoroughly understand that right.
Keep a record of everything having to do with your health care. Your medical records may be crucial in proving medical negligence and determining the compensation you are owed for your injuries.
Maintaining copies of your medical records and having them on hand when needed can help speed up the process of moving forward with a medical malpractice claim, even if your care provider has copies of your records and can offer them to you as needed.
Common Types of Medical Malpractice Claims in Palm Beach Gardens
Claiming the lives of about 250,000 people annually, medical errors are the third leading cause of death in the United States. There are various potential causes of medical malpractice in Florida.
Below are some of the most common:
Failure to treat: This occurs when a doctor makes an accurate diagnosis of a patient's ailment but then fails to treat it in accordance with the established norms of practice. Examples of this might be prematurely discharging a patient or failing to provide adequate support after release.
Surgical errors: Surgical complications frequently arise when a surgeon performs an operation on the incorrect patient, at the wrong surgical site, or accidentally leaves a medical instrument within the body.
Prescription errors: Errors in prescribing and dispensing medications can have severe consequences for the patient.
Misdiagnosis: One of the most common medical errors doctors make is incorrect diagnosis. A misdiagnosis can have life-altering effects on a patient, regardless of the underlying cause. Cancer, infections, and heart attacks are among the most commonly misdiagnosed disorders.
Childbirth injuries: Pregnancy and childbirth injuries account for a sizable percentage of all medical malpractice lawsuits. Common birth injuries caused by medical mistakes or incompetence include nerve damage, spinal cord injury, and cerebral palsy.
Types of Damages Available in a Palm Beach Gardens Medical Malpractice Claim
There may be legal recourse available to you if you suffer harm due to the carelessness of a medical practitioner. Compensation in medical malpractice claims generally consists of the following:
Economic Damages
When an accident occurs, it can result in a variety of monetary losses, known as "economic damages." They include:
Past, present, and future medical costs
Loss of earning capacity
Lost wages
Expenses incurred for rehabilitative services, such as physical therapy and occupational therapy.
Home health care services
Any additional out-of-pocket expenses
Non-Economic Damages
These losses are also a direct outcome of the accident, but they are more challenging to quantify because of their subjective nature.
Examples of non-economic damages include the following:
Pain and suffering
Emotional distress and mental anguish
Loss of consortium
Loss of companionship
Loss of enjoyment of life
Traumatic amputation
Disfigurement
Scarring
Punitive Damages
Punitive damages are intended to penalize the offender for particularly egregious wrongdoing while discouraging the defendant and others from engaging in similar behavior in the future.
However, punitive damages are only awarded in exceptional cases of gross negligence or misconduct.
The Statute of Limitation for Florida Medical Malpractice Claims in the Sunshine State
The statute of limitations is a piece of legislation that specifies how much time can pass from an alleged crime before legal action can be taken. Failure to file a claim within the time limit prevents you from seeking compensation.
Florida's statute of limitations for medical malpractice claims is two years from the date the plaintiff discovered or should have discovered the injury. This statute of limitations, however, includes a plethora of exceptions—including exceptions to the exceptions—that can either shorten or increase the time frame in which a claim must be filed.
For this reason, you should consult Frankl Kominsky Injury Lawyers as soon as possible if you think you may have a medical negligence claim. Our Palm Beach Gardens medical malpractice lawyers can help you determine how much time you have to file your case and work with you to file all necessary paperwork and motions promptly.
Consent Forms in Palm Beach Gardens Medical Malpractice Cases
Consent forms are documents that patients must sign before participating in a medical procedure or treatment plan.
The medical procedure you will undergo and its associated risks have been detailed in these consent forms. Although signing this form indicates your agreement with the terms outlined here, it does not give your approval for any care that falls below acceptable standards.
Your doctor or nurse still owes you nothing less than satisfactory treatment. So, if the doctor veered from the norm and your injuries were a direct result of the breach of the standard of care, you may still have a case for medical malpractice even though you signed the consent form.
Florida Medical Malpractice Suits Have a 90-Day Post Notice Period
Medical malpractice claims in Palm Beach Gardens have a complicated filing process. One of these is the patient's obligation to notify any possible defendants of the patient's intent to launch a claim for medical malpractice. Once this notice is given, the clock on the two-year maximum limit on legal action will be stopped and will not start ticking again for 90 days.
After receiving notice, the defendant has a certain amount of time to either investigate the malpractice claim, participate in discovery, and respond with a settlement offer, a denial of the claim, or an offer to accept liability and have the damages arbitrated. But during that time, the patient is barred from suing for 90 days.
Benefits of Hiring a Medical Malpractice Lawyer
Medical malpractice cases can be complex. Below are the most essential benefits of hiring a Palm Beach Gardens medical malpractice lawyer:
1. Talking to Your Insurance Provider
Hiring a medical malpractice lawyer will allow you to focus on healing without worrying about dealing with the insurance company.
You can rest easy knowing that your loved one has legal representation, even if the issue isn't resolved in their favor. Your loved ones won't have to waste time and energy arguing with the insurance company about the doctor's mistakes; they can instead concentrate on getting well.
2. Determining Your Likely Compensation Amount
Medical malpractice lawsuits are complex cases.
Your potential award may be affected by factors such as the nature of your injury, its repercussions, and the quality of care you received from the medical professional. A Palm Beach Gardens medical malpractice lawyer can provide you with an estimate of your compensation based on their years of expertise.
3. Getting the Most Favorable Settlement
Negotiating and communicating with insurance companies might be challenging without the right skillset. A medical malpractice attorney will handle all interactions with these businesses.
More than ninety percent of malpractice actions against healthcare providers today are resolved through settlement. Your lawyer will handle obtaining a fair payment for medical misconduct on your behalf.
4. Speeding Up the Claims Process
Medical malpractice claims might be difficult to resolve. Your case will move more quickly if you choose a skilled medical malpractice attorney.
They will represent you in any legal proceedings or settlement talks. Your lawyer will act as your advocate in and out of court.
Contact a Palm Beach Gardens Medical Malpractice Attorney
Have you or a loved one sustained injuries from a medical error by a doctor or other medical professional? Contact a medical malpractice attorney at Frankl Kominsky Injury Lawyers today. Consulting a lawyer early on is essential to avoid making costly mistakes that could harm your personal injury claim.
Our dedicated team will work with you and other professionals to identify whether you have a valid legal claim. They will handle your pre-suit requirements so you can focus on what matters most: getting better. We will work to secure compensation through negotiation, mediation, arbitration, or trial.
If you have questions about medical malpractice laws in Florida, our team is ready to answer them through a free consultation. Call us at (561) 800-8000 to book a free, no-commitment case evaluation.