Medical Malpractice Lawyer Serving Palm Beach Gardens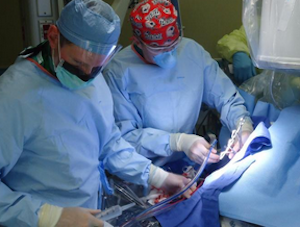 Medical Malpractice involves a situation in which a healthcare provider has caused an accidental injury to the patient. However, that doesn't mean that all medical errors will necessarily be considered medical malpractice. In addition the parameters associated with the term "medical malpractice" are determined individually by each state. If you happen to be a resident of Palm Beach Gardens and you find that you or a loved one have been injured due to a medical professional's error, it is highly suggested that you seek the advice of a personal injury attorney in order to determine if you have grounds for a malpractice lawsuit.
How is Medical Malpractice Defined in the State of Florida?
If you find that you are in a position in which you're considering filing a claim for medical malpractice in Palm Beach Gardens, it is suggested that you familiarize yourself with some of the basic intricacies associated with medical malpractice in Florida. The main point to consider is whether the defendant can be considered to have been negligent. This refers to a situation in which there are a set of circumstances has performed an act that is in violation of a "reasonable standard of care" when treating a patient.
When the term "standard of care" is used in Palm Beach Gardens cases, it refers to the level of care and treatment that would be considered acceptable when compared to other medical provider's standard of care. As mentioned earlier, this standard of care may vary from one state to another and a number of different factors will become involved in this determination. An example of the factors involved can be the type of treatment that is being provided as well as the patient's age, condition, etc.
Prior to Filing a Medical Malpractice Lawsuit in Palm Beach Gardens
In accordance with Florida statute 766.104 (Medical negligence cases; reasonable investigation required before filing):
There will be no wrongful death or personal injury, as a result of medical negligence, filed until the attorney has conducted a reasonable investigation that is permitted by the circumstances. This would be designed to determine there are good faith belief grounds that there was negligence involved in the treatment of the claimant. (1)
The initial pleading or claimant will contain a certificate of counsel that states that a reasonable investigation has been made and has given rise to a good faith belief that grounds do exist for action against each defendant that has been named.
In addition, good faith should be shown to exist as seen by the fact that you legal counsel has obtained an expert's written opinion who should be defined by Florida Statute 766.102. This opinion should show that the expert believes there is evidence of medical care negligence.
In addition, in regards to the investigation, all medical report copies, film, bills and any other pertinent information or records, which are related to the healthcare under question (as defined by Florida Statute 456.001) will be available to the patient, parent, child or spouse who is filing the medical malpractice lawsuit, along with the personal injury medical malpractice lawsuit attorney who happens to be assisting them.
Is There a Statute of Limitations For Filing a Medical Malpractice Lawsuit?
Yes. If you are filing a medical malpractice lawsuit in Palm Beach Gardens, you generally have two years from the time that the resultant medical treatment injury has become known (or from the time that the injury should have been known). But, as stated earlier in regards to state differences, in Florida an additional limitation is imposed. This is known as the "statute of repose". This means that unless there are extenuating circumstances, one cannot bring a lawsuit against a healthcare provider after four years have elapsed since the healthcare in question was provided. This is an important point to understand, since there are limits to when you may file a medical malpractice lawsuit. Therefore, it is suggested that you engage the assistance of a medical malpractice attorney, who serves Palm Beach Gardens, once you believe that you are the victim of medical malpractice.
But, as mentioned, there are extenuating circumstances to this statute. For example, if there is evidence of fraud or some form of misrepresentation on the part of the potential defendant, then the four year limitation may no longer apply.
How Long Do Medical Malpractice Cases Usually Take?
When it comes to the length of time of a Palm Beach Gardens medical malpractice claim, it will depend on a number of different elements and situations. But you should keep in mind that medical malpractice cases tend to be rather lengthy and will end up being somewhat expensive to pursue. This has to do with the fact that both legal and medical knowledge will usually need to be involved in cases such as these.
Also when it comes to investigating the medical facts of the case, expert witness opinions may also be required. Also, you will be dealing with the defendant's medical malpractice attorney. These attorneys are experts when it comes to defending their clients in these types of legal procedures. So, it may be reasonable to assume that a medical malpractice case could take up to several months or possibly years in order for it to be resolved.
Revisions to the Florida Medical Malpractice Damages Cap
In 2017, Florida took the steps that were needed in order to remove the cap that had been placed on medical malpractice non-economic damages. The original reason for the cap was to protect medical practitioners from incurring very large lawsuit damages decisions. It was also designed to protect against fraudulent claims.
The original caps that were removed stated that a limit of non-economic damages assessed to medical healthcare professionals was just $50,000 for each one of the claimants. The cap was then increased to 1,000,000 if the claimant died or had entered into a vegetative state that was designated as permanent. It also covered injuries that were particularly severe (non-economic) injury.
The removed caps also stated that non-healthcare providers (hospitals, clinics, etc.) would have an increased cap of $750,000 per claimant. And if the circumstances were found to be catastrophic, then that cap would have been increased to $1,500,000 per claimant (or $300,000 across multiple channels).
When we refer to Florida's medical malpractice laws, it should be noted that these older malpractice caps only applied to "non-economic" damages. This term refers to damages that were not financial in nature. These included:
On-going (chronic) pain
Suffering resulting from stress
Suffering in the form of mental anguish
PTSD which is a debilitating condition known as post-traumatic-stress-disorder
Medical disorders that are considered psychological in nature
Recurring nightmares
Difficulty with attaining sleep
The loss of the quality of one's life
Loss of consortium and mentorship
Loss of life's potential enjoyment
Other related injuries
The Caps on Medical Malpractice Damages in Palm Beach Gardens Were Removed in June of 2017
On June 8th, 2017, the Florida Supreme Court ruled that medical malpractice caps were unconstitutional. The case of North Broward Hosp. Dist. v. Kalitan was considered to be instrumental when it came to this ruling. At this time, the Florida Supreme Court stated that medical malpractice caps "reduced awards for plaintiffs who have sustained the most drastic of injuries". In the case that was just specified, Susan Kalitan (the patient) has entered the hospital only for a simple, routine carpal tunnel relief procedure. After complaining of intense chest and back pain, she was prescribed pain medication when, in actuality, the anesthesia tube had punctured her esophagus.
Afterwards, she became unconscious and was taken to a hospital. At that time, the diagnostic error was discovered and she sued for medical malpractice. She was awarded $4 million dollars, as a result. But, because of Florida's medical malpractice cap at the time, she only received around $700,000. This prompted the Florida Supreme Court to review and eventually strike down the Florida medical malpractice caps.
This played a significant role in the way medical malpractice cases were viewed. Nowadays, those who are filing for medical malpractice damages are able to obtain what is considered to be fair compensation when it comes to their medical malpractice injuries.
Other Instances of Medical Malpractice
Improper Anesthesia Administration
When a patient is experiencing various invasive surgical operations, they will undoubtedly receive some form of anesthesia. This will serve to put the patient to sleep so that they won't feel any pain. However, there are horrendous cases in which "anesthesia awareness" may be involved. In these situations, the patient can partially awaken from their anesthesia-induced sleep and then begin to feel the full pain of the surgery. However, since part of the anesthesia is still in effect, the patient can't move, talk or signal that there is a problem. They can only lay there and feel the pain of the procedure. This strikingly tragic situation is considered medical negligence, since it is the duty of the medical staff and surgeon to verify that the patient is actually asleep during the procedure.
Knowing How a Medical Malpractice Case is Conducted
When one wishes to understand just how a medical malpractice case is carried out in Palm Beach Gardens, one would need to understand that when a medical provider commits a medical error, it doesn't necessarily mean that they are guilty of medical malpractice. However, there are certain situations in which medical malpractice can be proven.
Misdiagnosis or a delayed diagnosis can be the result of medical negligence. That's because a patient can expect to have a thorough and complete diagnostic procedure performed so that an accurate assessment may be arrived at. However, this isn't always what happens. An incorrect diagnosis can result in some dangerous results when it comes to your health and can even be life-threatening. On example of this can be an incorrect cancer diagnosis. In cases such as this, not detecting the initial stages of cancer, at the onset, can create a situation in which a cancerous tumor is allowed to grow to a point in which it has become very serious or life-threatening.
Some of the most common situations in which a misdiagnosis has played a part in a medical malpractice lawsuit are; brain tumors, inflamed appendix, ectopic pregnancies and other cancer developments in different areas of the body. If you are seeking advice on whether or not to file a medical malpractice lawsuit in Palm Beach Gardens, then a medical malpractice attorney who serves Palm Beach Gardens may be able to assist you. If you or a loved one has been the victim of medical malpractice in Palm Beach Gardens, it's important to consult with a personal injury attorney, in order to try to receive the best care and compensation that you rightfully deserve. Therefore, when you are involved in a Palm Beach Gardens medical malpractice situation, seek immediate appropriate and additional medical care and contact a Florida personal injury lawyer.
Discuss Your Case with a Medical Malpractice Personal Injury Attorney Serving Palm Beach Gardens Today! If you were injured in a medical malpractice incident in Palm Beach Gardens, turn to Frankl Kominsky for comprehensive legal guidance. Call (561) 800-8000 or use our Contact Form to set up a free consultation.