Premises Liability Lawyers Serving Port St. Lucie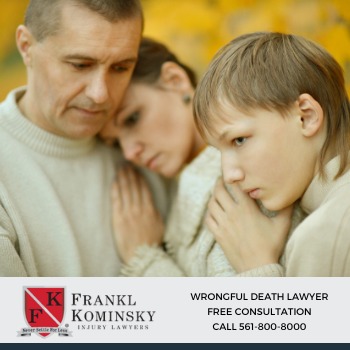 If you or a loved one have recently been injured at a public place due to a lack of security and safety, you could be entitled to seek compensation. Premises liability exists to give innocent civilians and customers the right to seek legal actions against businesses and property managers that fail to create a safe environment.
No one should experience harm and injury in a trusted public place. Grocery stores, retail stores, businesses, schools, and other areas are to be secure and have the technology or other safety measures to keep all visitors safe, whether it's from violent acts, faulty items around the location, or other potential dangers.
Failing to provide warnings and keep a safe environment means civilians have the right to seek legal action against these facilities through a premises liability claim. These claims can help victims recover damages and seek compensation to assist with injuries, financial losses, or other losses due to the accident.
Frankl Kominsky Injury Lawyers can help those in the Port St. Lucie area that have experienced premises liability understand their rights and file a claim (by appointment only). Here's what you need to know and expect with premises liability and how to get started with seeking compensation.
What is Premises Liability?
Premises liability is when a public place fails to provide a safe atmosphere and one or more individuals are injured. When people file claims for premises liability, they are filing for a section of personal injury, a legal term that states a person was harmed due to someone else's negligence.
These claims can be complex and difficult to file since you're going up against a business or large organization and will need concrete proof of their liability. Just because you are injured on someone else's property does not automatically make you eligible for a claim. The best way to determine if you have a lawsuit to file is by speaking with an experienced attorney.
An experienced attorney can analyze your evidence and the property's position to determine whether you're eligible for a claim or if you have to seek compensation through other avenues such as insurance.
Common Examples of Premises Liability Incidents
The type of incidents that can occur due to premises liability is endless. However, there are common examples of premises liability incidents that can happen more frequently.
Here are some examples of accidents that can happen in a public place:
Slips and falls
Inclement weather accidents
Bad maintenance or landscape
Not enough staff
Staff not trained properly
No business security measures or fault equipment
Falling objects
Water leaks or spills
Defective signs, items, or conditions
Amusement park accidents
Animal accidents or attacks
Accidents that occur as premises liability depends on how well the business operates and maintains its facilities and staff. It's up to the business, managers, and owners to ensure every aspect of their property is safe, working correctly, and fully trained, or else they could be liable in a lawsuit.
Here are some areas where premises liability accidents can occur:
Retail stores
Grocery stores
Schools
Concert venues
Museums
Hospitals or doctor's offices
Restaurants
Businesses
Sporting events
Government buildings and properties
Parks and recreational facilities
Workplaces
Apartment or townhome complexes
If you suffer from an accident anywhere that is not mentioned in this list, it's possible you could still qualify for a premises liability claim. Consult with an attorney to find out.
Results of Premises Liability
The results in injuries from premises liability accidents can vary. It depends on the severity of the accident and what it entailed. Remember to keep a record of all injuries that resulted from the accident by obtaining a copy of medical records from your hospital or doctor's office after being medically examined.
Here are just a few of the possible injuries a person can experience from public areas having a lack of security measures in place:
Broken bones
Fractures or sprains
Brain injuries
Back injuries
Neck injuries
Death
Disability
Severe wounds
Amputation or dismemberment
Burns
Drowning
Falling from extreme heights
More
Causes of Premises Liability Accidents
While we've established the causes of premises liability accidents are a result of a poorly secured location, the exact cause of the accident can vary from location to location. Sometimes the accident can occur from poor cleaning, failure to warn visitors of possibilities, not taking immediate action, or other scenarios.
It's important to remember that not every accident in a public place is the fault of the property owner or business. There are certain instances where the business and owner are deemed liable for what occurred, and those situations can be (but are not limited to) these examples:
Not enough staff or staff is not trained for certain situations
Help or action is delayed or not taken at all
A place may have dim lighting, broken stairs, or faulty equipment
Poor maintenance inside and out
Warning signs are not posted
Equipment or items may fall and hit someone
Dangerous locations are not properly blocked off
The public is not made aware of possible risks
Are Premises Liability Claims Difficult?
As we mentioned earlier, sometimes, premises liability claims are complicated since you have to prove what has happened is entirely the fault of the location. Sometimes accidents happen in public places, especially accidental slip and falls, that does not constitute a premises liability claim. Because of this, there are certain elements you have to prove that show the negligence of the place and that you were harmed as a result.
One of the largest elements that need to be proven in premises liability cases is that the property owner or someone working at the facility was aware of the possible risks and negligence. For example, an apartment complex manager was aware of the broken stairs for months and did nothing to fix it or a nightclub rushed to hire staff and did not train them properly.
Some of the facts can be difficult to prove, which is why it is advised to seek the assistance of an attorney to look into the property history to discover these elements. Another key aspect to winning a premises liability case is proving a strong connection between your injuries and the negligence of the property owner/accident.
The best way to do this is to keep a detailed record of your injuries from your medical records and to take pictures or videos of the scene and accident if you can.
What is a Premises Liability Lawyer?
A premises liability lawyer is the professional you want to work with to review and file your claim. These attorneys have the background, skills, and knowledge for these cases since they have likely handled them before and are familiar with property laws that could affect your case.
Premises liability lawyers also offer a lot of assistance to victims in other areas. They can assist you in understanding your legal rights, reviewing all evidence in your case, giving you the best advice for future actions, and helping you seek compensation.
Another benefit of hiring a premises liability lawyer is that they can help you file a claim with insurance. When you suffer from injuries at a public location, your health insurance will be one avenue you seek for financial compensation to cover medical bills and expenses. The sad reality of insurance is that they are not as helpful as they advertise. Instead of your best interest, they are looking for ways to reduce your settlement and how much help you receive.
Some people make the mistake of filing for insurance without the help of an attorney and are not aware of how damaging this can be to their case. You can accidentally say something in your investigation process with the adjuster that gives them the right to lower your assistance. Attorneys will make sure this doesn't happen since they will file your claim on your behalf and fill out questions thoroughly and accurately.
If your first settlement from insurance comes back too low, your attorney can negotiate for a higher settlement, especially if they determine your insurance is not assisting you correctly based on your policy.
Unlike insurance, your attorney has your best interests in mind. Here are other ways they can help you throughout your claims process:
Collect more evidence if needed
Consult with witnesses
File a lawsuit for you
Speak on your behalf in court
Negotiate with the defendant for extra compensation
Steps to Finding the Right Attorney
As you start to look for an attorney to help you, here are the steps to complete in order to find the best attorney possible.
1. Research
There are likely a lot of firms in your area that practice premises liability. Look up the various firms and thoroughly read through their site and reviews from past clients to get a sense of their professionalism and work ethic.
2. Schedule a Consultation
Most law firms offer free consultations, which is something you should take advantage of. Schedule consultations with at least three to four of the firms you've found. This gives you the right amount to talk and compare answers with to select the right attorney for you.
3. Ask the Important Questions
As you go to your consultations, not only should you talk about your specific case, but you should also ask important questions about the attorney and their experience. Ask the following questions to each attorney you speak with:
How many years have you been practicing?
What similar cases have you worked on?
What is your success rate?
What resources do you use for cases?
How will we communicate?
What is your preferred payment method?
It's important that you hire a competent attorney with a proven track record of success, but do not let lawyer fees steer you from the right attorney. Most attorneys do not get paid unless you win, and most of the time, their payment will come from your settlement. Invest in an attorney that you feel will greatly help you seek the compensation you deserve.
4. Compare and Select
Once you've consulted with every firm, compare your answers to hire the right attorney. You should select the attorney that has the most experience and that you trust to do a good job.
How to File a Premises Liability Claim
After hiring your attorney, the process of seeking compensation begins. Here's what you should expect while working with an attorney for premises liability cases.
1. Report the Accident to the Property Owner
This step happens at the scene of the incident, but here's how to handle it: Report the accident to the property owner but do not discuss your injuries or how you are feeling. Simply tell them what happened and occurred and leave it at that. Do not give them leverage by saying things such as, "I'm okay" or, "I think I just scraped my leg."
2. Hire Your Attorney
Hire an attorney as quickly as you can to get started with your claim. It's likely the other side will do the same to prepare themselves.
3. File Insurance Claim (With Your Attorney's Help)
Have your attorney assist you in filing a claim with your insurance to receive monetary assistance. They will make sure nothing will be said that can be misconstrued against you so that they can negotiate adequate compensation that you rightfully deserve based on your policy and coverage plan.
4. File Your Lawsuit
If you have a lawsuit to file against the business or property owner, this will happen next. Your attorney can draft the documents and serve them on your behalf.
5. Start Building Your Case
Once the documents are served, you and the defendant will spend time working with your attorneys to collect evidence and build a case.
6. Try for a Settlement
Your attorney will try to get you a settlement with the defendant. If they turn this down or no agreement is reached, your case will go to court.
Damages to Seek in These Claims
There are certain damages you can seek in Florida for premises liability claims. Essentially, you will be seeking the same damages you can recover in personal injury cases since that is an umbrella term premises liability falls under.
Damages in these claims are looked at based upon economic and non-economic losses. Economic losses refer to the things you lost that can actually be totaled up, while non-economic losses are more abstract, such as suffering and physical anguish.
The most common damages that victims seek to recover in these instances tend to be medical expenses. However, here is a list of damages you can look to recover through your claim with the help of an attorney:
Past, current, and future medical bills
Treatments and procedures
Physical therapy or rehabilitation
Funeral expenses
Lost wages from time off work
Disability and disability expenses
Pain and suffering
Mental and physical anguish
Anxiety and depression
PTSD
Loss of enjoyment of life
Life-altering consequences
The best way to understand what you are looking at recovering and how much you can expect out of your settlement is to discuss it with an attorney. Your attorney can help you seek compensation for what you have and will lose as a result of the accident.
Why Trust Frankl Kominsky Injury Lawyers?
If you are looking for assistance due to premises liability injury and losses, let Frankl Kominsky Injury Lawyers give you the right help. Our firm has over forty years of experience handling these types of cases and know the state's statutes of limitations.
By working with us, you can trust that you will receive the best help our skilled attorneys can give you. In our forty years, we have helped victims recover from similar cases, and we can help you seek the compensation you deserve too.
Starting your claim with us is simple. Either call our office at (561) 800-8000 or leave information on our online form to schedule a free consultation. One of our attorneys will reach out to you to schedule a day and time that is most convenient for you to come in and meet face-to-face. This is your opportunity to discuss your case and position in detail and hear about our services.
Please bring the following information to your consultation so your attorney can best assess how to help:
Medical records and bills
Photo or video evidence you may have
Insurance information
Other relevant evidence, documents, and information
You can trust that Frankl Kominsky Injury Lawyers have your best interest at heart. It's our duty to fight for you and make sure you receive the help you need.
Call us today to get started with your claim.