Rear-End Collisions
Seek Legal Guidance After a Car Crash Near West Palm Beach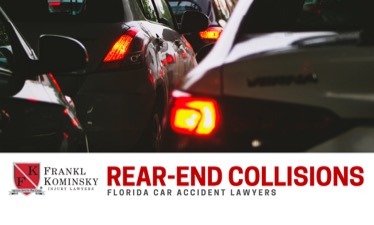 When a car slams into the vehicle in front of it, the riders inside the rear-ended car can sustain head, neck, and other serious injuries as a result of the accident. The West Palm Beach firm of Frankl Kominsky is skilled in representing victims of rear-end collisions. Our knowledgeable auto accident attorneys are experienced personal injury litigators who can aggressively pursue your right to damages against anyone who was responsible for causing them. Contact us to learn more about your options and how we can help.
Rear-End Car Collisions Can Cause Serious Harm
Rear-end collisions are traffic accidents that occur when one vehicle hits the car in front of it. They often happen when the following car speeds up and strikes the leading vehicle, or when the leading car suddenly decelerates and the following car does not have enough time to stop.
Rear-end collisions can happen if a driver is:
Forced to stop suddenly because he or she did not see a car, person, or object in the roadway;
Following the leading vehicle too closely; or
Driving too fast and unable to stop before hitting the car in front of him or her.
Injuries from this type of crash may include harm to the head, neck, and spinal cord, such as concussions, whiplash, and disk herniation. Rear-end accidents can sometimes be fatal, particularly when the back of a car has a small "crumple zone," or area designed to absorb the impact of a collision.
File a Negligence Lawsuit to Seek Compensation
If you were rear-ended, you can try to hold the driver who struck you liable for your injuries. These accidents are typically caused by some form of negligence. Tailgating, speeding, and texting behind the wheel often cause rear-end collisions, and these are just some examples of careless driving.
A negligence lawsuit may arise when a person fails to act with the care that is needed to avoid foreseeable risks to the safety of others. A victim must show the four elements of this claim to hold a defendant liable for injuries. These elements are duty of care, breach of duty, causation, and damages.
Everyone in West Palm Beach must use reasonable care when operating a vehicle. An individual may violate the obligation to drive carefully by running a red light, driving while drunk, failing to yield at an intersection, or violating any other type of traffic rule. If the breach causes a rear-end collision, anyone who is hurt as a result can possibly hold the driver liable for injuries sustained in the crash.
A third party sometimes may contribute to causing a rear-end collision. For example, a third vehicle may have rear-ended the car that struck you, creating a ripple effect. This may mean that you should bring a claim against both drivers. You would have to show how each party was partly responsible for the accident. A court would then determine each driver's degree of fault, including your own. You may be able to recover damages from both defendants, but only to the extent that each was negligent.
Types of damages that are often sought in a rear-end collision include compensation for medical care, such as hospital stays and future medical treatment, lost income from work, pain and suffering, and property damage. If you lost a relative in a fatal collision , you may be able to pursue damages through a Florida wrongful death lawsuit. There are strict time limits within which you must file your claim. Florida has a two-year statute of limitations for injury lawsuits, and a two-year time bar for wrongful death lawsuits.
West Palm Beach Attorneys Knowledgeable in Car Accident Cases
At Frankl Kominsky, our car crash lawyers never settle for less than what our West Palm Beach clients need to aid their recovery process. We are experienced professionals who can effectively assert your rights against the at-fault party in a rear-end collision. We will tirelessly pursue the most favorable outcome in your case, whether through settlement or at trial. Our clients come from communities such as Palm Beach Gardens, Delray Beach, and Lake Worth. Give us a call today at (855) 800-8000 for a no-obligation consultation. You can also complete our online form. We are fluent in Spanish and Creole.