Boynton Beach Slip and Fall Lawyer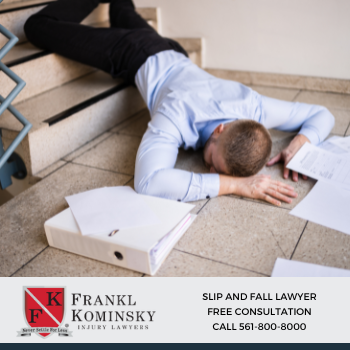 It's an unfortunate reality that most individuals will experience a slip and fall accident at some point in their lives. While it may seem that these occurrences will be limited mostly to a time in which we are children, they often occur to adults, as well. This is especially true in the case of the old and elderly. While a slip and fall accident is certainly surprising and disorienting, slip and fall accident injuries that result from this can be quite serious and may take a long time to heal.
These accidents may occur through no fault of the victim and the results can be debilitating and incur lifetime disabilities. Because of this, it's important to understand how slip and fall injury victims can pursue the compensation that they need in order to pay for their medical and other accident-related expenses.
In Boynton Beach, Where do Slip and Fall Accidents Occur the Most
Many local hospitals and emergency rooms in Palm Beach County have reported that slip and falls accidents occur in -
Grocery Stores, Department Stores, Shopping Malls and Shopping Centers
Homes and Private Residents
Hotels, Restaurants, Night Clubs, Bars, Casinos
Conference Halls, Stadiums, Universities, and Schools
Gas Stations, Parking Garage or Parking Lots
Entertainment Venues, Amusement or Theme Parks
Who Is At Risk For A Slip and Fall Accident
Older Adults or Seniors
According to the Center for Disease Control, more than one-in-four adults over the age of 65 fall each year, but less than half report their injuries until it's too late. Note: Falling twice doubles your chances of falling again
Slip and Fall Statistics for Senior Citizens
Over 3 million individuals are treated in the emergency room and urgent care for slip and fall injuries
More than 300,000 older people are treated or hospitalized for hip fractures
Falls are the most common cause for TBI or Traumatic Brain Injuries in Seniors
Over 800,000 patients were hospitalized due to a head or hip fracture after a slip and fall accident
Top Injuries from a Slip and Fall Accident
Broken or Fractured Bones: symptoms of a broken or fractured bone include swelling or bruising over the affected area, severe pain especially when pressure is applied or when you try to move it, obvious deformity, loss of function in the injured area
Dislocated Shoulders, Hips, Knees: symptoms of a dislocated shoulder or hip includes severe pain, swelling and bruising, numbness or weakness, muscle spasms
Fractured Skull, Concussion or TBI - Traumatic Brain Injuries
Back or Neck Injuries
Internal Bleeding
Soft Tissue Injuries and Whiplash
Lacerations, Cuts, Scrapes, Bruises, Road rash
Herniated Discs or Back Injuries
How Long Do You Have To File A Personal Injury Claim
In Boynton Beach (as well as the rest of the state), the Statute of Limitations in slip and fall injury cases is 2 years from the date of the accident. In a wrongful death lawsuit, the statute of limitations is 2 years from the date of death. This is according to Florida Statute section 95.11(3)(a), which is a statute that is applicable to nearly all of the civil court personal injury cases in the state.
This also includes a situation in which property damage was incurred as a result of your Boynton Beach slip and fall accident (such as a cell phone or laptop that you were holding when you fell).
The Application of the Modified Comparative Negligence Rule
Florida operates under a modified comparative negligence rule. This rule states in the case of an accident, whatever amount you are found to be negligent or at fault, your recovery will be limited by that amount. So, if you were found to be negligent for a certain percentage of the accident, then you can still recover compensation for your damages, it would just be reduced by your percentage of fault.
For example, if it is determined that you were wearing unsafe footwear that was responsible for 20% of the accident then you would only be allowed to receive 80% of the awarded damages.
This is why you may find arguments being made that will attempt to assign a certain amount of responsibility to the slip and fall victim.
Causes For A Slip and Fall Accident
Surfaces that were slippery or oily
Loose objects on the floor or cluttered walkways
Loose, torn or frayed carpeting
Wiring that was not properly secured
Broken or Chipped Tiles
Broken or Uneven Pavement or Concrete
Poorly lit areas or lack of lighting
Colliding with another person, object or structure
Falling off a ladder, scaffolding, building, stairs
Broken, loose or missing guardrails or handlebars
Uneven or narrow stairways
Negligent Cleaning Practices or Poor Housekeeping
Dangerous Surfaces
Spills or Flooding
Wet Floors or Newly Polished, Mopped or Waxed Floors
Tripping Hazards
The danger was an obvious one and should have been seen by you
There were signs and cones that were meant to warn of slipping/falling dangers
Wearing the aforementioned unsafe footwear
You were in an area that was restricted to you
What Should I Do After A Slip and Fall Accident?
If you, or a loved one, should happen to become involved in a slip and fall accident, there are a few steps that you can take in order to help you proceed. These steps can include:
Get Medical Treatment
The first step is to always seek medical assistance right away. You will want to have any injuries assessed and treated by a doctor, so a visit to the hospital may be necessary. You will want a complete evaluation and have everything documented for your records. Make sure to keep (and file) any expense receipts that you get.
Hospitals and Urgent Care Centers in Boynton Beach
All of this is exceptionally important for two reasons, Number one, you will want injuries treated and some of those injuries may not be readily apparent, Secondly, you will need to document any expenses should you wish to pursue compensation for your expenditures.
Report The Accident
Immediately report the accident to either the owner of the property or the manager (in case of a store or other commercial establishment). Have a written report of the accident made and make sure that you have a copy for your records, as well.
Obtain your copy prior to leaving the premises (unless you are being transported to the hospital by ambulance).
Gather Claim Details
Make sure that every detail is documented. This includes any witnesses' information such as; name, addresses and phone numbers. Record the exact location of the accident and describe how the fall took place. It is also suggested that you keep the clothes and shoes that you were wearing at the time of the accident, secured in a safe location. These can sometimes be useful as evidence, if there is a trial involved.
Do not discuss the incident with anyone – especially on social media sites! You should also minimize the conversations that you have with the site owner or manager.
You should also refuse to speak to an insurance company or the accident site's attorney before you have had a chance to speak with your own personal injury attorney.
Speak with a Personal Injury Attorney
It is highly suggested that you contact and speak with a personal injury lawyer regarding your accident. The initial consultation is free, so there's nothing to lose. Handling any details regarding compensation for your expenses can be extremely difficult to do by yourself. An experienced attorney can advise you on how to proceed and will discuss your legal options.
Ask Attorney Ethan Kominsky: I was injured on someone else's property. What should I do?
What Do I Need to Prove in a Slip and Fall Court Case?
Although slip and fall injuries are quite common, there are occasions when a slip and fall is the fault of the part of the property owner, due to negligence. That's because a property owner/manager is obligated to keep their property in a "reasonably safe condition", For example, Florida statute 768.0755 specifies that there is a premises liability concern when someone is injured as the result of "transitory foreign objects" located on walkways that they own/manage.
At this point, it is up to the owner/manager to fix the situation(s) as soon as possible. If the situation isn't fixed in a timely manner and someone is injured as a result, then the owner/manager may be held liable for any damages that occurred as a result of the problem. At this point, the owner/manager is considered negligent and those who are injured are eligible to bring a claim against the negligent party.
For example, if an aisle in a supermarket has boxes blocking it and those boxes are not removed in a timely manner, there may be negligence considered if a customer falls over those boxes while trying to navigate that aisle.
In a Boynton Beach Slip, Trip or Fall Injury case, the injured party will be required to establish:
There was a "duty of care" that was owed to the injured party by the owner/manager of the business establishment or property. This duty of care is to keep the premises free of hazards. When someone is invited to enter a property or business establishment, it's their responsibility to ensure that the area is safe.
The manager/property owner breached the duty of care when it came to maintaining and/or operating the property and allowed a potentially dangerous condition to exist. The breach of care caused you to slip and fall and sustain injuries. Because of your injuries in the slip and fall you have incurred damages.
The Difference Between An Invitees vs Licensees vs Trespassers
| | | |
| --- | --- | --- |
| An Invitee is a guest or visitor that is invited onto the property by the owner. | A Licensee is a contractor who is invited onto the property to perform a job or service. | A Trespasser is an individual who was not invited onto the property. |
Florida Statutes for Slip and Fall Accidents in Boynton Beach
There are a number of laws that apply to Boynton Beach (and the rest of the state), when it comes to keeping a property safe from slip and fall injuries. Some of these are:
Statute 768.0425 (1) relates to damages in actions against contractors for injuries sustained from negligence, malfeasance, or misfeasance.
Statute 768.0755 (1) relates to premises liability for transitory foreign substances in a business establishment. (1) If a person slips and falls on a transitory foreign substance in a business establishment, the injured person must prove that the business establishment had actual or constructive knowledge of the dangerous condition and should have taken action to remedy it.
What Damages Can I Claim For in a Slip and Fall
If you are injured in a slip and fall accident, you may include damages that relate to:
Temporary and permanent disability
Lost income – current and future
Emotional stress
All medical costs
Property such as a broken cell phone or laptop
Other costs that are associated with your accident
A slip and fall personal injury attorney can try to assist you in recovering the losses that you have (and are) incurring from a slip and fall injury. They can try to determine exactly what those losses are and how to proceed with your slip and fall claim.
How Frankl Kominsky Can Help Your Injury Claim
If you or someone you love has been injured in a slip and fall accident while on private property such as a gym, grocery or department store, gas station, or someone's home, you may have a right to pursue a personal injury claim. By filing an injury claim, you may be compensated for costly medical bills, pain and suffering, lost wages and other damages.
Our Boynton Beach personal injury attorneys strive to provide diligent legal representation, meticulous case management, and excellent client services. We have represented more than 7,000 injured clients throughout Florida.
Top 7 Questions Your Slip and Fall Lawyer May Ask
When you were injured, where did the accident take place?
What did the floor or surface look like?
Have you fallen on this property before or is this your first time?
Who was with you when you fell?
a. Were you alone or were witnesses present?
Did you report the accident to the property owner or company?
Was EMS or Emergency Services called to the scene of the accident?
Did you see a doctor, visit an emergency room, or urgent care after the fall?
Start Your Free Consultation with our Palm Beach County Injury Lawyers
Our injury firm in Boynton Beach offers a free, no obligation consultation to those injured in a slip and fall accident. We will try to assist you in receiving the best care and compensation that you rightfully deserve. Therefore, if you or a loved one are involved in a Boynton Beach slip and fall accident, contact a Slip and Fall Personal Injury Attorney Serving Boynton Beach Today! Turn to Frankl Kominsky for comprehensive legal guidance. Call 561-701-9992 or use our Contact Form to set up a free consultation.